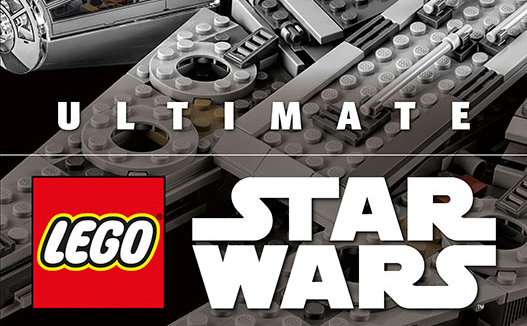 TFN Review: Ultimate LEGO Star Wars From DK
Posted by Adam on
November 27, 2017 at 07:57 PM CST
---
Timed perfectly to coincide with the recent release of the immense UCS Millennium Falcon, LEGO have joined forces with DK to release
Ultimate LEGO Star Wars
, written by Chris Malloy and Andrew Becraft.
As part of the introduction, there is a guide on how to use the book and an Appearances Key, along with timelines showing key years for both the
Star Wars
franchise and also the LEGO
Star Wars
line, highlighting when the first LEGO
Star Wars
sets were released (1999) and other firsts, such as Technic and Ulimate Collector Series sets.
There are three categories for the various sets, Characters & Creatures, Locations and Vehicles & Equipment, with each of these broken down further. The first category contains sections such as The Jedi & The Sith, The Rebels & Empire, inhabitants of Naboo and Tatooine, Droids and Creatures & Monsters, while Locations covers planets such as Coruscant, Hoth and Jakku, as well as The Death Stars. The third category is the largest, and features similar sections to the first, including vehicles from Naboo and Tatooine, as well as Other Factions and
Star Wars
Legends. Each category also concludes with a Behind the Scenes two-page spread.
Each page typically shows the evolution of the minifigures and sets, detailing the year every one was released along with the set number, as well as a description, key features, such as facial expressions, accessories and other points of interest. Additional data included for each listing include appearances, homeworld, affiliation, manufacturer, habitat, primary terrain and model, among other things. All of this is accompanied by sharp product images that really stand out against the plain white background.
The book is rounded out with a set index, showing the number, name and page(s) referenced for the year of release and a standard index, which also includes expanded set information.
As the name suggests,
Ultimate LEGO Star Wars
is the preeminent guide to all things LEGO from the galaxy, far, far, away and delivers a valuable resource for collectors of all ages.
Ultimate LEGO Star Wars
is available now online and from all good bookstores, priced $45.00 in the U.S. and $56.00 in Canada.
As always, a big thanks to DK Canada, whose
Star Wars
books you can check out at
here
. For all of your monthly roundup of
Star Wars
publishing news, commentary, and discussion on the latest releases in the realm of novels, comics, and magazines, don't forget to listen to
Jedi Journals
.
If you want to get another certain point of view of
Ultimate LEGO Star Wars
, be sure to check out
Jeremy Beckett's review on Rebelscum
. And if that wasn't enough, you can also enter the
Rebelscum competition
to win a copy. Follow the previous link for more details!
---
Related Stories:
TFN Review: LEGO Star Wars Visual Dictionary New Edition From DK
TFN Review: LEGO Star Wars Ideas Book From DK
TFN Review: LEGO Star Wars: Choose Your Path From DK
The Moviemaking Magic Of Star Wars: Creatures & Aliens
LEGO Star Wars: Ahch-To Porg Pandemonium
TFN Review: Star Wars: The Last Jedi Visual Dictionary From DK
TFN Review: Star Wars: Absolutely Everything You Need To Know - Updated And Expanded From DK
TFN Review: LEGO Star Wars Small Scenes From a Big Galaxy From DK
TFN Review: LEGO Star Wars in 100 Scenes From DK
TFN Review: LEGO Star Wars Visual Dictionary
TFN Review: LEGO Star Wars: The Yoda Chronicles By Daniel Lipkowitz