TFN Review: LEGO Star Wars Visual Dictionary
Posted by Adam on
May 20, 2014 at 12:14 AM CST
DK Books have recently released an updated and expanded LEGO Star Wars Visual Dictionary written by Jason Fry and Simon Beecroft, that serves to document the ever-increasing list of LEGO Star Wars sets. As is typical with the LEGO books that DK have put out, the Visual Dictionary includes an exclusive minifigure, in the form of old-school Tatooine Luke Skywalker, complete with yellow face!

Comprising four chapters, the book opens with an introduction and a timeline that shows what sets were released each year since 1999, grouped by movie as well as those from The Clone Wars and also the Expanded Universe.

Chapter one focuses on the Prequel Trilogy and The Clone Wars, and is broken down into sections that cover characters, species, factions, or some other logical grouping, with two pages devoted solely to the Republic Gunship.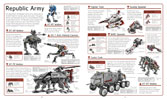 The second chapter looks at sets from the Original Trilogy and the Expanded Universe, with a similar breakdown to chapter one, though a few more vehicles and locations get dedicated sections.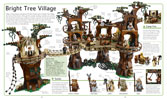 The spotlight turns to Specialist Sets in chapter three, specifically Planet Sets, Microfighters, Mini Sets, LEGO Technic, Ultimate Collector Sets and Seasonal Sets.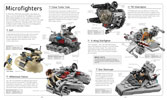 The final chapter is entitled Beyond the Brick, and includes sections that cover merchandising, promotional sets and much more, before being rounded-out by a 12-page Minifigure gallery and a set index.
Throughout the book, each LEGO
Star Wars
set is identified with a data box, which provides the official name of the set, the year it was first released, the LEGO identification number of the set, the number of LEGO pieces in the set, as well as the source that inspired the model. Furthermore, each section includes an introduction and descriptions to accompany each set that provide further detail about the characters and the models included.
As with everything LEGO
Star Wars
, the Visual Dictionary is a lot of fun and is a recommended purchase for all
Star Wars
fans, not just those that happen to also be fans of LEGO.
The updated and expanded LEGO
Star Wars Visual Dictionary
is out now and available at all good bookstores, priced $22.99 CDN and $21.99 USD.
As always, a big thanks to DK Canada, whose
Star Wars
Boutique you can visit
here
, and don't forget to listen to
Jedi Journals
for your monthly roundup of
Star Wars
publishing news, commentary, and discussion on the latest releases in the realm of novels, comics, and magazines.
Related Stories:
TFN Review: Ultimate LEGO Star Wars From DK
TFN Review: LEGO Star Wars Small Scenes From a Big Galaxy From DK
LEGO Star Wars: Small Scenes From A Big Galaxy
LEGO Star Wars: Droid Tales Coming To Disney XD
Star Wars Insider Is Celebrating Their 150th Issue With Three Star Wars LEGO Collectible Covers
LEGO Star Wars The Yoda Chronicles To Return With A New Installment
TFN Review: LEGO Star Wars: The Yoda Chronicles By Daniel Lipkowitz


The ForceCast is our popular Star Wars podcast that features news, commentary, interviews, and discussion about the Star Wars saga! Listen Now!
Rebelscum.com provides the latest in collecting news. The site features up-to-the-minute news and images, coverage of Star Wars conventions, several product databases, countless reference galleries and archives, and more.Visit Now!