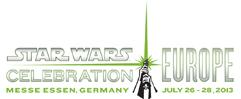 Posted by Eric on
July 11, 2013 at 04:56 PM CST
---
The official Star Wars Celebration Europe II show schedule is online, and as you can see, there's a lot going on from July 26 to 28 in Essen, Germany. If you want to know about just the major panels and stage events, look no further than the list below.

Evening With the Emperor: Ian McDiarmid
Friday, July 26, 6:00 pm - 7:00 pm | Celebration Stage

Celebration Europe marks the first time veteran actor and Star Wars icon Ian McDiarmid has appeared on stage for an interview at a Star Wars fan event in Europe. Be sure to see this rare appearance, and catch a glimpse inside the legendary actor's portrayal of Senator Palpatine and Darth Sidious.

Kathleen Kennedy: Her Celebration Premiere!
Saturday, July 27, 10:30 am - 11:30 am | Celebration Stage

Kathleen Kennedy, the President of Lucasfilm and producer of Star Wars Episode VII, is making her inaugural Star Wars Celebration appearance on the Celebration Stage. Kennedy, one of the most successful and respected producers in the movie industry today, will talk with host Warwick Davis about her amazing career and her recent move to Lucasfilm. This will be a landmark experience especially for fans at Star Wars Celebration Europe!

First Look: Star Wars Rebels
Saturday, July 27, 12:30 pm - 1:30 pm | Celebration Stage

Exclusive for Celebration Europe, a first glimpse into the production of Star Wars Rebels, an exciting, all-new animated television series slated for release in 2014. Rebels executive producer Dave Filoni, who was supervising director of Star Wars: The Clone Wars, will discuss the inspiration for the new series. Rebels is set between the events of Episodes III and IV, an era spanning almost two decades of Star Wars stories that have not yet been explored on screen. Details about the show are a closely-guarded secret at this point, but fans at Celebration Europe can catch a first look into production.

Mark Hamill: The Jedi Returns
Sunday, July 28, 2:30 pm - 3:30 pm | Celebration Stage

Don't miss Mark Hamill on the Celebration Stage, interviewed by host Warwick Davis. The actor who portrayed Luke Skywalker, and the talented voice actor behind iconic characters, Hamill will share Star Wars memories and stories from his career.
---
Related Stories:
CEII: Celebration Stage Interviews To Feature Social Media Integration
Rebelscum.com Star Wars Celebration Europe II Survival Guide Update
CEII: Exclusive Star Wars Insider Magazine For Germany
CEII: Doug Cowan Art Print Update
CEII: Paul Allan Ballard Art Print Update
CEII: Exclusive Attakus Commander Cody Statue For Germany
CEII: Randy Stradley Added To Germany Lineup
CEII: Official Pix Autograph Hall Schedule Is Live
CEII: Official Pix Autograph Ticket Pre-Order Deadline Extended
CEII: Official Pix Autograph Ticket Pre-Order Deadline Approaching
CEII: Gentle Giant Ltd. Exclusive For Germany
CEII: Official Pix Autograph Send-In & Pre-Order Service Deadline Today
CEII: Bounty Hunt Challenge
CEII: Join The Cantina Crawl In Germany

---