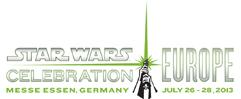 The Star Wars Celebration Bounty Hunt returns this summer in Germany! Test your skills against other Star Wars fans using your smart phone to scan QR code targets which will lead you to clues left by Jabba the Hutt himself!

There is no time limit for this competition, so attendees will be able to participate as time permits. Just make sure you complete the challenge before the show wraps on Sunday and you could win some exclusive bounty.

Read the full story here.
Related Stories:
Rebelscum.com Star Wars Celebration Europe II Survival Guide Update
CEII: Exclusive Star Wars Insider Magazine For Germany
CEII: Doug Cowan Art Print Update
CEII: Paul Allan Ballard Art Print Update
CEII: Exclusive Attakus Commander Cody Statue For Germany
CEII: Randy Stradley Added To Germany Lineup
CEII: Official Pix Autograph Hall Schedule Is Live
CEII: Here Are The Big Panels
CEII: Official Pix Autograph Ticket Pre-Order Deadline Extended
CEII: Official Pix Autograph Ticket Pre-Order Deadline Approaching
CEII: Gentle Giant Ltd. Exclusive For Germany
CEII: Official Pix Autograph Send-In & Pre-Order Service Deadline Today
CEII: Join The Cantina Crawl In Germany
CEII: Exhibitor List Now Available For Germany
CEII: Exclusive Celebration Store Merchandise
CEII: Art Print Wait Lists
CEII: Official Pix Autograph Drop-Off Service For Germany
CEII: Official Pix Exclusives Update For Germany
CEII: The Clone Wars: Darth Maul Arc - Director's Cut
CEII: Showcase Your Own Collectibles In Germany
CEII: Mark Hamill Announced For Germany
CEII: Ben Burtt Is Headed To Germany
CEII: Exclusive T-Shirt & VIP Ticket Pre-Order Deadline Fast Approaching
CEII: Official Pix Exclusive Lithograph Set Revealed
CEII: Artists Doug Chiang & Iain McCaig Announced
CEII: Temuera Morrison Headed To Germany
CEII: Official Pix Autograph Send-In & Pre-Order Service Now Live
CEII: Official Pix Autograph Hall Tickets Now Available For Pre-Order
CEII: Hasbro's Germany Exclusive Revealed
CEII: Celebration Art Pieces Revealed
CEII: Attack Of The Clones 3D Screening In Germany
CEII: Ashley Eckstein
CEII: David Collins Returns To Digital Stage For Germany
CEII: Return Of The Jedi Screening At Celebration
CEII: Official Pix Website For Germany Now Live
CEII: Kathleen Kennedy's Celebration Premiere
CEII: Peter Mayhew Headed To Germany
CEII: First Look At Exclusive Merchandise Artwork
CEII: Jabba's Palace Reunion - Massive Guest Announcements
CEII: Ink-Fusion Tattoo Festival
CEII: Allen, Baker & Blake Added
CEII: Official Airline Partner Offers Discounted Flights
CEII: Anthony Daniels Attending
CEII: Femi Taylor & Tim Dry Attending
CEII: Carrie Fisher Heading To Germany
CEII: Four Fetts At Celebration
CEII: Official Pix Celebration Autograph Hall Returns
CEII: Ian McDiarmid Confirmed!
CEII: Sansweet & Hidalgo Attending