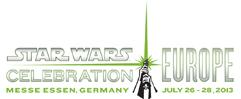 CEII: Celebration Stage Interviews To Feature Social Media Integration
Posted by Eric on
July 23, 2013 at 04:08 PM CST
Over on The Official Star Wars Blog, Lucasfilm Events Lead Mary Franklin has written a post announcing a new way for fans to participate in Celebration Europe II's programming.

[S]tarting now and throughout the weekend, post your questions for consideration via a special Q&A hashtag created especially for each show.

#AskTheArtists – Doug Chiang and Iain McCaig
#AskC3PO – Anthony Daniels
#AskPalpatine – Ian McDiarmid
#AskKathy – Kathleen Kennedy
#AskFiloni – Dave Filoni and Rebels
#AskLeia – Carrie Fisher
#AskBoba – Jeremy Bulloch, Daniel Logan, Dickey Beer and John Morton
#AskJabba – Tim Rose, Mike Edmonds, Femi Taylor, Toby Philpott, Gerald Home, Sean Crawford, and Tim Dry
#AskLuke – Mark Hamill

After you've asked some questions, upload your photographs and memories to hashtag #StarWarsCelebration. The best photographs will be copied from this hashtag and made part of the Celebration Closing Ceremonies, where fans can relive some of their favorite moments of the show, see some things they missed, and maybe see themselves or your photographs up on the big screen!
Check out Franklin's full blog post
here
.
Related Stories:
CEII: Exclusive Star Wars Insider Magazine For Germany
CEII: Doug Cowan Art Print Update
CEII: Paul Allan Ballard Art Print Update
CEII: Exclusive Attakus Commander Cody Statue For Germany
CEII: Randy Stradley Added To Germany Lineup
CEII: Official Pix Autograph Hall Schedule Is Live
CEII: Here Are The Big Panels


The ForceCast is our popular Star Wars podcast that features news, commentary, interviews, and discussion about the Star Wars saga! Listen Now!
Global batter shortages imminent
---
SOLO: A Star Wars Story (untagged spoilers allowed)
---
The One Canon
---
The First SWC Muggles Draft - The Draft Who Lived
---
Rebelscum.com provides the latest in collecting news. The site features up-to-the-minute news and images, coverage of Star Wars conventions, several product databases, countless reference galleries and archives, and more.Visit Now!
Jedi Journals is the longest running Star Wars literature podcast in the galaxy. Listen Now!
Entertainment Earth was started in a garage in 1995, and has since become the "go-to" source and experts for the latest and greatest action figures, bobble heads, toys, gifts, and collectibles! Visit Now!
The IndyCast is the world's most popular Indiana Jones podcast! Ed Dolista and his team take a look at all the latest news, reviews and interviews! Listen Now!