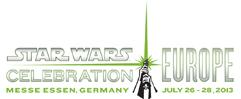 CEII: Sansweet & Hidalgo Attending
The official site has been updated with two more additions to the Spotlight Guest section.

First up is super collector, President & Chief Executive of Rancho Obi-Wan Inc. and Adviser to Lucasfilm, Mr. Steve Sansweet. He will be bringing the Rancho Obi-Wan Experience to the show again for fans to get just a small glimpse of what is arguably the most comprehensive Star Wars collection in the world. You don't want to miss this!

Also attending is author and former Content Manager for Lucasfilm Online, Pablo Hidalgo who will be hosting the Behind-the-Scenes Stage during Celebration Europe II. Pablo has recently published the ultra popular Star Wars: The Essential Reader's Companion.

Keep watching the front page for more announcements as they drop!
Related Stories:
Rebelscum.com Star Wars Celebration Europe II Survival Guide Update
CEII: Exclusive Star Wars Insider Magazine For Germany
CEII: Doug Cowan Art Print Update
CEII: Paul Allan Ballard Art Print Update
CEII: Exclusive Attakus Commander Cody Statue For Germany
CEII: Randy Stradley Added To Germany Lineup
CEII: Official Pix Autograph Hall Schedule Is Live
CEII: Official Pix Autograph Ticket Pre-Order Deadline Extended
CEII: Official Pix Autograph Ticket Pre-Order Deadline Approaching
CEII: Gentle Giant Ltd. Exclusive For Germany
CEII: Official Pix Autograph Send-In & Pre-Order Service Deadline Today
CEII: Bounty Hunt Challenge
CEII: Showcase Your Own Collectibles In Germany
CEII: Mark Hamill Announced For Germany
CEII: Ben Burtt Is Headed To Germany
CEII: Exclusive T-Shirt & VIP Ticket Pre-Order Deadline Fast Approaching
CEII: Official Pix Exclusive Lithograph Set Revealed
CEII: Artists Doug Chiang & Iain McCaig Announced
CEII: Temuera Morrison Headed To Germany
CEII: Official Pix Autograph Send-In & Pre-Order Service Now Live
CEII: Official Pix Autograph Hall Tickets Now Available For Pre-Order
CEII: Hasbro's Germany Exclusive Revealed
CEII: Celebration Art Pieces Revealed
CEII: Attack Of The Clones 3D Screening In Germany
CEII: David Collins Returns To Digital Stage For Germany
CEII: Return Of The Jedi Screening At Celebration
CEII: Kathleen Kennedy's Celebration Premiere
CEII: First Look At Exclusive Merchandise Artwork
CEII: Ink-Fusion Tattoo Festival
CEII: Allen, Baker & Blake Added
CEII: Official Airline Partner Offers Discounted Flights
CEII: Anthony Daniels Attending
CEII: Femi Taylor & Tim Dry Attending
CEII: Carrie Fisher Heading To Germany
CEII: Four Fetts At Celebration
CEII: Official Pix Celebration Autograph Hall Returns
CEII: Ian McDiarmid Confirmed!


Jedi Journals is the longest running Star Wars literature podcast in the galaxy. Listen Now!
Rebelscum.com provides the latest in collecting news. Visit Now!
The IndyCast is the world's most popular Indiana Jones podcast! Ed Dolista and his team take a look at all the latest news, reviews and interviews! Listen Now!