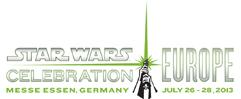 CEII: Showcase Your Own Collectibles In Germany
From the official site:


Have an awesome vintage item? Maybe a really cool limited edition Star Wars collectible? We want to see it! Bring your treasure to the Collecting Track room (Halle Ruhr) and show it off before hundreds of other collectors during the three days of the show.

Your collectible must be small enough to fit into a standard counter-height display case and it will be locked up while on display. While you're at Celebration Europe, make sure to stop by and view what promises to be some truly amazing treasures.

Click here
for details on how you can register to showcase your prized possession.
Related Stories:
Rebelscum.com Star Wars Celebration Europe II Survival Guide Update
CEII: Exclusive Star Wars Insider Magazine For Germany
CEII: Doug Cowan Art Print Update
CEII: Paul Allan Ballard Art Print Update
CEII: Exclusive Attakus Commander Cody Statue For Germany
CEII: Randy Stradley Added To Germany Lineup
CEII: Official Pix Autograph Hall Schedule Is Live
CEII: Official Pix Autograph Ticket Pre-Order Deadline Extended
CEII: Official Pix Autograph Ticket Pre-Order Deadline Approaching
CEII: Gentle Giant Ltd. Exclusive For Germany
CEII: Official Pix Autograph Send-In & Pre-Order Service Deadline Today
CEII: Bounty Hunt Challenge
CEII: Join The Cantina Crawl In Germany
CEII: Exhibitor List Now Available For Germany
CEII: Exclusive Celebration Store Merchandise
CEII: Official Pix Autograph Drop-Off Service For Germany
CEII: Official Pix Exclusives Update For Germany
CEII: The Clone Wars: Darth Maul Arc - Director's Cut
CEII: Mark Hamill Announced For Germany
CEII: Ben Burtt Is Headed To Germany
CEII: Exclusive T-Shirt & VIP Ticket Pre-Order Deadline Fast Approaching
CEII: Official Pix Exclusive Lithograph Set Revealed
CEII: Artists Doug Chiang & Iain McCaig Announced
CEII: Temuera Morrison Headed To Germany
CEII: Official Pix Autograph Send-In & Pre-Order Service Now Live
CEII: Official Pix Autograph Hall Tickets Now Available For Pre-Order
CEII: Hasbro's Germany Exclusive Revealed
CEII: Celebration Art Pieces Revealed
CEII: Attack Of The Clones 3D Screening In Germany
CEII: Ashley Eckstein
CEII: David Collins Returns To Digital Stage For Germany
CEII: Return Of The Jedi Screening At Celebration
CEII: Official Pix Website For Germany Now Live
CEII: Kathleen Kennedy's Celebration Premiere
CEII: Peter Mayhew Headed To Germany
CEII: First Look At Exclusive Merchandise Artwork
CEII: Jabba's Palace Reunion - Massive Guest Announcements
CEII: Ink-Fusion Tattoo Festival
CEII: Allen, Baker & Blake Added
CEII: Official Airline Partner Offers Discounted Flights
CEII: Anthony Daniels Attending
CEII: Femi Taylor & Tim Dry Attending
CEII: Carrie Fisher Heading To Germany
CEII: Four Fetts At Celebration
CEII: Official Pix Celebration Autograph Hall Returns
CEII: Ian McDiarmid Confirmed!
CEII: Sansweet & Hidalgo Attending