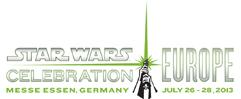 CEII: Star Wars Rebels Panel With Dave Filoni
Posted by Eric on
July 27, 2013 at 06:42 AM CST
---
Dave Filoni, executive producer of Star Wars Rebels, told fans about his next animated series during a panel at Celebration Europe II in Essen, Germany. Scroll down for an archive of our Twitter coverage from the panel. Here are a few highlights from the official Star Wars liveblog:

12:47: Filoni says that he had a part for Davis set up in The Clone Wars, but then the series ended. They're trying to figure out the best way to bring out the remaining episodes. "What I really like about it is, I feel that Clone Wars got its place and time in the Star Wars saga."

12:50: "You'll see in Lucasfilm now a collaboration across many fronts…that's something I never really had on Clone Wars." – Dave Filoni. Now showing a video from Greg Weisman and Simon Kinberg addressing the fans. "I'm just swamped on Rebels and very glad." — Greg Weisman. "I am super, super excited to be working on the Rebels show and to be working on the movies, as well." – Simon Kinberg

12:59: Filoni says they opened the archives and looked at all of [McQuarrie]'s originals, to see texture and details. They were often slightly different from what made it to film, which was perfect. "We wanted to create a look for this part of Star Wars that precedes A New Hope by just a little bit." He adds "We have created a set of digital brushes that replicate McQuarrie's style…We're going for something that's much more an illustrative look."

1:05: No animation has really been created yet, but Filoni shows off some Star Wars Rebels concept art, including an Imperial interior! He talks about very specific color schemes. The Empire is always glossy and silver. Luke wears browns and sandy colors. Han is multi-colored. Leia wore white because she was in the Imperial Senate.

1:09: More concept art for an astromech, which will feature arms that McQuarrie originally intended for Artoo, and a protocol droid. Now showing a Star Destroyer. Great applause. Filoni points out that the design will feature elements of the Star Destroyers from A New Hope.

1:14: Now showing the Ghost, a new ship from the show, which will be central. Filoni says he wanted it to feel like a home, the way the Falcon did. They're also working hard studying the original films, hoping it will match the look of classic Star Wars.
Two new
Star Wars Rebels
shirts, one featuring the series logo and one with concept art of a new Rebel ship, went on-sale today at the Celebration Store.
The logo shirt sold out almost immediately as massive lines formed at the store.
And here are our tweets from the
Rebels
panel:
---
Related Stories:
NYCC Star Wars Rebels Panel To Feature 'Imperial Paraphernalia'
Star Wars Rebels CEII Pins Reveal Rebel Ship Schematics
Star Wars Celebration VII Announced At CEII Closing Ceremonies
CEII: StarWars.com 'Ground Report' From Day 2
CEII: Star Wars Rebels Logo Revealed
LFL Announces New Animated Series: Star Wars Rebels

---