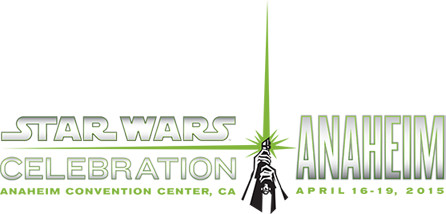 Star Wars Celebration VII Announced At CEII Closing Ceremonies
Posted by Eric on
July 28, 2013 at 09:44 AM CST
Star Wars Celebration VII will be held in Anaheim, California from April 16-19, 2015. Tickets go on sale August 7, 2013 at 7:00 AM Pacific!

Lucasfilm Events Lead Mary Franklin made the announcement at the Closing Ceremonies of Celebration Europe II in Essen, Germany. You can see a liveblog of the entire Closing Ceremonies here.


There are many possible reason for Celebration's move to Anaheim from its previous U.S. site in Orlando. Disney may want to allow more of the people working on Episode VII in California to attend Celebration easily. Or, if
the rumors
about Disneyland getting a big
Star Wars
presence (instead of Disney World) are true, then positioning Celebration VII next to that park would be a smarter move. That assumes, of course, that any
Star Wars
makeover is complete by April 2015.
Whatever the reason, West Coast fans now have easy access to a
Star Wars
Celebration for the first time since 2007. And with Los Angeles about a half hour away from Anaheim by car, an appearance by a certain Episode VII director seems like a foregone conclusion. (Lucasfilm employees are probably happier about a flight from San Francisco to southern California than they would have been about one from San Francisco to the East Coast.)
The finale of Celebration Europe II also featured the announcements of the winners of the CEII tattoo contest, costume contest, and trivia contest. In addition, a convention highlight reel was shown using photos from CEII attendees (as part of the
social media integration
).
Related Stories:
Last Day To Purchase Star Wars Celebration Exclusives
SWC2015: Celebration Anaheim Hotels Now Available
SWC2015: Celebration Anaheim Tickets Now Available
SWC2015: Ticket Information Posted
Lucasfilm Dropping Numbers From Future Celebrations
CEII: Star Wars Rebels Panel With Dave Filoni
CEII: Star Wars Rebels Logo Revealed
CEII: Kathleen Kennedy Makes Her Star Wars Convention Debut
CEII: John Williams To Score Episodes VII-IX