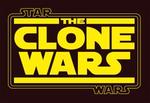 In case you had yet to notice,
Starwars.com
is currently showing 5 of the most explosive episodes of
The Clone Wars
for your viewing pleasure. The episodes include:
"Rising Malevolence" (Ep. #2)
"Shadow of Malevolence" (Ep. #3)
"Destroy Malevolence" (Ep. #4)
"Lair of Greivous" (Ep. #10)
"Mystery of a Thousand Moons" (Ep. #18)
Not sure how long they're gonna be available so get your viewing on now!
| | |
| --- | --- |
| December 2, 2009 | Preview TCW: "Brain Invaders" |
| December 2, 2009 | TCW: "Brain Invaders" Episode Guide |
| November 23, 2009 | TCW: "Legacy Of Terror" Now Online |
| November 21, 2009 | TCW: "Legacy Of Terror" Episode Guide |
| November 21, 2009 | Bonnie Burton Chats With Dee Bradley Baker |
| November 19, 2009 | TCW: "Legacy Of Terror" Episode Guide |
| November 19, 2009 | Preview TCW: ?Legacy Of Terror? |
| November 16, 2009 | TCW: "Weapons Factory" Now Online |
| November 15, 2009 | TCW: Short Interview With Meredith Salenger |
| November 14, 2009 | TCW: "Weapons Factory" Episode Guide |
| November 11, 2009 | TCW Joins The NHL In Raleigh, NC |
| November 11, 2009 | Preview TCW: "Weapons Factory" |
| November 11, 2009 | TCW: "Weapons Factory" Episode Guide |
| November 9, 2009 | TCW: "Landing At Point Rain" Now Online |
| November 7, 2009 | TCW Season 1 Now At PlayStation Store |
| November 7, 2009 | TCW: "Landing At Point Rain" Episode Guide |
| November 4, 2009 | New UK The Clone Wars Comic Announced |
| November 4, 2009 | Preview TCW: "Landing At Point Rain" |
| November 3, 2009 | TCW S1 On DVD & Blu-ray! |
| November 1, 2009 | A Couple Links Covering The Clone Wars |
| November 1, 2009 | TCW: "Landing At Point Rain" Episode Guide |
| November 1, 2009 | More TCW And Filoni From The Today Show |
| October 24, 2009 | A Look Inside TCW S1 DVD/Blu-Ray |
| October 19, 2009 | TCW: "Senate Spy" Episode Online |
| October 17, 2009 | TCW: "Senate Spy" Episode Guide |
| October 14, 2009 | Preview TCW: "Senate Spy" |
| October 12, 2009 | TCW: "Children Of The Force" Now Online |
| October 10, 2009 | TCW: Ian Abercrombie Talks Voicing Sidious |
| October 10, 2009 | TCW: "Children Of The Force" Episode Guide |
| October 9, 2009 | Preview TCW: "Children Of The Force" |
| October 8, 2009 | TCW Ratings Soar For The Season 2 Premiere |
| October 3, 2009 | TCW: "Cargo Of Doom" Episode Guide |
| September 26, 2009 | TCW: "Hostage Crisis" Decoded Now Online |
| September 26, 2009 | Downloadable TCW Goodies! |
| September 15, 2009 | New Details For The Clone Wars DVD #2 |
| September 3, 2009 | Another New TCW Season 2 Promo Vid |
| September 2, 2009 | TCW Labor Day Marathon At SW.com |
| August 29, 2009 | TCW: The Hidden Enemy Decoded Now Online |
| August 24, 2009 | TCW Season 2 Kicks Off October 2nd! |
| August 22, 2009 | TCW: "Defenders Of Peace" Decoded |
| August 17, 2009 | TCW: Rise Of The Bounty Hunters |
| August 15, 2009 | TCW: "Jedi Crash" Decoded Now Online |
| August 11, 2009 | TCW: "The Gungan General" Decoded Online |
| August 1, 2009 | SDCC: TCW Voice Actors |
| July 26, 2009 | TCW Season 2 Clothing Inspired By TPM? |
| July 25, 2009 | SDCC: TCW Season 1 Box Set Trailer |
| July 25, 2009 | SDCC: New TCW Season 2 Preview Video |
| July 25, 2009 | TCW Comes To TELETOON In Canada |
| July 21, 2009 | MTV Has Exclusive TCW Season 2 Pics! |
| July 18, 2009 | TCW "Dooku Captured" Decoded Now Online |
| July 15, 2009 | TCW Complete S1 Blu-ray Boxed Set |
| July 5, 2009 | TCW: "Lair Of Greivous" Decoded Now Online |
| July 1, 2009 | More Australian TCW DVD Details |
| June 27, 2009 | TCW "Cloak Of Darkness" Decoded Now Online |
| June 27, 2009 | SW: TCW: Republic Heroes Video Interview |
| June 25, 2009 | What IGN Wants From TCW Season 2 |
| June 21, 2009 | Matt Lanter Of TCW Talks With IGN |
| June 20, 2009 | The Clone Wars Season Two Footage |
| June 20, 2009 | TCW "Bombad Jedi" Decoded Now Online |
| June 13, 2009 | TCW "Duel Of The Droids" Decoded |
| June 12, 2009 | Australian TCW DVD #2 |
| June 6, 2009 | Watch TCW "Downfall Of A Droid" Decoded |
| June 4, 2009 | The Clone Wars Official S1 Episode Guide |
| May 30, 2009 | TCW: "Rookies" Decoded Now Online |
| May 28, 2009 | FREE Theatrical Showings Of TCW |
| May 26, 2009 | TCW: Volume 1 DVD Coming To Australia |
| May 23, 2009 | Watch TCW: "Destroy Malevolence" Decoded |
| May 19, 2009 | The Clone Wars Tents From Playhut |
| May 19, 2009 | TCW LEGO Star Wars Game Online |
| May 16, 2009 | TCW Concept Designer Randy Bantog |
| May 15, 2009 | Learn To Draw TCW Mace Windu |
| May 13, 2009 | TCW: S1 DVD & Blu-ray UK Release Date |
| May 11, 2009 | The Clone Wars: Republic Heroes Trailer! |
| May 9, 2009 | TCW: "Rising Malevolence" Decoded Online |
| May 2, 2009 | TCW: "Ambush" Decoded Now Online! |
| April 29, 2009 | Celebrate Cinco de Mayo With TCW |
| April 24, 2009 | TCW Retro Logo T-shirt |
| April 24, 2009 | Learn To Draw TCW Aayla Secura |
| April 24, 2009 | TCW Skateboard Decks Auction |
| April 22, 2009 | Rumor Alert: TCW: Republic Heroes |
| April 14, 2009 | Learn To Make A Tooka Doll From TCW |
| April 13, 2009 | UPDATE: Star Wars: The Clone Wars Exhibit |
| April 9, 2009 | Learn To Draw TCW Rabbit Droid |
| April 7, 2009 | The Clone Wars DVD Exclusives |
| April 6, 2009 | The Clone Wars: Decoded |
| March 31, 2009 | The Clone Wars Season 2 Preview |
| March 30, 2009 | IGN Reviews Season 1 Of The Clone Wars |
| March 28, 2009 | Is The Clone Wars Still On TNT? |
| March 27, 2009 | TCW Episode 22 Now Online |
| March 25, 2009 | The Clone Wars Receives Nominations |
| March 25, 2009 | TCW: A Galaxy Divided DVD On Sale NOW! |
| March 24, 2009 | The Clone Wars Series Links & Reviews |
| March 20, 2009 | The Clone Wars Episode 22 Preview |
| March 11, 2009 | The Clone Wars Episode #21 Preview |
| March 5, 2009 | The Clone Wars Episode #20 Preview |
| February 25, 2009 | The Clone Wars Episode #19 Preview |
| February 25, 2009 | The Clone Wars DVD #2 Details Leaked? |
| February 17, 2009 | Greg Proops To Voice On The Clone Wars |
| February 14, 2009 | The Clone Wars Coming To TNT! |
| February 13, 2009 | The Clone Wars Episode #17 Preview |
| February 9, 2009 | Ryloth Trilogy Trailer From The Clone Wars! |
| February 9, 2009 | Cartoon Network Retains The Clone Wars! |
| February 4, 2009 | The Clone Wars Episode #16 Preview |
| February 4, 2009 | The Clone Wars On Dutch TV! |
| February 2, 2009 | The Clone Wars On UK TV |
| January 31, 2009 | The Clone Wars Episode #15 Preview |
| January 29, 2009 | New Clone Wars Books From Penguin |