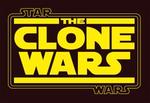 Jimmy Mac reports the following:
"Star Wars fans may recognize the name Greg Proops from The Phantom Menace when he played the Fode half of double-headed podrace announcer Fode and Beed. Now, it has been revealed on GregProops.com, that the stand-up comedian will be returning to the Star Wars universe in The Clone Wars. Proops will be playing bad guy Tal Merrick on an upcoming episode of the Cartoon Network hit series. For more information on Greg and to find out where he's appearing, visit Gregproops.com ."
Thanks Jimmy! We'll let you know if and when we hear something official from
Lucasfilm
.
| | |
| --- | --- |
| February 6, 2010 | Bonnie Burton Talks TCW With Greg Proops |
| September 3, 2009 | Another New TCW Season 2 Promo Vid |
| September 2, 2009 | TCW Labor Day Marathon At SW.com |
| August 29, 2009 | TCW: The Hidden Enemy Decoded Now Online |
| August 24, 2009 | TCW Season 2 Kicks Off October 2nd! |
| August 22, 2009 | TCW: "Defenders Of Peace" Decoded |
| August 17, 2009 | TCW: Rise Of The Bounty Hunters |
| August 15, 2009 | TCW: "Jedi Crash" Decoded Now Online |
| August 11, 2009 | TCW: "The Gungan General" Decoded Online |
| August 1, 2009 | SDCC: TCW Voice Actors |
| July 26, 2009 | TCW Season 2 Clothing Inspired By TPM? |
| July 25, 2009 | SDCC: TCW Season 1 Box Set Trailer |
| July 25, 2009 | SDCC: New TCW Season 2 Preview Video |
| July 25, 2009 | TCW Comes To TELETOON In Canada |
| July 21, 2009 | MTV Has Exclusive TCW Season 2 Pics! |
| July 18, 2009 | TCW "Dooku Captured" Decoded Now Online |
| July 6, 2009 | 5 Full Episodes Of The Clone Wars Online |
| July 5, 2009 | TCW: "Lair Of Greivous" Decoded Now Online |
| June 27, 2009 | TCW "Cloak Of Darkness" Decoded Now Online |
| June 25, 2009 | What IGN Wants From TCW Season 2 |
| June 20, 2009 | TCW "Bombad Jedi" Decoded Now Online |
| June 12, 2009 | Australian TCW DVD #2 |
| March 24, 2009 | The Clone Wars Series Links & Reviews |
| March 23, 2009 | Corey Burton Interviewed At SW.com |
| March 22, 2009 | Greg Proops Talks Voicing Star Wars |
| March 21, 2009 | TCW Episode #21 Now Online |
| March 21, 2009 | TCW: "Hostage Crisis" Episode Guide |
| March 20, 2009 | The Clone Wars Episode 22 Preview |
| March 14, 2009 | TCW Episode #20 Now Online |
| March 14, 2009 | TCW: "Liberty On Ryloth" Episode Guide |
| March 8, 2009 | TCW Season Finale Commercial |
| March 7, 2009 | TCW Episode #19 Now Online At SW.com |
| March 7, 2009 | TCW: "Innocents Of Ryloth" Episode Guide |
| March 5, 2009 | The Clone Wars Episode #20 Preview |
| February 28, 2009 | TCW: "Storm Over Ryloth" Episode Guide |
| February 21, 2009 | TCW Episodes #17 And #18 Now Online! |
| February 20, 2009 | TCW: "Ambush" Repeat Tonight |
| February 14, 2009 | The Clone Wars Coming To TNT! |
| February 9, 2009 | Ryloth Trilogy Trailer From The Clone Wars! |
| February 9, 2009 | Cartoon Network Retains The Clone Wars! |
| February 4, 2009 | The Clone Wars On Dutch TV! |
| February 2, 2009 | The Clone Wars On UK TV |
| January 22, 2009 | TCW On DVD Volume 1 Coming In March! |
| January 17, 2009 | The Clone Wars On iTunes Update |
| January 10, 2009 | The Clone Wars Series In Canada Update |
| December 23, 2008 | The Clone Wars International TV Listings |