Though
IGN
was luke warm with their reaction to
The Clone Wars
at first, they, like the rest of us, got more and more sucked in as the season progressed. That's not to say that all of us had issues with the series at first but, some of the later episodes were just fantastic and seemed to convert some skeptics. That being the case,
IGN
has high hopes for the second season and lays out what they'd like to see.
Click here
for their run down which includes hopes for more separatist victories, glimpses of Anakin's dark side (and I mean him being bad, not...well...you know) and more clone centered episodes.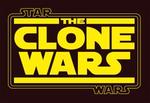 | | |
| --- | --- |
| September 24, 2009 | TCW S2 Concept Art |
| September 15, 2009 | New Details For The Clone Wars DVD #2 |
| September 15, 2009 | Get To Know Cato Parasitti From TCW |
| September 14, 2009 | TCW Season 2 Promo Videos Galore! |
| September 3, 2009 | Another New TCW Season 2 Promo Vid |
| September 2, 2009 | TCW Labor Day Marathon At SW.com |
| August 29, 2009 | TCW: The Hidden Enemy Decoded Now Online |
| August 24, 2009 | TCW Season 2 Kicks Off October 2nd! |
| August 22, 2009 | TCW: "Defenders Of Peace" Decoded |
| August 17, 2009 | TCW: Rise Of The Bounty Hunters |
| August 15, 2009 | TCW: "Jedi Crash" Decoded Now Online |
| August 15, 2009 | Happy Anniversary To The Clone Wars! |
| August 11, 2009 | TCW: "The Gungan General" Decoded Online |
| August 1, 2009 | SDCC: TCW Voice Actors |
| July 30, 2009 | The Clone Wars Previewed In TV Guide |
| July 26, 2009 | TCW Season 2 Clothing Inspired By TPM? |
| July 25, 2009 | SDCC: TCW Season 1 Box Set Trailer |
| July 25, 2009 | SDCC: New TCW Season 2 Preview Video |
| July 25, 2009 | TCW Comes To TELETOON In Canada |
| July 21, 2009 | MTV Has Exclusive TCW Season 2 Pics! |
| July 18, 2009 | TCW "Dooku Captured" Decoded Now Online |
| July 6, 2009 | 5 Full Episodes Of The Clone Wars Online |
| July 5, 2009 | TCW: "Lair Of Greivous" Decoded Now Online |
| July 1, 2009 | More Australian TCW DVD Details |
| June 27, 2009 | TCW "Cloak Of Darkness" Decoded Now Online |
| June 21, 2009 | Matt Lanter Of TCW Talks With IGN |
| June 20, 2009 | The Clone Wars Season Two Footage |
| June 20, 2009 | TCW "Bombad Jedi" Decoded Now Online |
| June 13, 2009 | TCW "Duel Of The Droids" Decoded |
| June 12, 2009 | Australian TCW DVD #2 |
| June 6, 2009 | Watch TCW "Downfall Of A Droid" Decoded |
| June 4, 2009 | The Clone Wars Official S1 Episode Guide |
| May 30, 2009 | TCW: "Rookies" Decoded Now Online |
| May 28, 2009 | FREE Theatrical Showings Of TCW |
| May 26, 2009 | TCW: Volume 1 DVD Coming To Australia |
| May 23, 2009 | Watch TCW: "Destroy Malevolence" Decoded |
| May 19, 2009 | The Clone Wars Tents From Playhut |
| May 19, 2009 | TCW LEGO Star Wars Game Online |
| May 16, 2009 | TCW Concept Designer Randy Bantog |
| May 15, 2009 | Learn To Draw TCW Mace Windu |
| May 13, 2009 | TCW: S1 DVD & Blu-ray UK Release Date |
| May 11, 2009 | The Clone Wars: Republic Heroes Trailer! |
| May 9, 2009 | TCW: "Rising Malevolence" Decoded Online |
| May 2, 2009 | TCW: "Ambush" Decoded Now Online! |
| April 29, 2009 | Celebrate Cinco de Mayo With TCW |
| April 24, 2009 | TCW Retro Logo T-shirt |
| April 24, 2009 | Learn To Draw TCW Aayla Secura |
| April 24, 2009 | TCW Skateboard Decks Auction |
| April 22, 2009 | Rumor Alert: TCW: Republic Heroes |
| April 14, 2009 | Learn To Make A Tooka Doll From TCW |
| April 13, 2009 | UPDATE: Star Wars: The Clone Wars Exhibit |
| April 9, 2009 | Learn To Draw TCW Rabbit Droid |
| April 7, 2009 | The Clone Wars DVD Exclusives |
| April 6, 2009 | The Clone Wars: Decoded |
| March 31, 2009 | The Clone Wars Season 2 Preview |
| March 30, 2009 | IGN Reviews Season 1 Of The Clone Wars |
| March 28, 2009 | Is The Clone Wars Still On TNT? |
| March 27, 2009 | TCW Episode 22 Now Online |
| March 25, 2009 | The Clone Wars Receives Nominations |
| March 25, 2009 | TCW: A Galaxy Divided DVD On Sale NOW! |
| March 24, 2009 | The Clone Wars Series Links & Reviews |
| March 21, 2009 | TCW Episode #21 Now Online |
| March 21, 2009 | TCW: "Hostage Crisis" Episode Guide |
| March 20, 2009 | The Clone Wars Episode 22 Preview |
| March 14, 2009 | TCW Episode #20 Now Online |
| March 14, 2009 | TCW: "Liberty On Ryloth" Episode Guide |
| March 11, 2009 | The Clone Wars Episode #21 Preview |
| March 5, 2009 | The Clone Wars Episode #20 Preview |
| February 25, 2009 | The Clone Wars Episode #19 Preview |
| February 25, 2009 | The Clone Wars DVD #2 Details Leaked? |
| February 17, 2009 | Greg Proops To Voice On The Clone Wars |
| February 14, 2009 | The Clone Wars Coming To TNT! |
| February 13, 2009 | The Clone Wars Episode #17 Preview |
| February 9, 2009 | Ryloth Trilogy Trailer From The Clone Wars! |
| February 9, 2009 | Cartoon Network Retains The Clone Wars! |
| February 4, 2009 | The Clone Wars Episode #16 Preview |
| February 4, 2009 | The Clone Wars On Dutch TV! |
| February 2, 2009 | The Clone Wars On UK TV |
| January 31, 2009 | The Clone Wars Episode #15 Preview |
| January 29, 2009 | New Clone Wars Books From Penguin |
| January 21, 2009 | The Clone Wars Episode #14 Preview |