The Clone Wars Coming To TNT!
Posted By Mike on February 14, 2009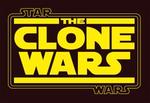 See the press release below:
The Force is Coming to TNT:
STAR WARS?: THE CLONE WARS? Premieres in February

Popular Series from Lucasfilm Animation Has Enjoyed Highly Successful Premiere Run on Cartoon Network

Back-To-Back Episodes Begin Saturday, Feb. 14, at 11 p.m. (ET/PT), Following NBA All-Star Saturday Night,
Then Move to Regular Timeslot Wednesdays at 10 p.m. (ET/PT), Beginning Feb. 18,
All Available in HD
Lucasfilm Animation?s revolutionary animated series STAR WARS: THE CLONE WARS, which has enjoyed a spectacular run on Cartoon Network, is coming to TNT for an encore run this February. The network will kick off the series with back-to-back episodes presented in high-definition Saturday, Feb. 14, at 11 p.m. (ET/PT), immediately following TNT?s NBA All-Star Saturday Night. TNT will then present back-to-back episodes in the series? regular timeslot, Wednesdays at 10 p.m. (ET/PT), beginning Feb. 18.

The first-ever animated series from Lucasfilm Animation, STAR WARS: THE CLONE WARS chronicles the adventures of Anakin Skywalker, Obi-Wan Kenobi, Yoda, Ahsoka Tano and other favorite STAR WARS characters as they struggle against the dark side during the divisive, action-packed Clone Wars. Dwindling numbers of Jedi fight to maintain freedom and restore peace to the galaxy, using their army of genetically engineered clones against the seemingly never-ending droid army. Across hundreds of planets, the Jedi and the evil Separatists fight for the future of the galaxy. The terrible conflict grows wider as our heroes are swept up in the turmoil of war, while the evil Count Dooku, his assassin Asajj Ventress, their master Darth Sidious, the mechanical General Grievous and a rogue?s gallery of never-before-seen villains scheme to defeat them.

Lucasfilm Animation began pre-production on STAR WARS: THE CLONE WARS in 2005, shortly after the release of Star Wars: Episode III ? Revenge of the Sith. For three years, teams of animators, artists and storytellers in northern California and at production facilities in Singapore and Taipei worked together to create one of the most unique animated television series in history. Blending tremendous artistic talent with all-new animation technology, Lucasfilm Animation has produced 22 episodes for the series? first season, which premiered to record ratings on TNT?s sister network, Cartoon Network, in October 2008.

Dave Filoni serves as supervising director of STAR WARS: THE CLONE WARS, with Catherine Winder as producer and George Lucas as executive producer. The series features the vocal talents of Matt Lanter as Anakin Skywalker, Ashley Eckstein as Ahsoka Tano, James Arnold Taylor as Obi-Wan Kenobi, Tom Kane as Yoda, Dee Bradley Baker as Captain Rex and Clones, Ian Abercrombie as Chancellor Palpatine, Matthew Wood as General Grievous, Nika Futterman as Asajj Ventress, Corey Burton as Count Dooku, Matthew Wood as Battle Droids and Anthony Daniels as C-3PO.

Turner Network Television (TNT), one of cable?s top-rated networks, is television?s destination for drama and home to such original series as the acclaimed and highly popular detective drama The Closer, starring Kyra Sedgwick; Saving Grace, starring Holly Hunter; Raising the Bar, with Mark-Paul Gosselaar, Gloria Reuben and Jane Kaczmarek; Leverage, starring Timothy Hutton; and Trust Me, with Eric McCormack and Tom Cavanagh. TNT also presents such powerful dramas as Bones, Cold Case, Law & Order, Without a Trace, ER and Charmed; broadcast premiere movies; compelling primetime specials, such as the Screen Actors Guild Awards?; and championship sports coverage, including NASCAR and the NBA. TNT is available in high-definition.

Turner Broadcasting System, Inc., a Time Warner company, creates and programs branded news, entertainment, animation and young adult media environments on television and other platforms for consumers around the world.


STAR WARS: THE CLONE WARS and related properties are trademarks and/or copyrights, in the United States and other countries, of Lucasfilm Ltd. and/or its affiliates. TM & ? Lucasfilm Ltd. All rights reserved. Used under authorization. All other trademarks and trade names are properties of their respective owners.
UPDATE:
Just a friendly reminder that
The Clone Wars
makes it's
TNT
debut tonight at 11:00 pm following the NBA All-Star Saturday night!
Related Stories
| | |
| --- | --- |
| September 3, 2009 | Another New TCW Season 2 Promo Vid |
| September 2, 2009 | TCW Labor Day Marathon At SW.com |
| August 29, 2009 | TCW: The Hidden Enemy Decoded Now Online |
| August 24, 2009 | TCW Season 2 Kicks Off October 2nd! |
| August 22, 2009 | TCW: "Defenders Of Peace" Decoded |
| August 17, 2009 | TCW: Rise Of The Bounty Hunters |
| August 15, 2009 | TCW: "Jedi Crash" Decoded Now Online |
| August 11, 2009 | TCW: "The Gungan General" Decoded Online |
| August 1, 2009 | SDCC: TCW Voice Actors |
| July 26, 2009 | TCW Season 2 Clothing Inspired By TPM? |
| July 25, 2009 | SDCC: TCW Season 1 Box Set Trailer |
| July 25, 2009 | SDCC: New TCW Season 2 Preview Video |
| July 25, 2009 | TCW Comes To TELETOON In Canada |
| July 21, 2009 | MTV Has Exclusive TCW Season 2 Pics! |
| July 18, 2009 | TCW "Dooku Captured" Decoded Now Online |
| July 6, 2009 | 5 Full Episodes Of The Clone Wars Online |
| July 5, 2009 | TCW: "Lair Of Greivous" Decoded Now Online |
| June 27, 2009 | TCW "Cloak Of Darkness" Decoded Now Online |
| June 25, 2009 | What IGN Wants From TCW Season 2 |
| June 20, 2009 | TCW "Bombad Jedi" Decoded Now Online |
| June 12, 2009 | Australian TCW DVD #2 |
| May 13, 2009 | TCW: S1 DVD & Blu-ray UK Release Date |
| March 31, 2009 | The Clone Wars Season 2 Preview |
| March 28, 2009 | Is The Clone Wars Still On TNT? |
| March 24, 2009 | The Clone Wars Series Links & Reviews |
| March 23, 2009 | Corey Burton Interviewed At SW.com |
| March 21, 2009 | TCW Episode #21 Now Online |
| March 21, 2009 | TCW: "Hostage Crisis" Episode Guide |
| March 20, 2009 | The Clone Wars Episode 22 Preview |
| March 14, 2009 | TCW Episode #20 Now Online |
| March 14, 2009 | TCW: "Liberty On Ryloth" Episode Guide |
| March 8, 2009 | TCW Season Finale Commercial |
| March 7, 2009 | TCW Episode #19 Now Online At SW.com |
| March 7, 2009 | TCW: "Innocents Of Ryloth" Episode Guide |
| March 5, 2009 | The Clone Wars Episode #20 Preview |
| February 28, 2009 | TCW: "Storm Over Ryloth" Episode Guide |
| February 25, 2009 | The Clone Wars Episode #19 Preview |
| February 21, 2009 | TCW Episodes #17 And #18 Now Online! |
| February 20, 2009 | TCW: "Ambush" Repeat Tonight |
| February 17, 2009 | Greg Proops To Voice On The Clone Wars |
| February 14, 2009 | TCW: "Mystery Of A Thousand Moons" Episode Guide |
| February 14, 2009 | TCW: "Blue Shadow Virus" Episode Guide |
| February 14, 2009 | TCW Episode #16 Now Online |
| February 13, 2009 | The Clone Wars Episode #17 Preview |
| February 7, 2009 | TCW: "The Hidden Enemy" Episode Guide |
| February 6, 2009 | TCW Episode #15 Now Online! |
| February 6, 2009 | Nika Futterman Interviewed At Starwars.com |
| February 4, 2009 | The Clone Wars Episode #16 Preview |
| February 4, 2009 | The Clone Wars On Dutch TV! |
| January 31, 2009 | TCW Episode #14 Now Online |
| January 22, 2009 | TCW On DVD Volume 1 Coming In March! |
| January 17, 2009 | The Clone Wars On iTunes Update |
| January 10, 2009 | The Clone Wars Series In Canada Update |
| December 23, 2008 | The Clone Wars International TV Listings |