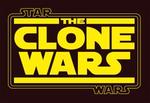 Our friend J.A. sends us this update on
The Clone Wars: Season 1
DVD and Blu-ray set for it's UK release.
According to
this article,
Season 1 is set to be released in the UK on
November 2nd
.
No details yet on any of the bonus content that will be included in either set.
Fingers crossed news of a US release is not far behind!
Thanks to J.A. for the update!
Source:
DVDactive.com

| | |
| --- | --- |
| September 15, 2009 | New Details For The Clone Wars DVD #2 |
| September 11, 2009 | TCW: S1 Boxed Set Australian Release |
| August 15, 2009 | Happy Anniversary To The Clone Wars! |
| August 1, 2009 | SW Saga Blu-Ray Box Set On The Way? |
| July 26, 2009 | TCW Season 2 Clothing Inspired By TPM? |
| July 25, 2009 | SDCC: TCW Season 1 Box Set Trailer |
| July 25, 2009 | SDCC: New TCW Season 2 Preview Video |
| July 25, 2009 | TCW Comes To TELETOON In Canada |
| July 21, 2009 | MTV Has Exclusive TCW Season 2 Pics! |
| July 18, 2009 | TCW "Dooku Captured" Decoded Now Online |
| July 15, 2009 | TCW Complete S1 Blu-ray Boxed Set |
| July 6, 2009 | 5 Full Episodes Of The Clone Wars Online |
| July 5, 2009 | TCW: "Lair Of Greivous" Decoded Now Online |
| July 1, 2009 | More Australian TCW DVD Details |
| June 27, 2009 | TCW "Cloak Of Darkness" Decoded Now Online |
| June 25, 2009 | What IGN Wants From TCW Season 2 |
| June 20, 2009 | TCW "Bombad Jedi" Decoded Now Online |
| June 13, 2009 | TCW "Duel Of The Droids" Decoded |
| June 12, 2009 | Australian TCW DVD #2 |
| June 6, 2009 | Watch TCW "Downfall Of A Droid" Decoded |
| June 4, 2009 | The Clone Wars Official S1 Episode Guide |
| May 30, 2009 | TCW: "Rookies" Decoded Now Online |
| May 28, 2009 | FREE Theatrical Showings Of TCW |
| May 26, 2009 | TCW: Volume 1 DVD Coming To Australia |
| May 23, 2009 | Watch TCW: "Destroy Malevolence" Decoded |
| May 16, 2009 | TCW Concept Designer Randy Bantog |
| April 7, 2009 | The Clone Wars DVD Exclusives |
| April 6, 2009 | The Clone Wars: Decoded |
| March 31, 2009 | The Clone Wars Season 2 Preview |
| March 30, 2009 | IGN Reviews Season 1 Of The Clone Wars |
| March 25, 2009 | The Clone Wars Receives Nominations |
| March 24, 2009 | The Clone Wars Series Links & Reviews |
| February 25, 2009 | The Clone Wars DVD #2 Details Leaked? |
| February 14, 2009 | The Clone Wars Coming To TNT! |
| February 9, 2009 | Cartoon Network Retains The Clone Wars! |
| January 6, 2009 | The Clone Wars Series On DVD Rumors |