The Darth Vader Clapper By Joseph Enterprises
Posted by Dustin on
November 22, 2018 at 11:39 AM CST
---
Story originally posted by "B" over at Rebelscum.com.


The original and affordable home automation - now available as the Darth Vader Clapper! Turn on or off your appliance (such as a lamp) by clapping your hands! Hear Darth Vader speak "The Force is Strong with this one". Clap twice again and hear Darth Vader speak "You underestimate the power of the dark side".
"Clap On! Clap Off! The Clapper!"
Collectors of a certain age will remember the
television ads
for The Clapper and its catchy slogan. For those unaware, The Clapper is a sound-activated electrical switch, sold by California based Joseph Enterprises, Inc., a company which also produces the Chia Pet. While it's a gadget of yesteryear, The Clapper is still in production, and now it comes in a format much more suited to your Star Wars collection. The Clapper has been re-imagined in the shape of Darth Vader's iconic helmet, and now includes sound clips of the dark lord himself.
Our sample worked perfectly, and as advertised. It took just a moment to determine the correct volume and timing of the claps required to activate it, and then we were in command of a very specific force-like power. You can pretend that Lord Vader is at your mercy and must carry out your small appliance wishes. Our sample was also reviewed by a 7-year-old, and the look of pure joy on her face when she was able to activate Darth Vader with the proper claps was extremely fun to see.
The Darth Vader Clapper is available in retro-style "heritage" packaging, as seen in our sample, as well as modern black packaging. The listed retail price is $29.99.
Order yours today!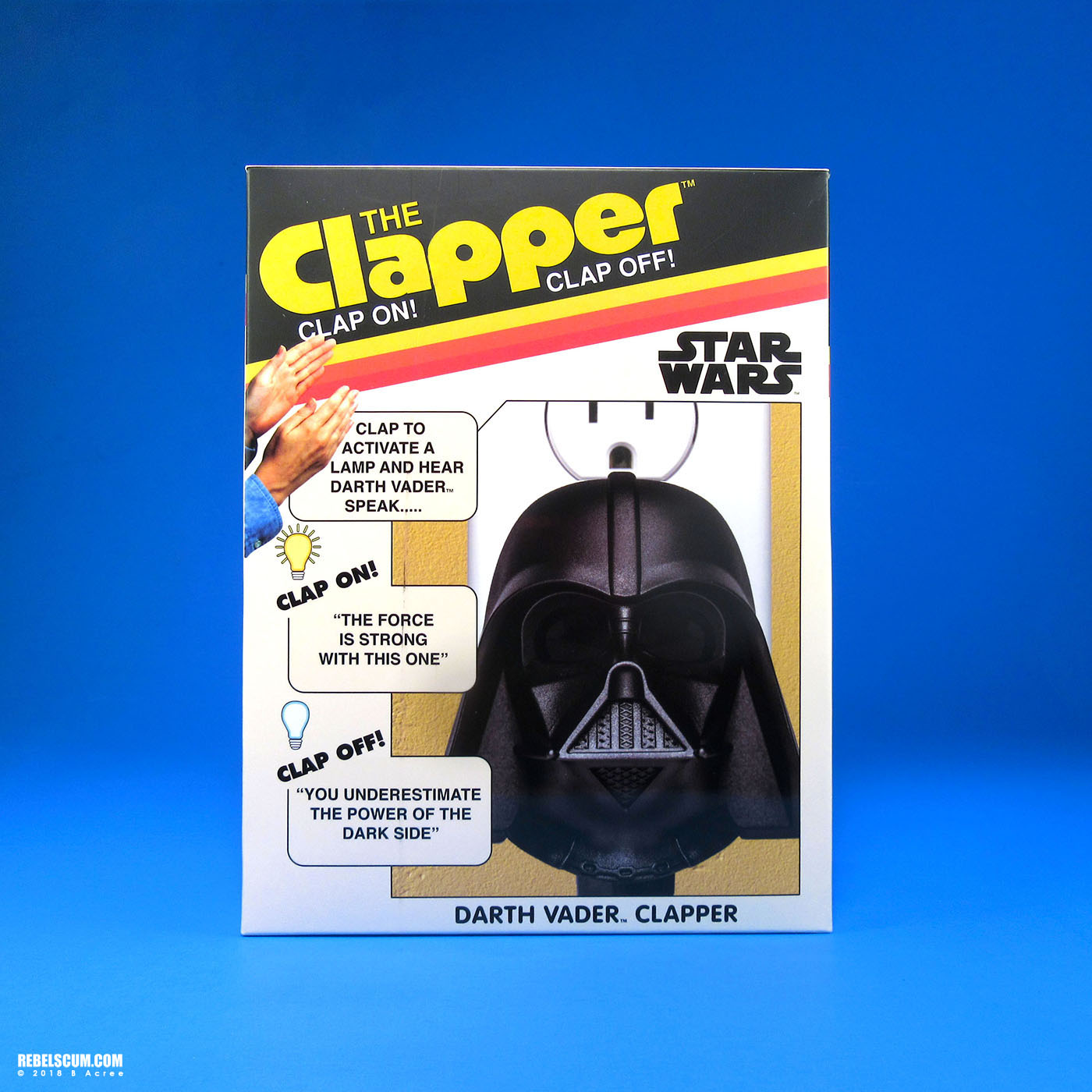 Specs:


Clap activated


Clap twice (to turn on) hear Darth Vader speak "The Force is Strong with this one"


Clap twice again (to turn off) and hear Darth Vader speak "You underestimate the power of the dark side".


WIRELESS WALL SWITCH: Simplify your life with the easy to use smart home wall switch. No more fumbling through the darkness looking for your light switch. Each package contains 1 Clapper switch


SOUND ACTIVATION: Lights On! Lights Off! Control your kitchen and bedroom lighting with the simple clap of your hands. Now that's easy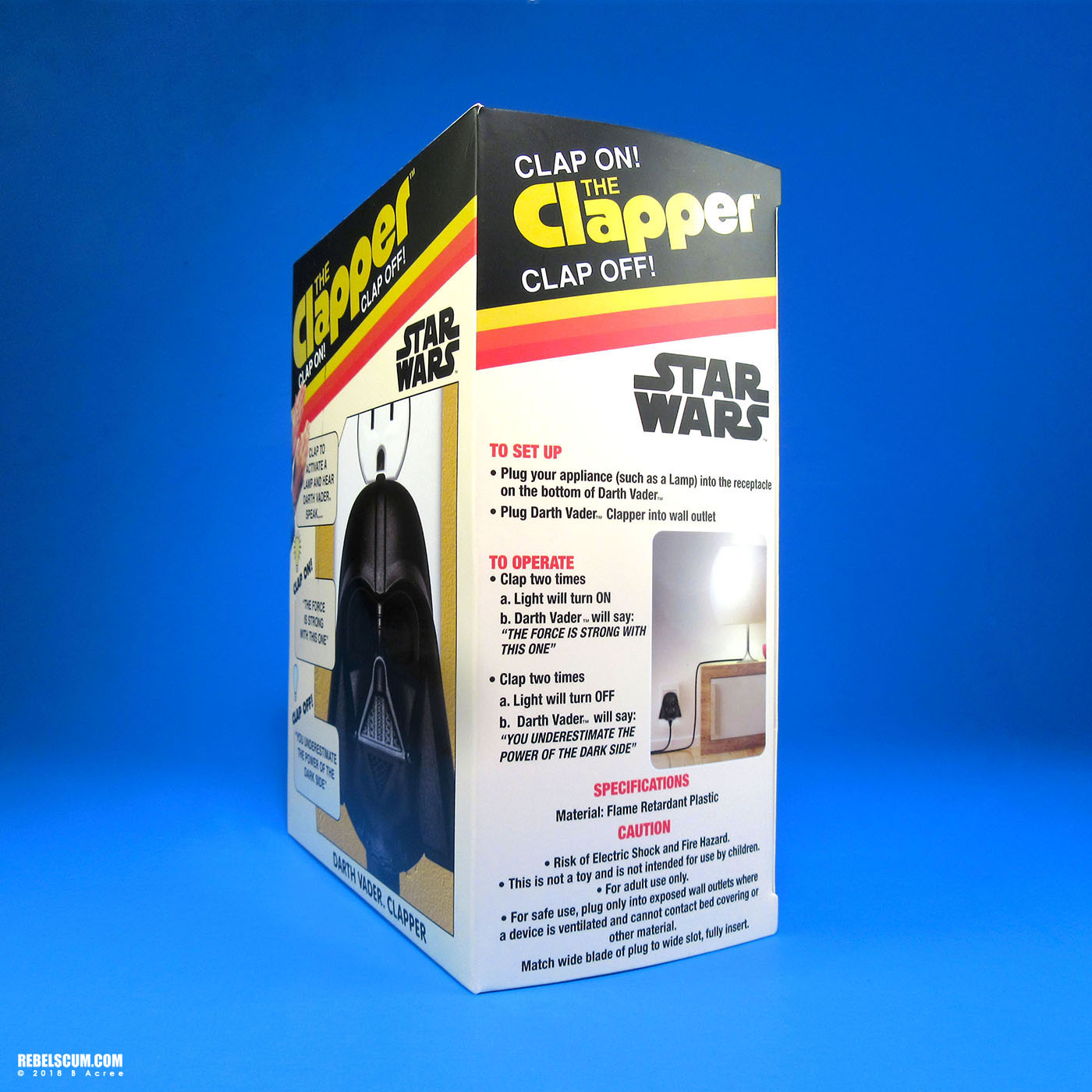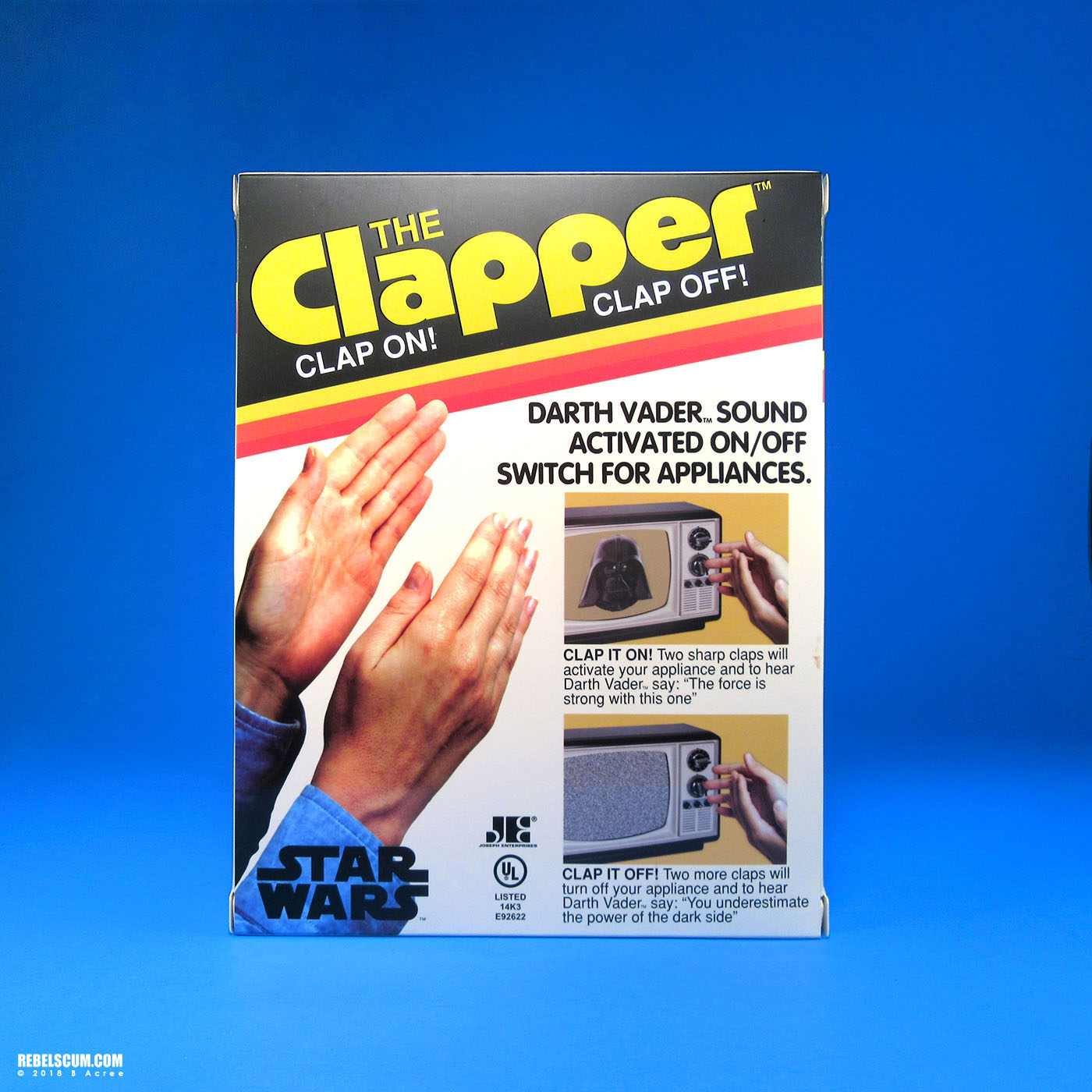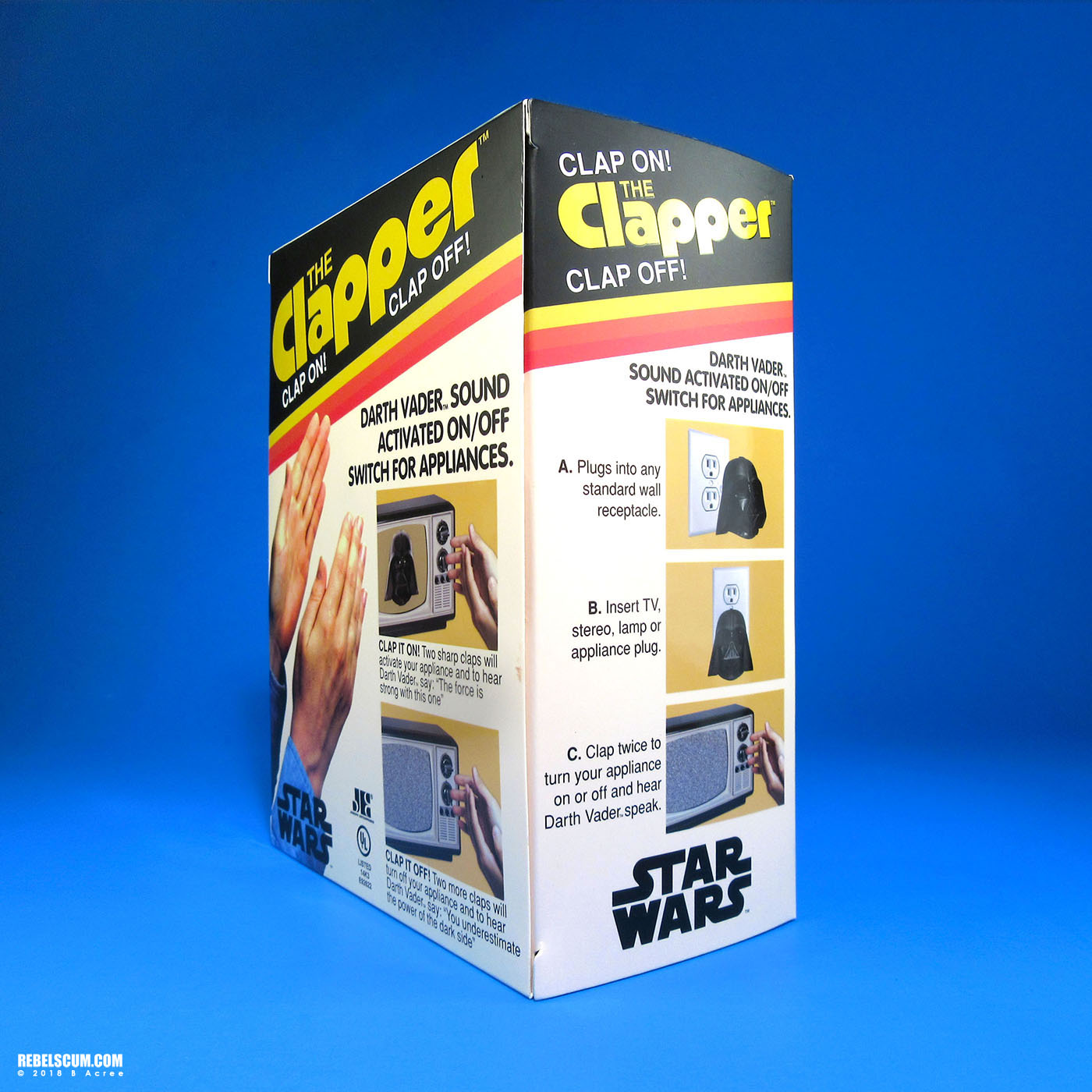 ---
Related Stories:
Star Wars Rebels - Darth Vader Compilation
CYBER MONDAY Deals On Star Wars Collectibles At Entertainment Earth!
Great Deals On Star Wars Collectibles At Entertainment Earth!
New Vehicle Images From The Set Of The Mandalorian
Gentle Giant Kicks Off Black Friday Sale
The Star Wars Authentics Black Friday Sale Starts Now!
Star Wars Resistance Preview - The Platform Classic
First Image From Star Wars Resistance "Secrets and Holograms"


The ForceCast is our popular Star Wars podcast that features news, commentary, interviews, and discussion about the Star Wars saga! Listen Now!
Rebelscum.com provides the latest in collecting news. The site features up-to-the-minute news and images, coverage of Star Wars conventions, several product databases, countless reference galleries and archives, and more.Visit Now!
Jedi Journals is the longest running Star Wars literature podcast in the galaxy. Listen Now!
Entertainment Earth was started in a garage in 1995, and has since become the "go-to" source and experts for the latest and greatest action figures, bobble heads, toys, gifts, and collectibles! Visit Now!
The IndyCast is the world's most popular Indiana Jones podcast! Ed Dolista and his team take a look at all the latest news, reviews and interviews! Listen Now!