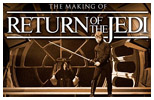 Making Of ROTJ Excerpt: George Lucas Plans The Prequels
Posted by Eric on
May 22, 2013 at 10:26 AM CST
---
The Huffington Post has shared a great excerpt from J.W. Rinzler's The Making of Star Wars: Return of the Jedi, which is due out later this year. In the excerpt, George Lucas, writer Lawrence Kasdan, director Richard Marquand, and Howard Kazanjian discuss Anakin's early life, his gravitation toward the Emperor ("at this point nobody knew was that bad, because he was an elected official"), and his fall to the dark side. The discussion was part of a story conference for Episode VI in July 1981.

Check out this passage from HuffPo's excerpt of the conversation:

Lucas: [...] Also another misconception is that Yoda teaches Jedi, but he is like a guru; he doesn't go out and fight anybody.

Kasdan: A Jedi Master is a Jedi isn't he?

Lucas: Well, he is a teacher, not a real Jedi. Understand that?

Kasdan: I understand what you're saying, but I can't believe it; I am in shock.

Lucas: It's true, absolutely true, not that it makes any difference to the story.

Kasdan: You mean he wouldn't be any good in a fight?

Lucas: Not with Darth Vader he wouldn't.

Kasdan: I accept it, but I don't like it.
You can read the rest of the excerpt over at
The Huffington Post
.
The Making of Star Wars: Return of the Jedi>
will be published by Del Rey Books on October 1.
---
Related Stories:
J.W. Rinzler Interviewed About New Making Of ROTJ Book

---