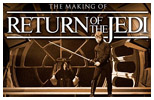 J.W. Rinzler Interviewed About New Making Of ROTJ Book
Posted by Eric on
May 21, 2013 at 10:11 AM CST
---
The Huffington Post spoke to Lucasfilm editor J.W. Rinzler about his new book The Making of Return of the Jedi, which will be out this October. They also presented an exclusive book trailer promoting the upcoming behind-the-scenes tome. Here's an excerpt from the interview:

On Harrison Ford's attitude toward "Return of the Jedi":

Obviously, Harrison Ford career had taken a mega leap with Indiana Jones and he had just done "Blade Runner." So, he was doing really interesting work. I think he was as interested as always, but he just felt that in terms of the character arc of [Han Solo], it would serve the story more if he died. And it's well known that he was really pushing that. But George didn't want to kill off a major character -- or even a minor character -- in "Jedi." But in the story conference [with Lucas, Lawrence Kasdan, Richard Marquand and producer Howard Kazanjian], I think you can see in hindsight that what happened was that Han and Leia, their storyline, didn't receive as much attention as it might have. It's not really Ford losing interest as it is neither character has as much to do in "Jedi" as they did in "Empire."
Check out the book trailer and the rest of the Rinzler interview over at
The Huffington Post
(hat tip to
Club Jade
for the link).
The Making of Return of the Jedi
will be published by Del Rey Books on October 1.
---
Related Stories:
Howard Kazanjian: A Producer's Life By J. W. Rinzler
Making Of ROTJ Excerpt: George Lucas Plans The Prequels

---