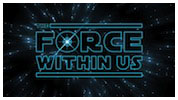 The Force Within Us Celebrates The 30TH Anniversary Of Return Of The Jedi
---
The Force Within Us CELEBRATES THE 30TH ANNIVERSARY OF RETURN OF THE JEDI!

Order The Force Within Us at www.theforceamongus.com today (May 25th) and get a set of Return of the Jedi style trading cards and a vial of earth from the Endor Filming locations for FREE!!!

The Force Within Us was released on March 22nd and is selling at a rapid pace! The Documentary has received rave reviews with both Critics and Fans Alike! The DVD is expected to sell out soon! ONLY 1,000 DVDS WERE PRESSED!

Filmmaker Cris Macht takes you on an emotional journey from the filming locations in Death Valley to the The Redwood Forest in Smith River, Ca and discovers that Star Wars has not only changed his life…but many others as well.

The Documentary features rare interviews with Dave Dorman, Steve Sansweet, Robert Watts, Paul Bateman, ashley Eckstein, Cast and Crew Members from Return Of the Jedi and others! The Force Within Us was also filmed in Smith River, Ca (original filming location of Return of The Jedi)

FOR MORE INFO ON THE FILM – CHECK OUT THEIR FACEBOOK PAGE!
---
Related Stories:
The Force Within Us 10 Year Anniversary Screening In Chicago!
Stephen Sansweet On Latest Episode Of Machtails From The Cantina
Happy Birthday ROTJ: Episode VI Around The Web

---