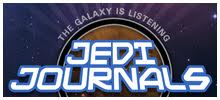 Posted by Jay on
February 1, 2017 at 11:59 AM CST
This month, Jay & Chris share their thoughts on the newly revealed title for Episode VIII! Also, they give an in depth review of James Luceno's latest work titled Star Wars: Catalyst – A Rogue One Novel and run down all the latest comics, books and magazines to hit stores shelves on the February episode of Jedi Journals, the original and longest running Star Wars literature podcast in the galaxy!

Click here to listen!
Related Stories:
Jedi Journals: May 2017
Jedi Journals: March 2017


The ForceCast is our popular Star Wars podcast that features news, commentary, interviews, and discussion about the Star Wars saga! Listen Now!
Rebelscum.com provides the latest in collecting news. The site features up-to-the-minute news and images, coverage of Star Wars conventions, several product databases, countless reference galleries and archives, and more.Visit Now!
Jedi Journals is the longest running Star Wars literature podcast in the galaxy. Listen Now!
Entertainment Earth was started in a garage in 1995, and has since become the "go-to" source and experts for the latest and greatest action figures, bobble heads, toys, gifts, and collectibles! Visit Now!
The IndyCast is the world's most popular Indiana Jones podcast! Ed Dolista and his team take a look at all the latest news, reviews and interviews! Listen Now!