Go For A Swim With The Imperial Handbook's Aquatic Assault Stormtrooper
Posted by Justin on
September 29, 2014 at 08:30 AM CST
becker&mayer! Book Producers have provided TheForce.Net with the below image of an Aquatic Assault Stormtrooper (artwork by Velvet Engine Studio) from the forthcoming Star Wars: The Imperial Handbook.

Written by noted Star Wars author Daniel Wallace, the book serves as a guide for commanders of the Imperial Military. In-universe authors include Admirals Wullf Yularen and Antonio Motti, as well as General Cassio Tagge and of course, Grand Moff Wilhuff Tarkin. As with The Jedi Code, Book of Sith, and The Bounty Hunter Code, the book will also include annotations from characters with a different point of view including Wedge Antilles, Leia Organa, Han Solo, Luke Skywalker, and Mon Mothma.

From the book:


AQUATIC ASSAULT STORMTROOPERS
(SEATROOPERS)
Aquatic assault stormtroopers, or seatroopers, are deployed on oceanic worlds to pacify threats beneath the waves. The armor's air supply lasts over an hour and is resistant to crushing ocean depths. Underwater mobility is aided by flippered boots and a backpack propulsion unit.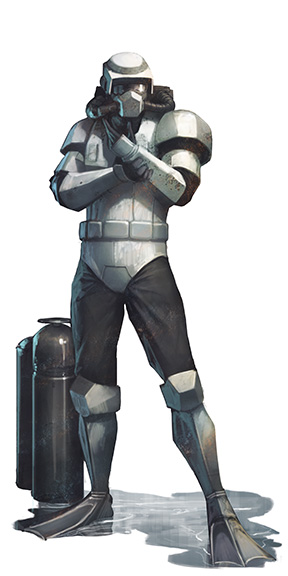 An essential read for Imperials and Star Wars fans everywhere, the deluxe edition of Star Wars: The Imperial Handbook goes on sale October 14. Click HERE to order from becker&mayer!.

Related Stories:
TFN Review: Imperial Handbook: A Commander's Guide From Becker & Mayer


The ForceCast is our popular Star Wars podcast that features news, commentary, interviews, and discussion about the Star Wars saga! Listen Now!
Rebelscum.com provides the latest in collecting news. The site features up-to-the-minute news and images, coverage of Star Wars conventions, several product databases, countless reference galleries and archives, and more.Visit Now!
Jedi Journals is the longest running Star Wars literature podcast in the galaxy. Listen Now!
Entertainment Earth was started in a garage in 1995, and has since become the "go-to" source and experts for the latest and greatest action figures, bobble heads, toys, gifts, and collectibles! Visit Now!
The IndyCast is the world's most popular Indiana Jones podcast! Ed Dolista and his team take a look at all the latest news, reviews and interviews! Listen Now!