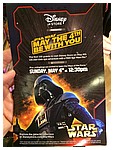 Disney Announces May 4th Star Wars Event In Its Stores
Posted by Eric on
April 22, 2014 at 10:50 AM CST
Disney hosted a VIP event for the press last night, and the big news out of that event is that the company will be hosting May 4th events in its stores with activities for children, Star Wars music, and exclusive memorabilia. Here's the description of the in-store events from a PDF provided by Disney:

On May the Fourth, Guests will be introduced (or perhaps, re-introduced) to the story and characters of Star Wars Episode IV: A New Hope. In-Store events and an exciting Disney Store-exclusive product launch are in the works.

For starters, the first 100 Guests who visit the Store will receive a Limited Edition Star Wars pin perfect for starting or adding to an existing collection.

Then, kids ages 3 and up are invited to learn about the "Ways of the Force" where they can:


Discover the Jedi Mind Trick and learn how Obi-Wan Kenobi uses it to serve the greater good

Master a Lightsaber through hands-on training

Help Luke Skywalker destroy the Death Star through an interactive experience on the Media Wall

Participate in a Medal of Bravery Ceremony

But that's not all! Throughout May, Guests will be introduced to characters from the classic film with a collectible trading cards giveaway each week, available while supplies last. Best of all, May 4 will celebrate the launch of Disney Store-exclusive Star Wars merchandise.
You can check out photos from the VIP event, including the May 4th event brochure seen above,
right here
.
Related Stories:

The ForceCast is our popular Star Wars podcast that features news, commentary, interviews, and discussion about the Star Wars saga! Listen Now!
Rebelscum.com provides the latest in collecting news. The site features up-to-the-minute news and images, coverage of Star Wars conventions, several product databases, countless reference galleries and archives, and more.Visit Now!
Jedi Journals is the longest running Star Wars literature podcast in the galaxy. Listen Now!
Entertainment Earth was started in a garage in 1995, and has since become the "go-to" source and experts for the latest and greatest action figures, bobble heads, toys, gifts, and collectibles! Visit Now!
The IndyCast is the world's most popular Indiana Jones podcast! Ed Dolista and his team take a look at all the latest news, reviews and interviews! Listen Now!