D-Tech Me Experience Returns For Star Wars Weekends
Posted by Chris on
May 6, 2013 at 02:52 PM CST
The Disney Parks Blog announced today that the Carbon Freeze Me Experience would be returning for the 2013 Star Wars Weekends event. If the Carbonite block isn't your style, fans can now have their own likeness in the form of an Imperial Stormtrooper!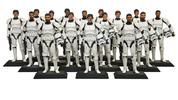 Unlike last year, the D-Tech Me Experience will be located inside Darth's Mall with all of the other exclusive merchandise.
From the
Blog
:
The 10-minute experience uses the world's highest-resolution, single-shot 3D face scanner created by our Imagineering scientists with Disney Research labs. That captured image is later sent to a high resolution 3D printer to create the figurine. The completed figurine will arrive within 7-8 weeks after the experience if shipping domestically (it takes a little longer if shipping internationally). Guests will also receive either a Carbon-Freeze Me light-up band or a collector button depending upon which option they choose.

The Star Wars – D-Tech Me experience is $99.95, plus shipping and applicable sales tax.

To book your experience, please call 407-WDW-TECH ( 407-939-8324 ) to ask about availability. We will only offer the experience during Star Wars Weekends 2013 (May 17 – 19, May 24 – 26, May 31 – June 2, and June 7 – 9).
Check out the full article
here
.
Related Stories:
Star Wars Weekends 2013: Weekend #4 Guests
Star Wars Weekends 2013: Weekend #4 Motorcade
Star Wars Weekends 2013: Weekend #3 Motorcade
Star Wars Weekends 2013: Weekend #3 Guests & New Merchandise
Star Wars Weekends 2013: Weekend #3 Behind The Force Show
Star Wars Weekends 2013: Weekend #2 Celebrities & Guests
Star Wars Weekends 2013: Weekend #2 Motorcade
Star Wars Weekends 2013: Darth's Mall Gallery
Star Wars Weekends Disney Gift Cards
Full Line Up For 2013 Star Wars Weekends Announced
Stephen Hayford Star Wars Weekends Exclusive Art 1
Bulloch & Baker Confirm Star Wars Weekends Attendance
Billy Dee Williams Returns To Star Wars Weekends
Star Wars Weekends 2013 Merchandise
Star Wars Weekends 2013 Logo Revealed

The ForceCast is our popular Star Wars podcast that features news, commentary, interviews, and discussion about the Star Wars saga! Listen Now!
The Cloud City Cantina (v21.0): The Last Cantina
---
Free Association Thread.
---
The US Politics discussion
---
Rank something from best to worst
---
Rebelscum.com provides the latest in collecting news. The site features up-to-the-minute news and images, coverage of Star Wars conventions, several product databases, countless reference galleries and archives, and more.Visit Now!
Jedi Journals is the longest running Star Wars literature podcast in the galaxy. Listen Now!
Entertainment Earth was started in a garage in 1995, and has since become the "go-to" source and experts for the latest and greatest action figures, bobble heads, toys, gifts, and collectibles! Visit Now!
The IndyCast is the world's most popular Indiana Jones podcast! Ed Dolista and his team take a look at all the latest news, reviews and interviews! Listen Now!