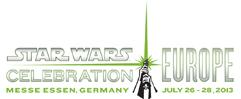 CEII: David Collins Provides A Day 1 Recap
The Official Star Wars YouTube has posted a ground report from Day 1 of Star Wars Celebration Europe II. Digital Stage host David Collins walks us through the day's events and visits the show floor. Check it out below.


Related Stories:
CEII: StarWars.com 'Ground Report' From Day 3
CEII: Celebration Exclusives Now Available Online
CEII: Day 1 Panel Liveblogs From The Official Star Wars Blog
CEII: Filoni Opens Up About The Clone Wars At Behind-The-Scenes Panel
CEII: The Clone Wars S5, Complete Series Sets Announced


Jedi Journals is the longest running Star Wars literature podcast in the galaxy. Listen Now!
Rebelscum.com provides the latest in collecting news. Visit Now!
The IndyCast is the world's most popular Indiana Jones podcast! Ed Dolista and his team take a look at all the latest news, reviews and interviews! Listen Now!