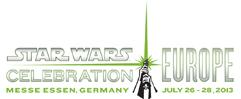 CEII: Day 1 Panel Liveblogs From The Official Star Wars Blog
Day 1 of Celebration Europe II is over, so now is a good time to start catching up on what happened in Germany. In addition to the big news about The Clone Wars box sets, there were a number of other panels on the convention's first day. The Official Star Wars Blog liveblogged three of them. Hit the links below to check them out.

"Designing a Galaxy" Panel with Doug Chiang and Iain McCaig

"The Golden Hour" Panel with Anthony Daniels

International Fan Clubs with Special Guest Gerald Home
Related Stories:
CEII: Celebration Exclusives Now Available Online
CEII: David Collins Provides A Day 1 Recap
CEII: Filoni Opens Up About The Clone Wars At Behind-The-Scenes Panel
CEII: The Clone Wars S5, Complete Series Sets Announced

Jedi Journals is the longest running Star Wars literature podcast in the galaxy. Listen Now!
Rebelscum.com provides the latest in collecting news. Visit Now!
The IndyCast is the world's most popular Indiana Jones podcast! Ed Dolista and his team take a look at all the latest news, reviews and interviews! Listen Now!