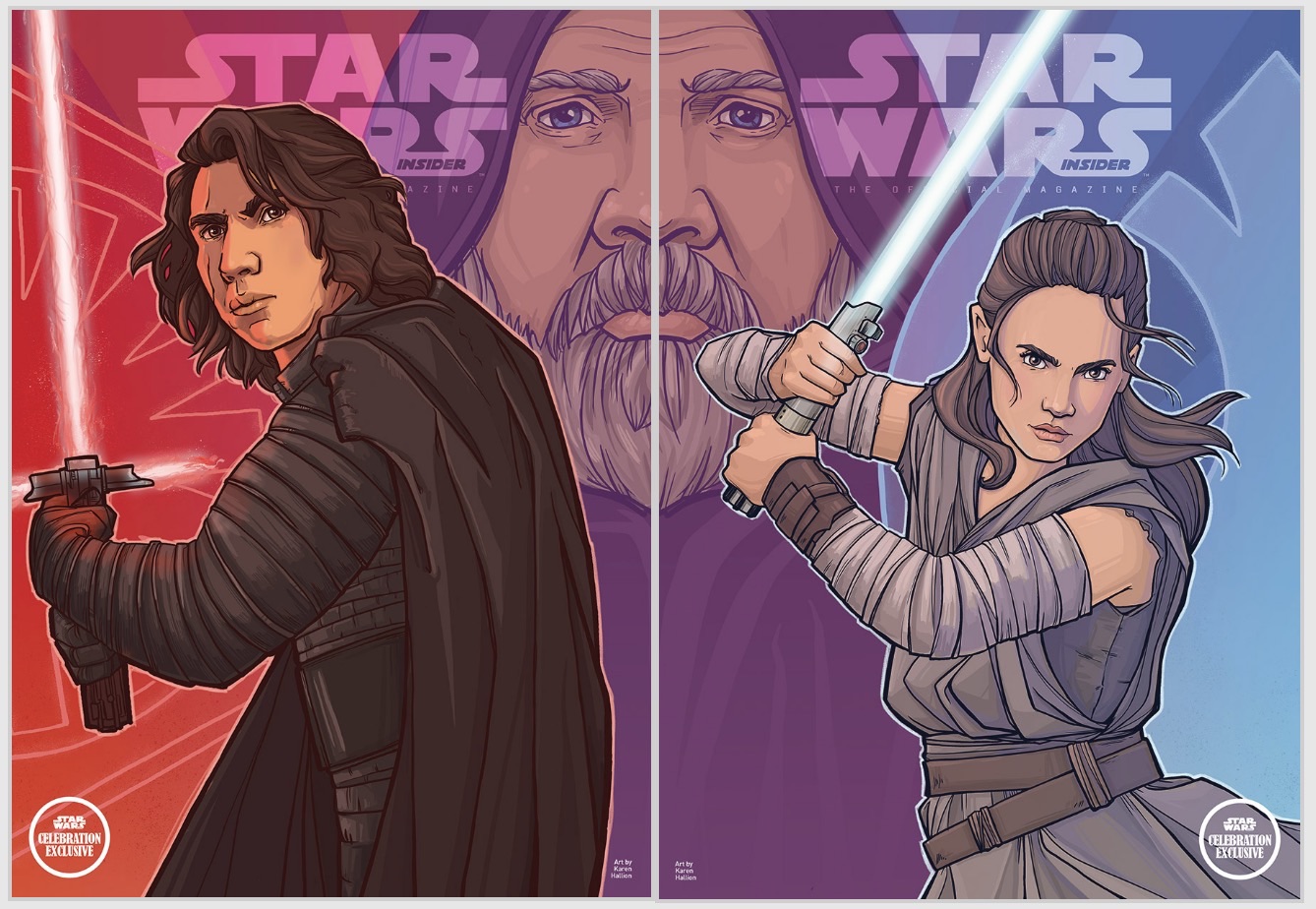 Star Wars Celebration 2019: Star Wars Insider Exclusive
---
StarWars.com has revealed the exclusive artwork for the Star Wars Insider issues available only at Chicago! Issue #189 of the long running magazine will again have a Light Side and a Dark Side cover.

This year, however, the covers are not images, but original artwork by Celebration artist Karen Hallion. Her design features Kylo Ren and Rey striking a pose in front of venerable (and now, deceased) Jedi Master Luke Skywalker.

The Insider exclusive versions will be limited and available only in Chicago. If pricing is similar to past years, each issue will be listed at $20. Star Wars Insider #189 shows up on newsstands with it's normal cover on April 30, 2019.
---
Related Stories:
Speeder Bike Prop From The Mandalorian At Star Wars Celebration Chicago 2019
Star Wars Fan Film Award Winners Screening
Star Wars Celebration Chicago 2019 Day One Reminders
Star Wars Galaxy Of Adventures Fun Facts - Walkers
The Star Wars Saga Mural At Star Wars Celebration
New Autographs, Exclusive Trading Cards And More At Star Wars Celebration
All Wings Report In!
Mobile App For Star Wars Celebration Chicago 2019 Is Now Available To Download!
Star Wars Celebration Chicago 2019 Collecting Track Swap Meet
Browse The Entire Catalog Of Star Wars Celebration Store Exclusives
Let's Count 'Dooku' In The Star Wars Movies
All 20 Star Tots For Star Wars Celebration Chicago 2019
Ewan McGregor Exclusive 8x10 Autograph Will Be Available At Star Wars Celebration 2019
Star Wars Galaxy Of Adventures Fun Facts - Star Wars Planets
Star Wars Celebration Store Merchandise Revealed
LEGO Star Wars Animation Poster Giveaway And Autograph Session
Here Is The Del Rey Booth Schedule For Star Wars Celebration Chicago 2019
Lucasfilm Registers Trademarks For 9 Alcoholic Beverages
Execute Order 66 Road Trip To Star Wars Celebration 2019
Author Paul Duncan Talks Star Wars Archives, Plus Celebration Exclusives First Look!
Tem Morrison No Longer Attending Star Wars Celebration 2019
Star Wars Celebration 2019 Her Universe Collection
The ForceCast Star Wars Celebration Special

The ForceCast is our popular Star Wars podcast that features news, commentary, interviews, and discussion about the Star Wars saga! Listen Now!
Rebelscum.com provides the latest in collecting news. The site features up-to-the-minute news and images, coverage of Star Wars conventions, several product databases, countless reference galleries and archives, and more.Visit Now!
Jedi Journals is the longest running Star Wars literature podcast in the galaxy. Listen Now!
Entertainment Earth was started in a garage in 1995, and has since become the "go-to" source and experts for the latest and greatest action figures, bobble heads, toys, gifts, and collectibles! Visit Now!
The IndyCast is the world's most popular Indiana Jones podcast! Ed Dolista and his team take a look at all the latest news, reviews and interviews! Listen Now!