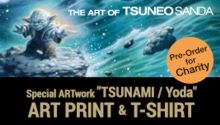 Tsuneo Sanda Tsunami Charity Art
Posted by Philip on
August 20, 2013 at 07:31 AM CST
Well-known for his Star Wars art, Tsuneo Sanda has created a beautiful Yoda centered piece in support of the earthquake and tsunami two years ago in Japan. It's being offered as a print and T-shirt and his earnings go to "Iwate Manabi Kibou Kikin" (Fundraising for orphan children suffered by large Tsunami). Click here to check it out and hopefully help.
Related Stories:
The ForceCast is our popular Star Wars podcast that features news, commentary, interviews, and discussion about the Star Wars saga! Listen Now!
Rebelscum.com provides the latest in collecting news. The site features up-to-the-minute news and images, coverage of Star Wars conventions, several product databases, countless reference galleries and archives, and more.Visit Now!
Jedi Journals is the longest running Star Wars literature podcast in the galaxy. Listen Now!
Entertainment Earth was started in a garage in 1995, and has since become the "go-to" source and experts for the latest and greatest action figures, bobble heads, toys, gifts, and collectibles! Visit Now!
The IndyCast is the world's most popular Indiana Jones podcast! Ed Dolista and his team take a look at all the latest news, reviews and interviews! Listen Now!