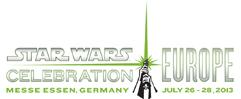 CEI: StarWars.com Recaps Fett and Jabba Panels
Looking for recaps of the "Jabba's Palace Reunion" and "The Fett-Tastic Four" panels at Celebration Europe II? The Official Star Wars Blog has you covered. They liveblogged both panels, and you can see excerpts below.

Jabba's Palace Reunion

Salacious almost got fired. Tim Rose, through Salacious, made a joke after shooting the defrosting-Han scene, saying that Solo's lines were getting in the way of his laughing. Everyone enjoyed it except a certain actor, who wanted Rose fired — ultimately, he was able to stay on.

Bib Fortuna likes the Max Rebo Band's early stuff. Michael Carter, the actor behind Bib Fortuna, said that he remembered watching the puppeteers rehearse the big musical number in Jabba's Palace for days. When it was changed in the Special Edition, he was disappointed.
The Fett-Tastic Four
Make my day. When John Morton stood in for Jeremy Bulloch during Empire, he received one direction: to think "Clint Eastwood."

Daniel Logan didn't really know Star Wars when he got the part. He was really only aware of Yoda and lightsabers, so he thought he was auditioning to be a Jedi. When he was told he would be a bounty hunter, he replied, "What's that?" And he didn't know who Boba Fett was. But when he attended Celebration II, he saw what the character meant to people. "I'm the biggest Star Wars fan now."

Did Boba Fett really go to that big cloning facility in the sky? Not according to Bulloch. "He didn't die. He gets out of the Sarlacc pit," the original Fett says.

Related Stories:
Jedi Journals is the longest running Star Wars literature podcast in the galaxy. Listen Now!
Rebelscum.com provides the latest in collecting news. Visit Now!
The IndyCast is the world's most popular Indiana Jones podcast! Ed Dolista and his team take a look at all the latest news, reviews and interviews! Listen Now!