Star Wars: Rise of the Resistance Grand Opening Event
Posted by Chris on
December 6, 2019 at 07:15 PM CST
---
Spoilers below, depending on how little or how much you'd like to know about the new attraction. Read & view at your own risk.

Disney hosted an amazing 3-day event for members of the media this week leading up to the official opening of the new Star Wars: Rise of the Resistance attraction located inside Galaxy's Edge at Disney's Hollywood Studios park in Orlando, FL. I was part of the lucky group of people that were present to cover it and I'm thrilled to share it with you now. They really went all out by having a special Disney Rep individually assigned to escort us around the parks each day and keep us on track so we didn't miss a thing. With several scheduled interviews, ride times, previews, events and more, it was incredibly helpful to have someone making sure we were on time for everything.

Disney has a lot of things going on right now. The parks are in a constant state of change with new attractions coming, some opening this week, and some in the not so distant future. There is a new resort opening soon and they are creating new ways to enjoy the parks with game apps for your phone. There's also a new form of transportation available onsite along with numerous other things. While this was primarily a Star Wars themed event, I learned a lot about some non-Star Wars related things to come that have me very excited too.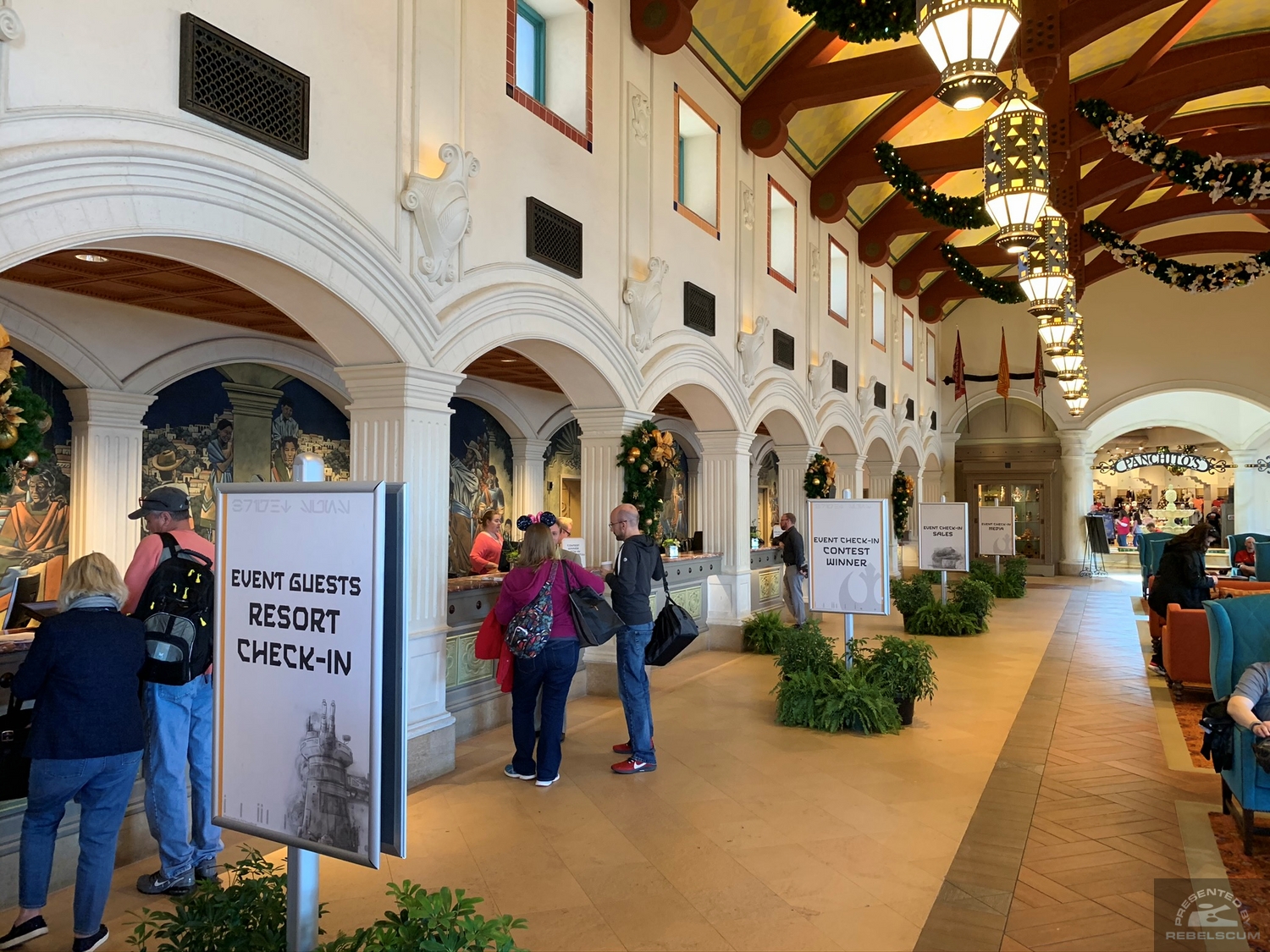 Day 1
The first day consisted of checking into Disney's Coronado Springs Resort to collect my credentials, a Press Kit, a Welcome Kit and some cool welcome gifts which included a
Star Wars: Rise of the Resistance
crossbody bag with a BB-8 water bottle inside, an exclusive
Star Wars: Rise of the Resistance
MagicBand and a Mickey & friends chocolate bar gift pack.
After check-in, it was a full afternoon at Epcot. I tried out the new Adventures app that features a scavenger hunt based on the history of the park, location hunting and taking photos at specific spots.
In the France pavilion, an all-new
Beauty and the Beast
Sing-Along is set to debut in January 2020 and is directed by Don Hahn, the producer of both the animated and live-action film. Narrated by none other than Mrs. Potts herself, Angela Lansbury, it's presented as a twisted version of the story that shows you how one character made it possible for Belle and the Beast to meet and fall in love. I attended a preview of this fantastic attraction that should excite fans of these characters both young and old.
I also had the opportunity to do a track walk for the upcoming Remy's Ratatouille Adventure ride opening next summer. Based on the Disneyland Paris ride that's been in operation for more than five years, guests will shrink to the size of a mouse and race through Gusteau's restaurant. Around that same time, a new restaurant called La Cręperie de Paris, which will offer both table and quick-service options will open.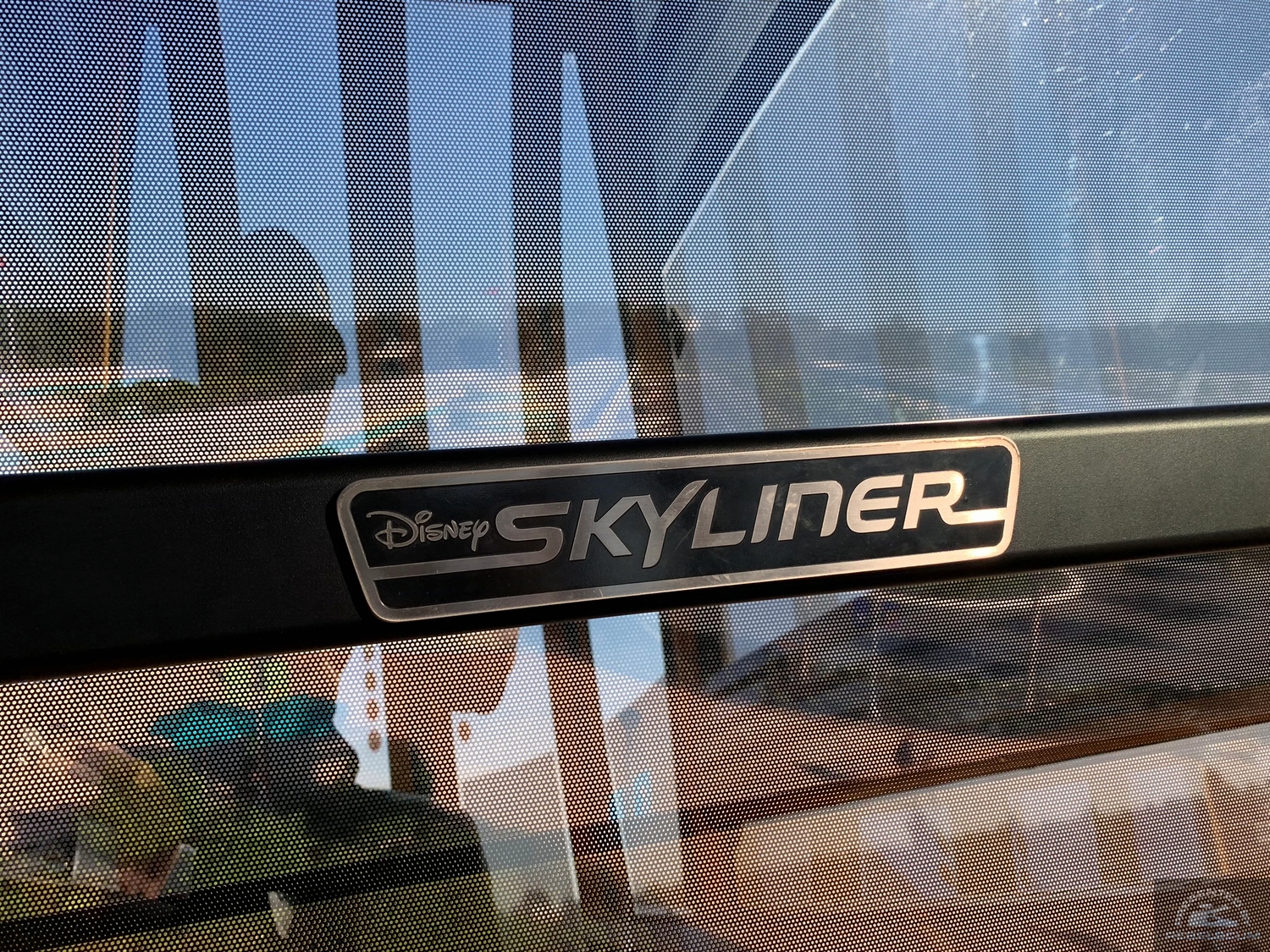 Epcot is being re-imagined and is currently going through a multi-year transformation. One of the latest updates is the introduction of the Disney Skyliner. This new form of transporting guests from certain resort hotels into certain parks features brightly colored gondolas, some with Disney characters prominently displayed on the front, back and side. For the purpose of this report, I felt it very necessary to make sure everyone knew about the
Star Wars
themed gondolas. As far as I could tell, there was at least two blue and one yellow gondola that featured Chewbacca with Porgs, C-3PO & R2-D2 and BB-8. If you wish to ride from one stop to another, it's about fifteen minutes. To ride the entire line, it takes about an hour after you jump off one to get on another, then another, and then switch twice again on the way back to your starting point. It offers some unique views that have previously not been seen along with the ability to avoid driving yourself, taking a bus or walking.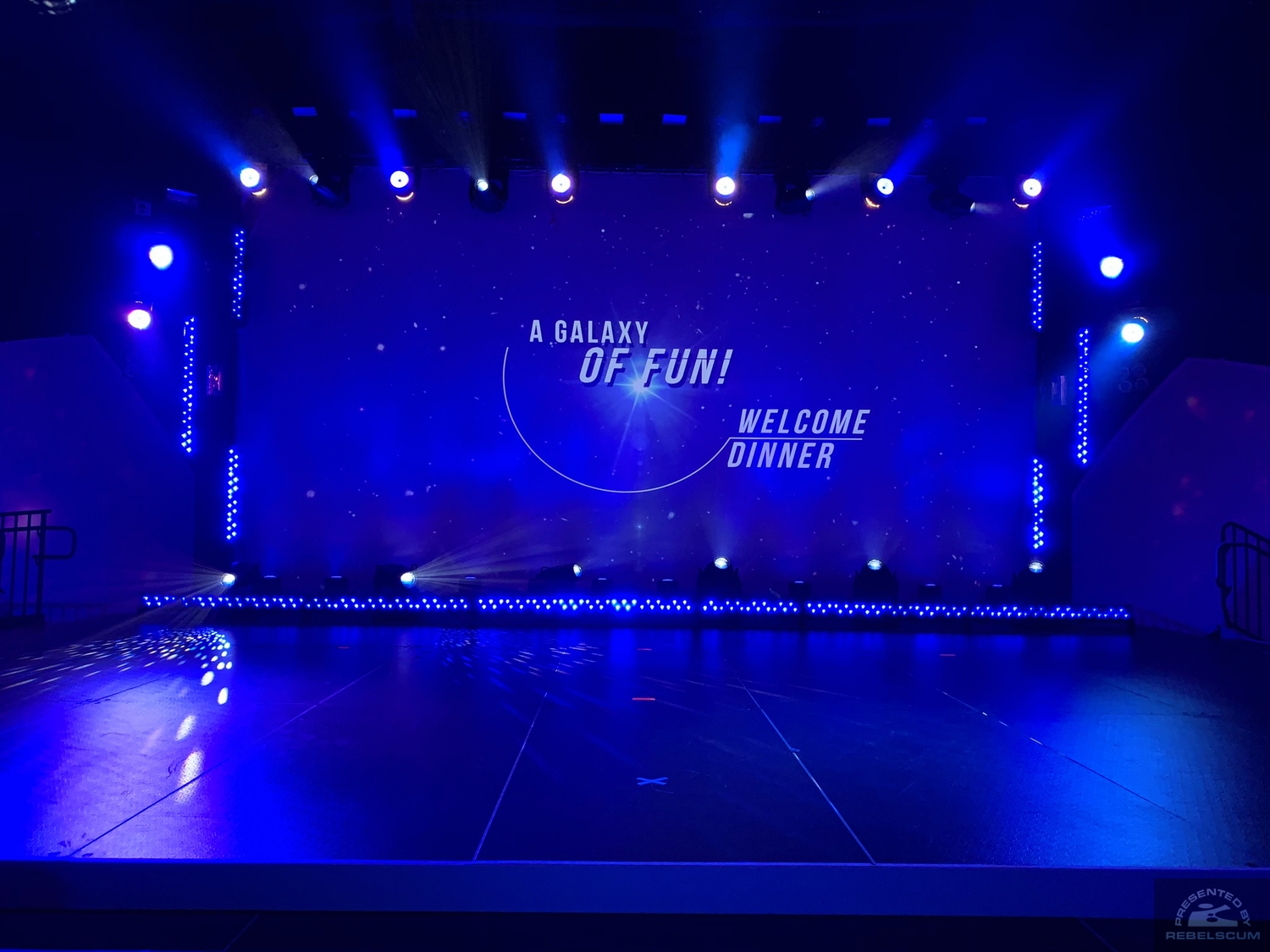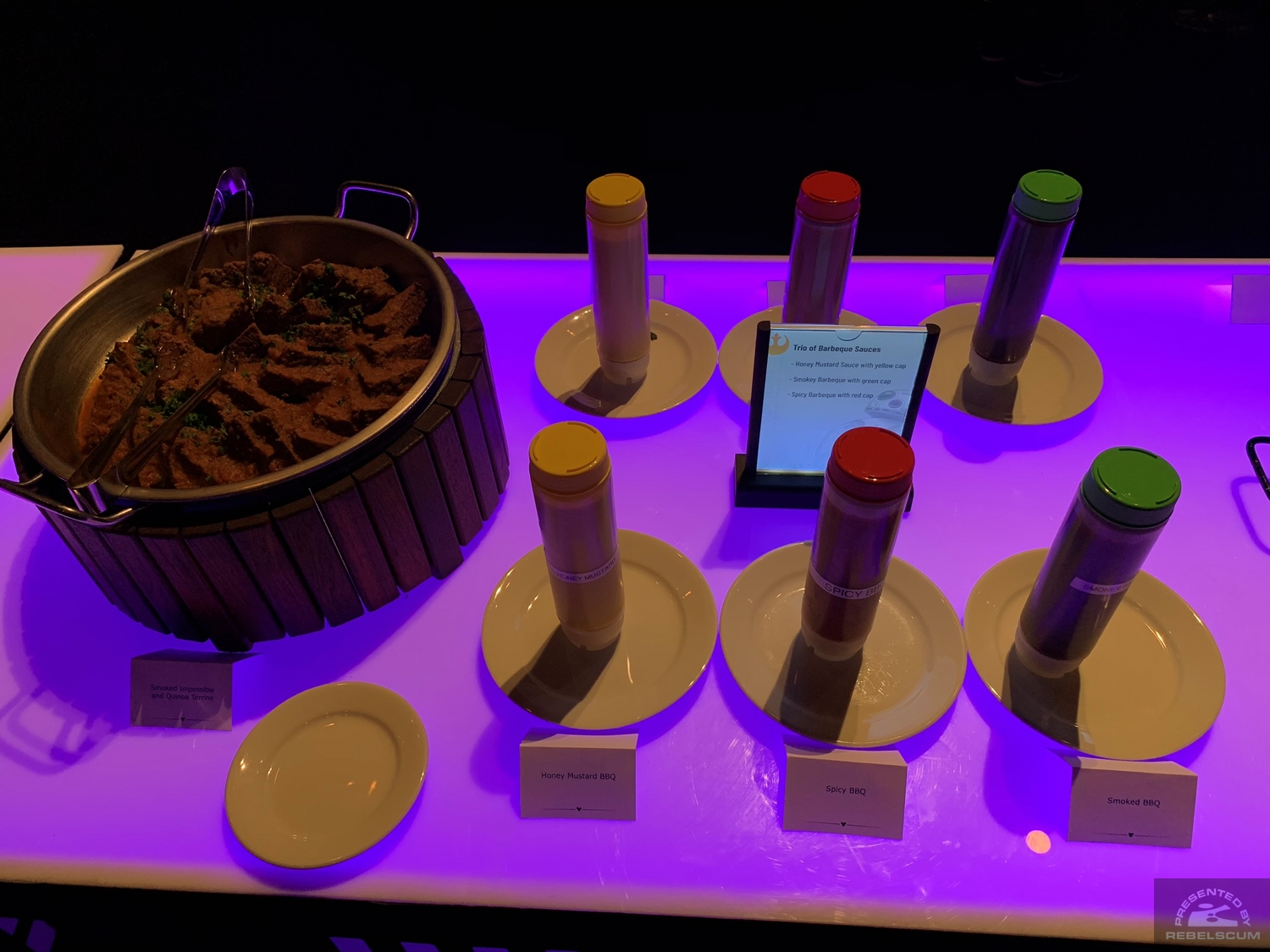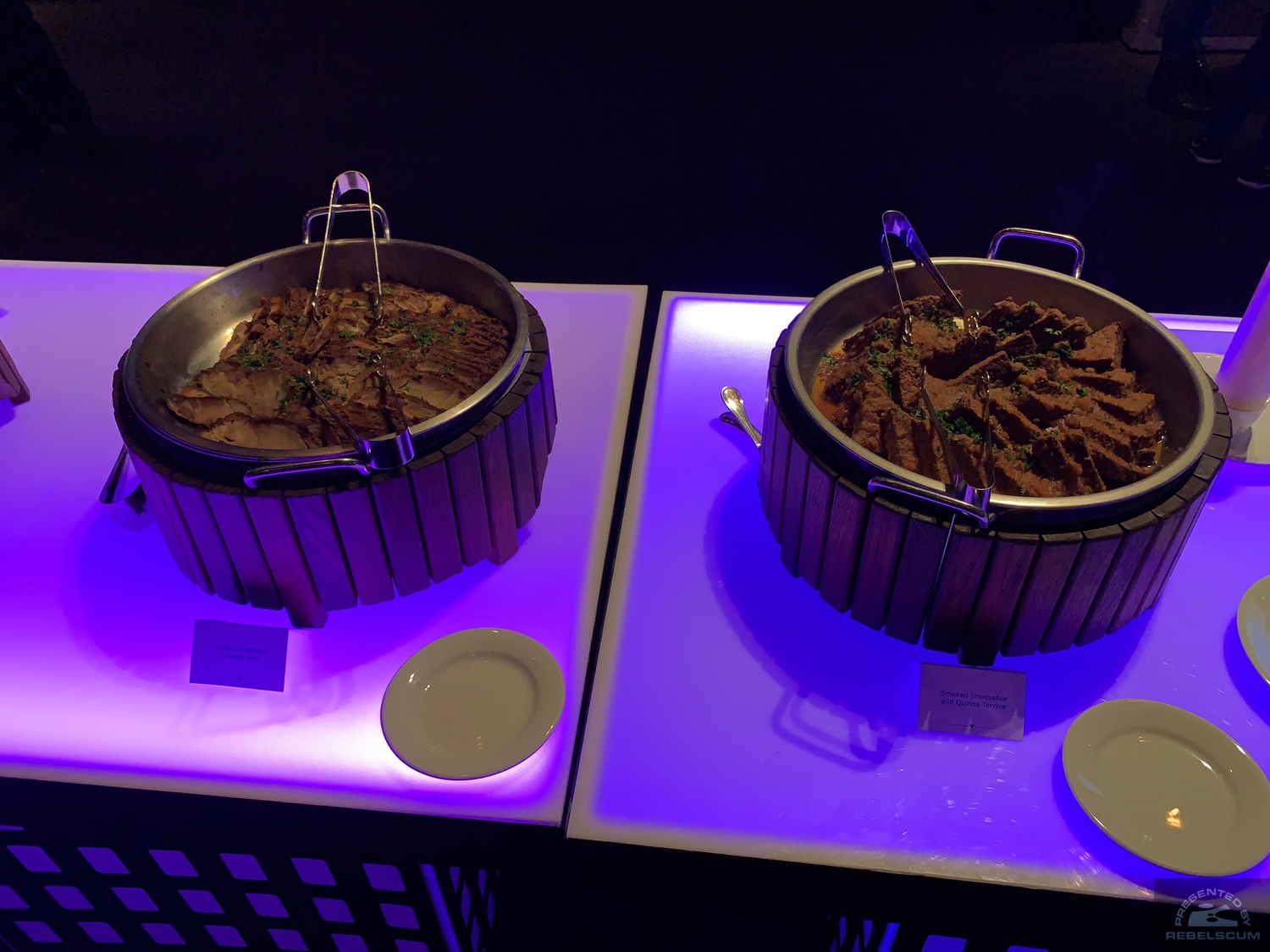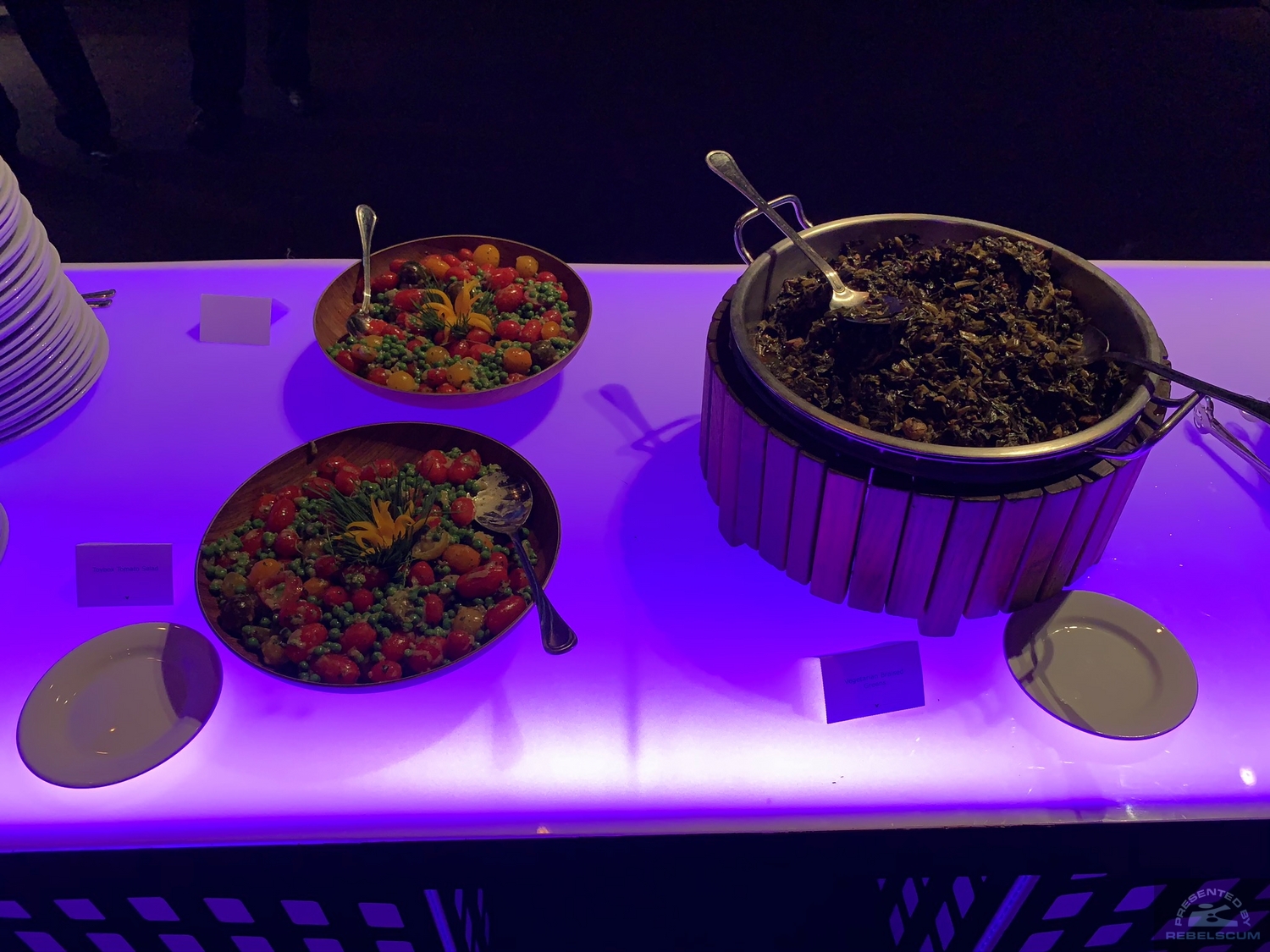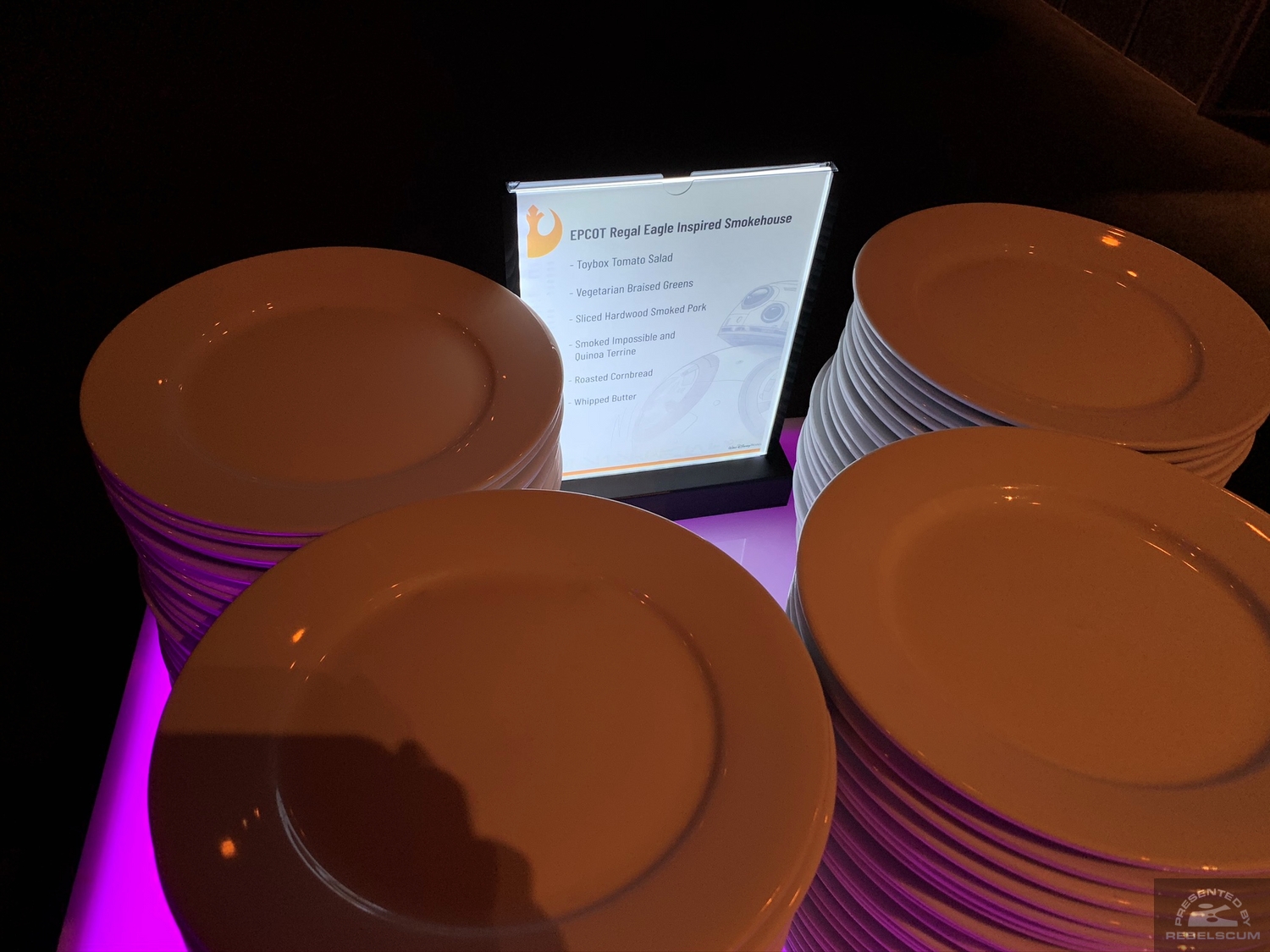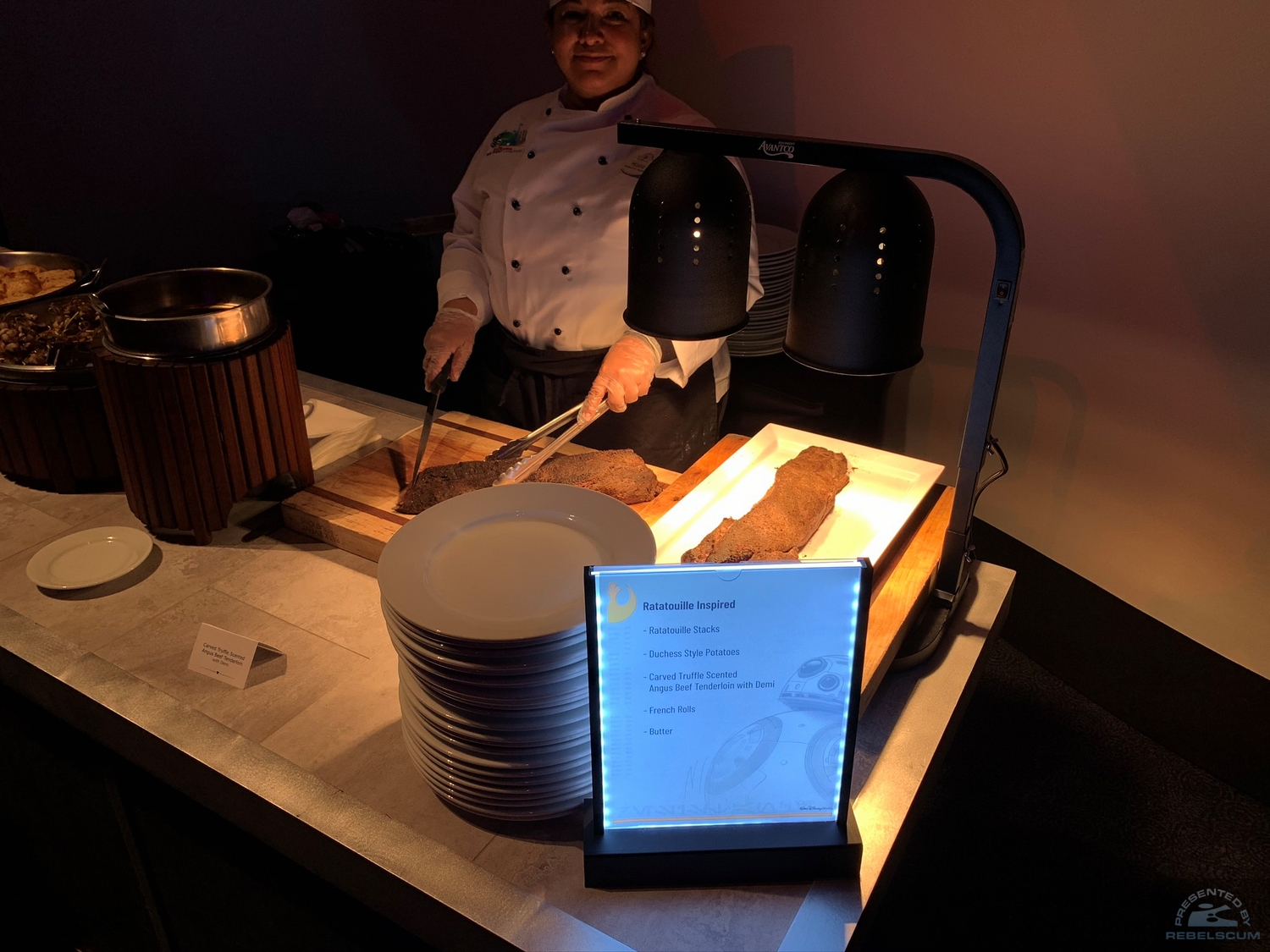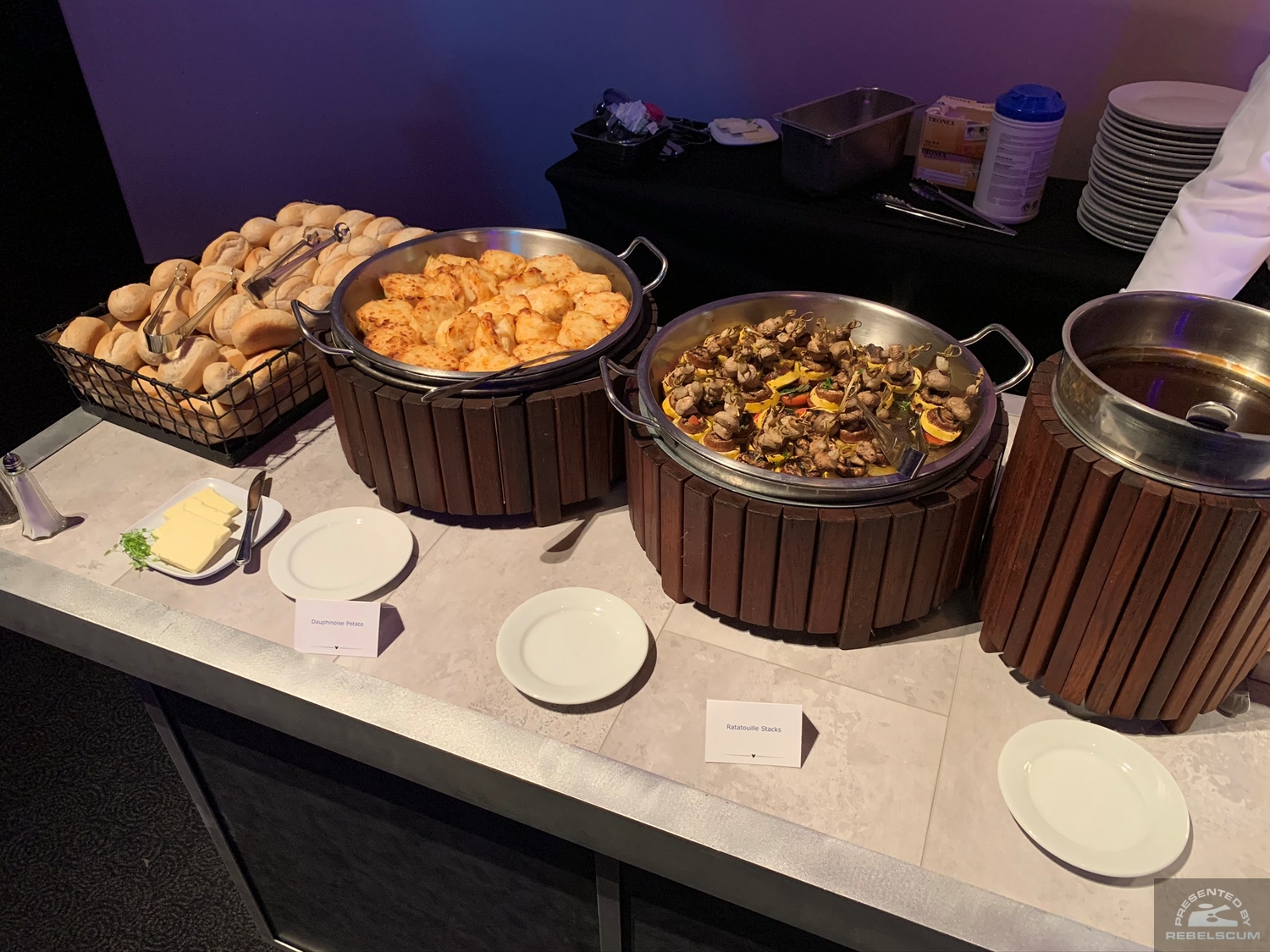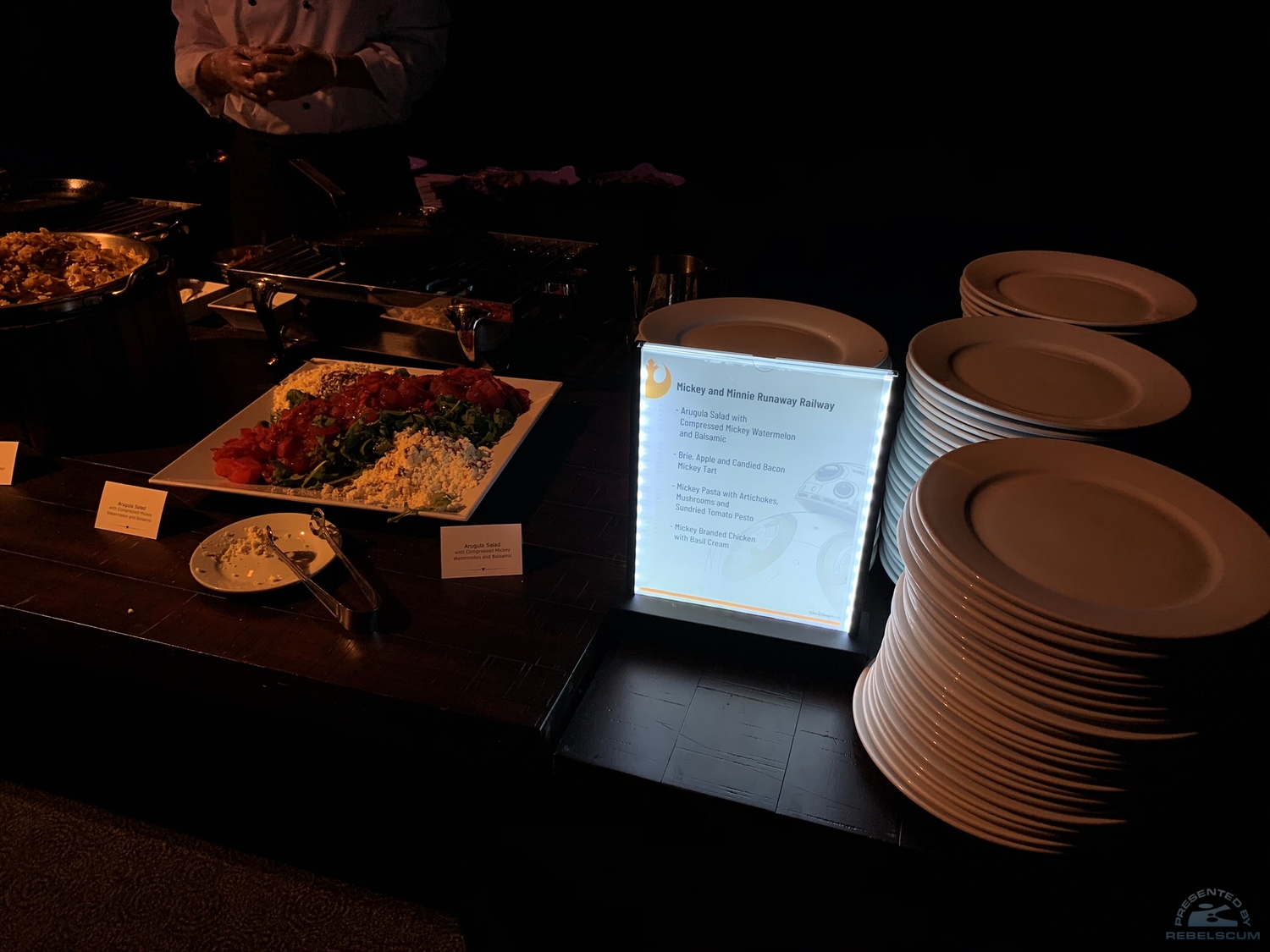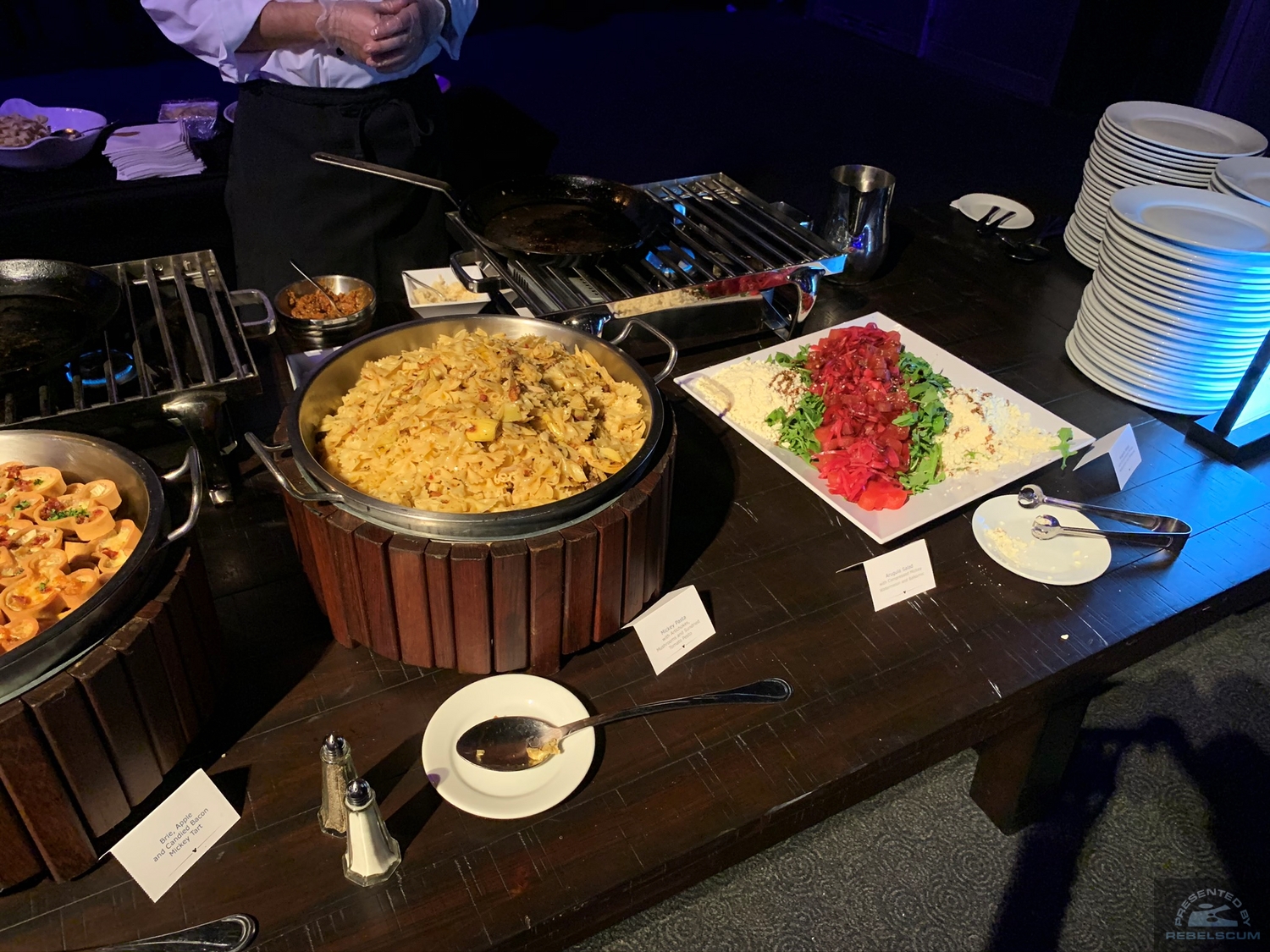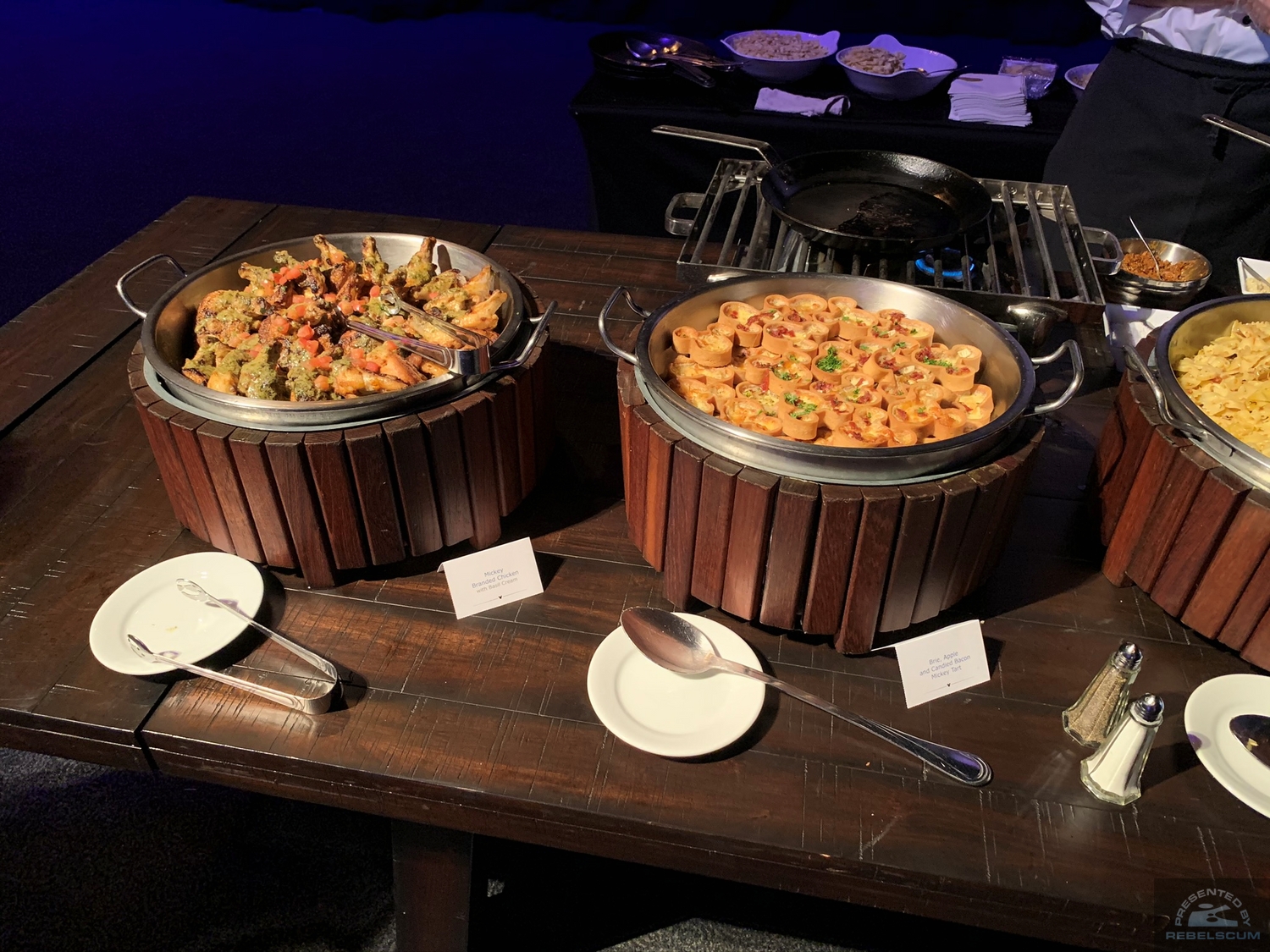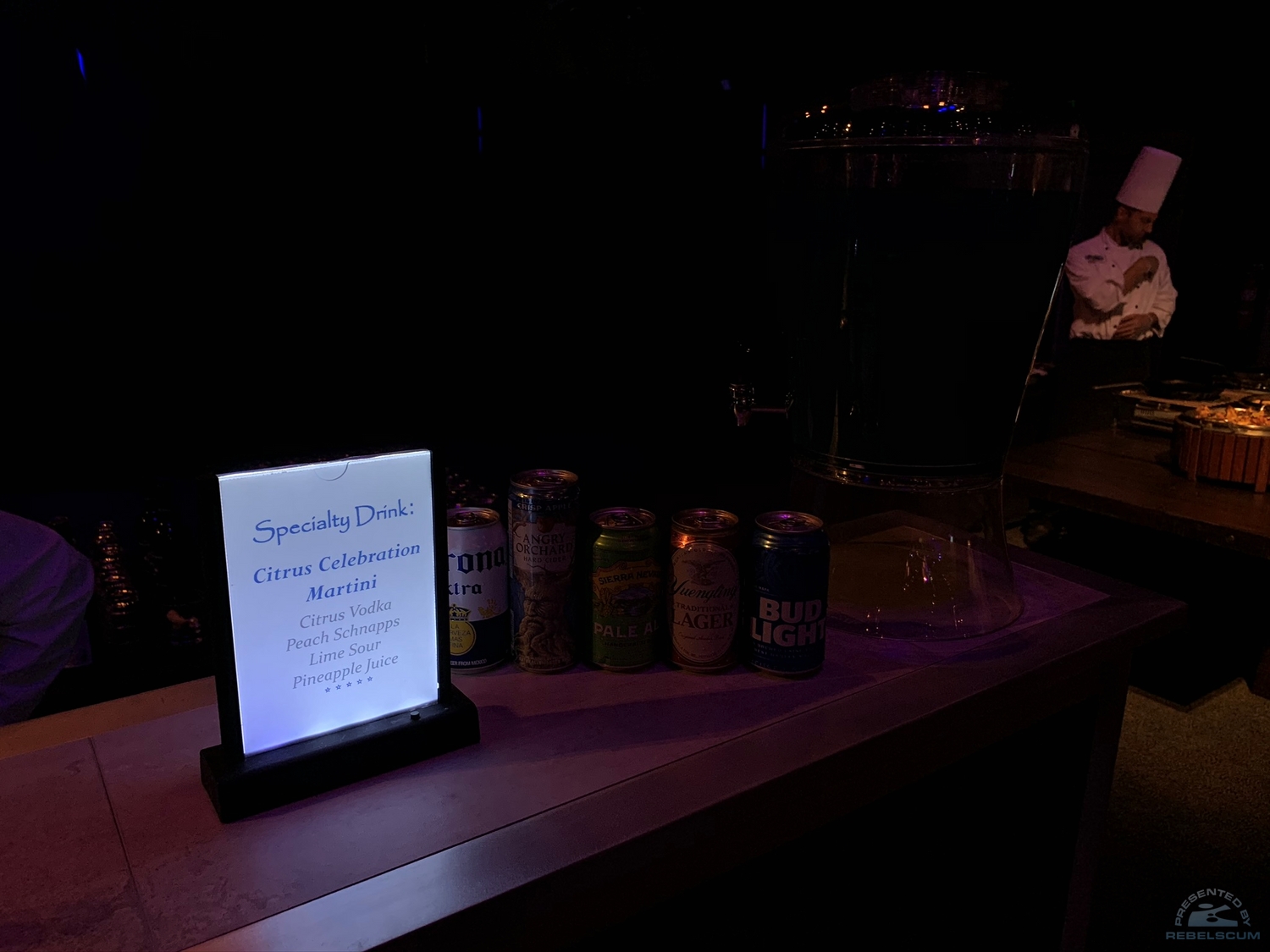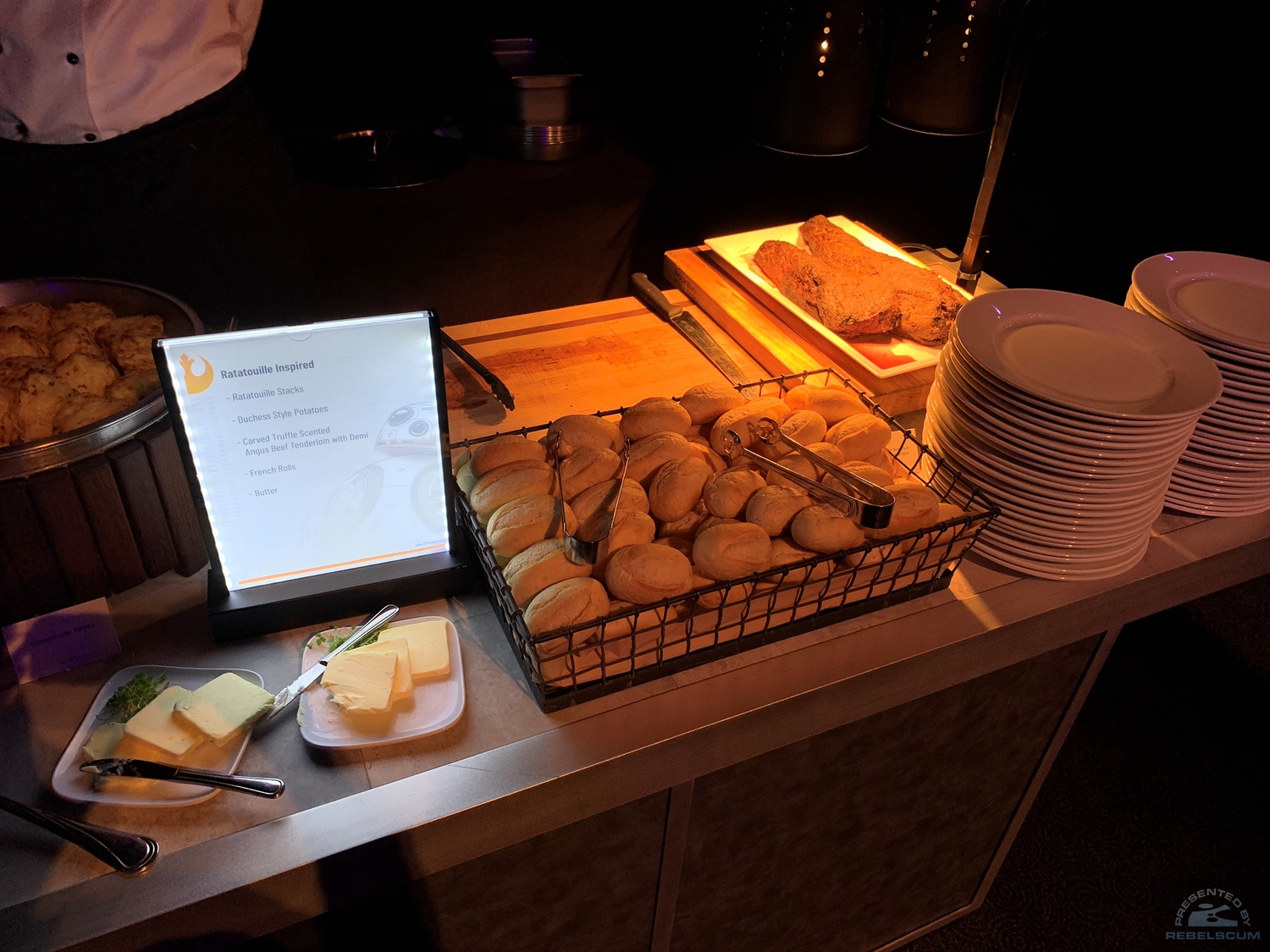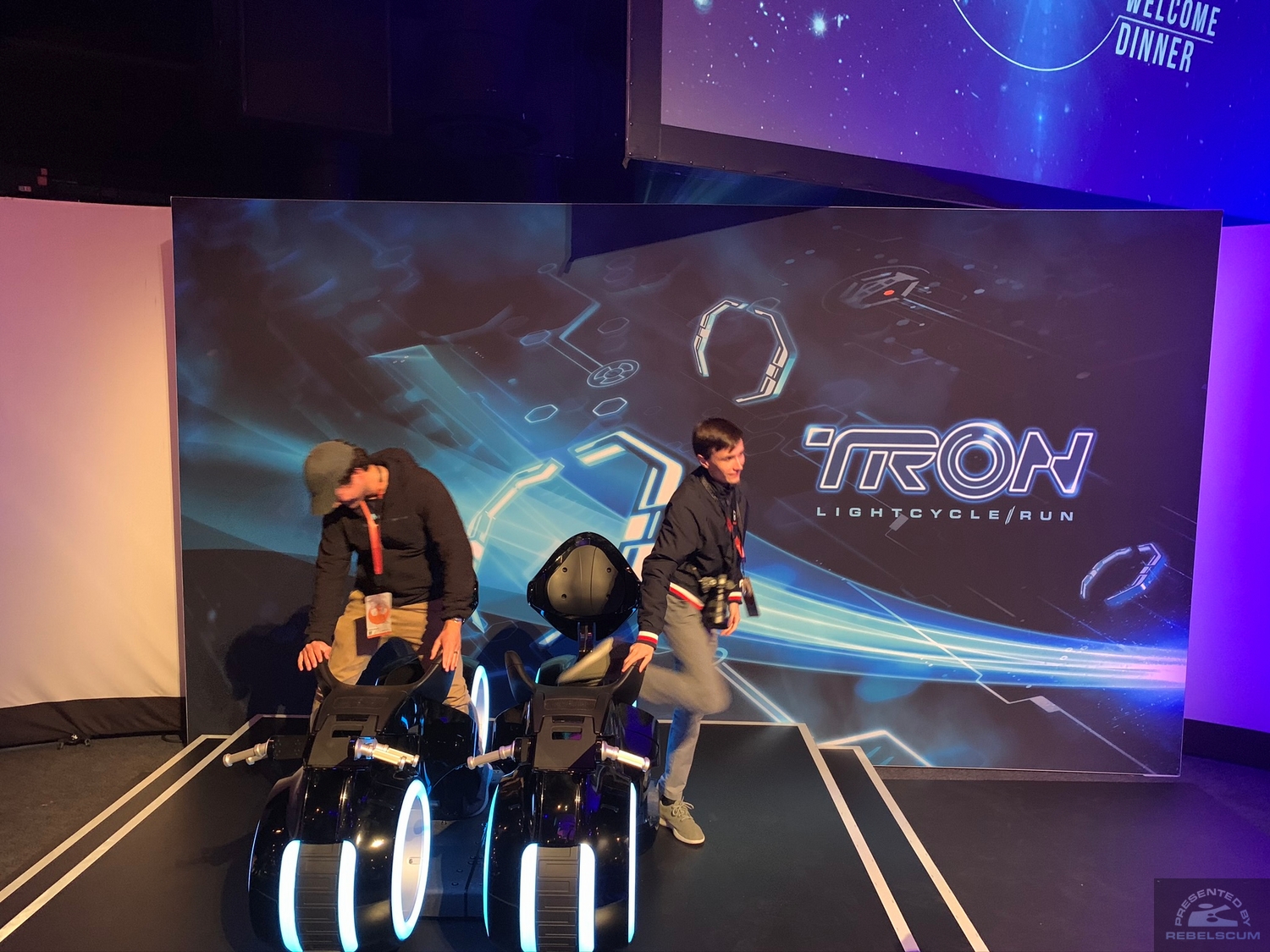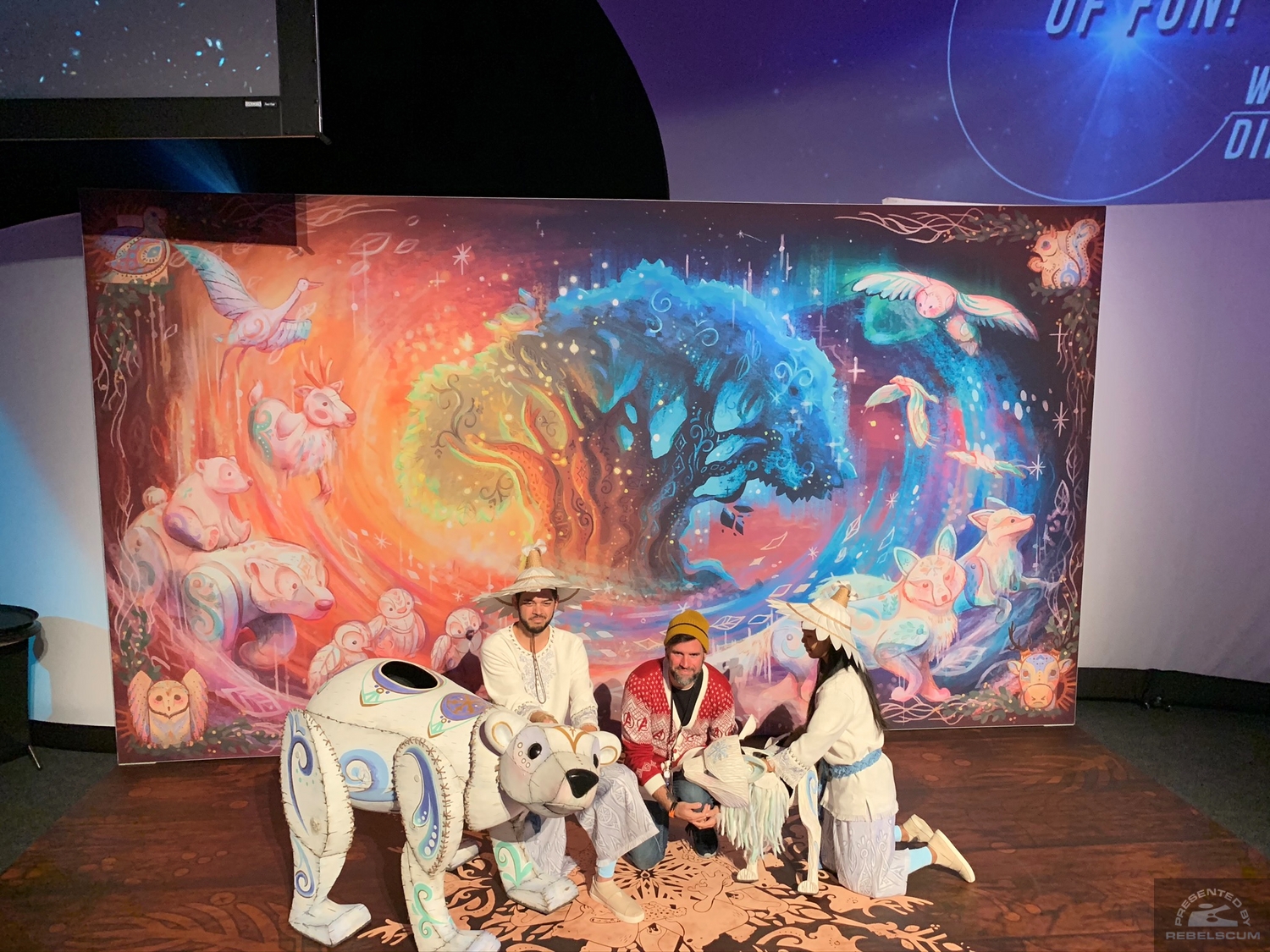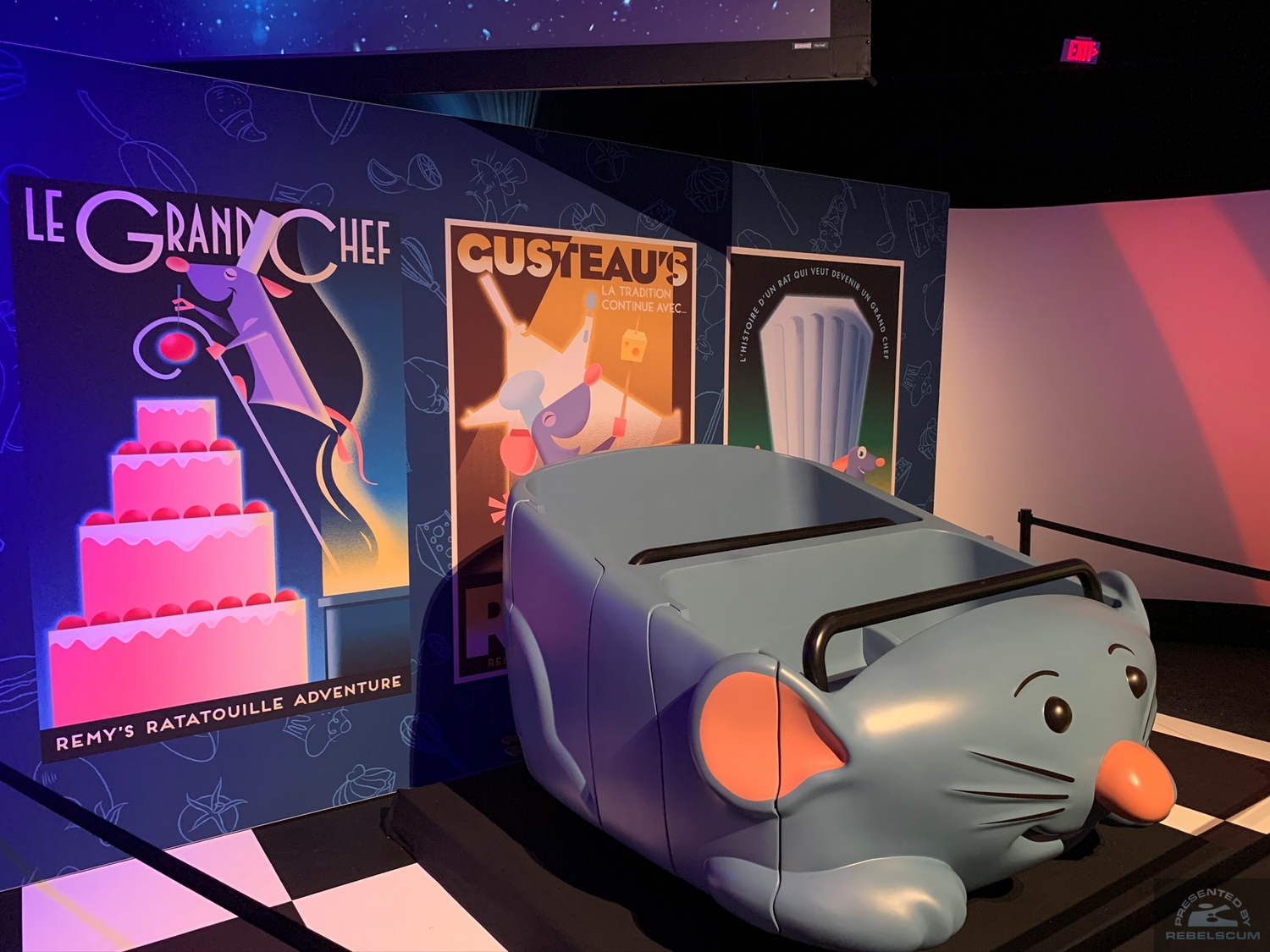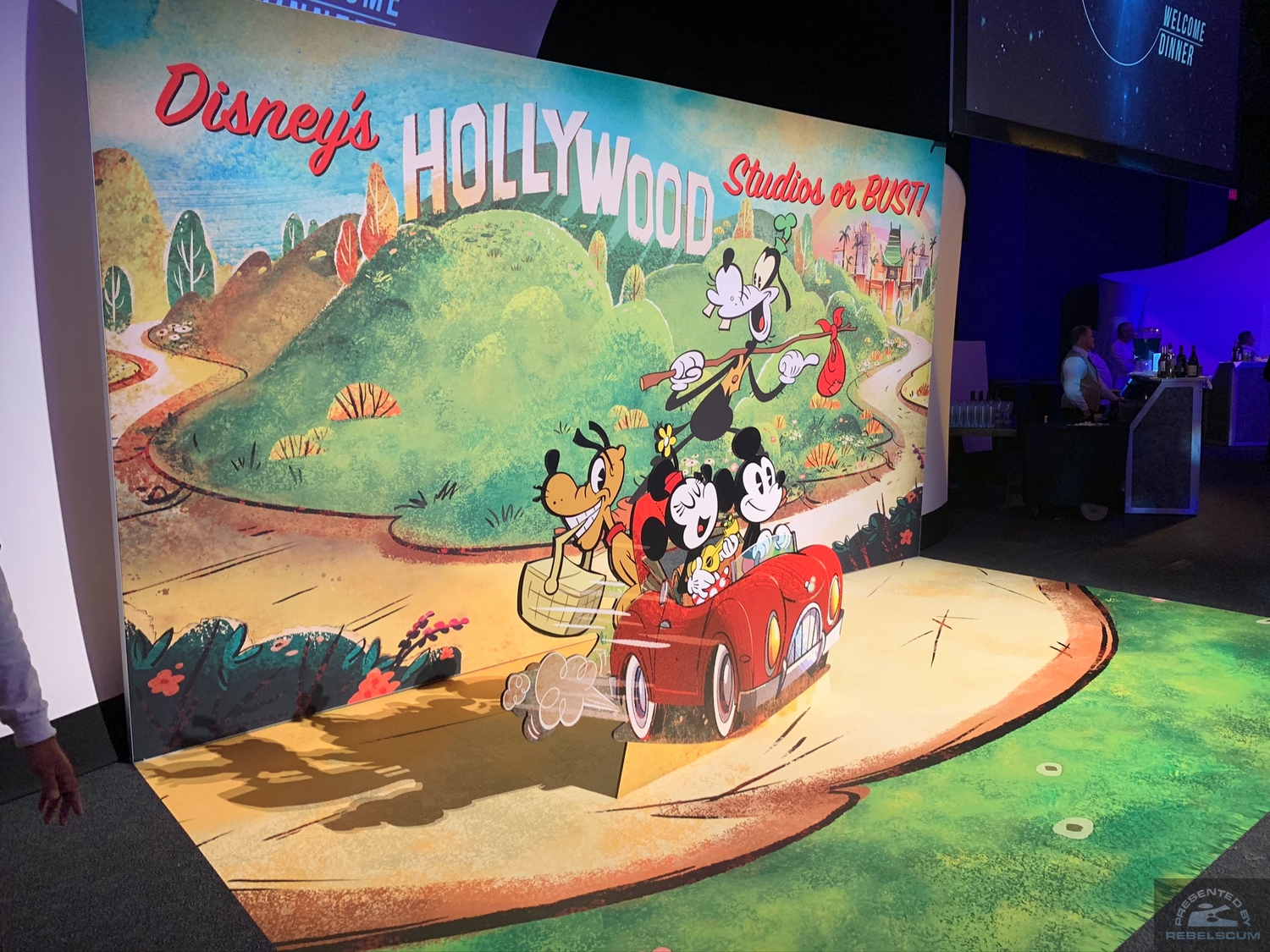 The chefs at Epcot took great pride in preparing a delicious meal for everyone at the "A Galaxy of Fun! Welcome Dinner" which featured all sorts of amazing dishes. We were asked not to record this particular event, so other than some photos of the food and the surrounding displays, the stage presentation itself was not recorded. During the presentation, we were given a look at some of the new attractions coming to the parks, there was some fun entertainment and dates were revealed for grand openings.
More details were given about Star Wars: Galactic Starcruiser, an ambitious hotel project that will give guests a 2-night stay at what can only be described as total immersion into the
Star Wars
universe. From the time you arrive at the Galactic Starcruiser Terminal to the time you leave, it's non-stop
Star Wars
the entire time. You'll arrive and be transported into space onto the Galactic Starcrusier called the
Halcyon
. On board, guests will be able to wield a lightsaber while facing off against a training remote. You will also get to visit the bridge to learn about ship systems and how to operate them, including navigation and defense and it sounds like you'll need to put all of this knowledge to use! At some point during the journey, you're transported down to Batuu where your story will change depending on what you do while on planet at the Black Spire Outpost. The hotel is slated for a 2021 opening.
We also learned that Mickey & Minnie's Runaway Railway, the first Mickey & Minnie themed ride-through attraction ever, is scheduled to open on March 4th, 2020. This will be a new ride that replaced an old and original attraction called
The Great Movie Ride
. Guests will enter to watch the premiere of the brand new Mickey short and then, they'll enter the cartoon themselves!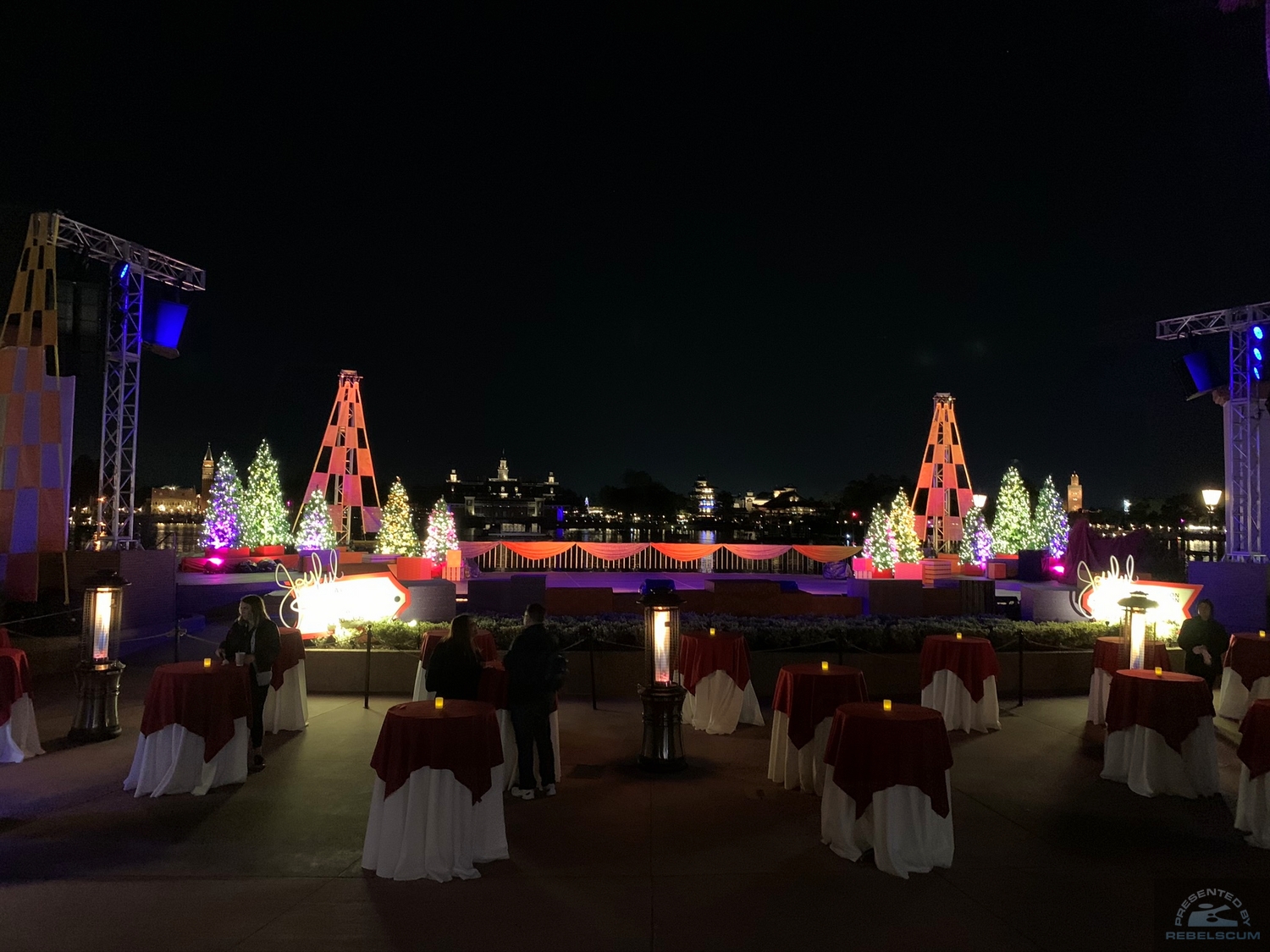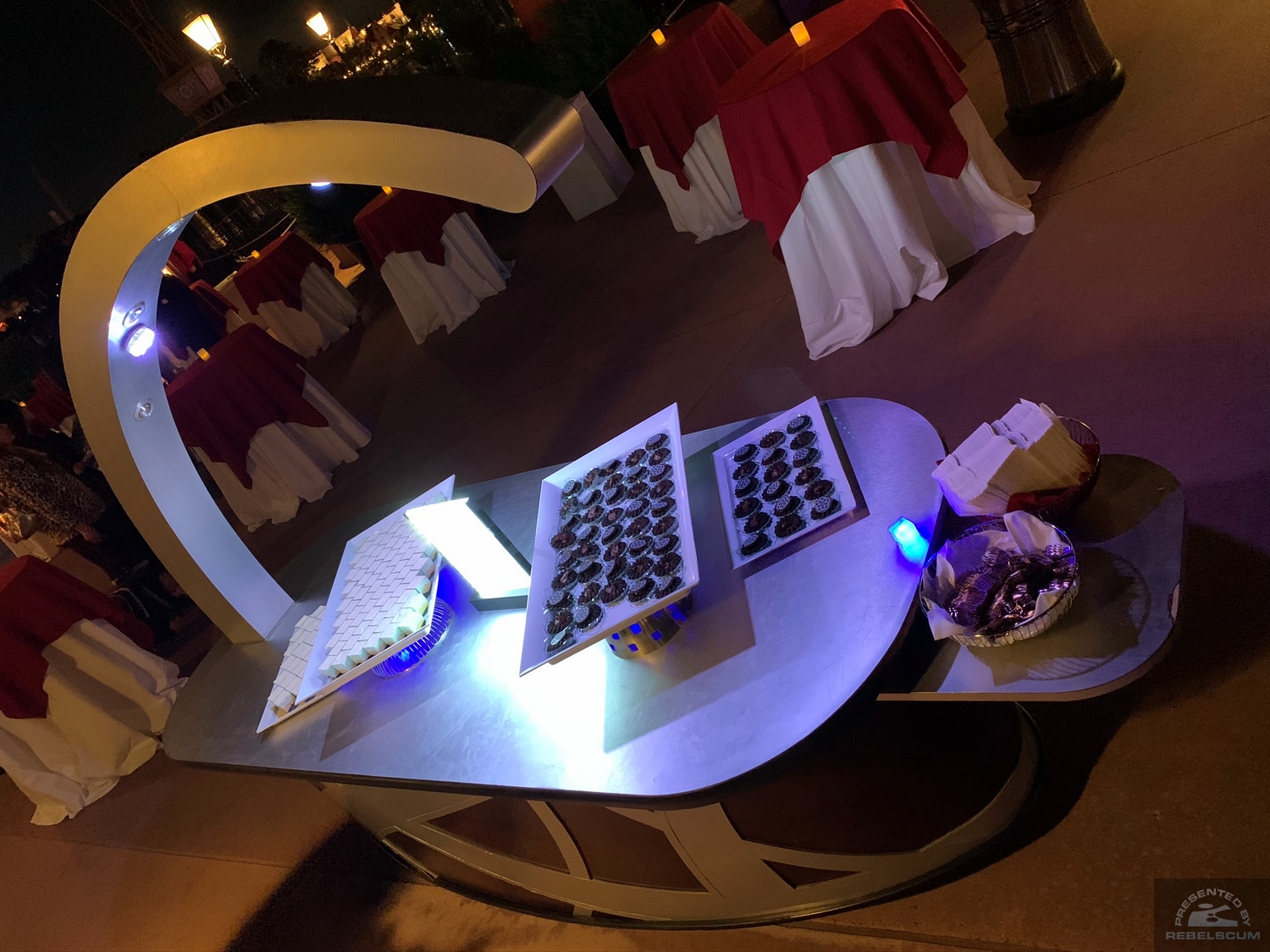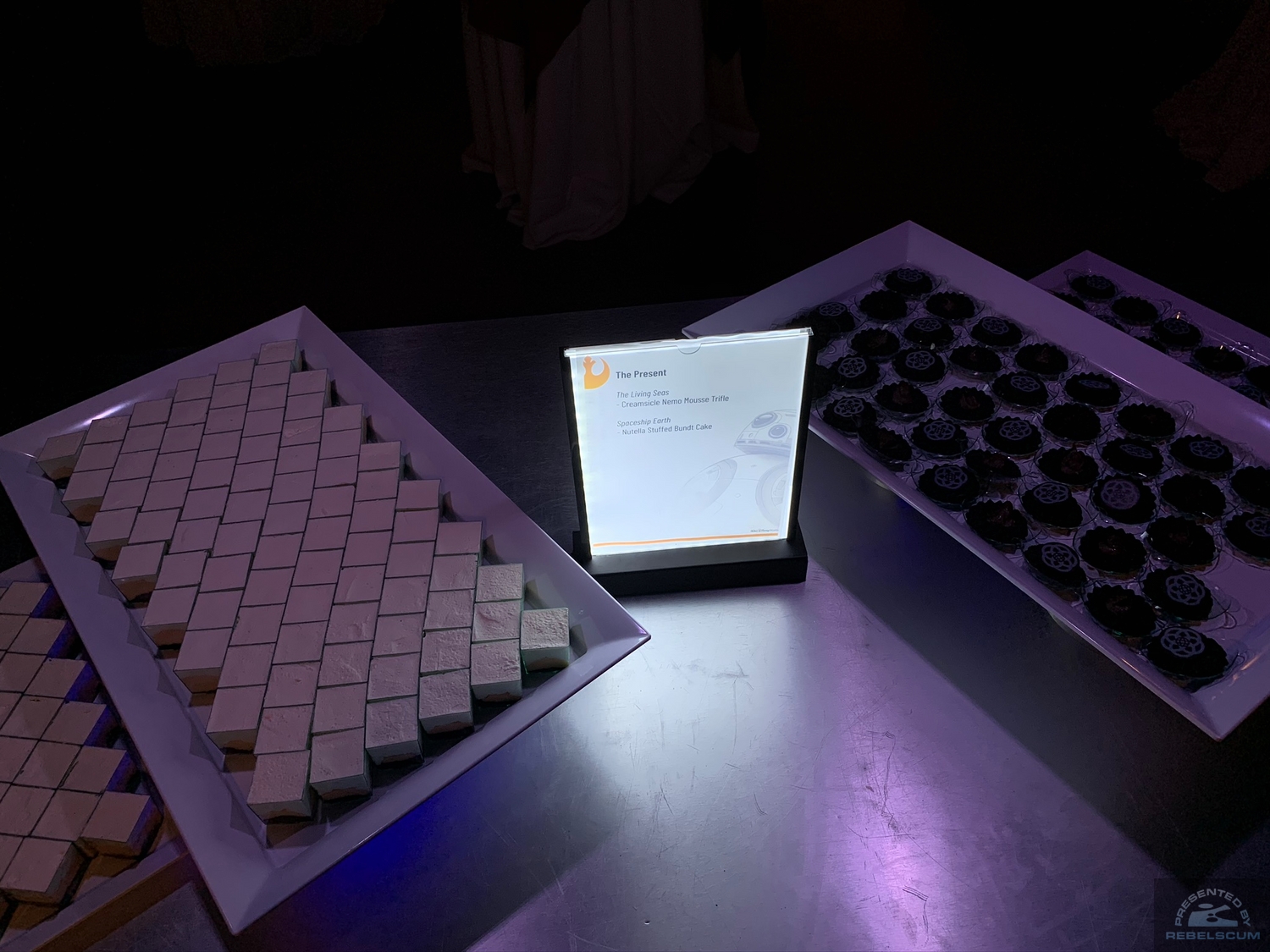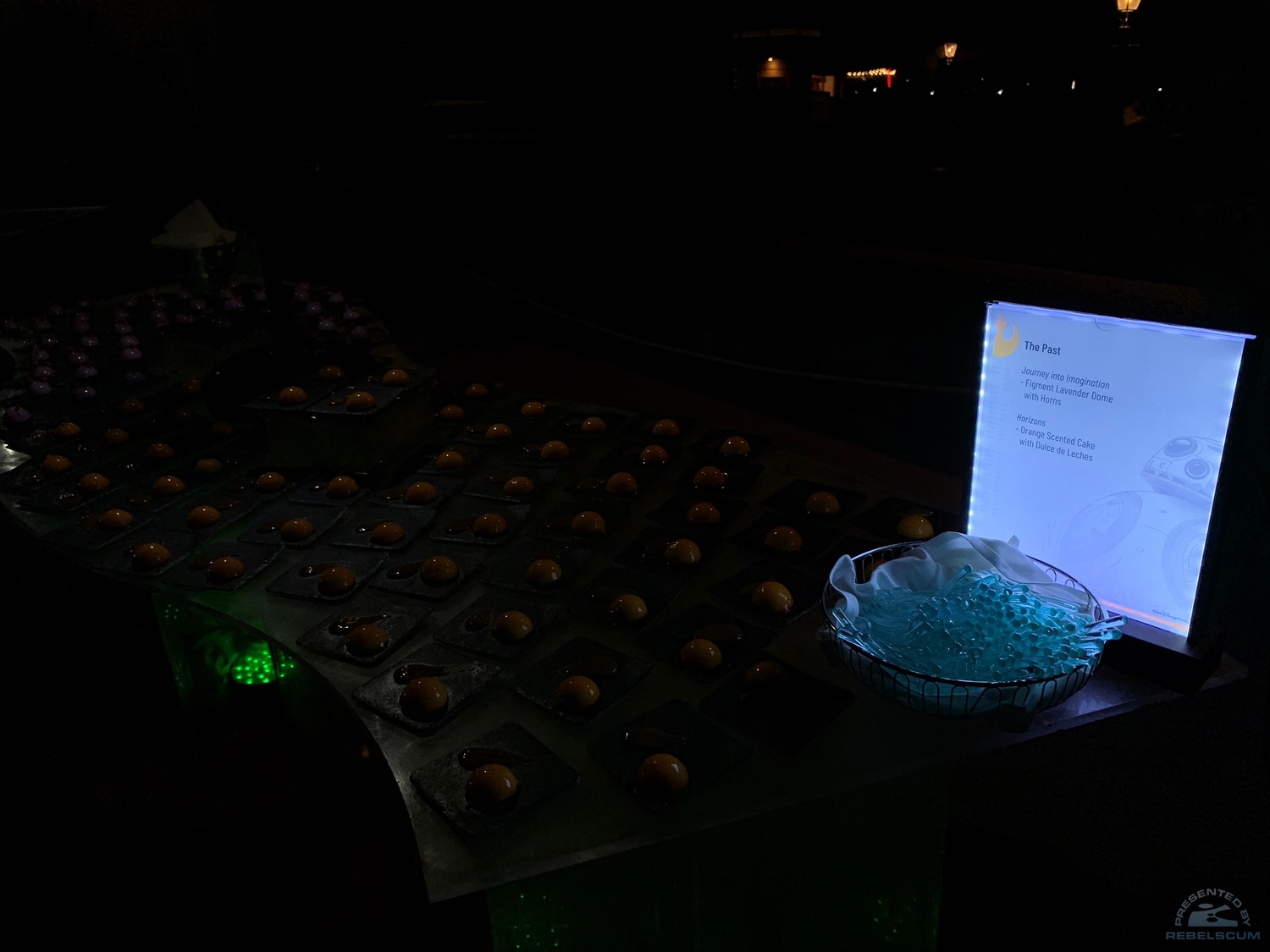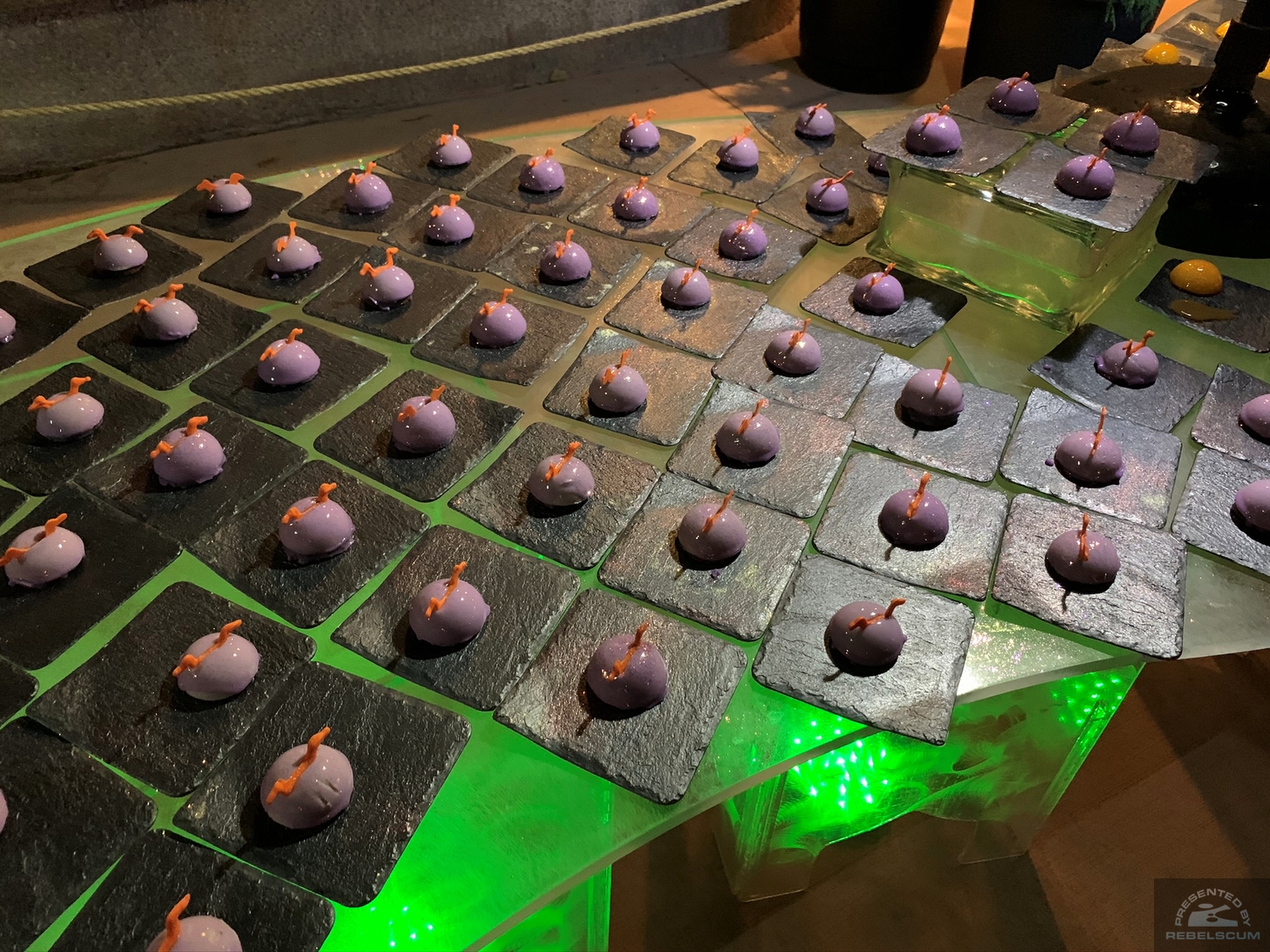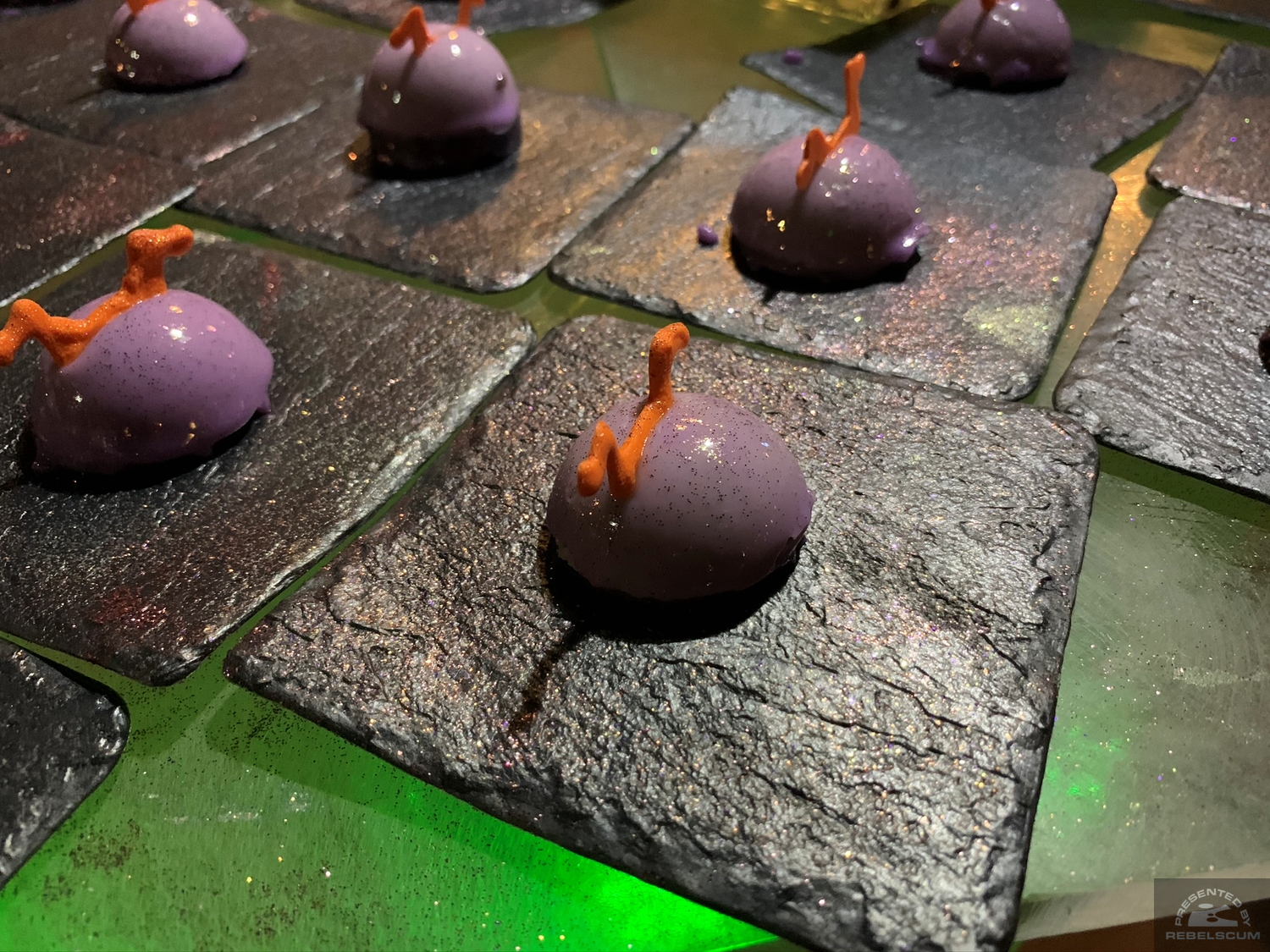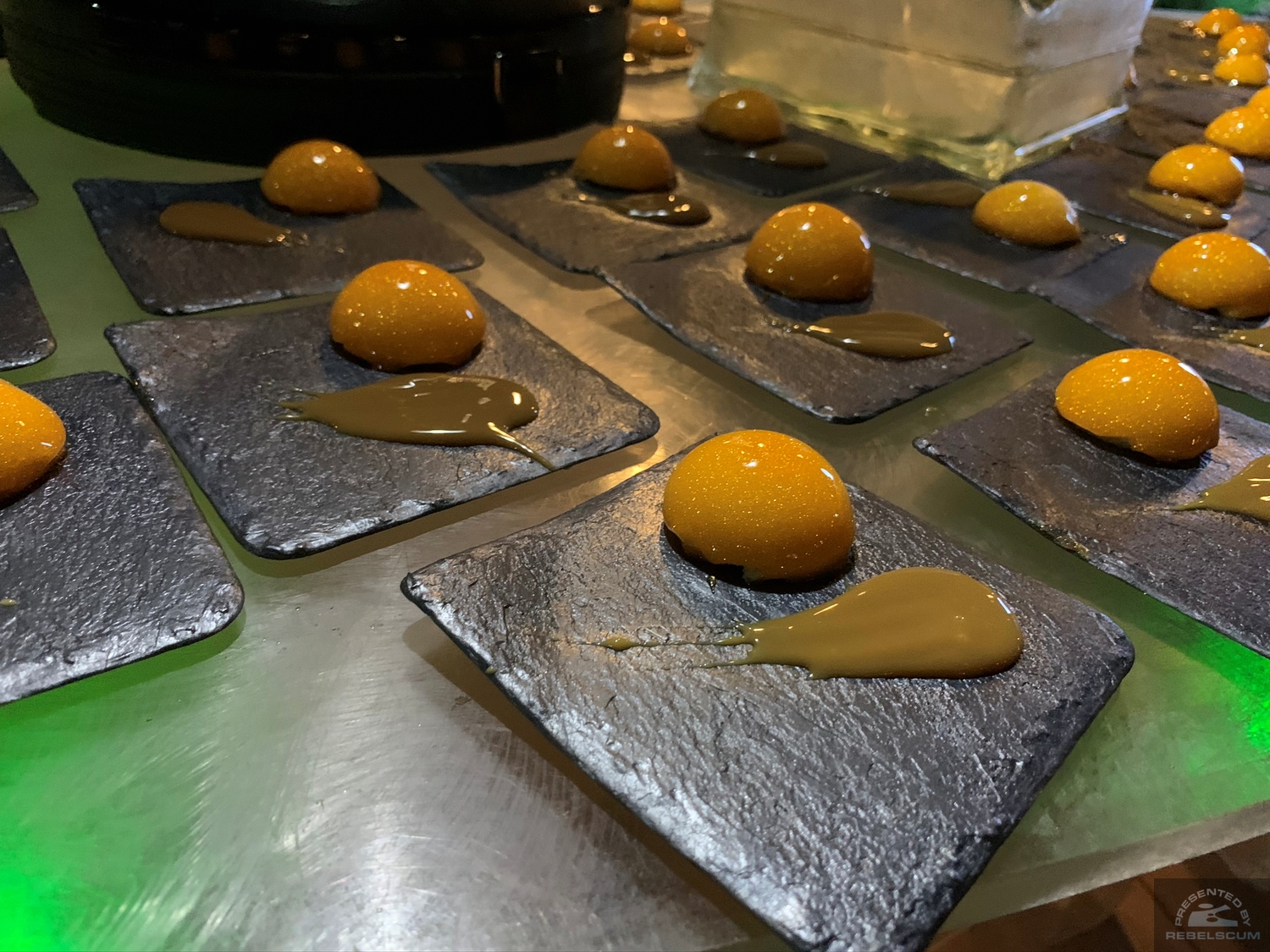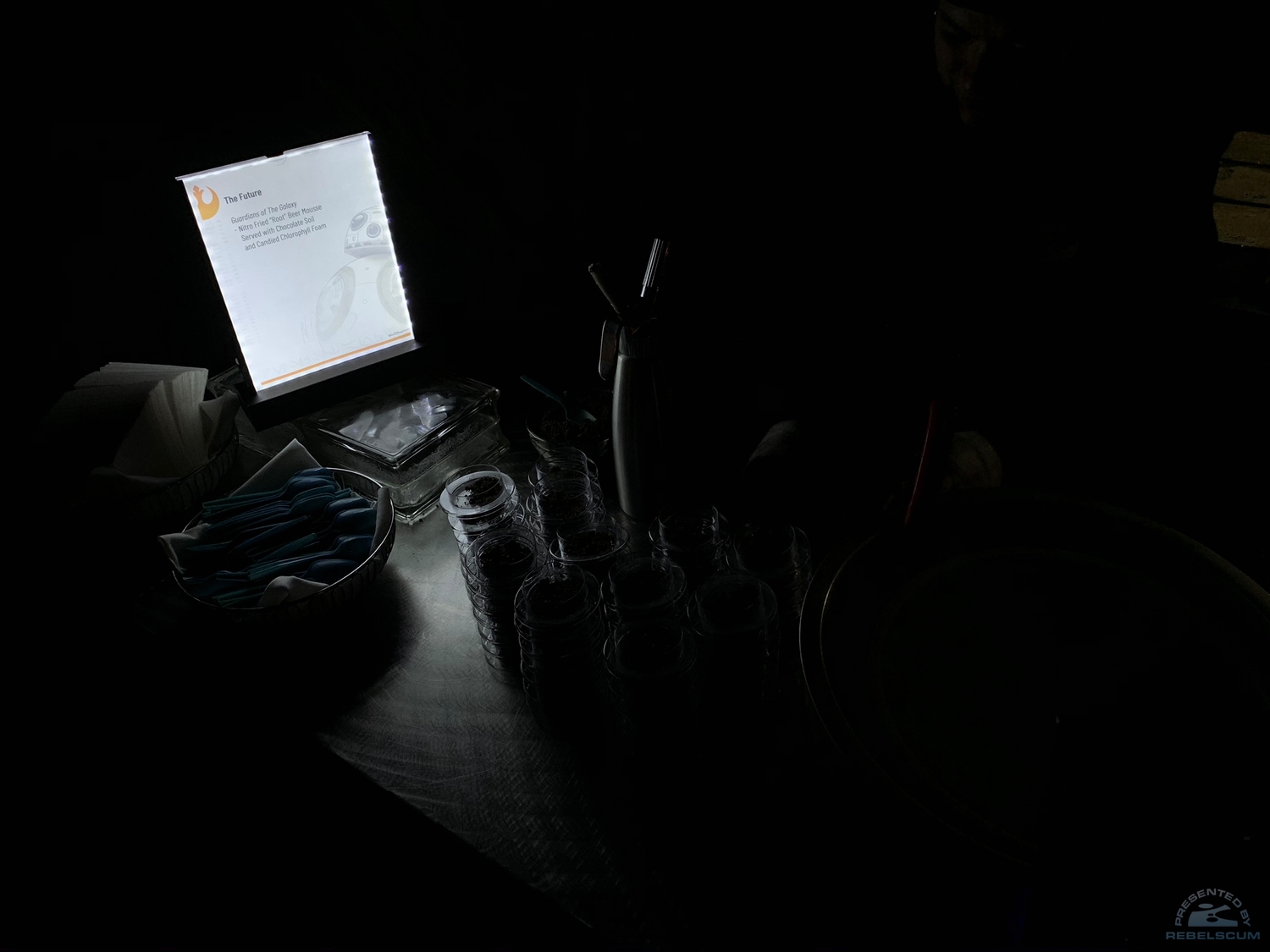 The night concluded with the "Epcot Forever" Dessert Party in front of the giant Christmas Tree, directly in front of Bay Lake. There were several different food options to choose from along with coffee, hot chocolate and tea. An exclusive Mickey & Minnie's Runaway Railway poster was given out as attendees exited the party that night.
Day 2
It was an early morning as the bus picked us up before the sun rose to head into Disney's Hollywood Studios. The day would be filled with all sorts of different activities, all
Star Wars
related.
Just as it began to get light, I made may way through the queue for the
Star Wars: Rise of the Resistance
attraction. We were asked to not take any photos or video our first time through so we could really enjoy the experience thoroughly and I can honestly say, that was the right call. There's so much going on and so much to see, that you really need to just take it all in before you try capturing it all on a recording device.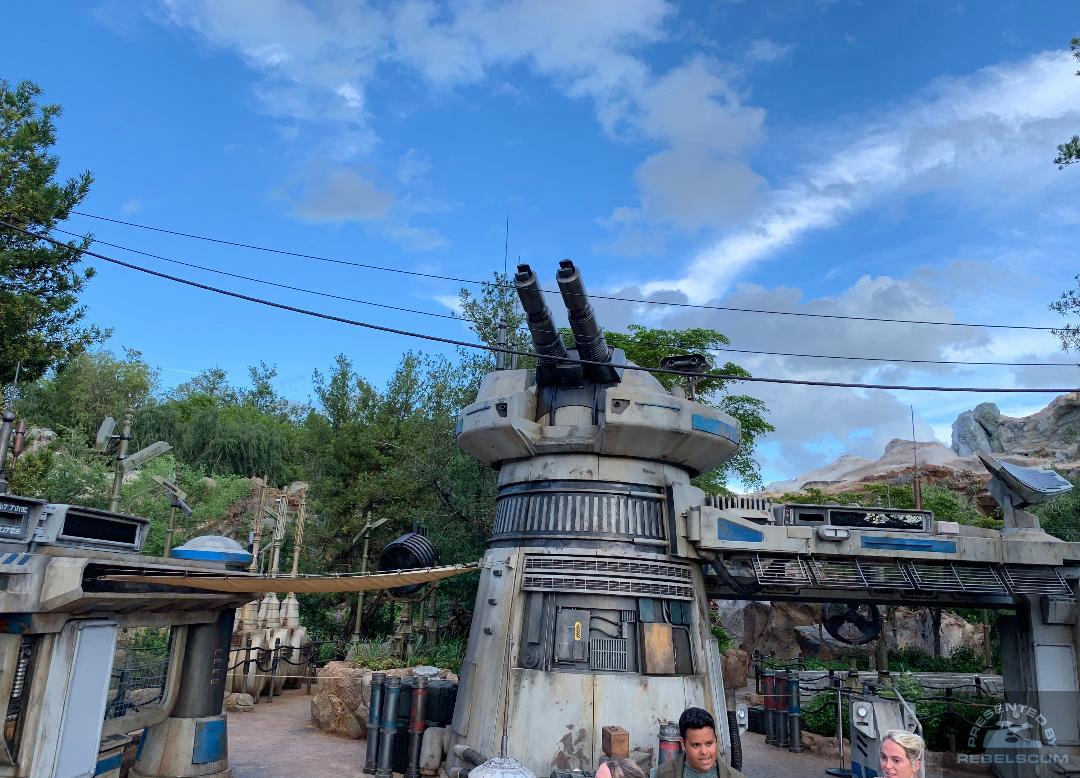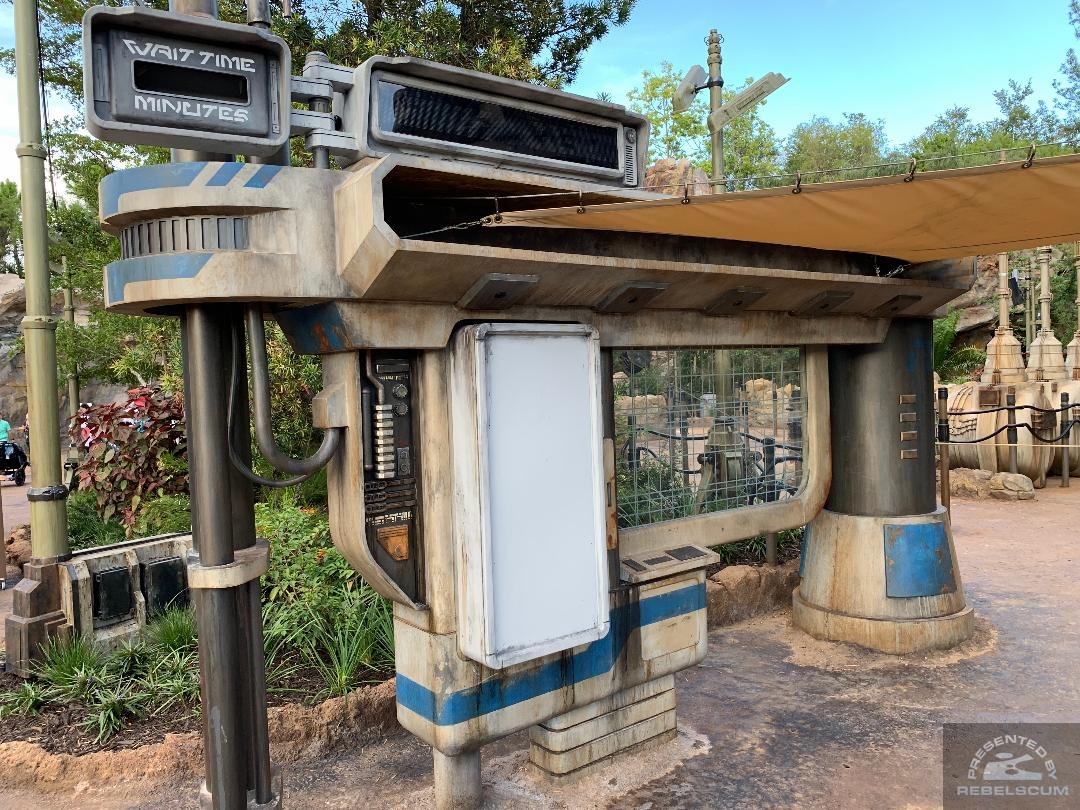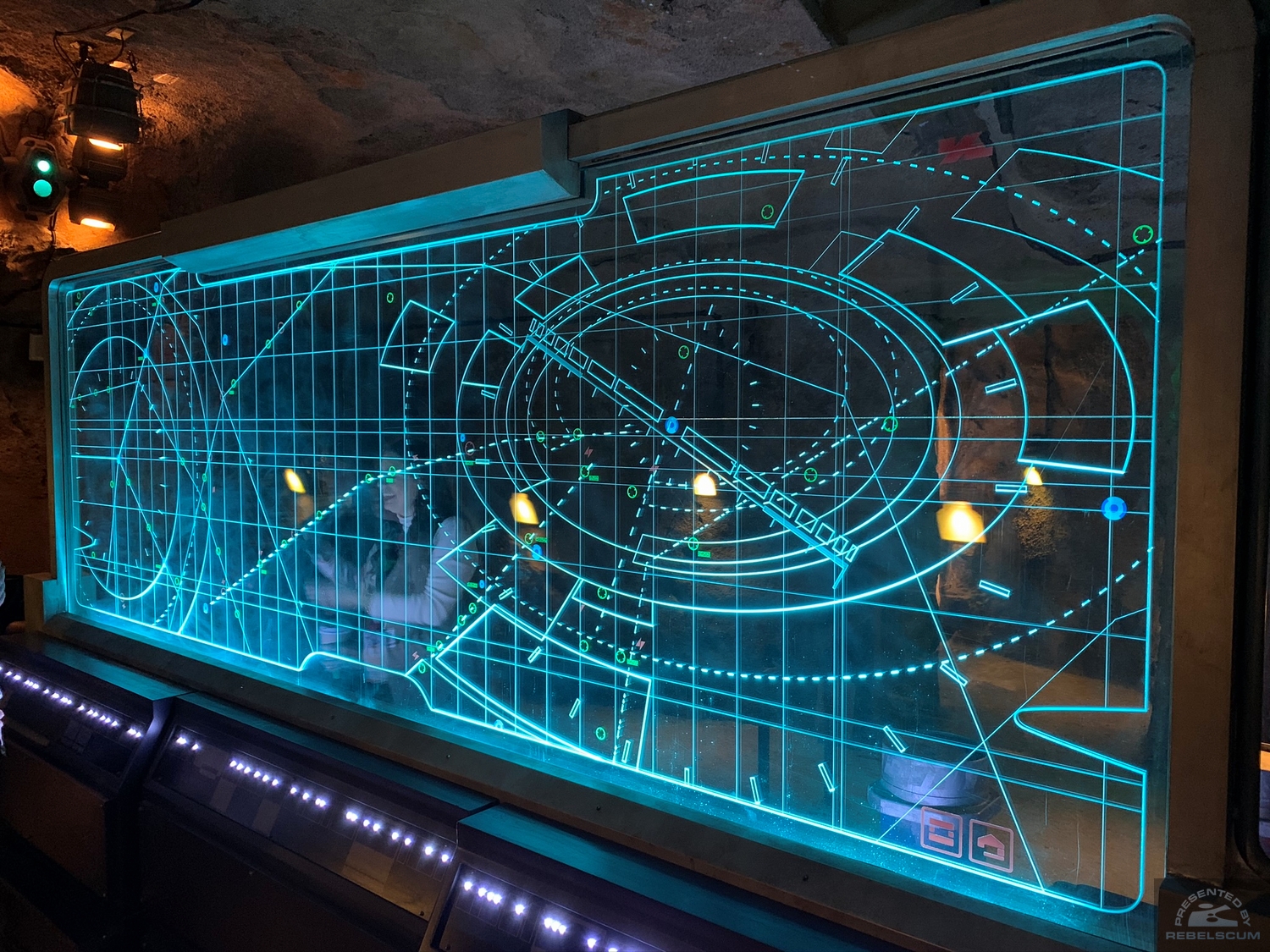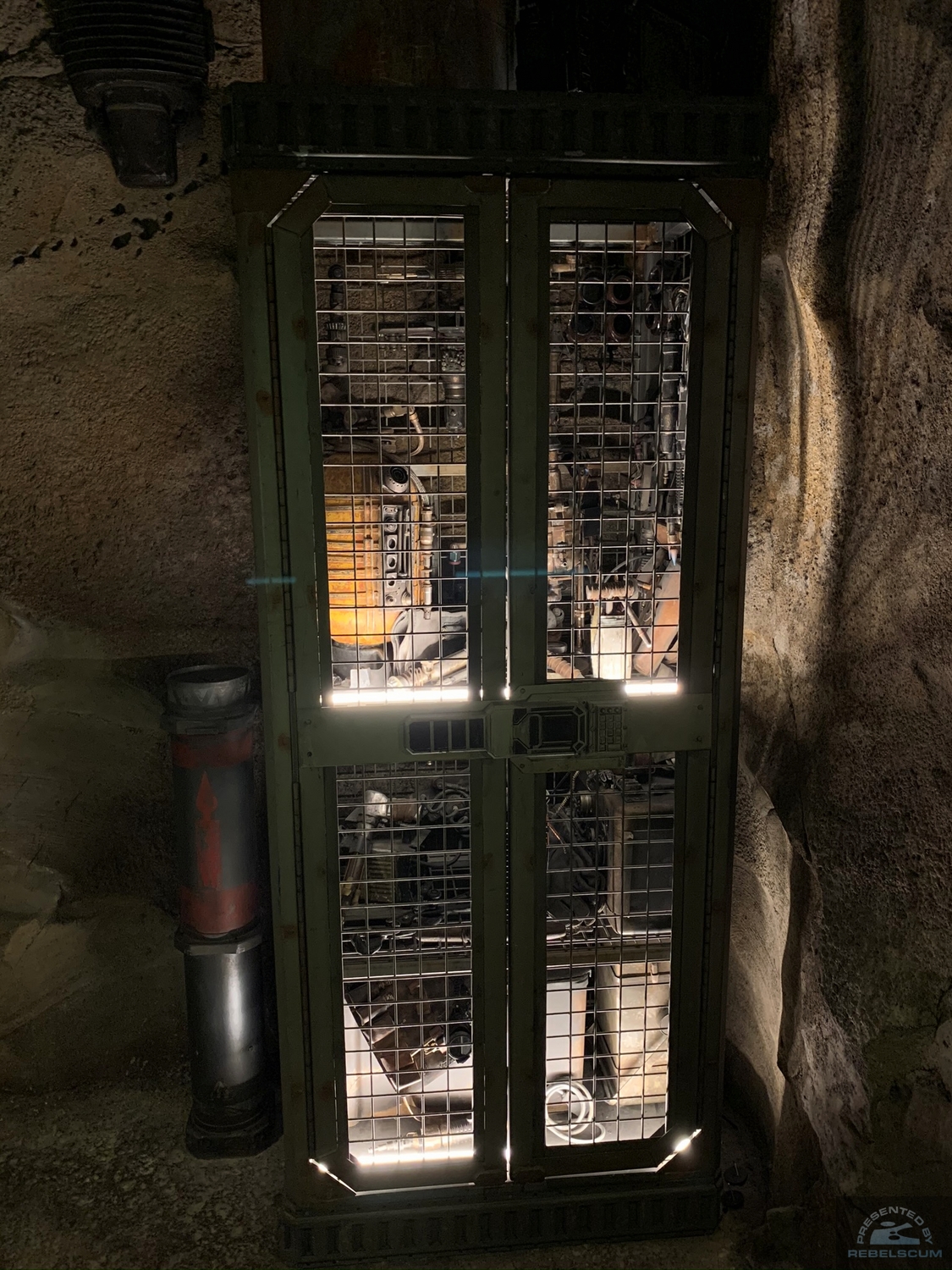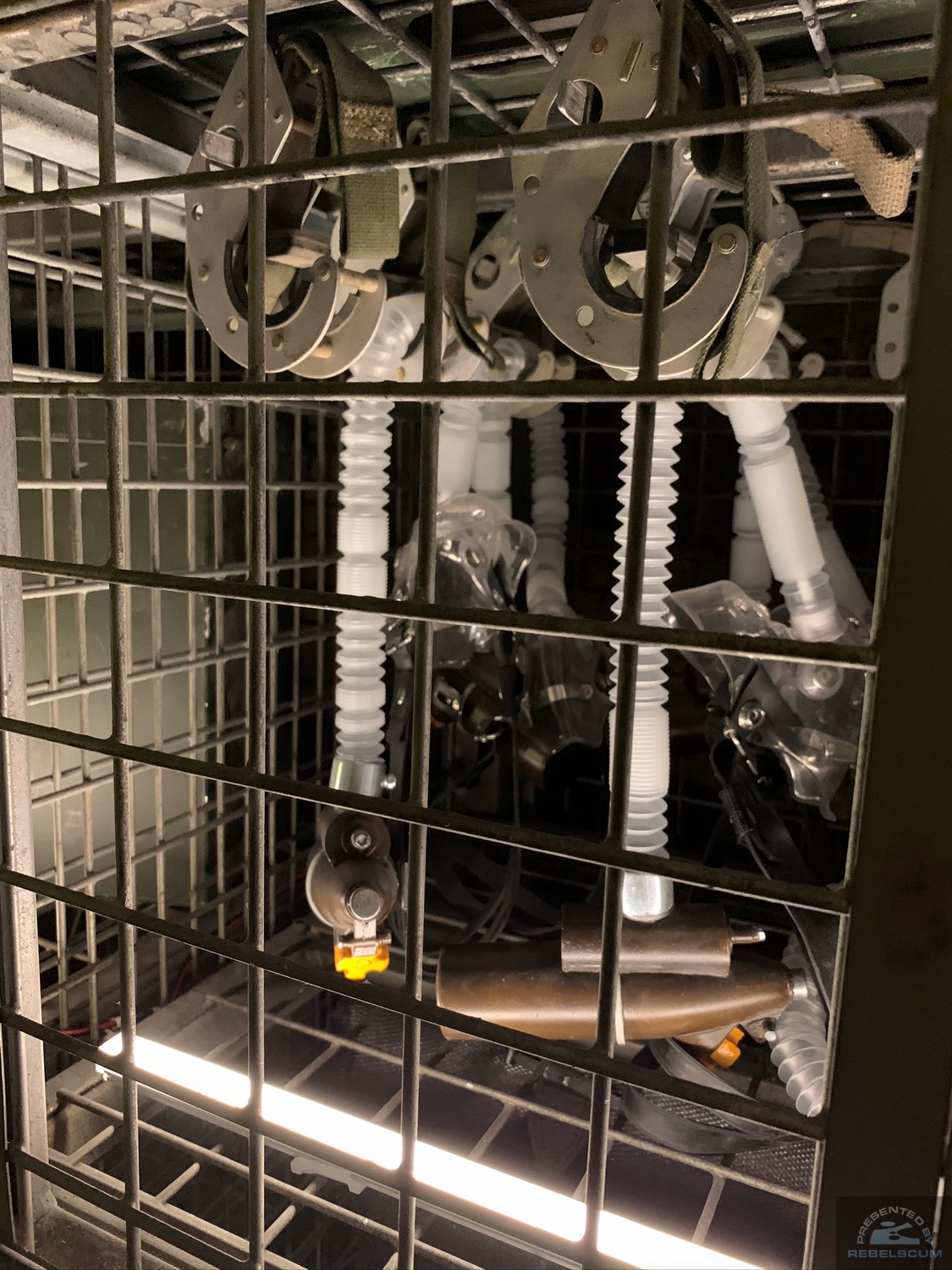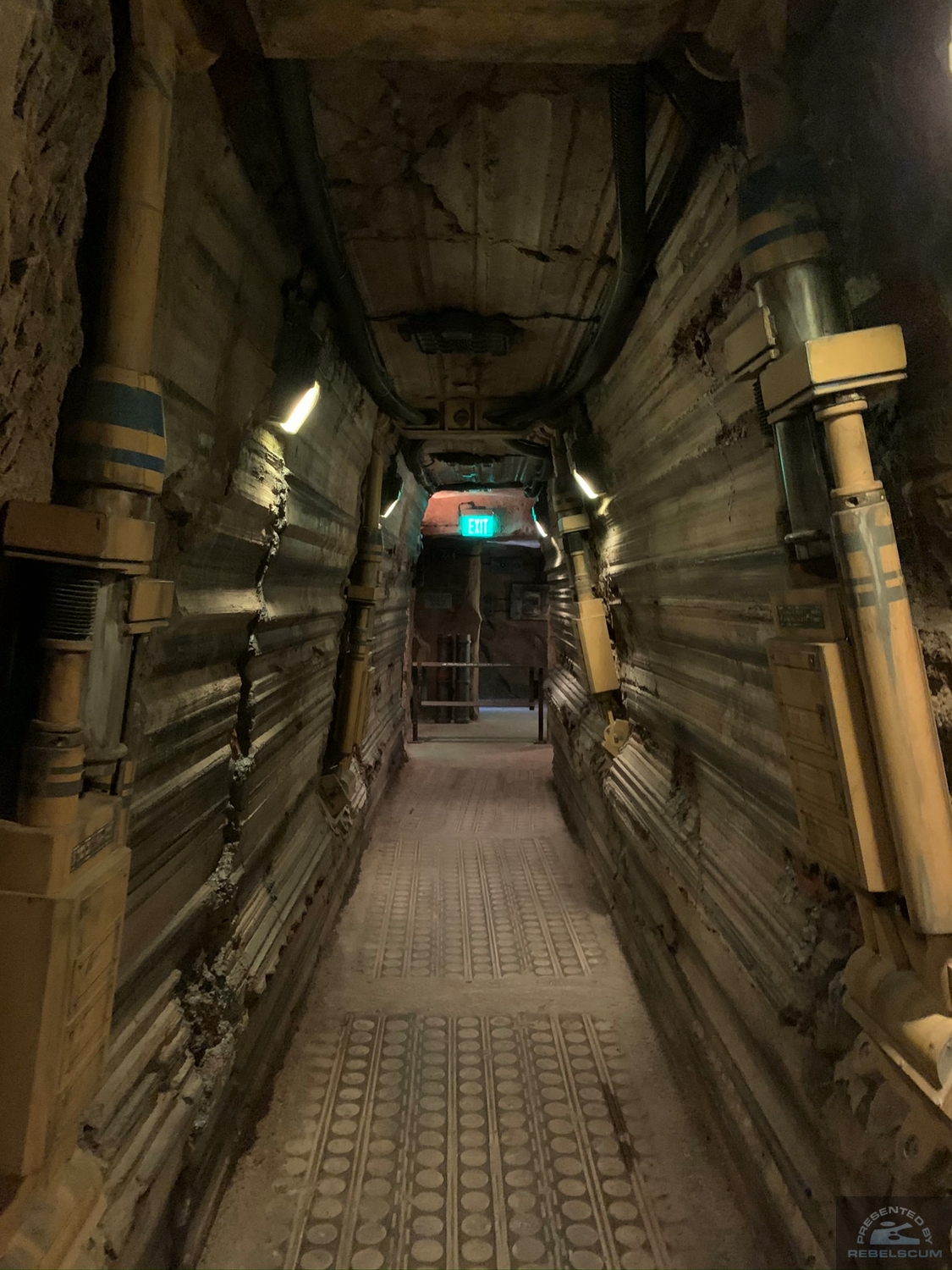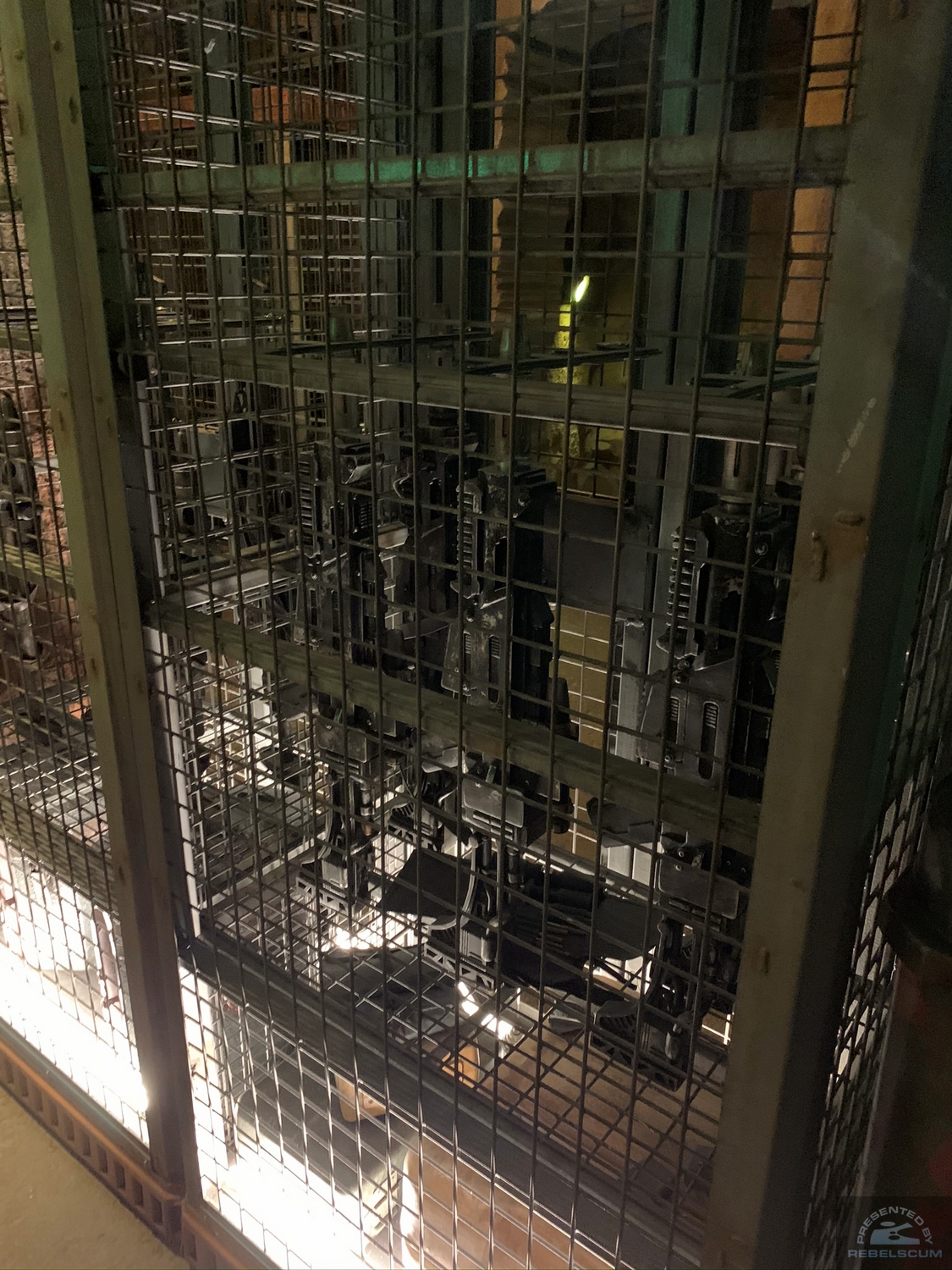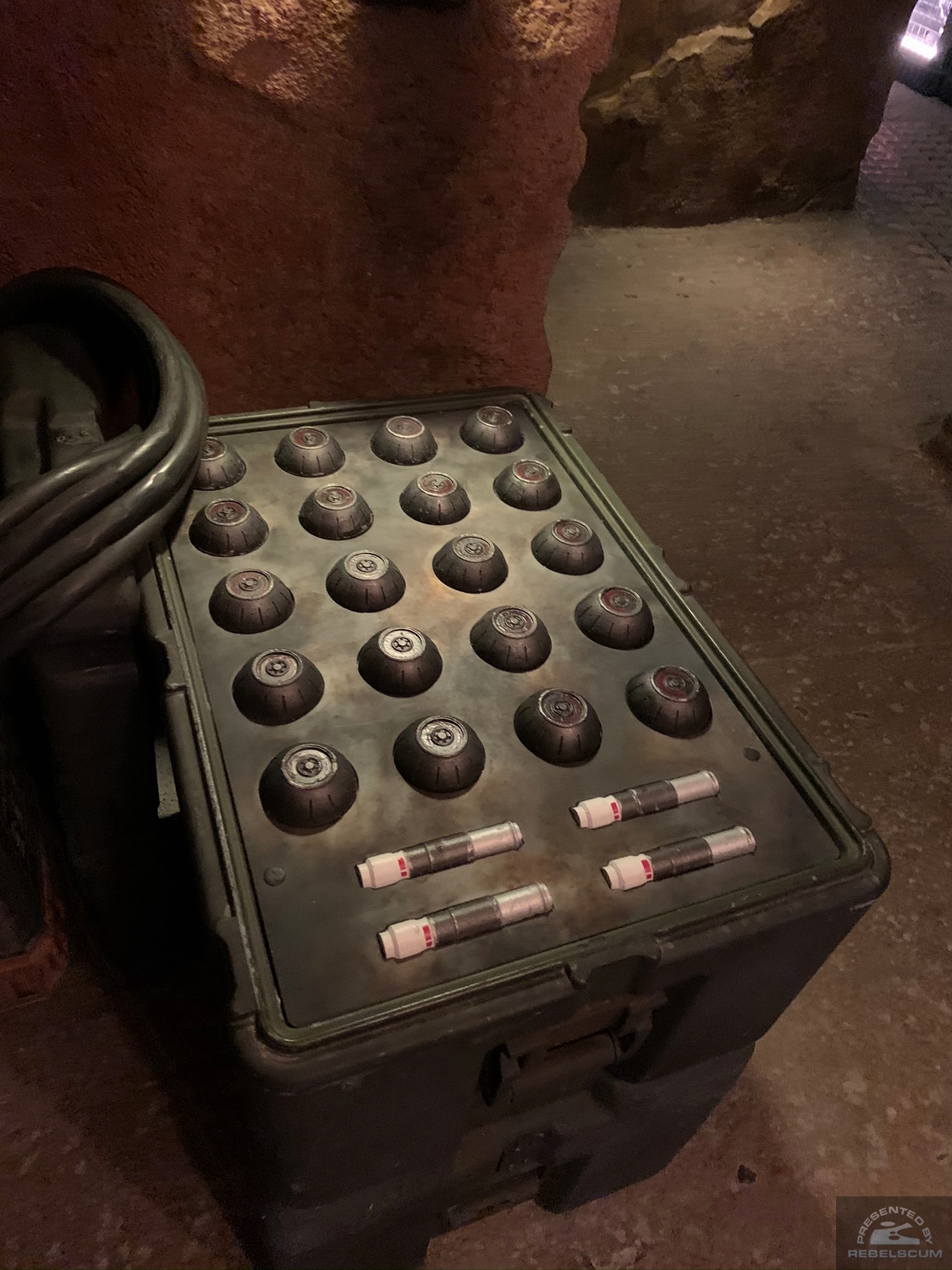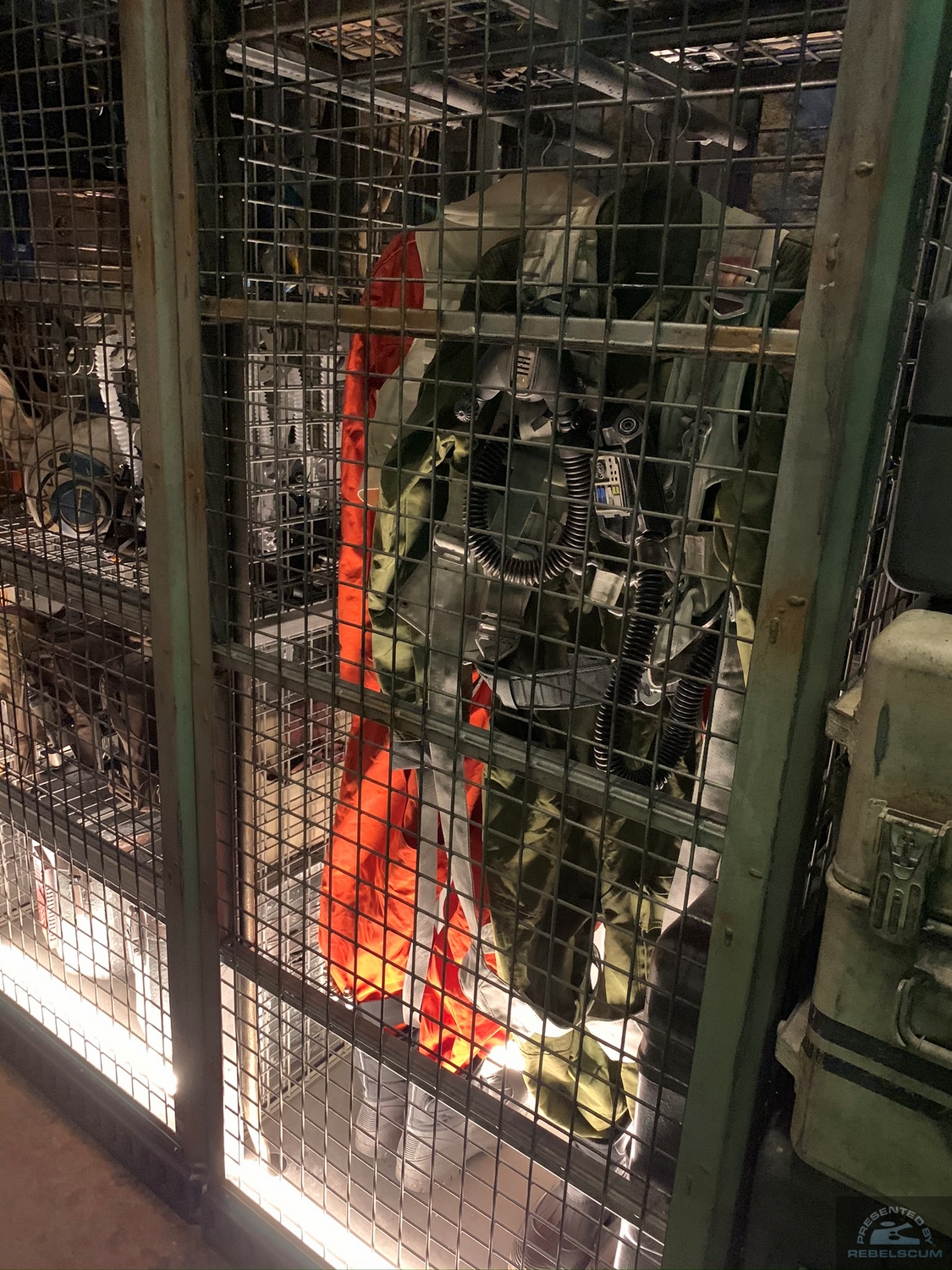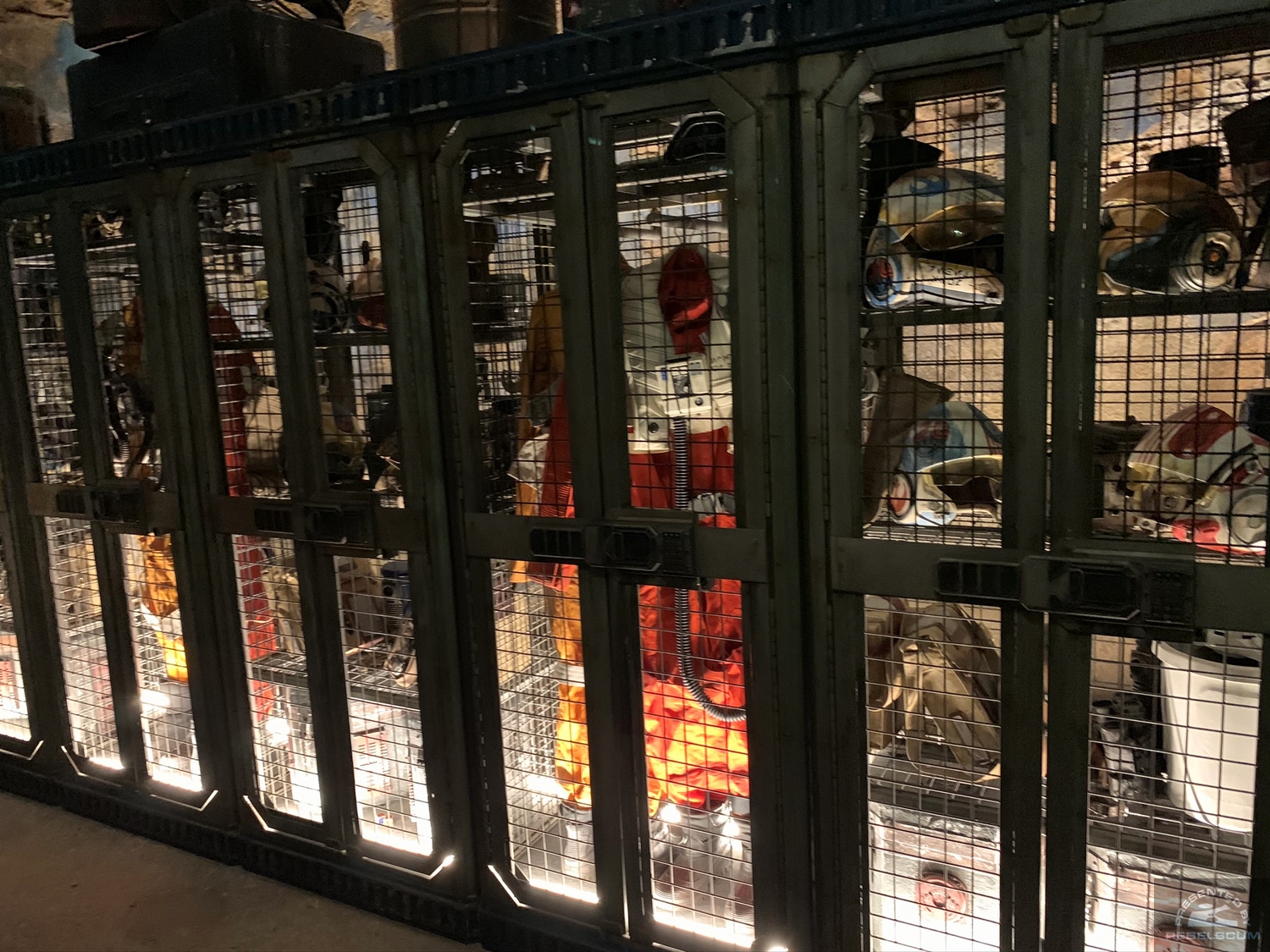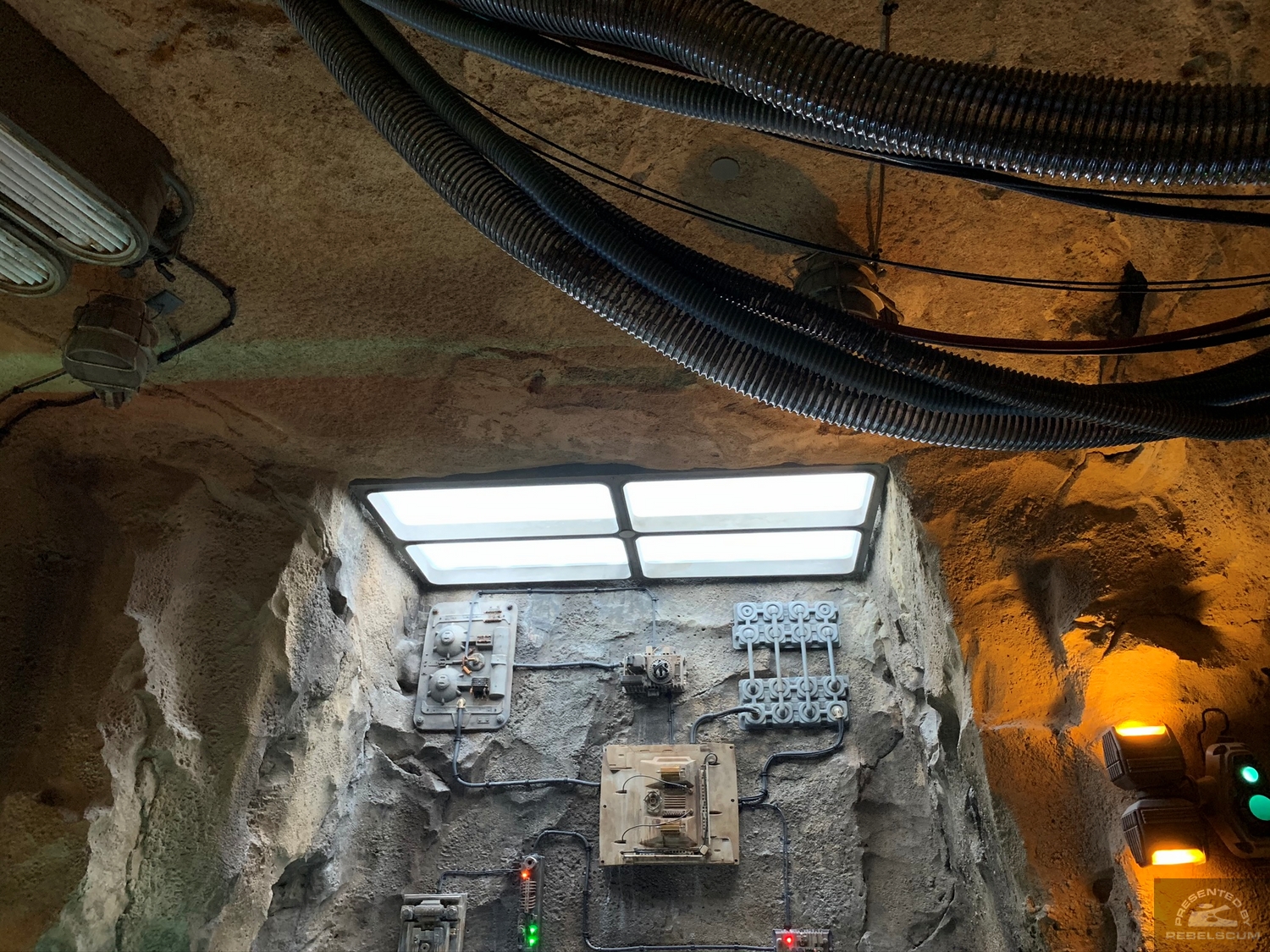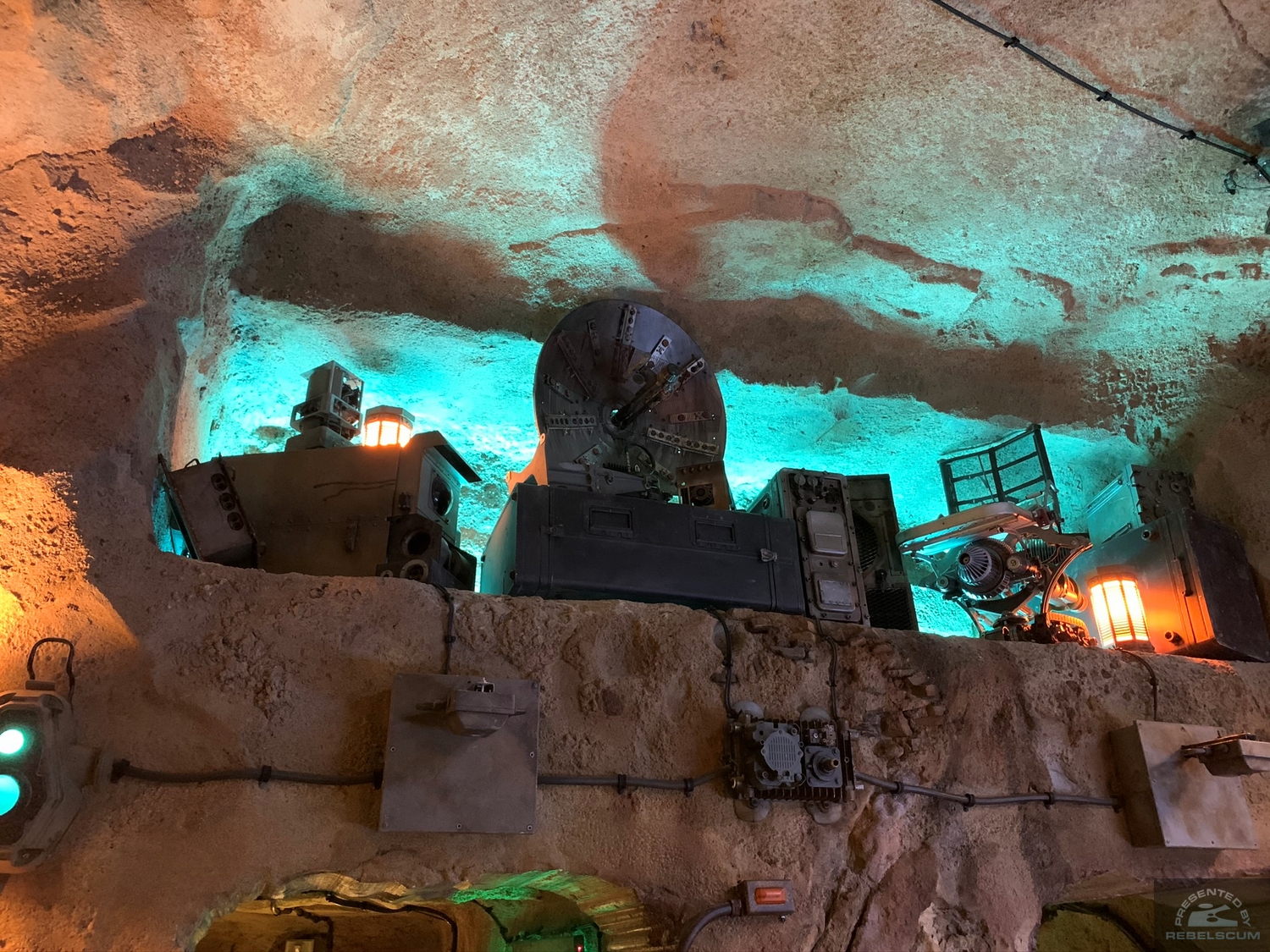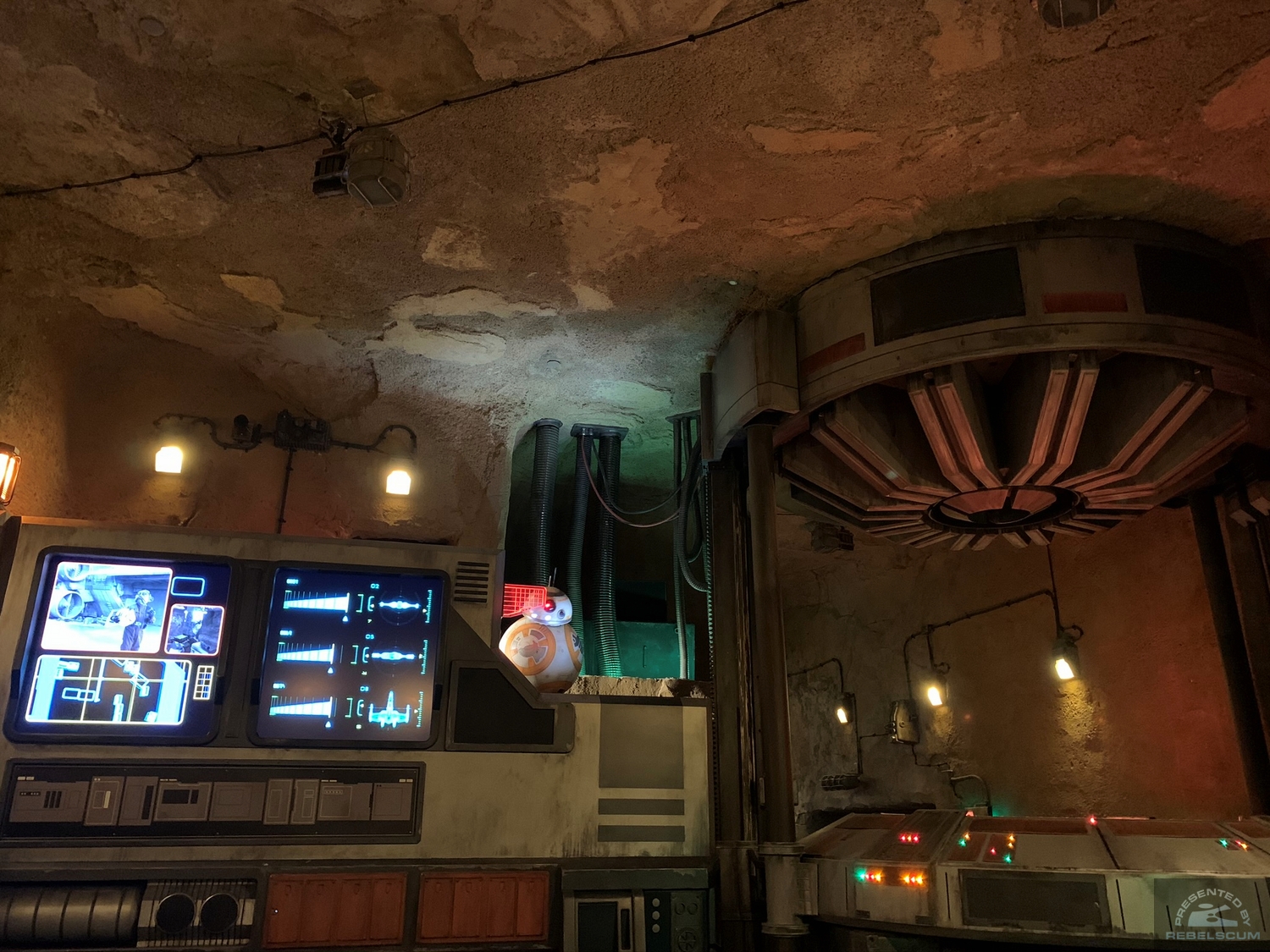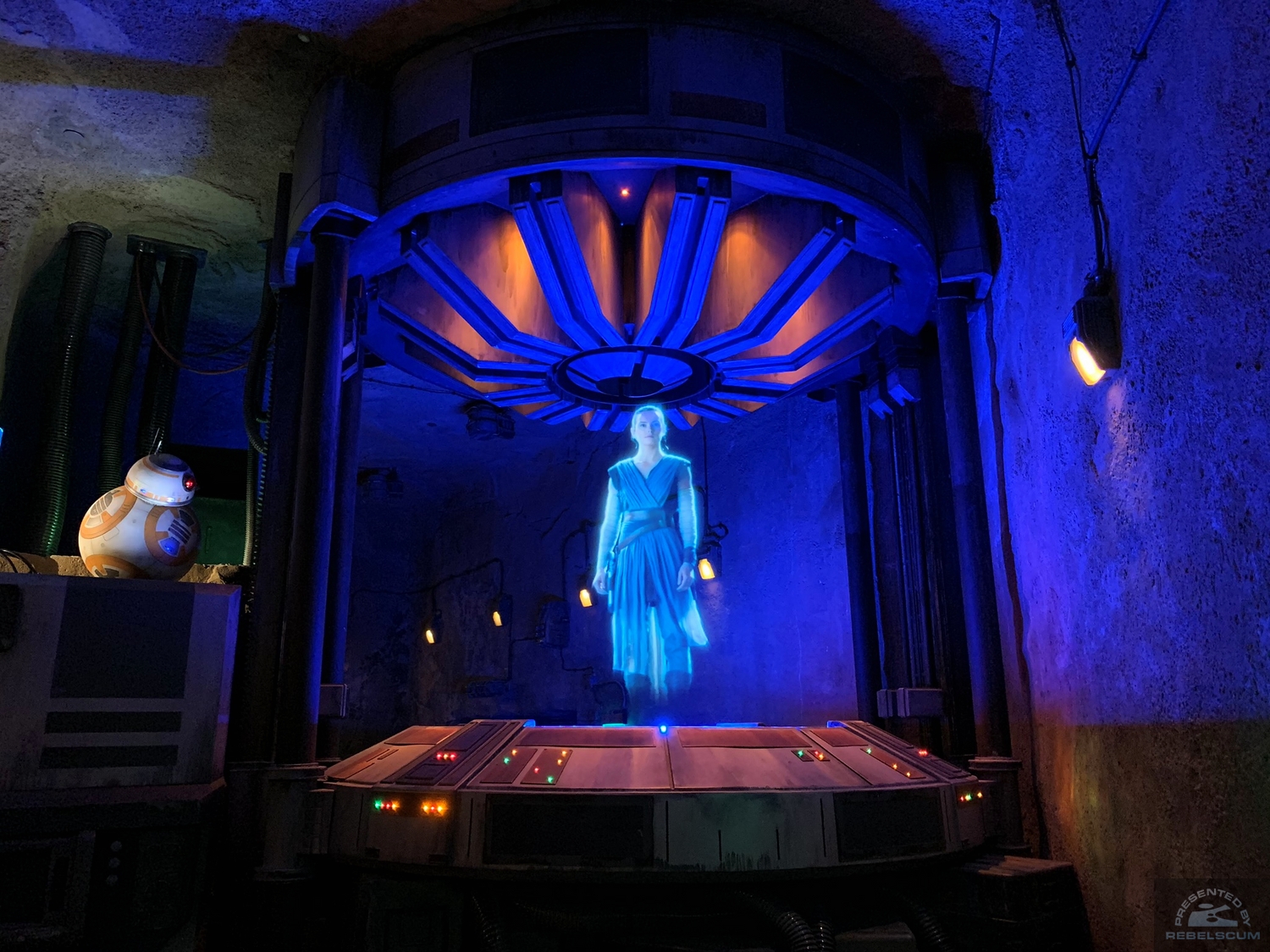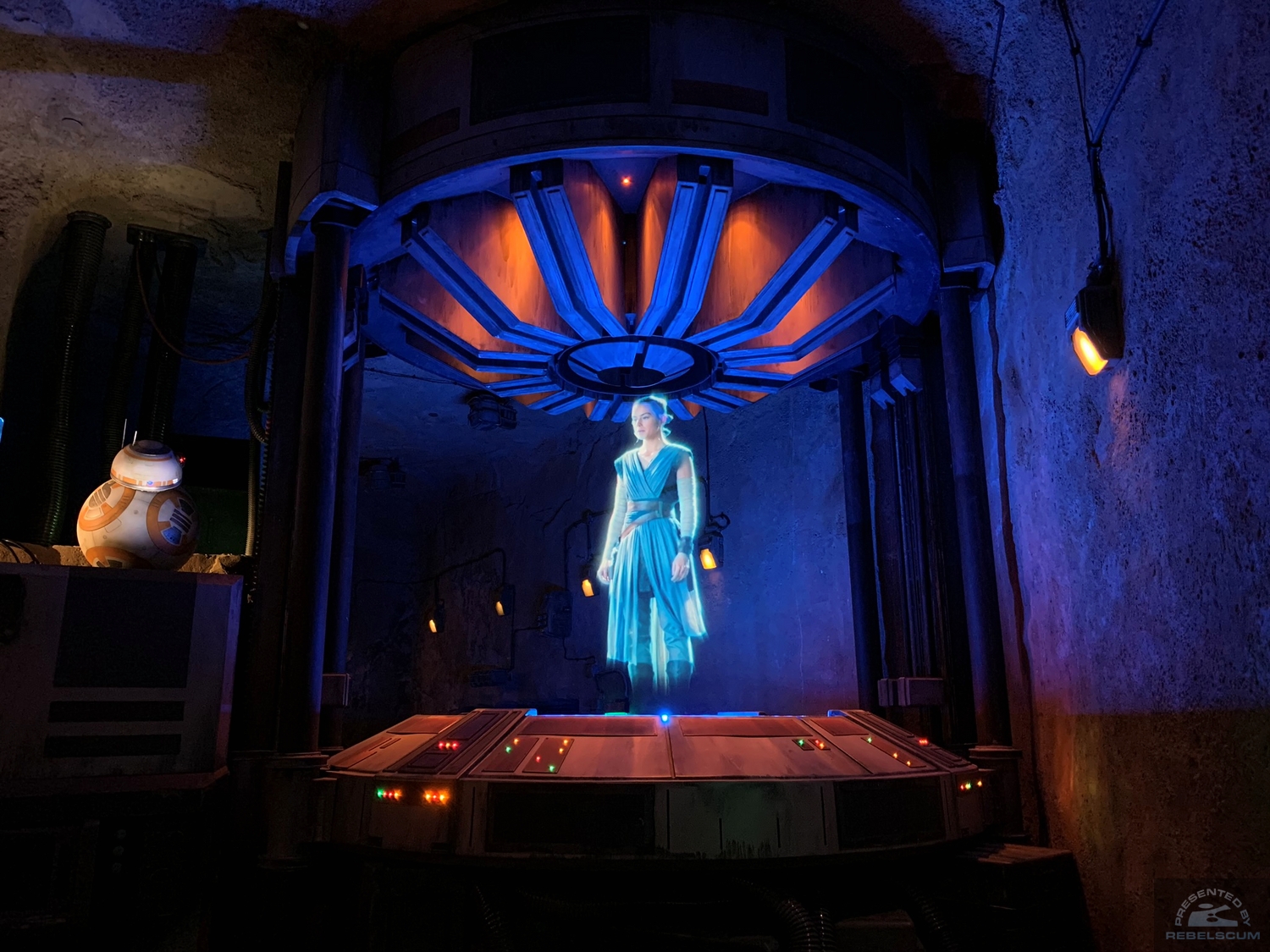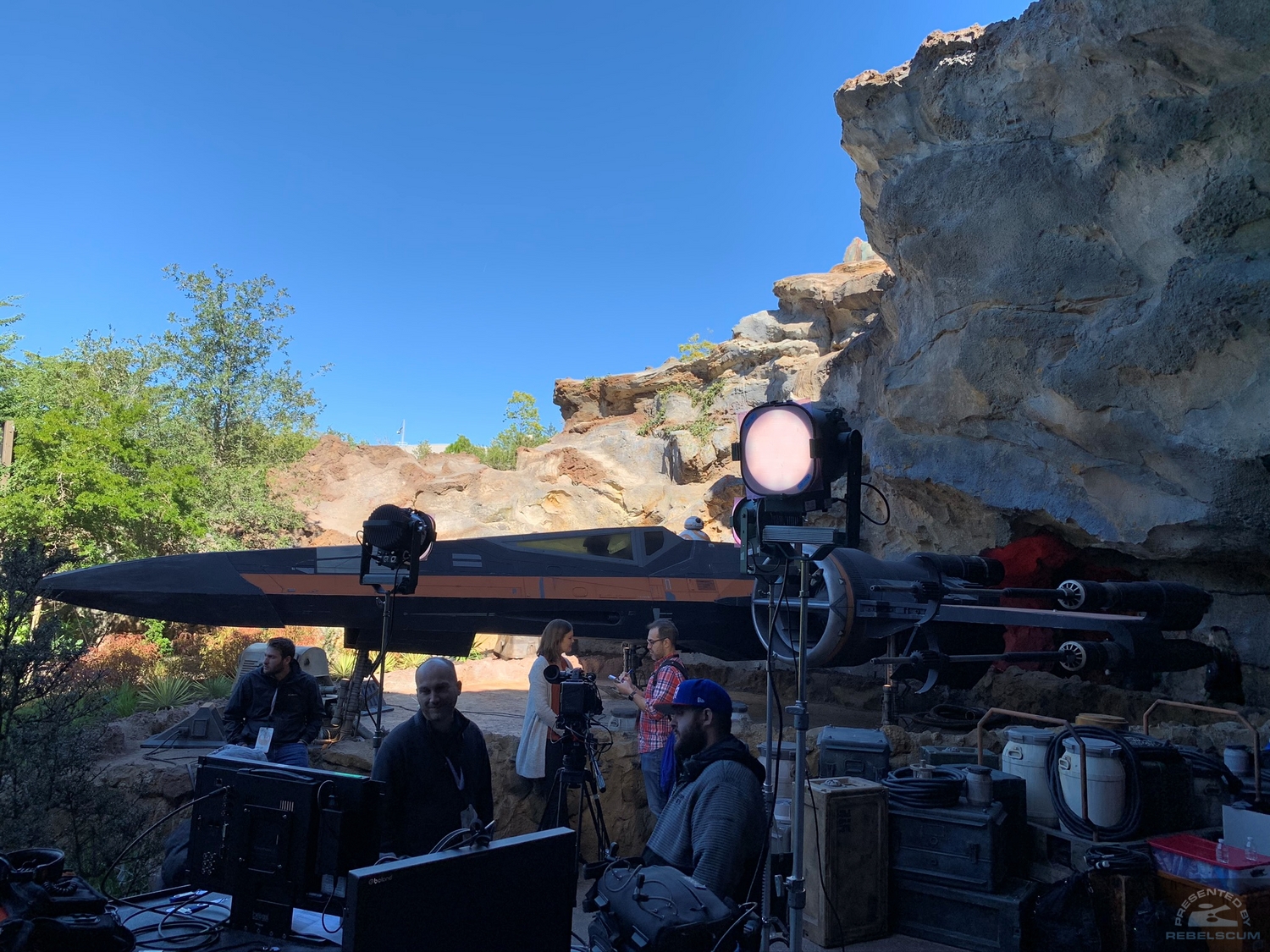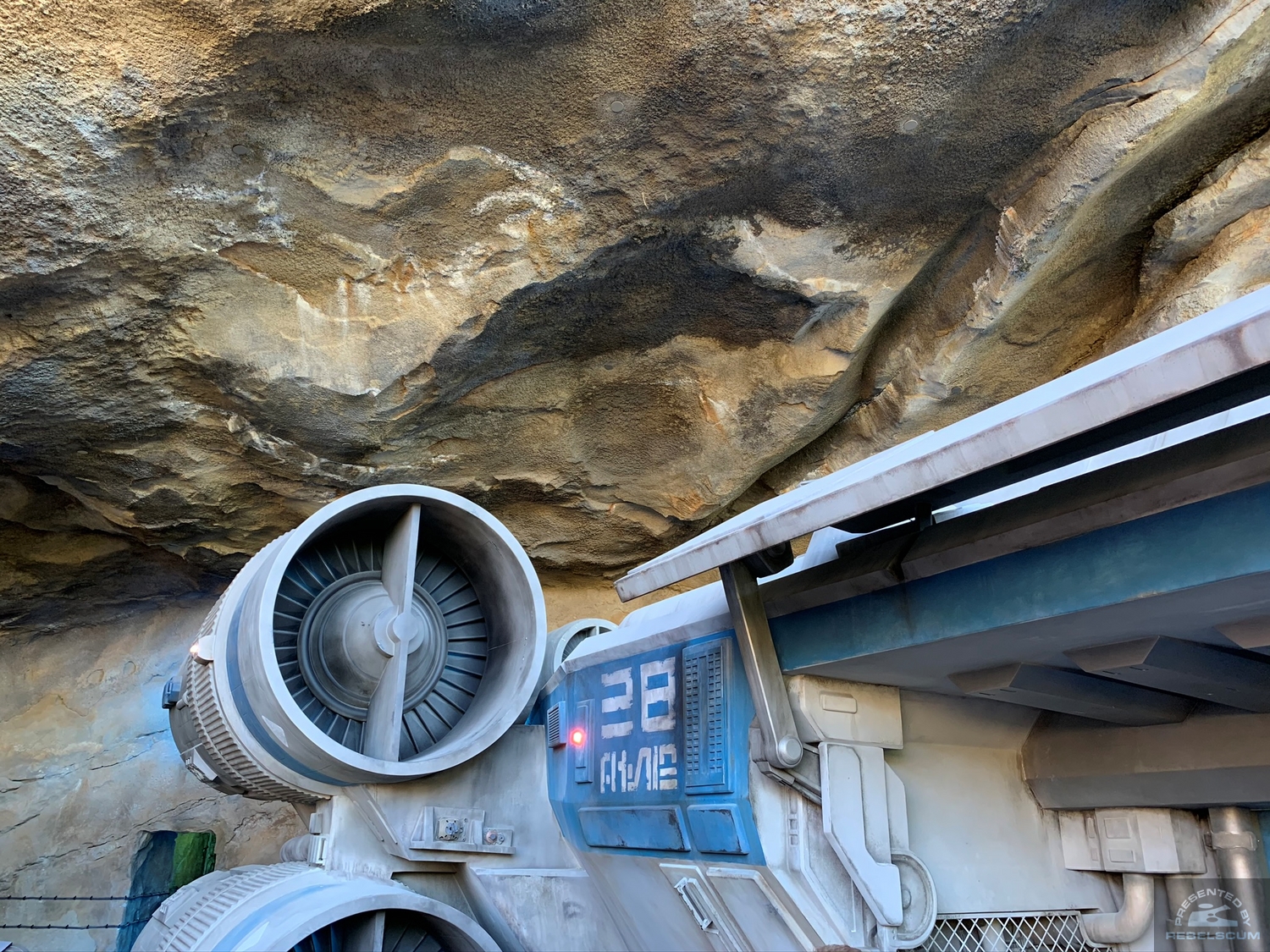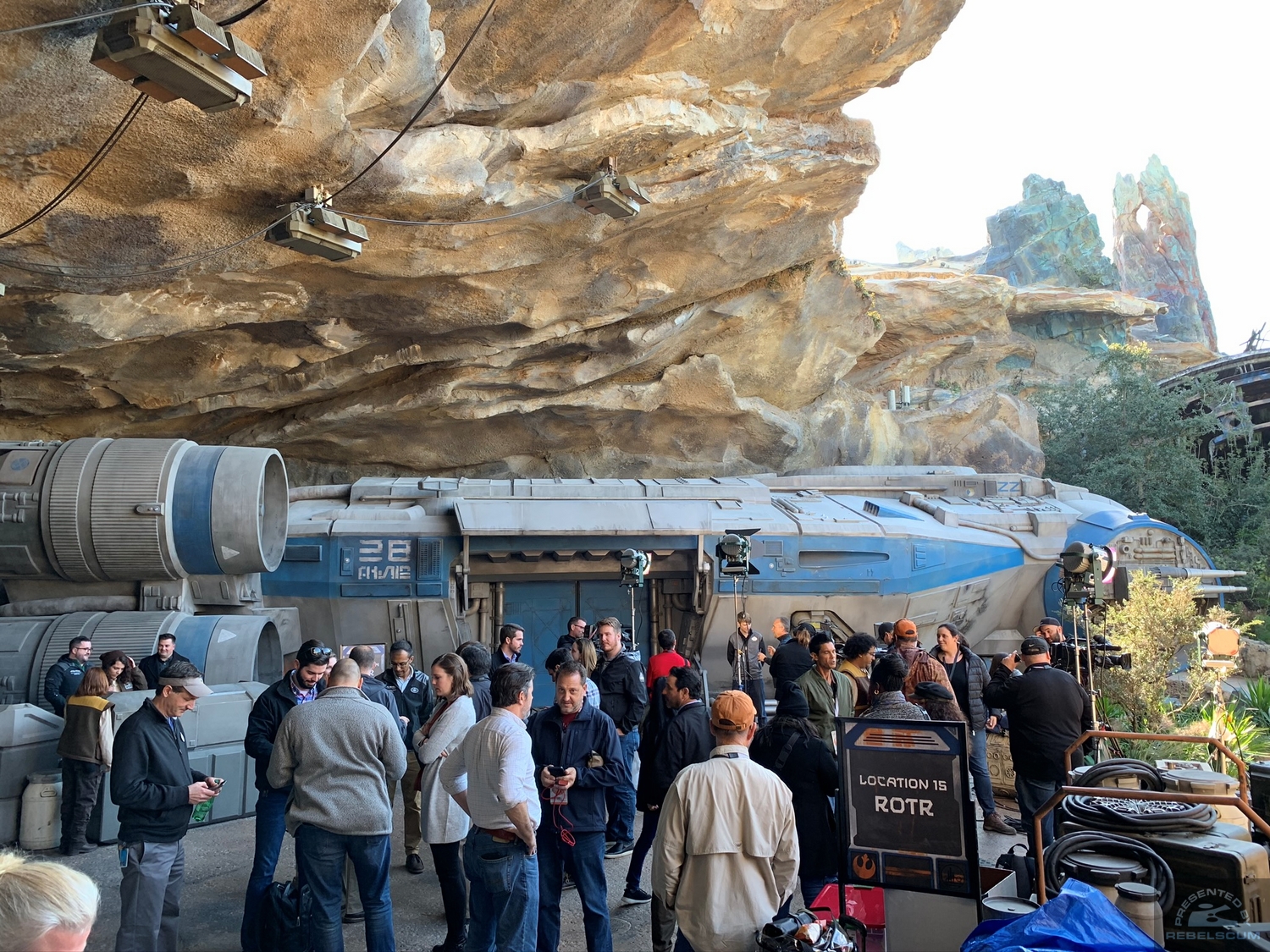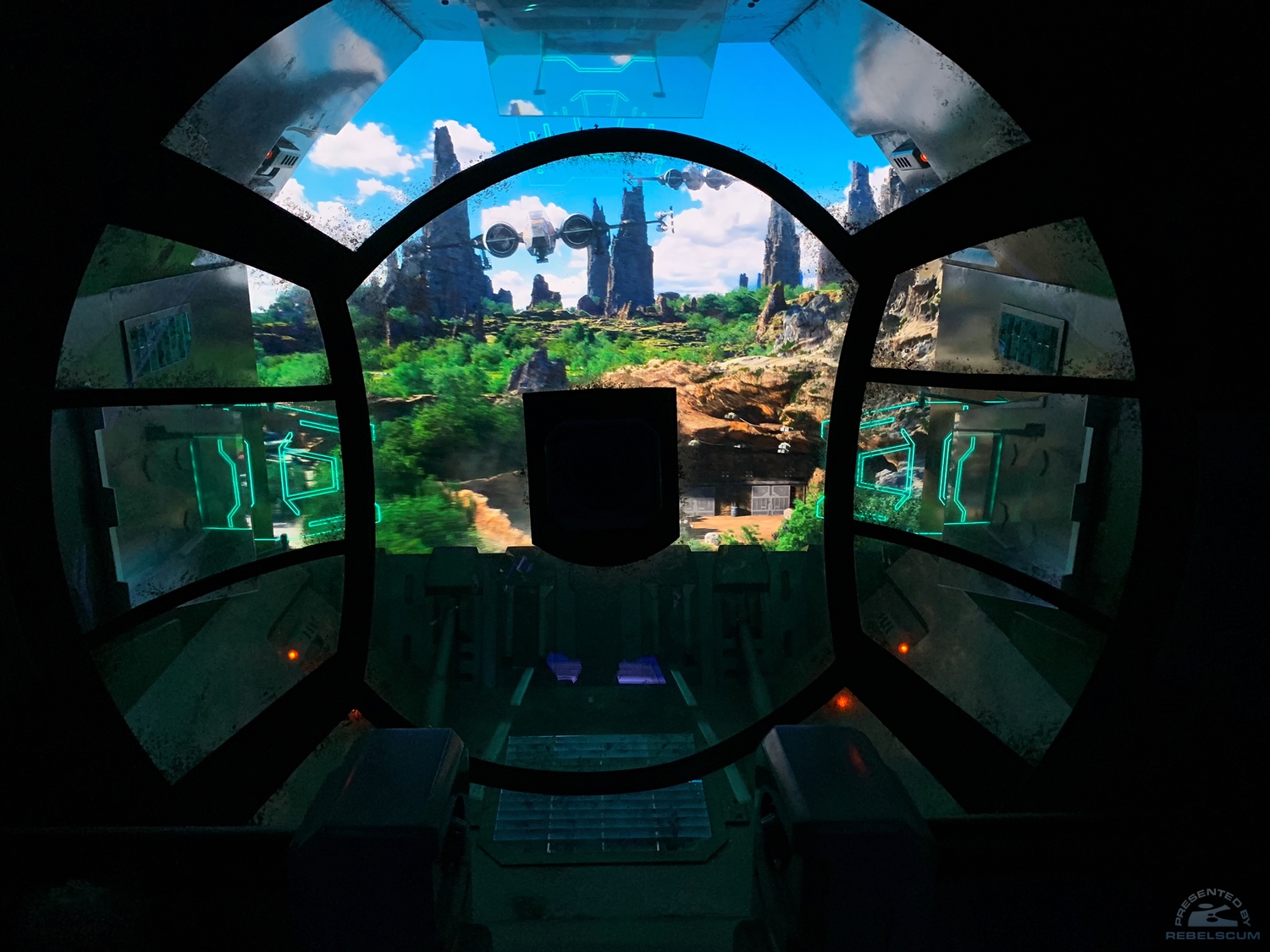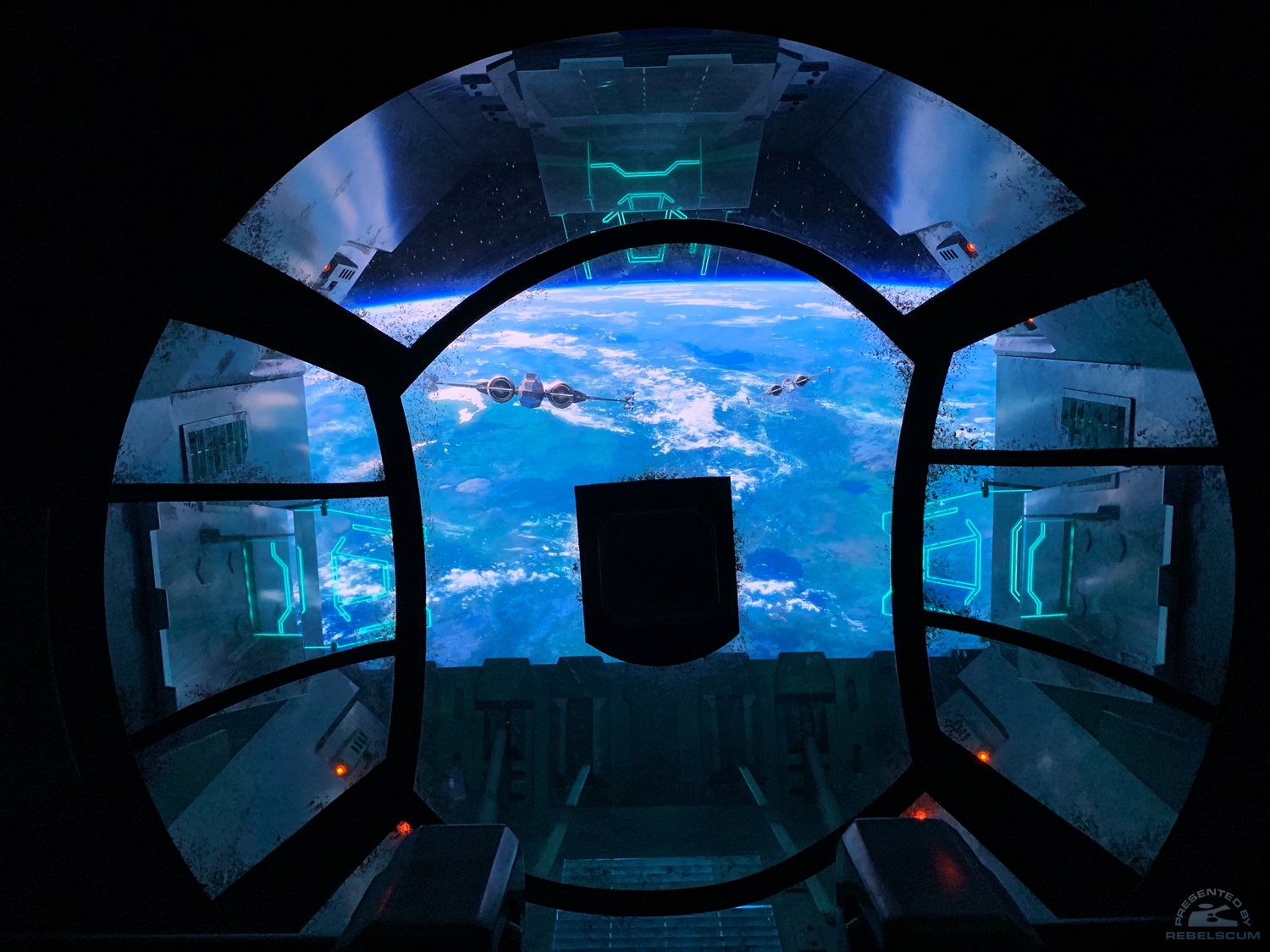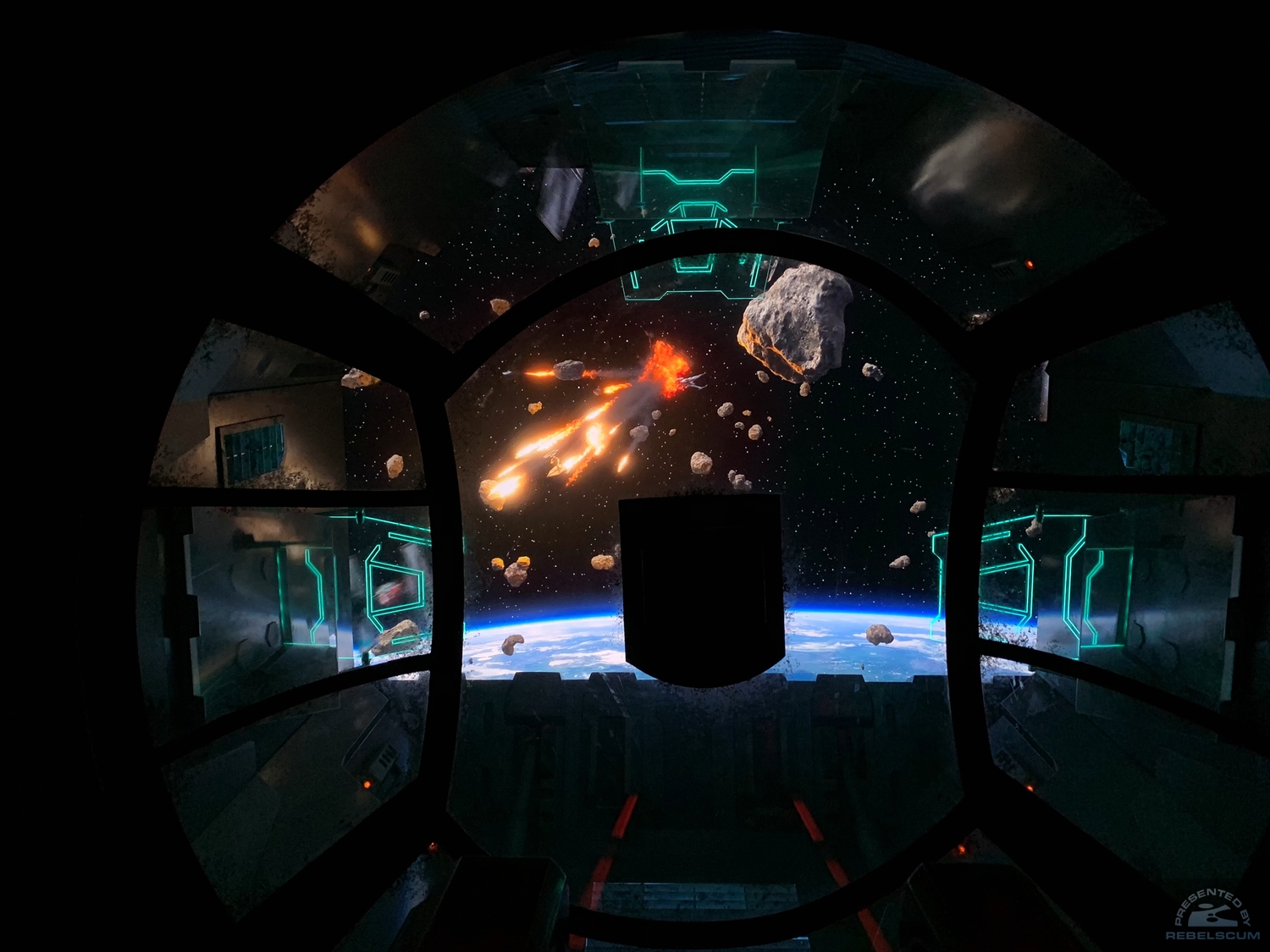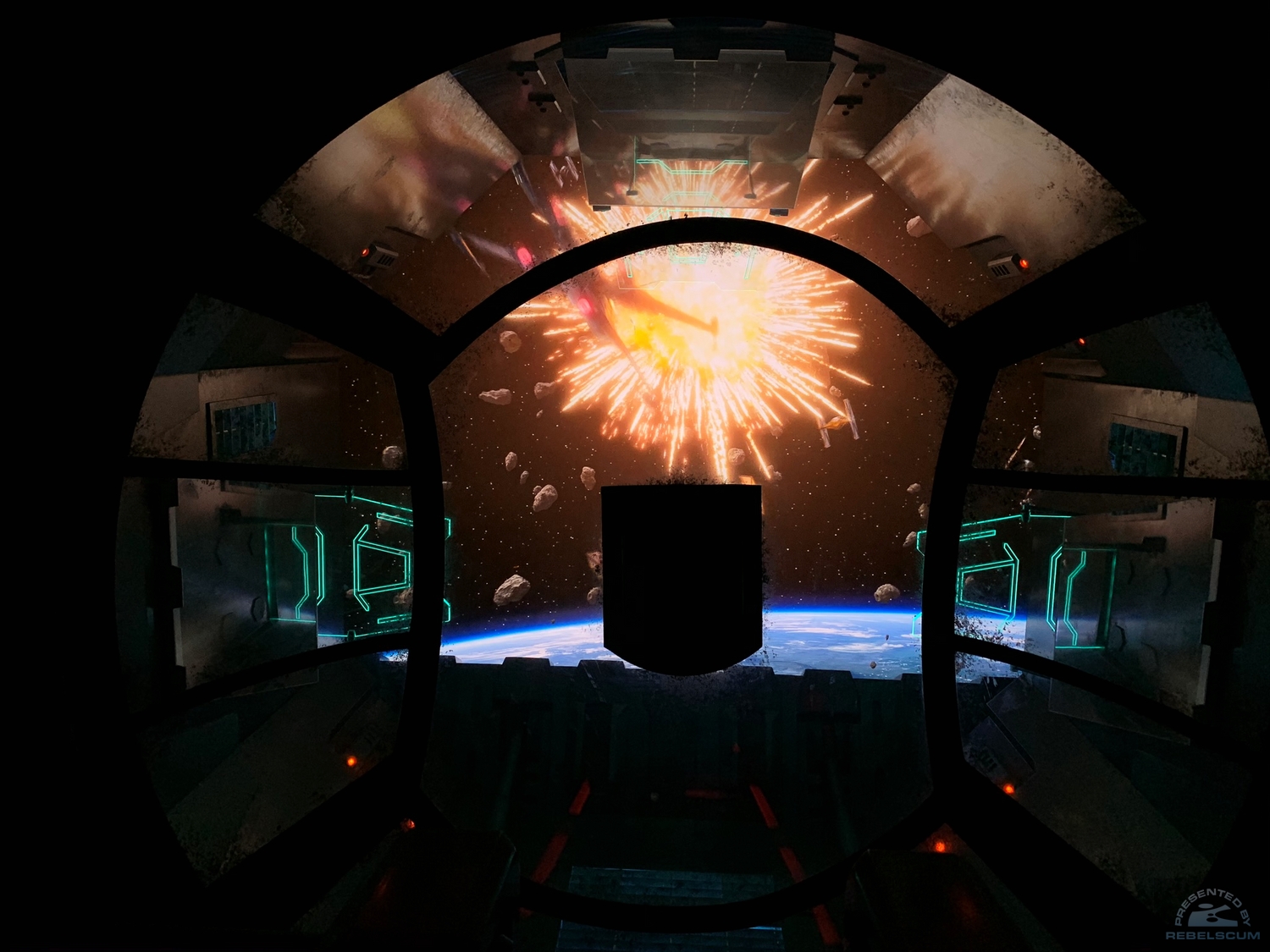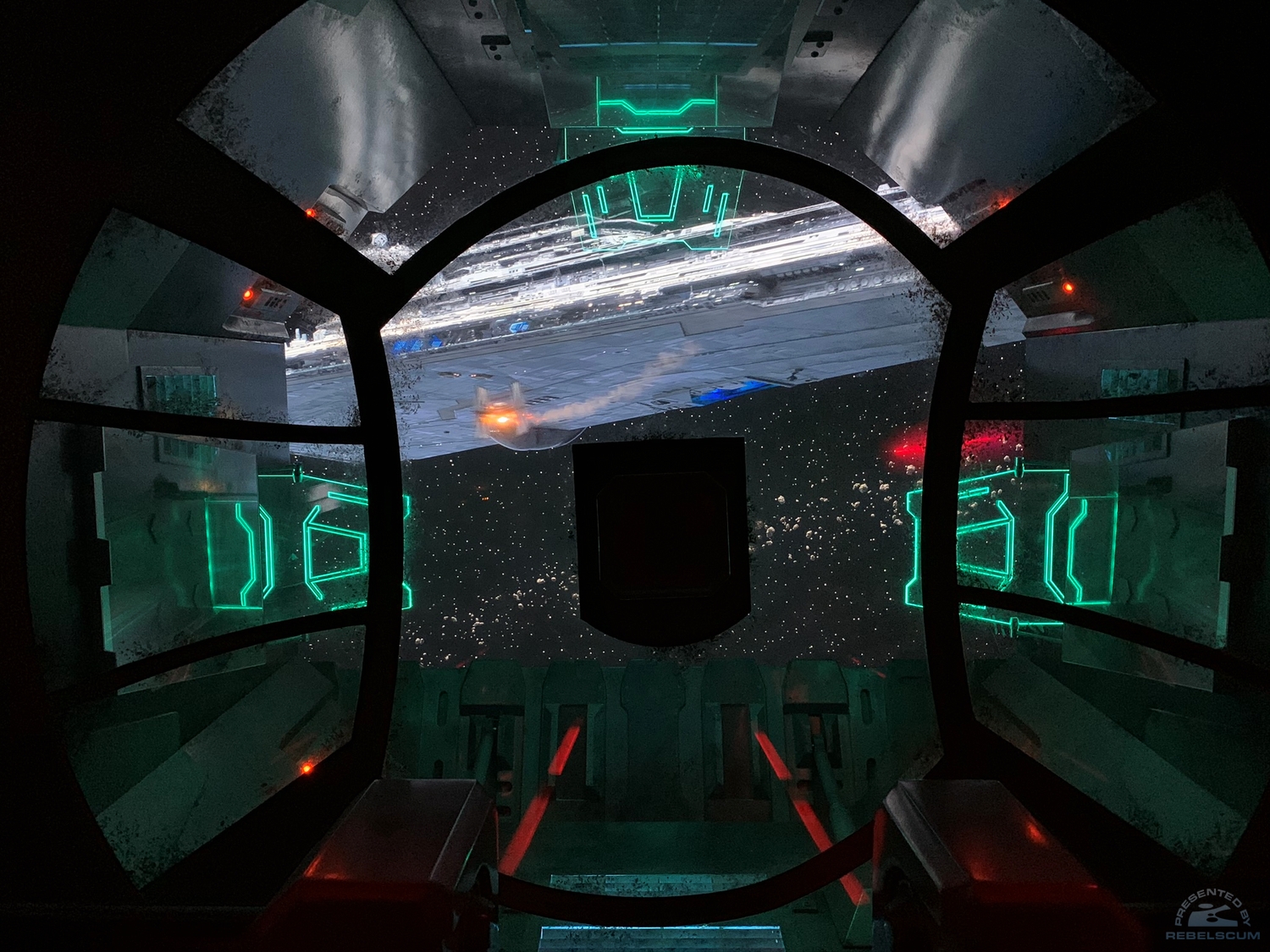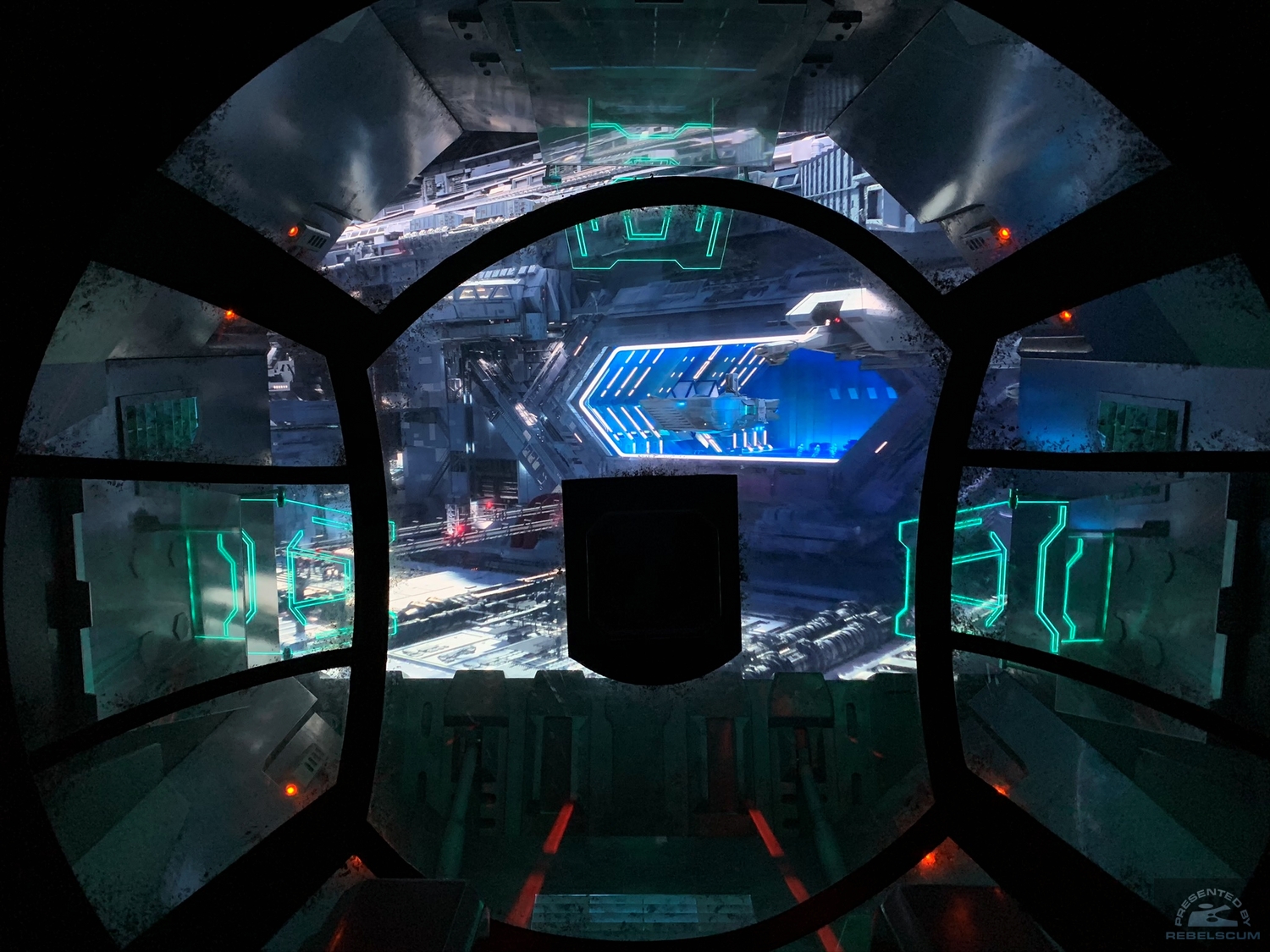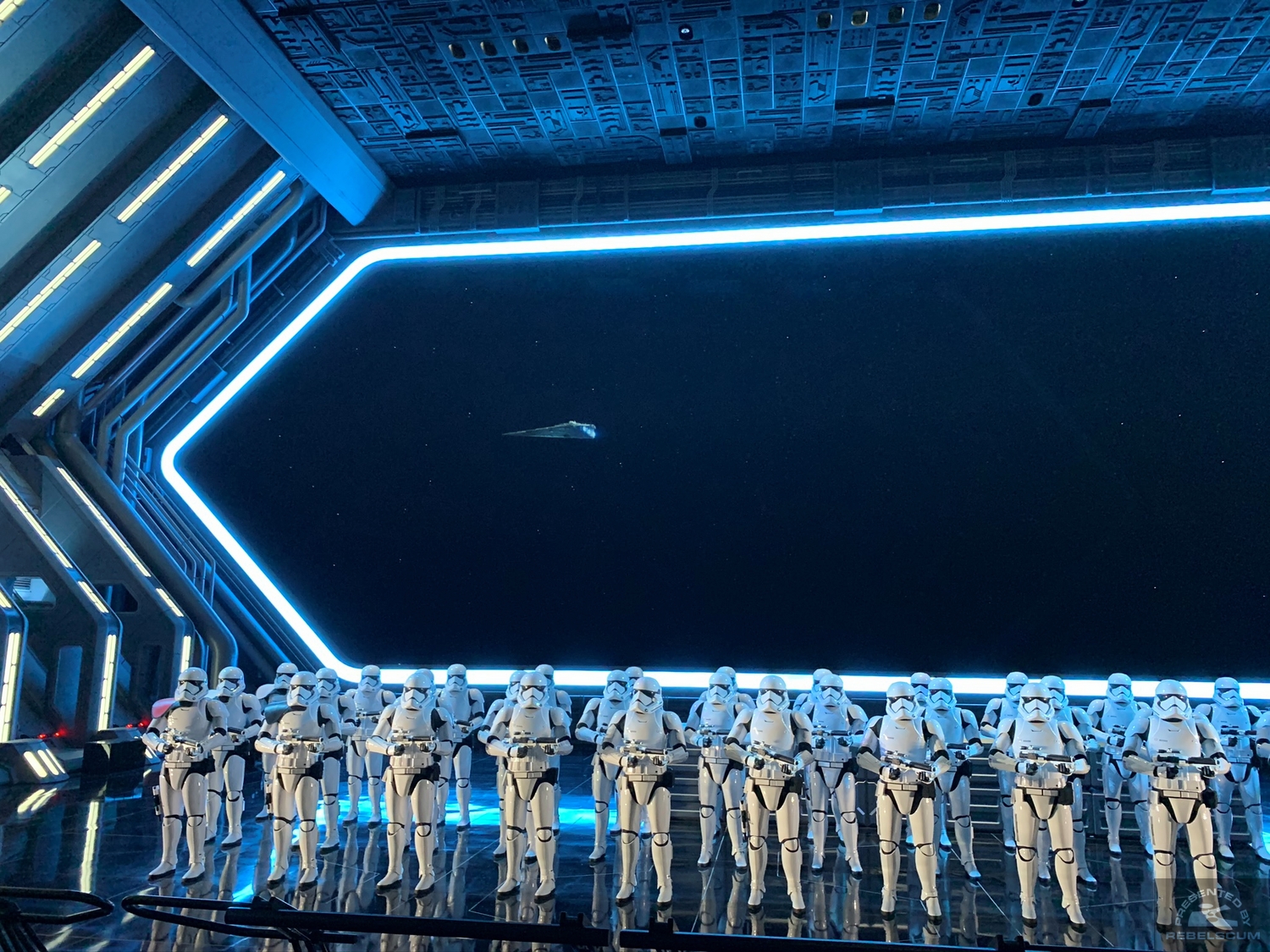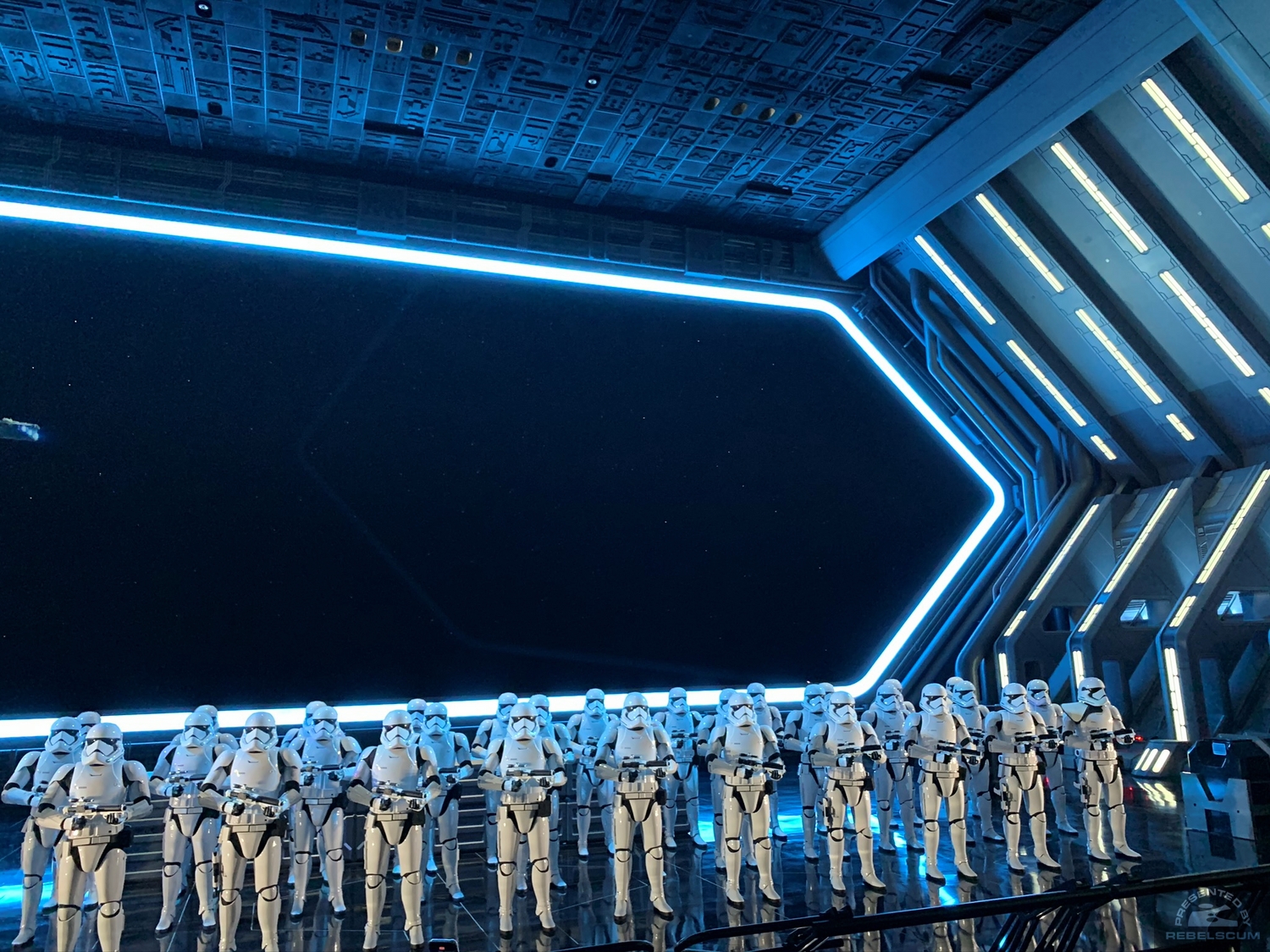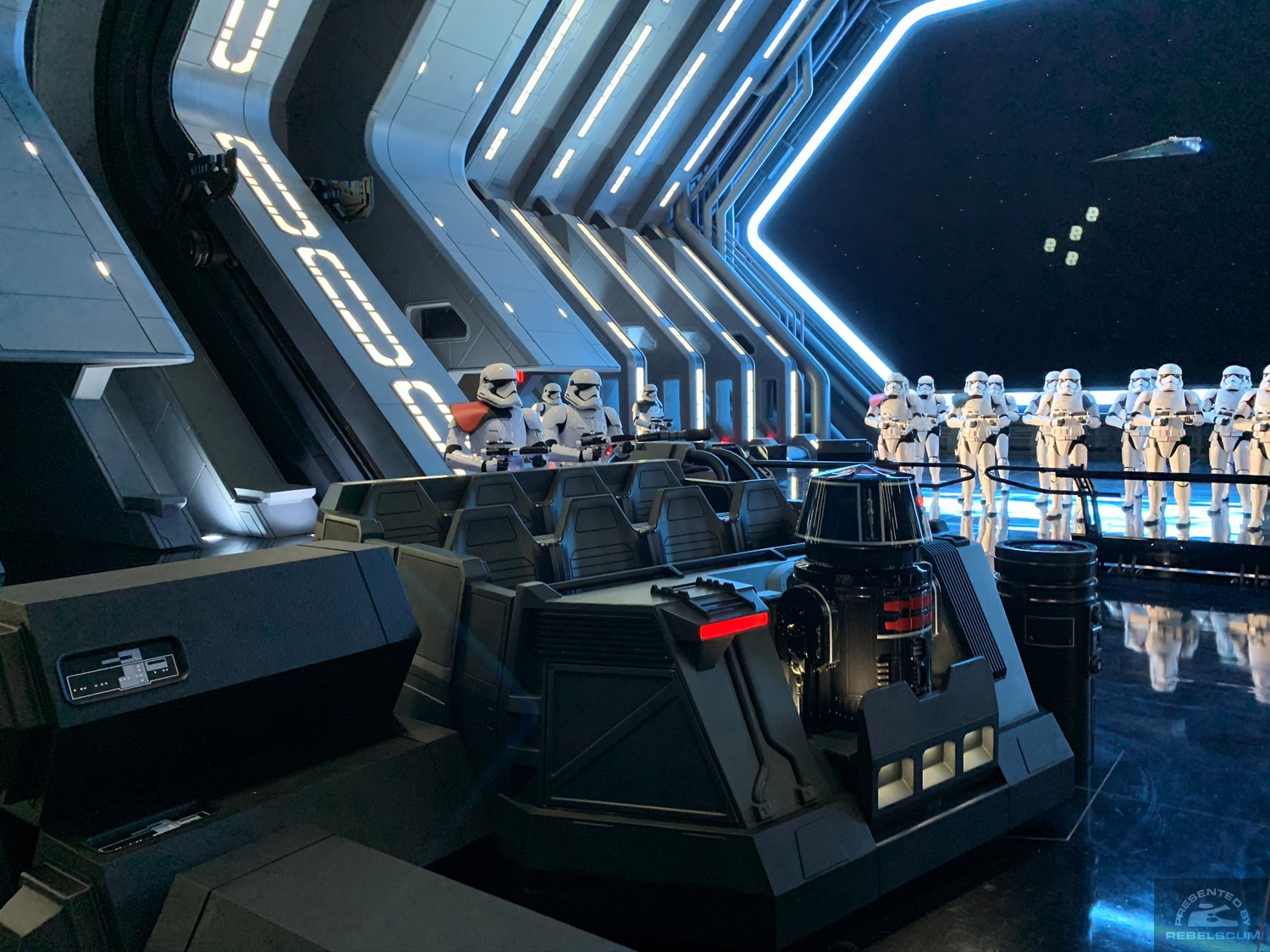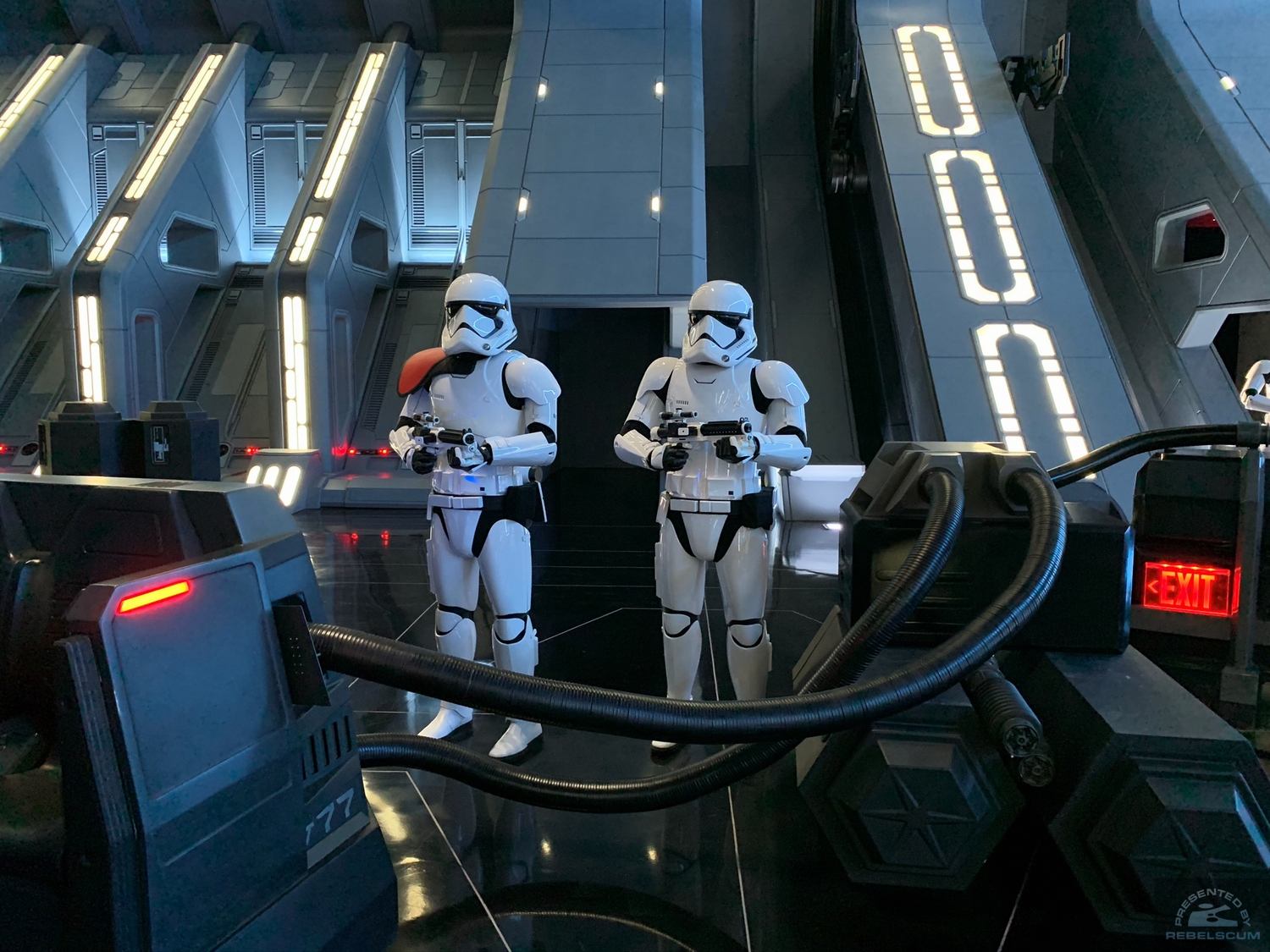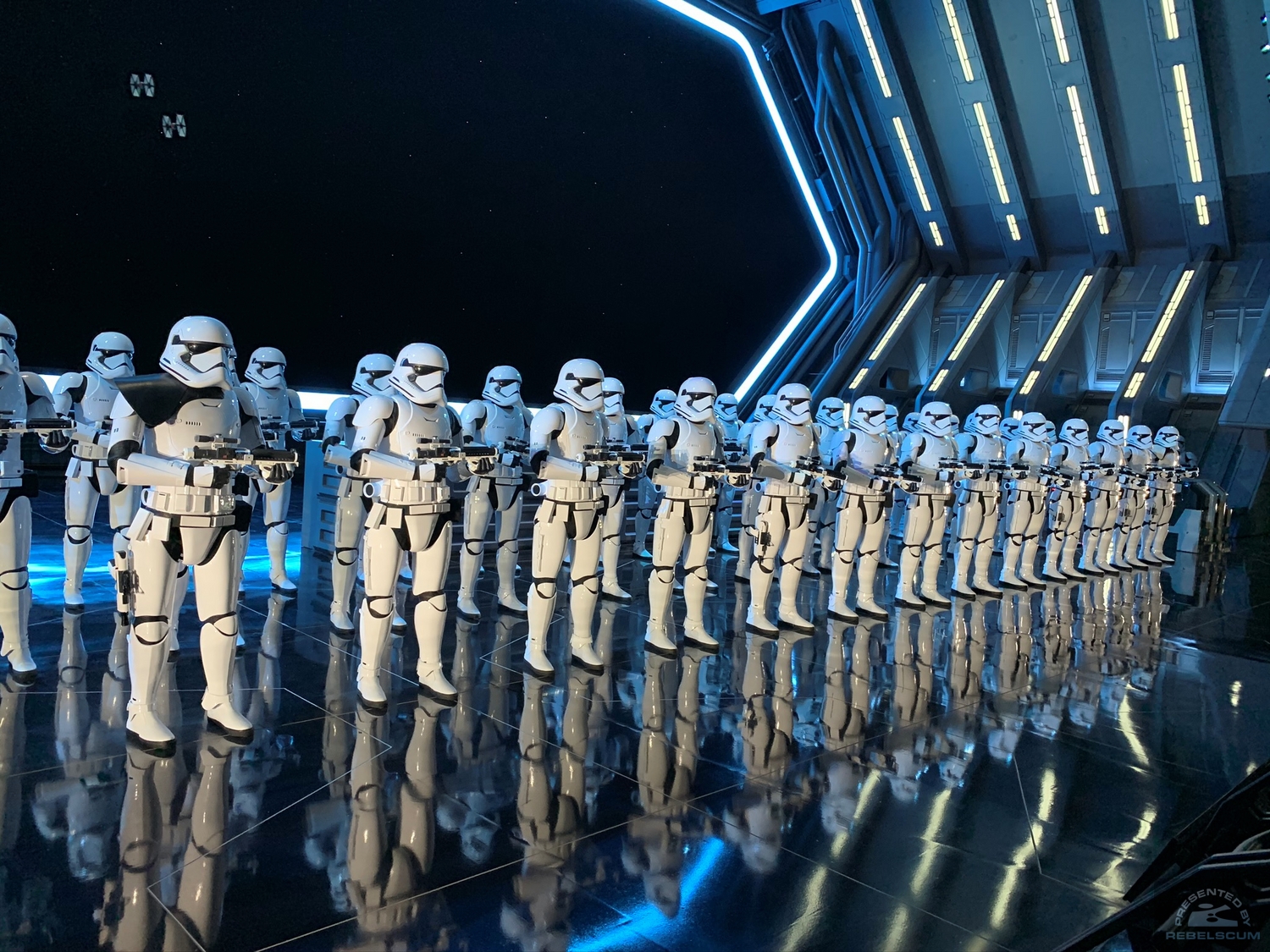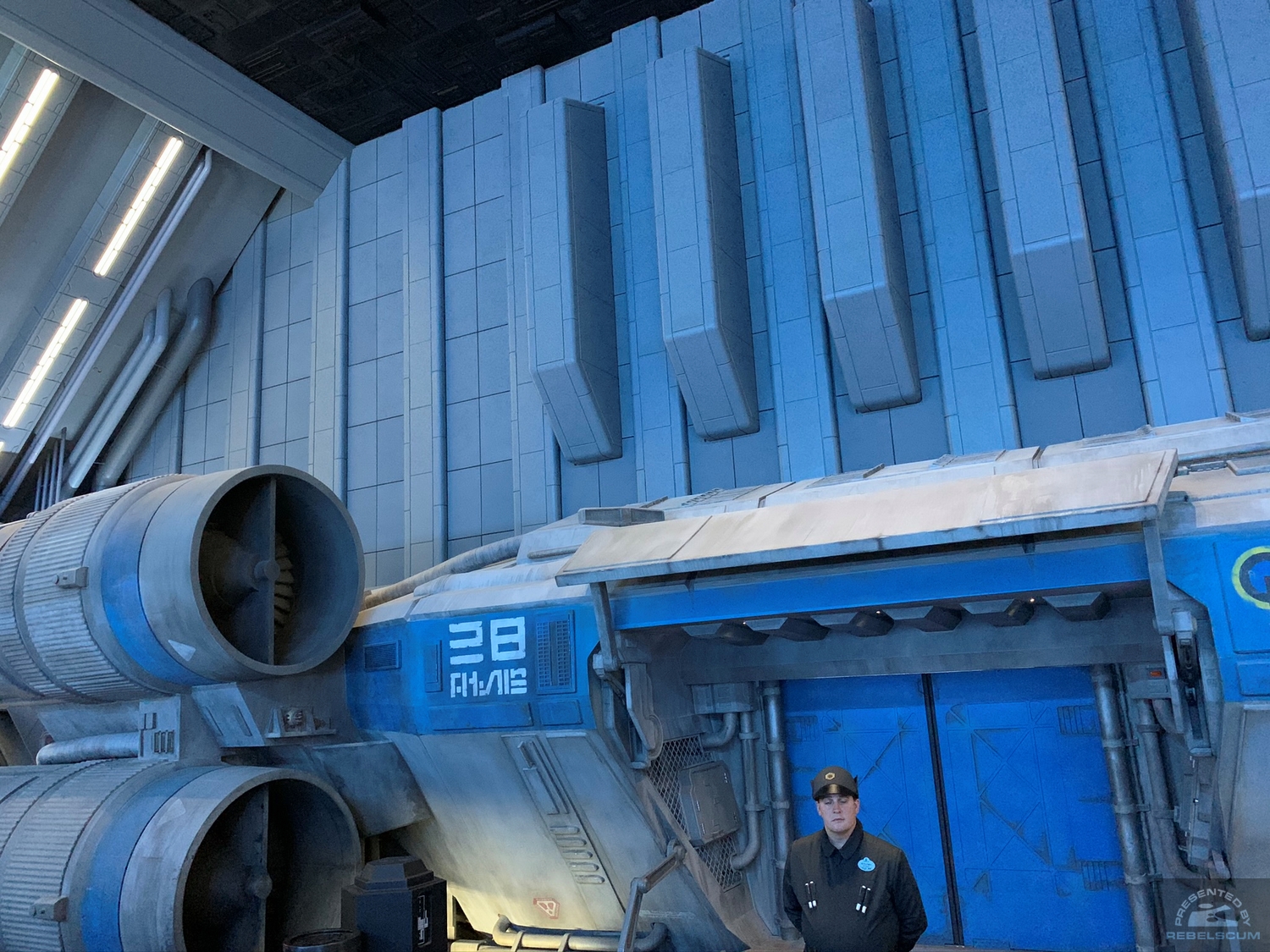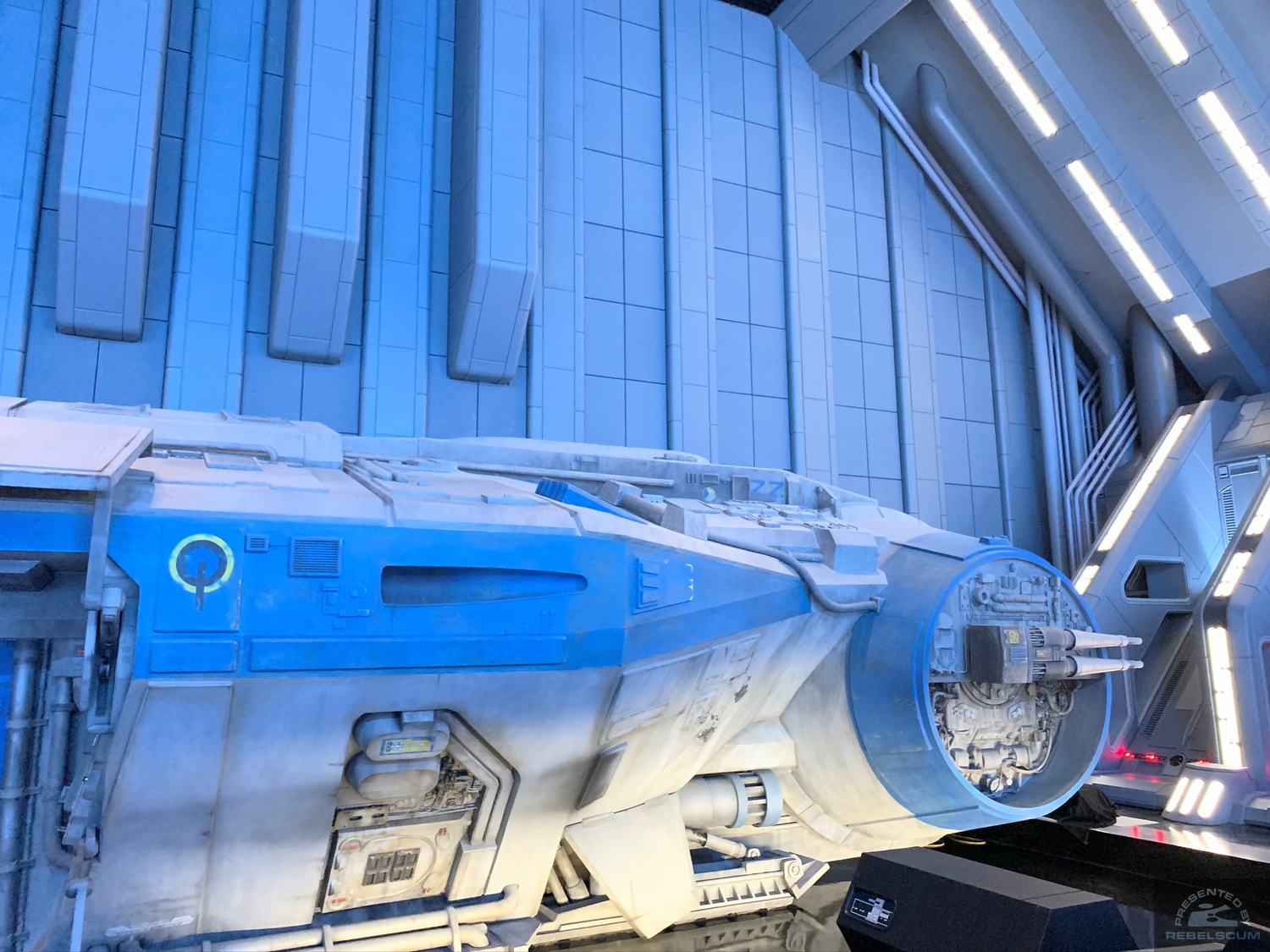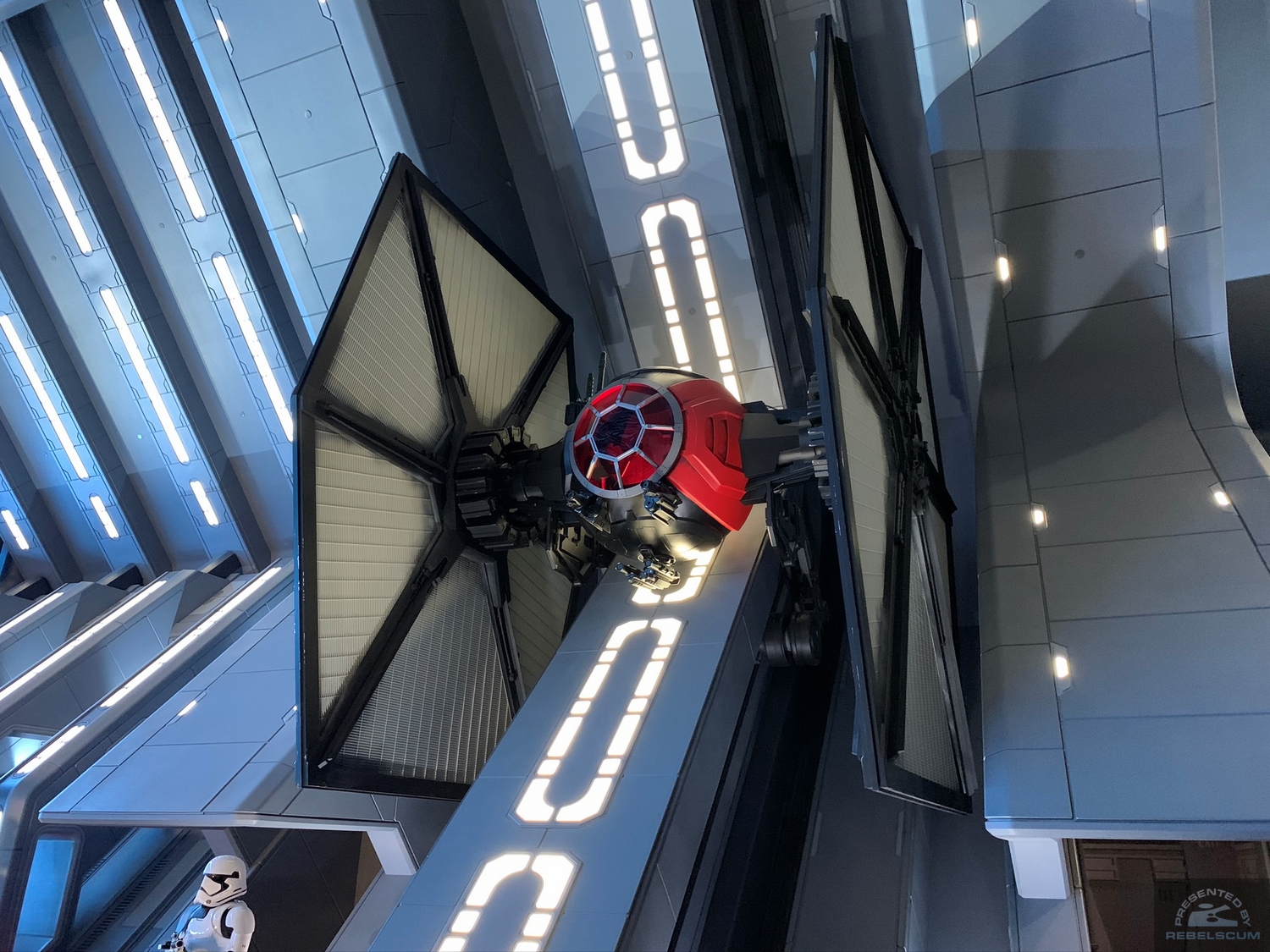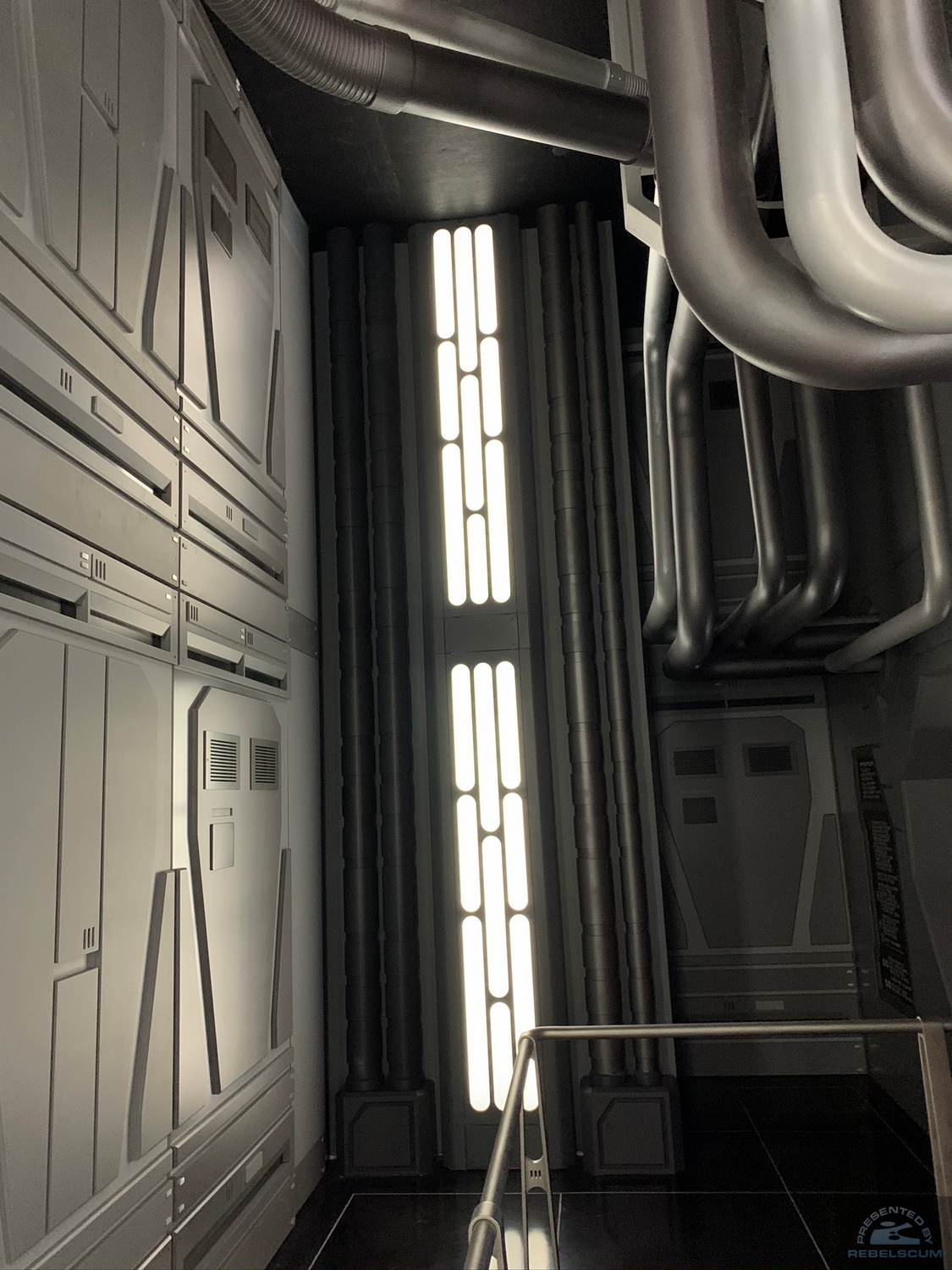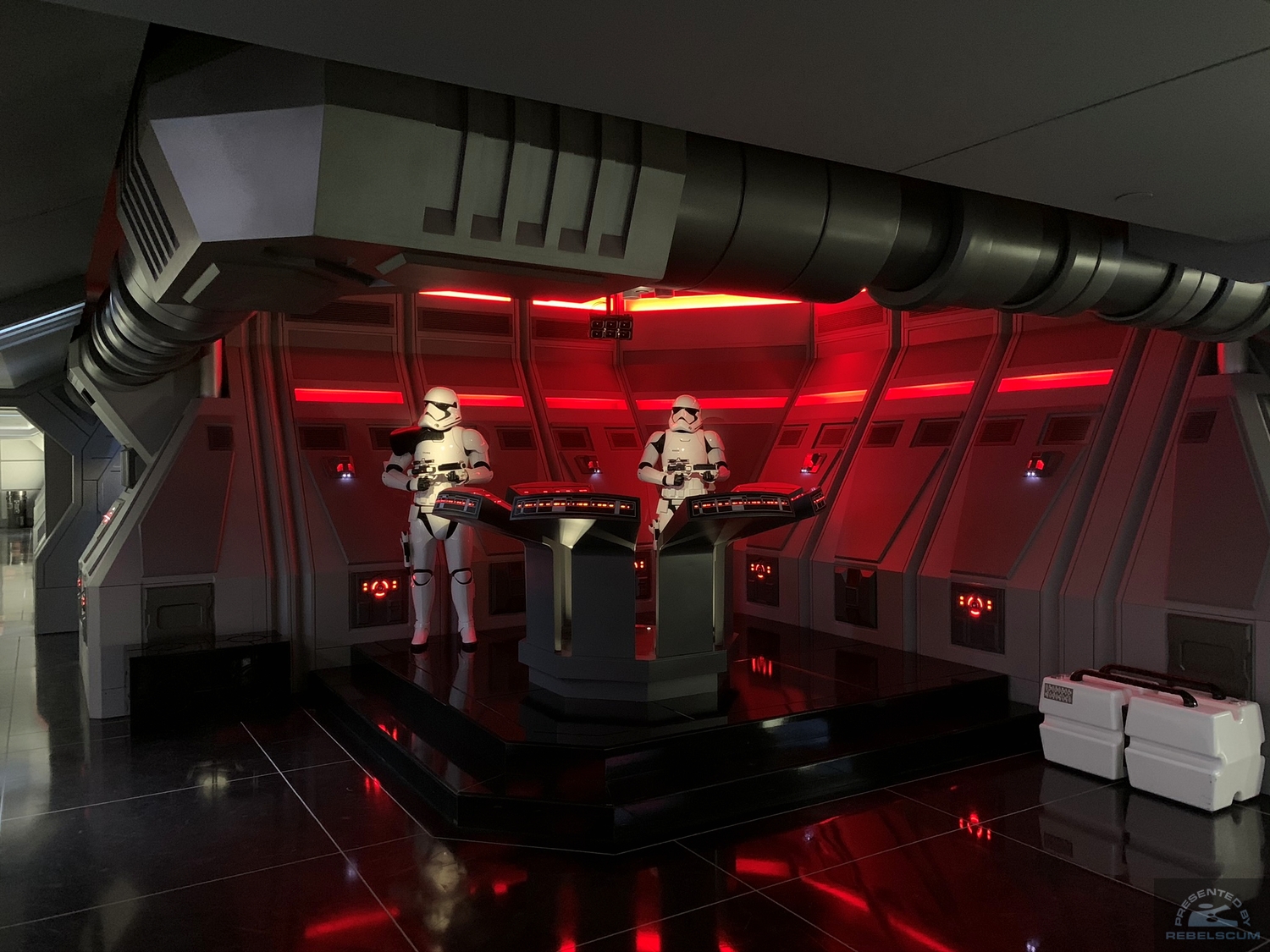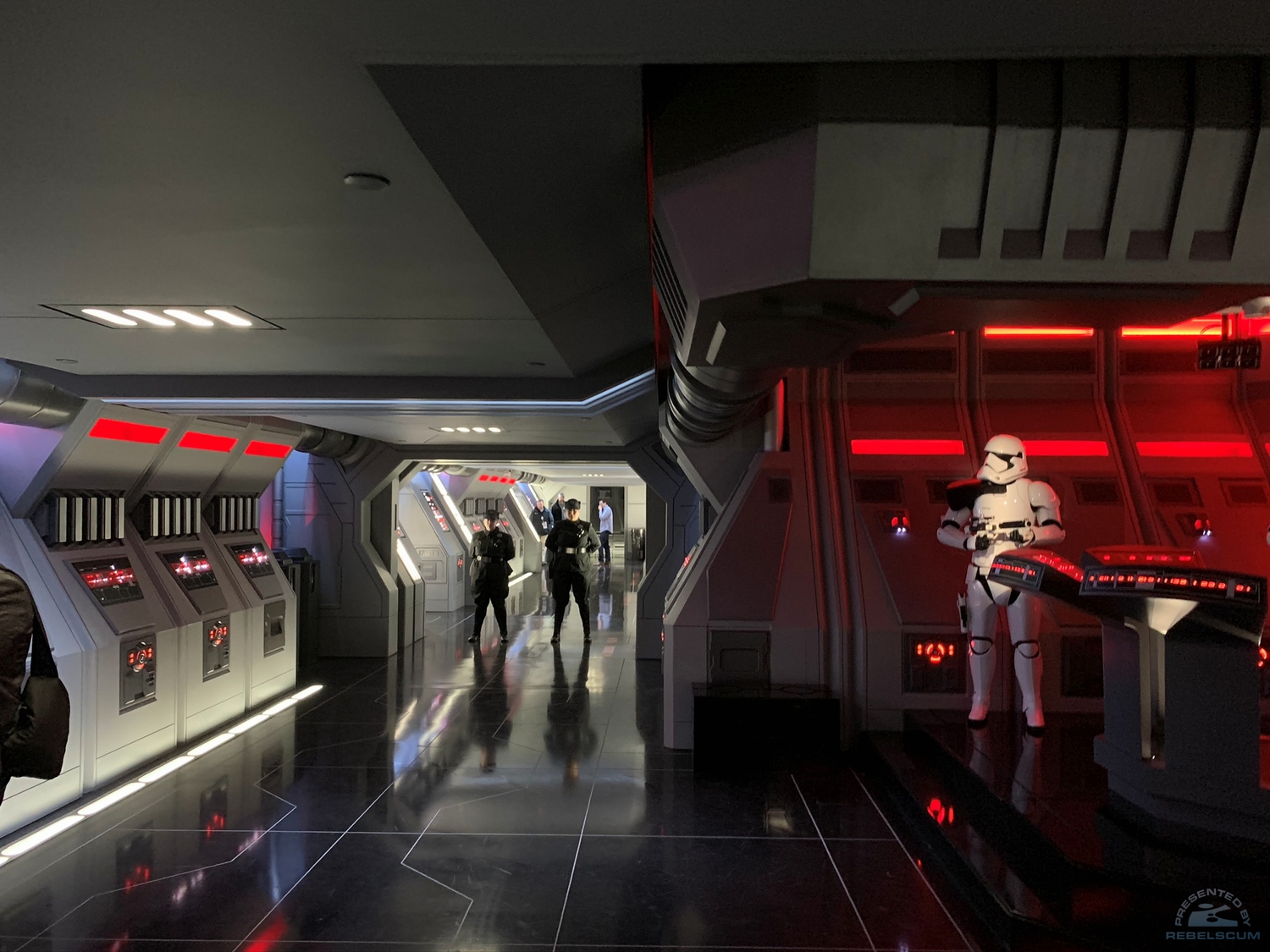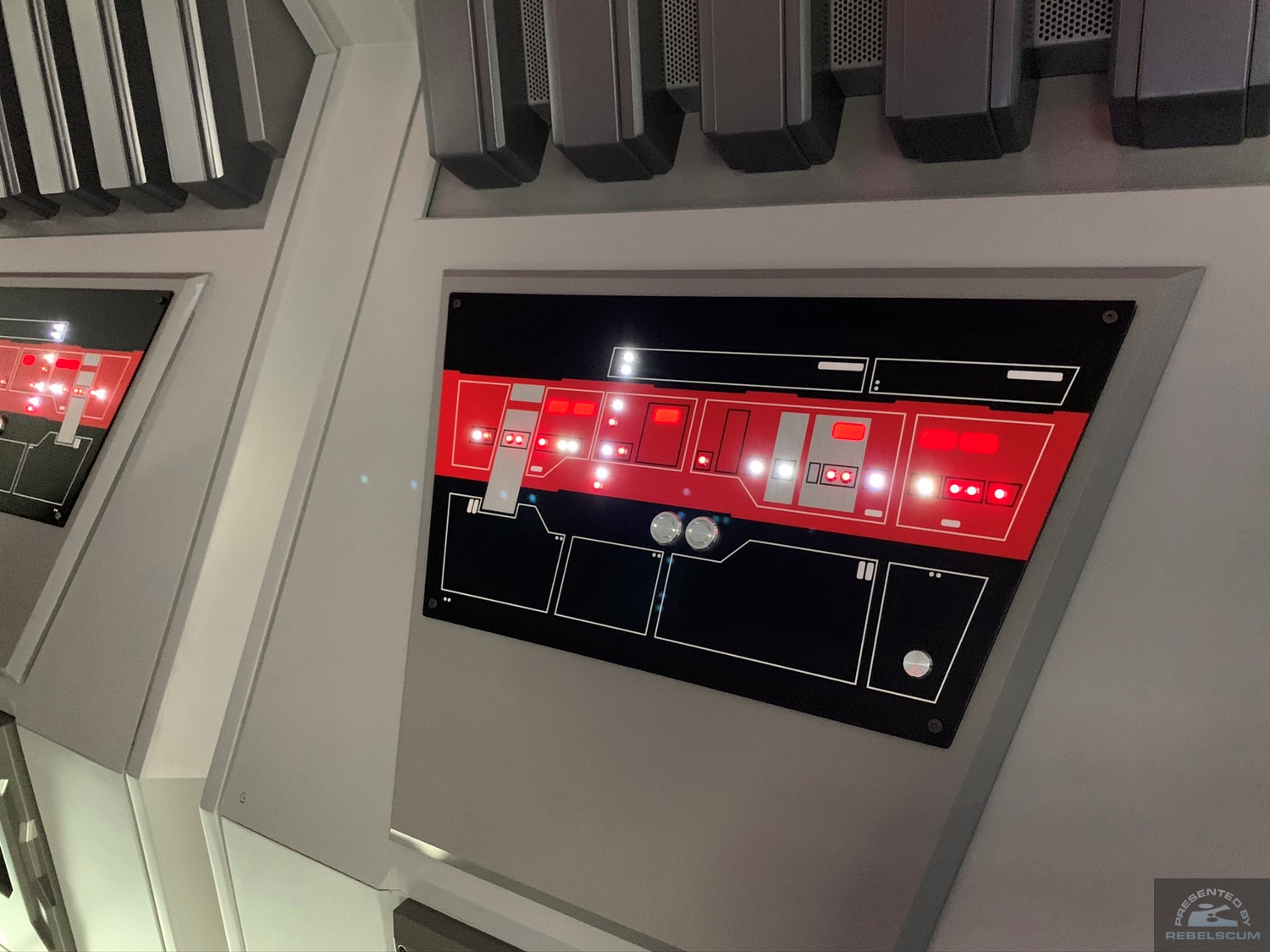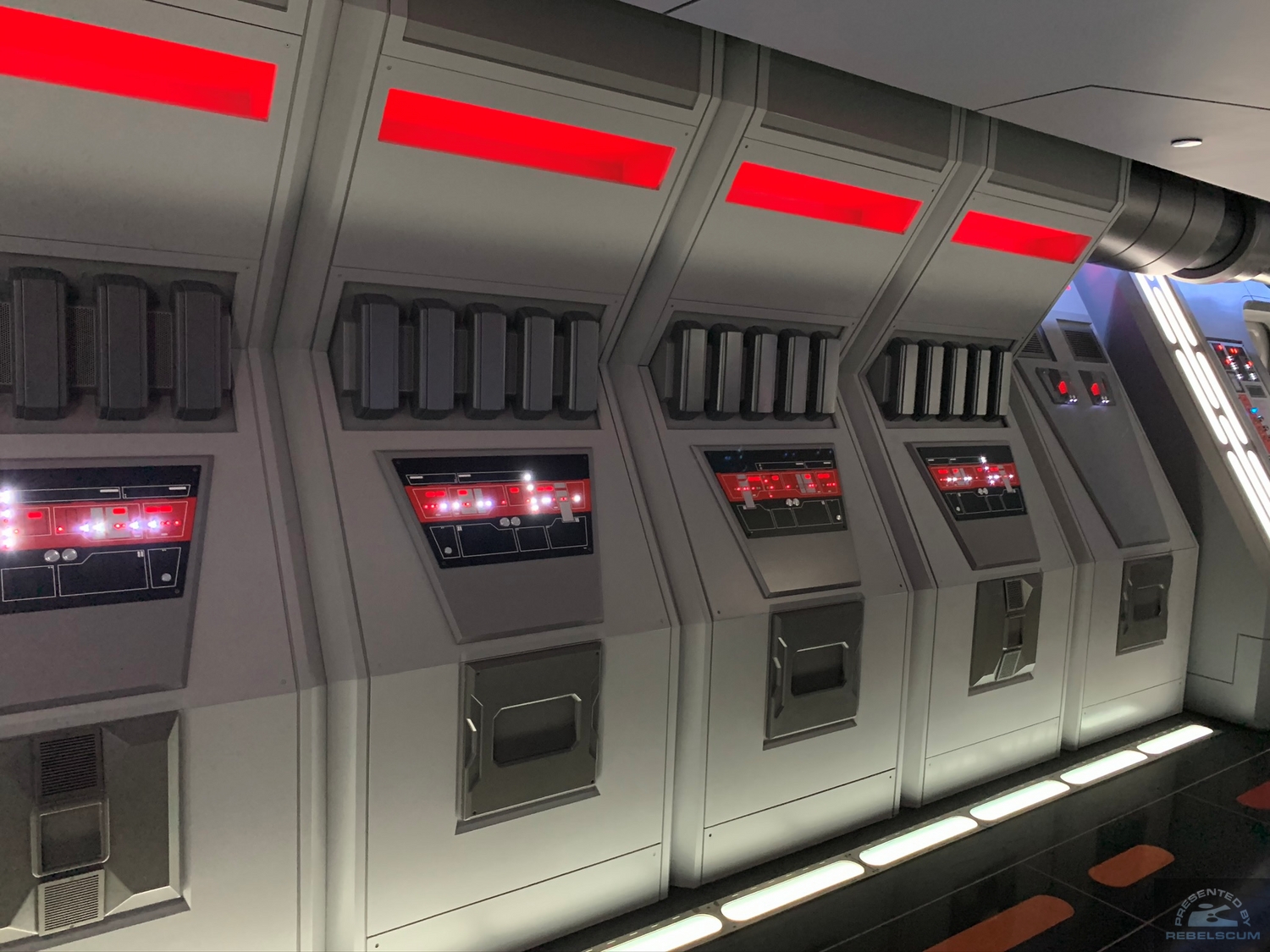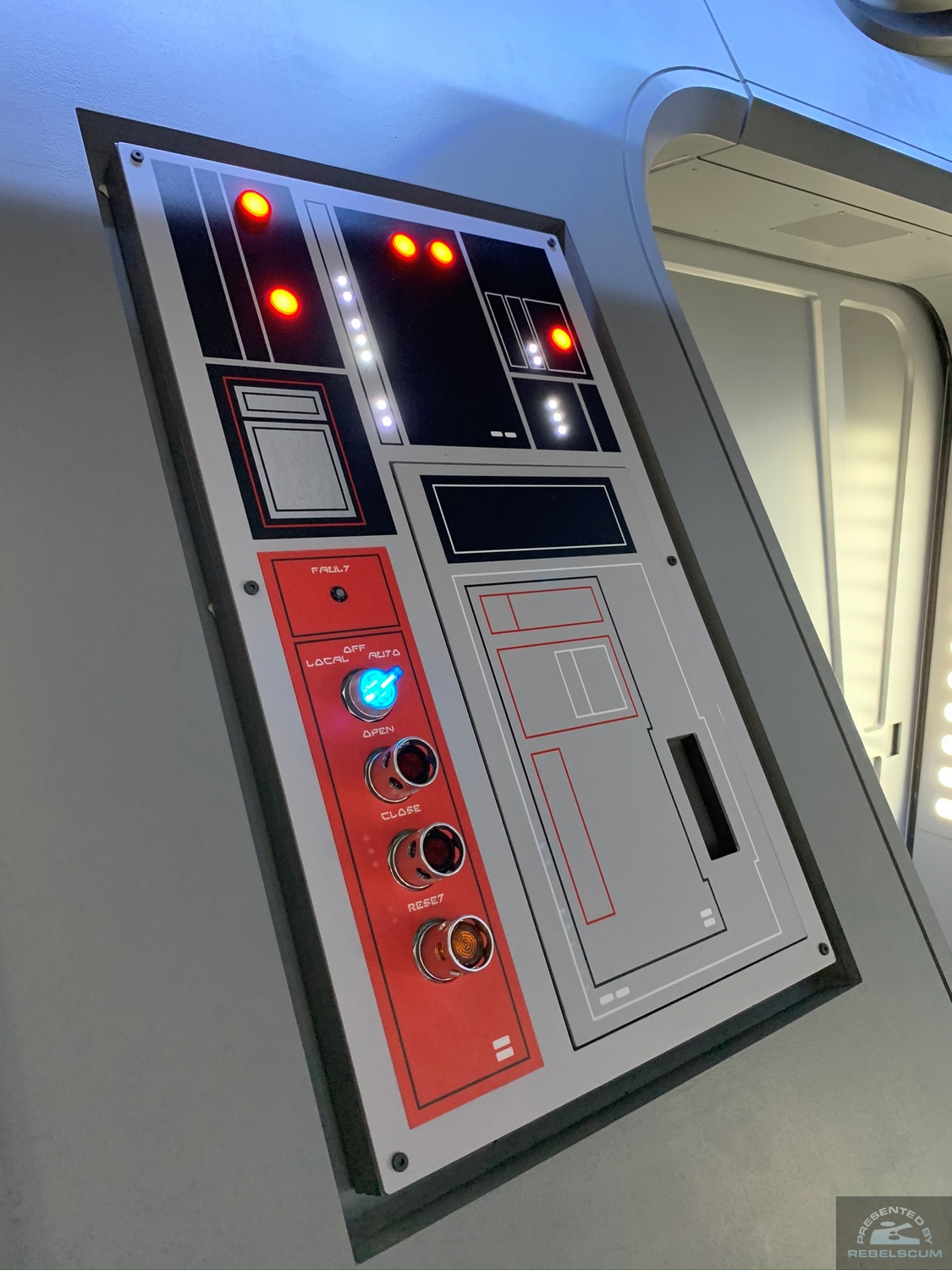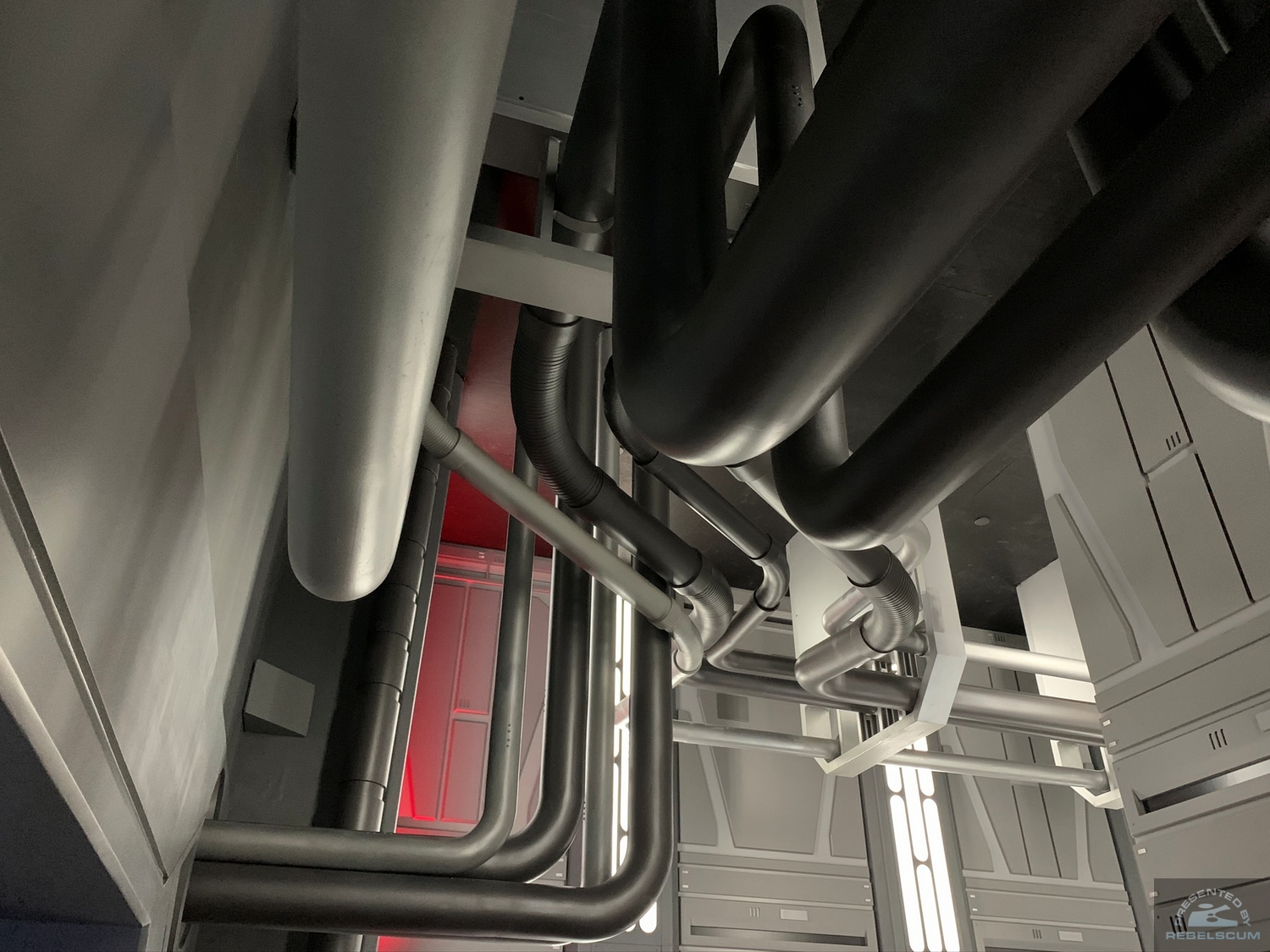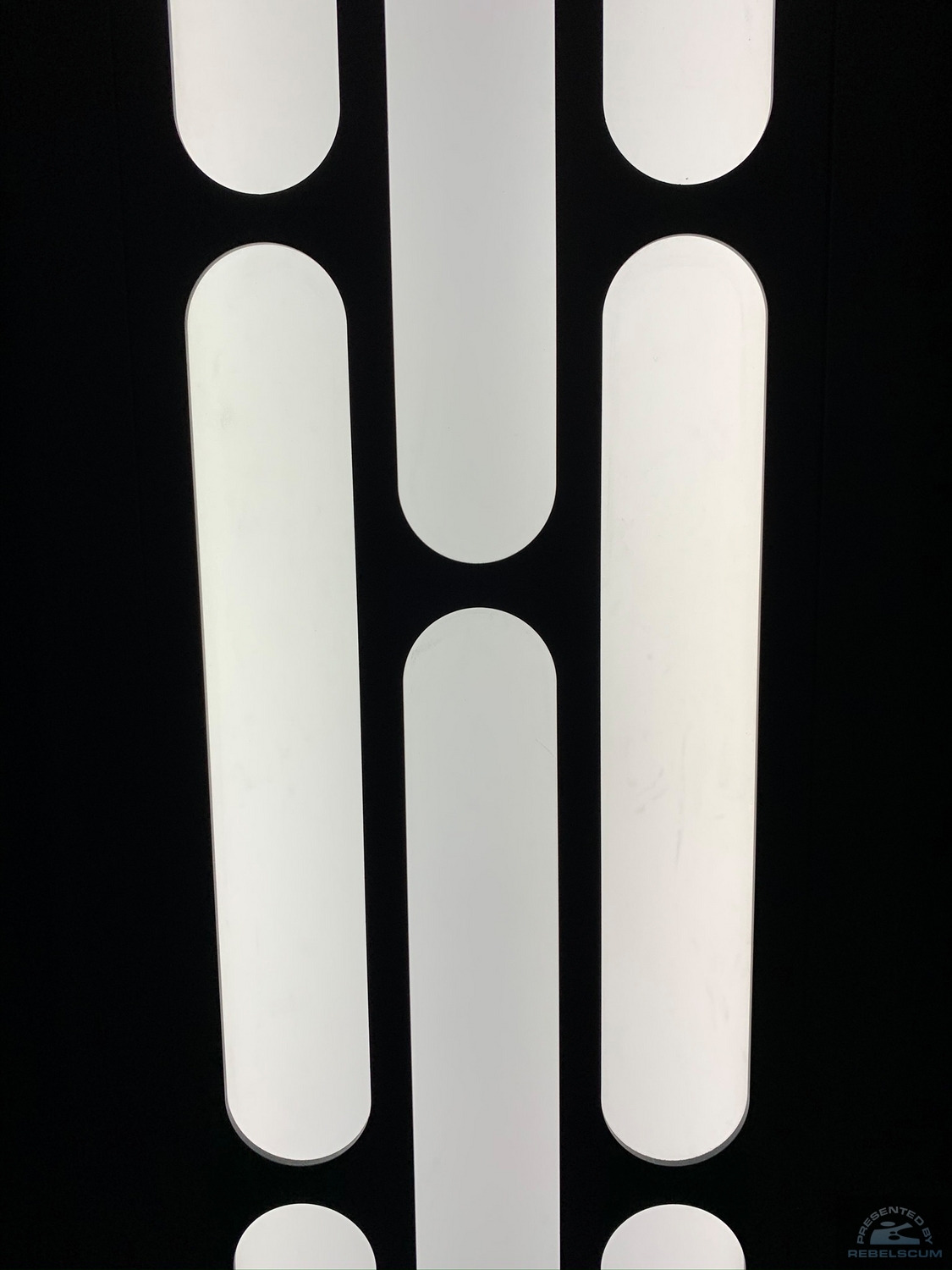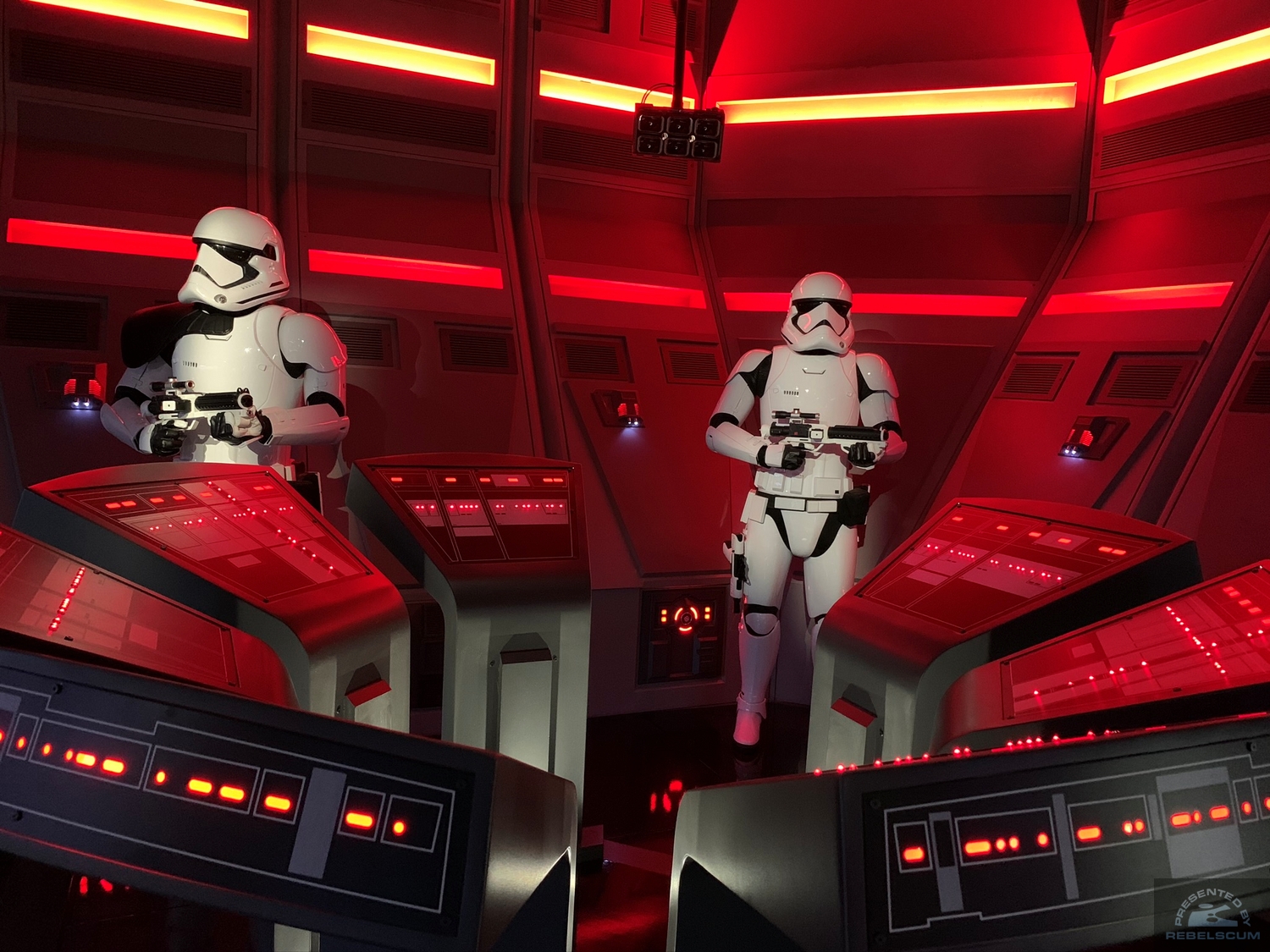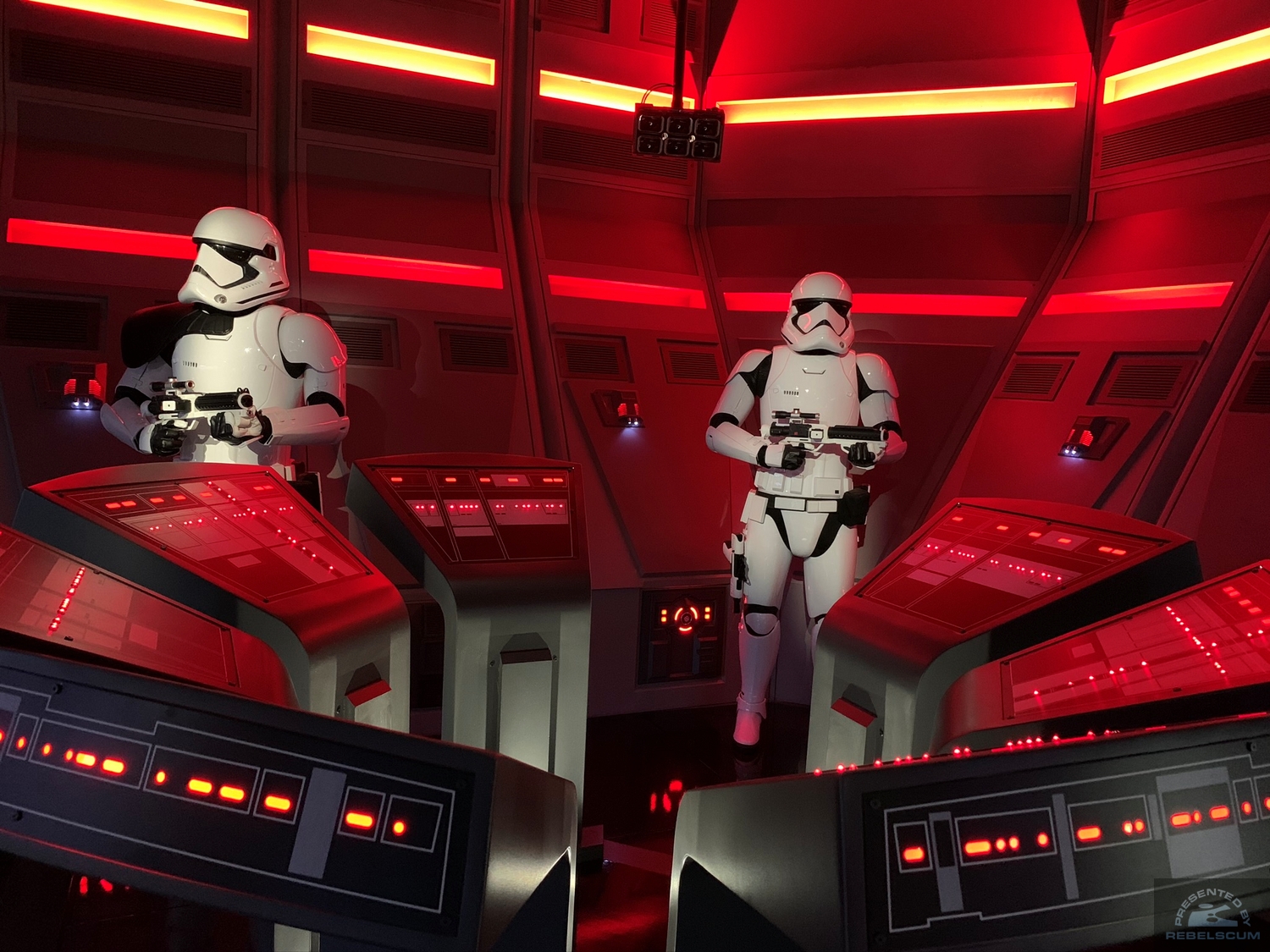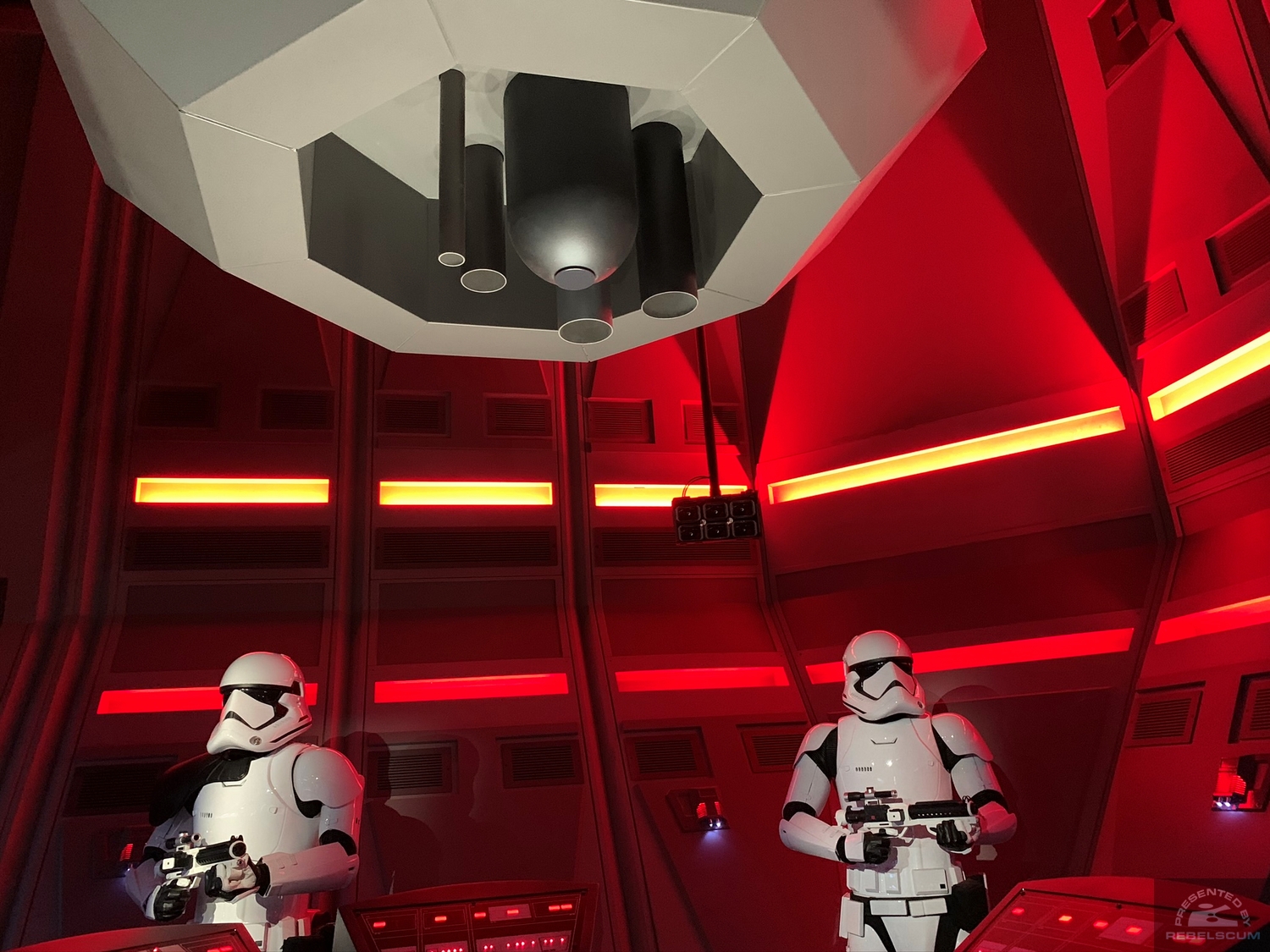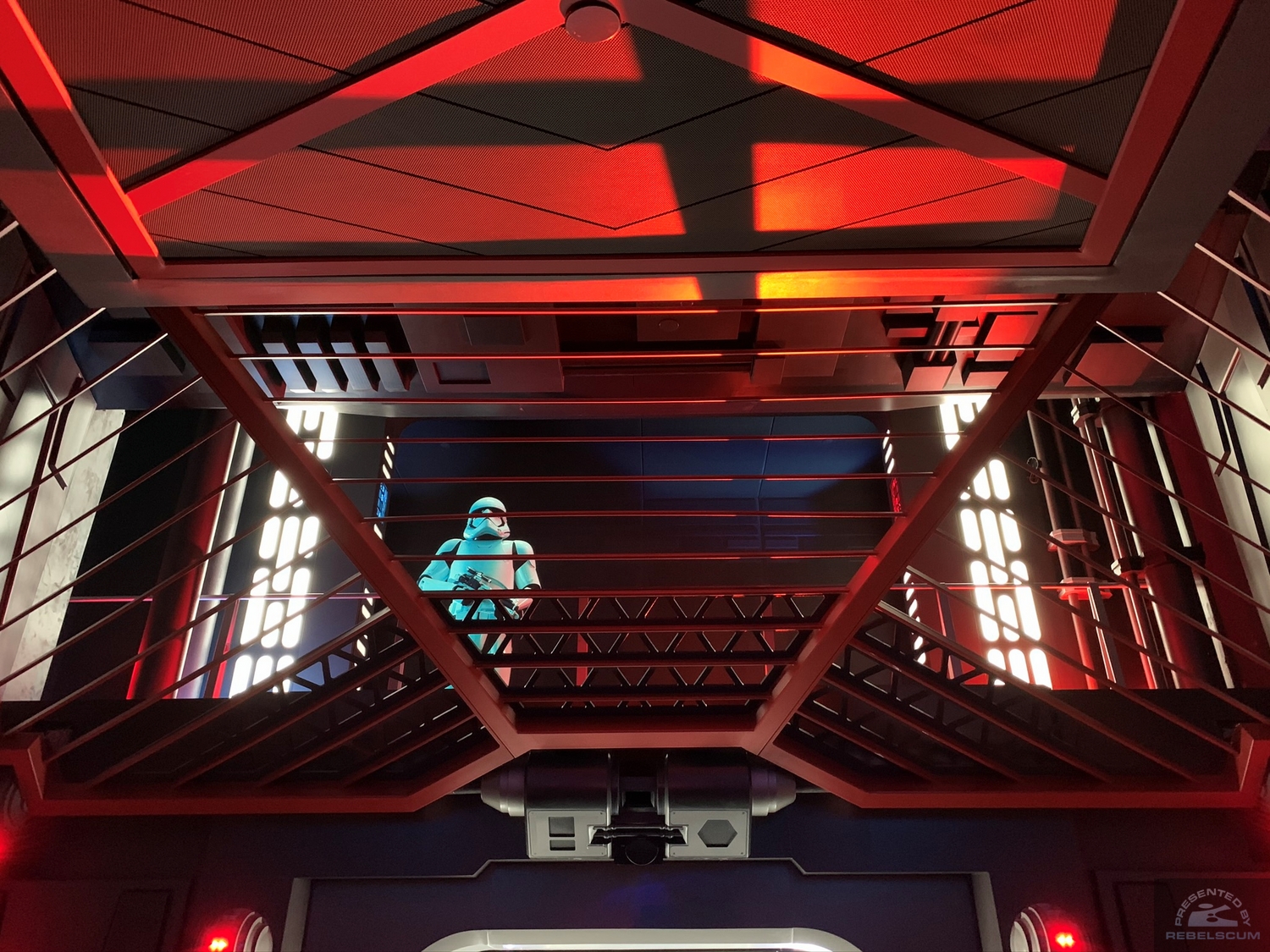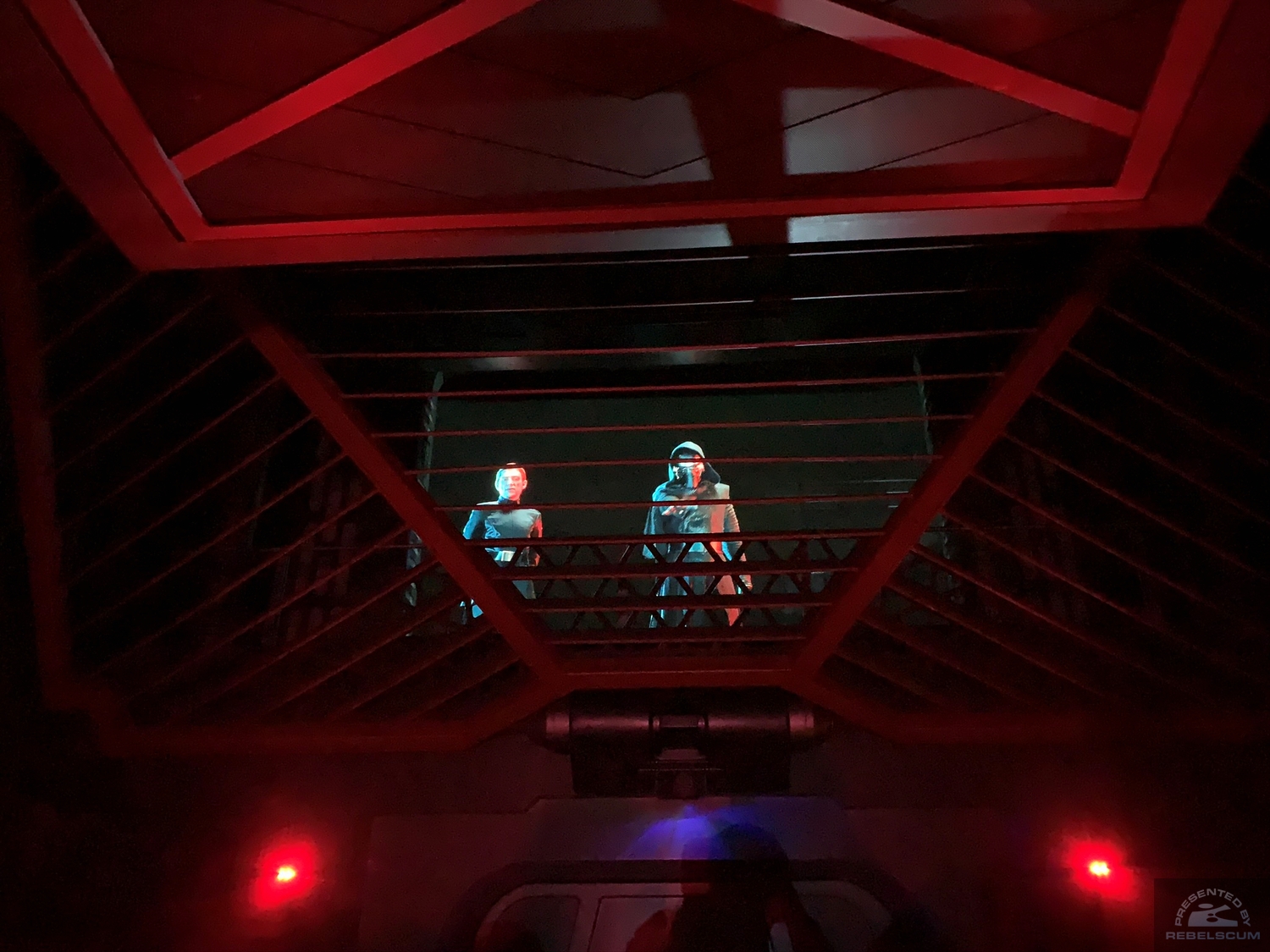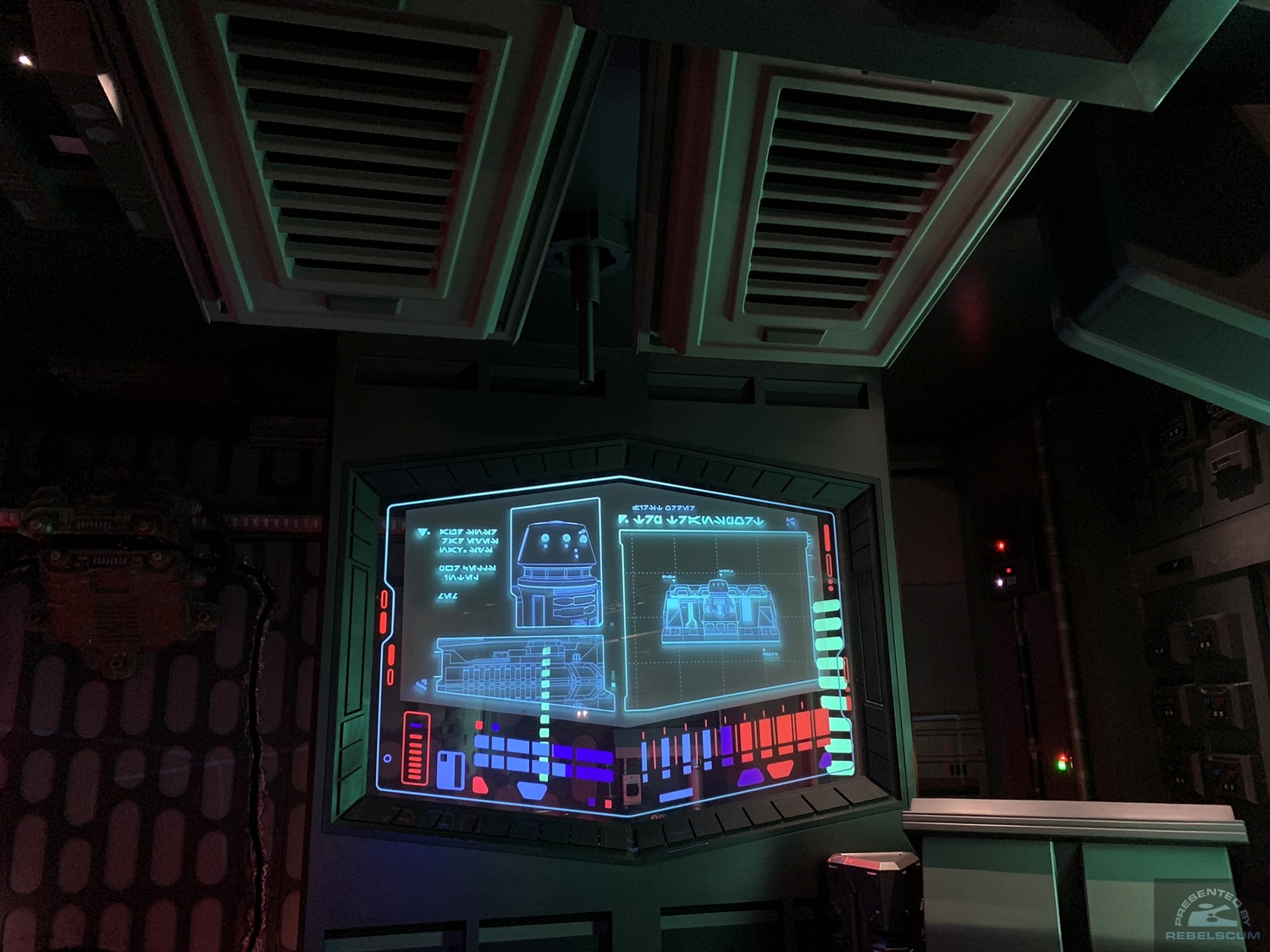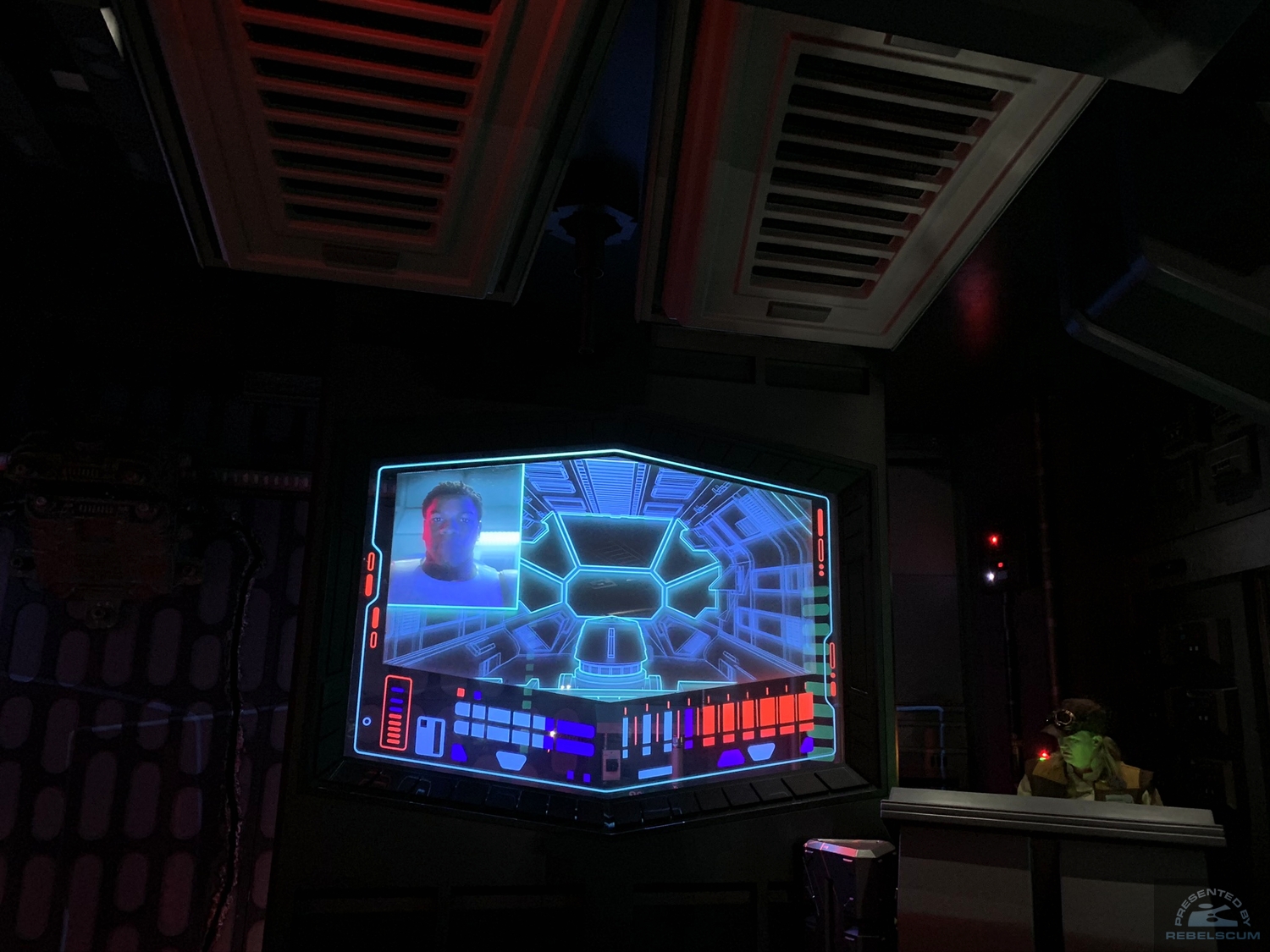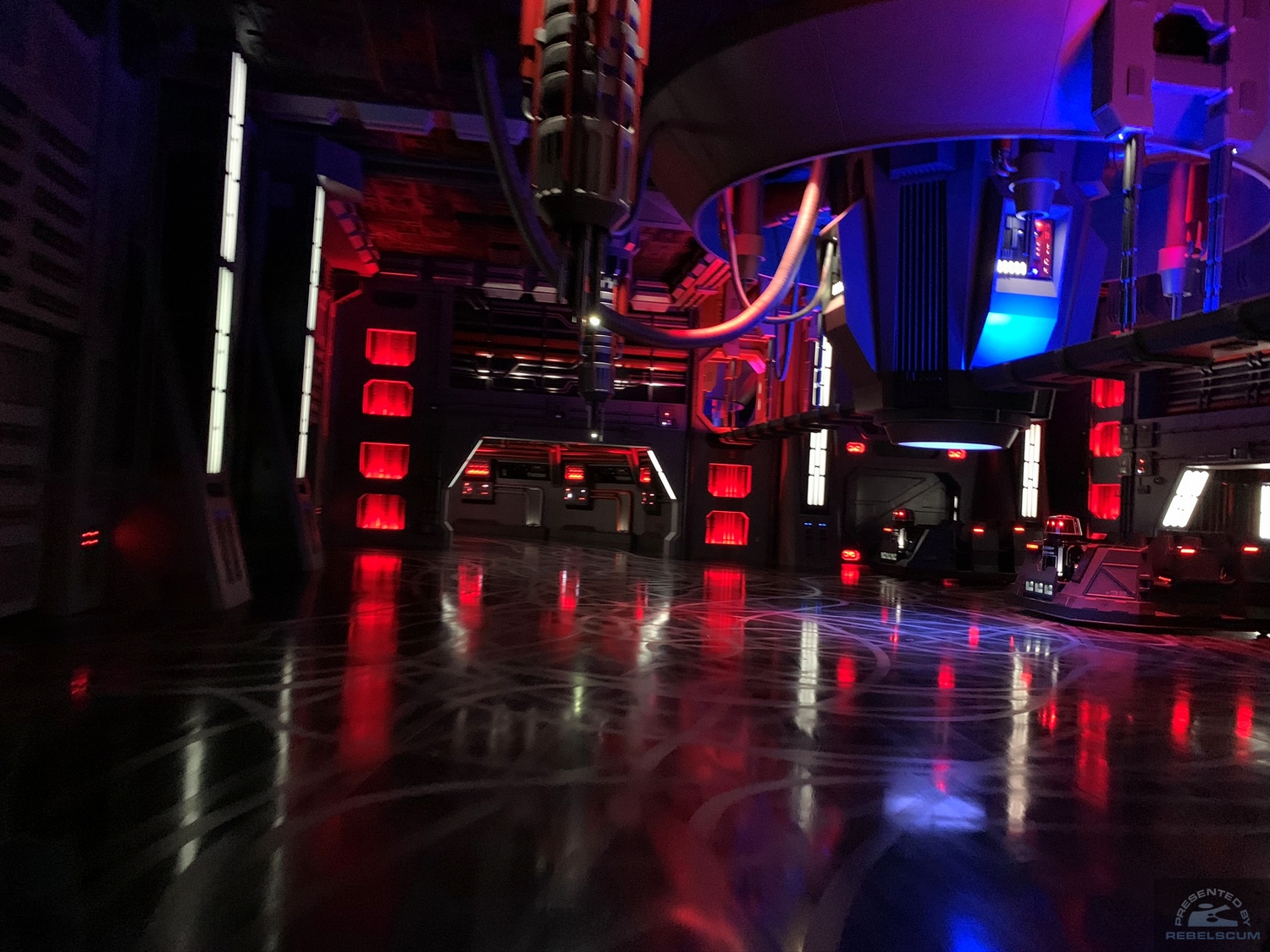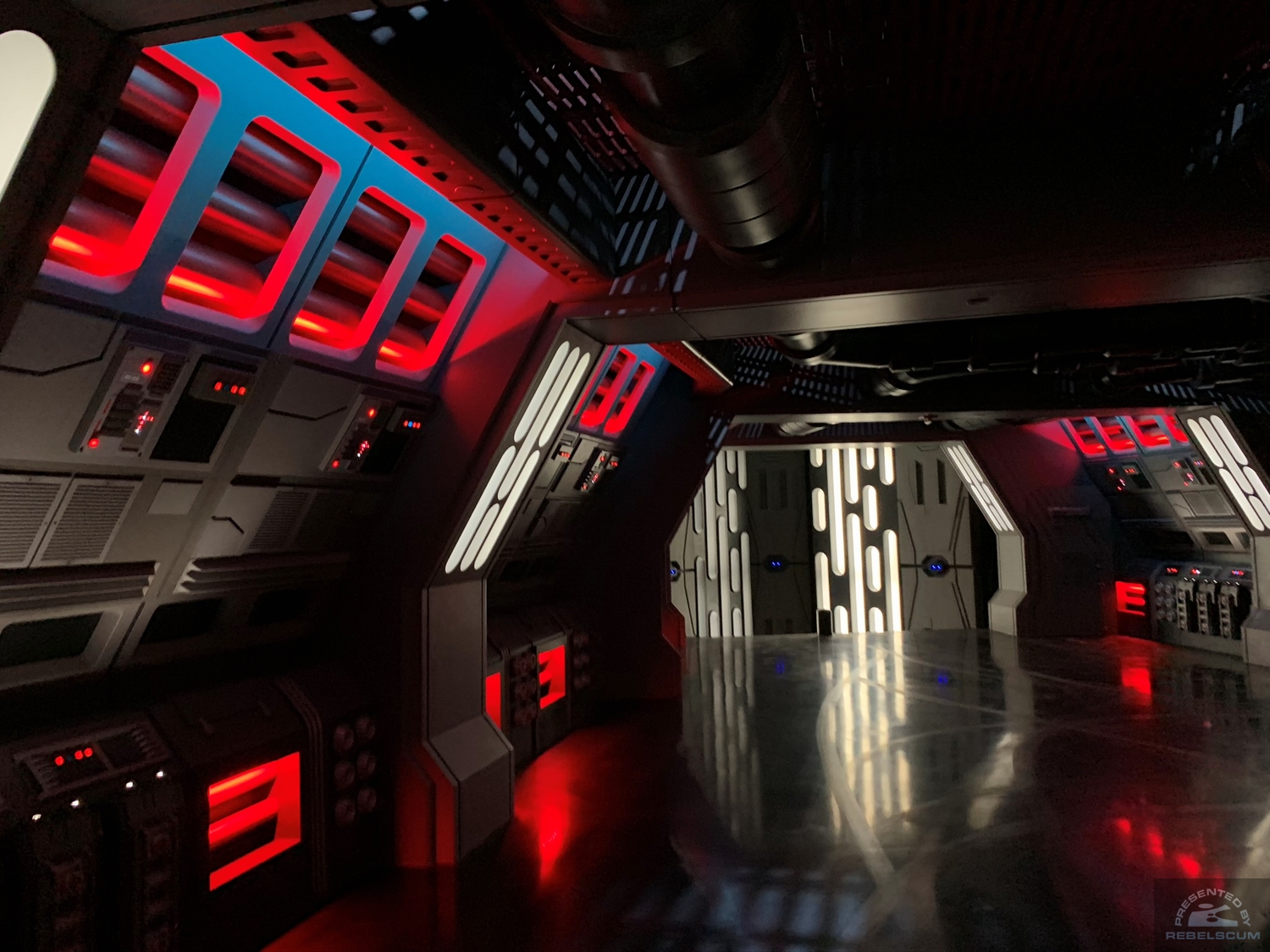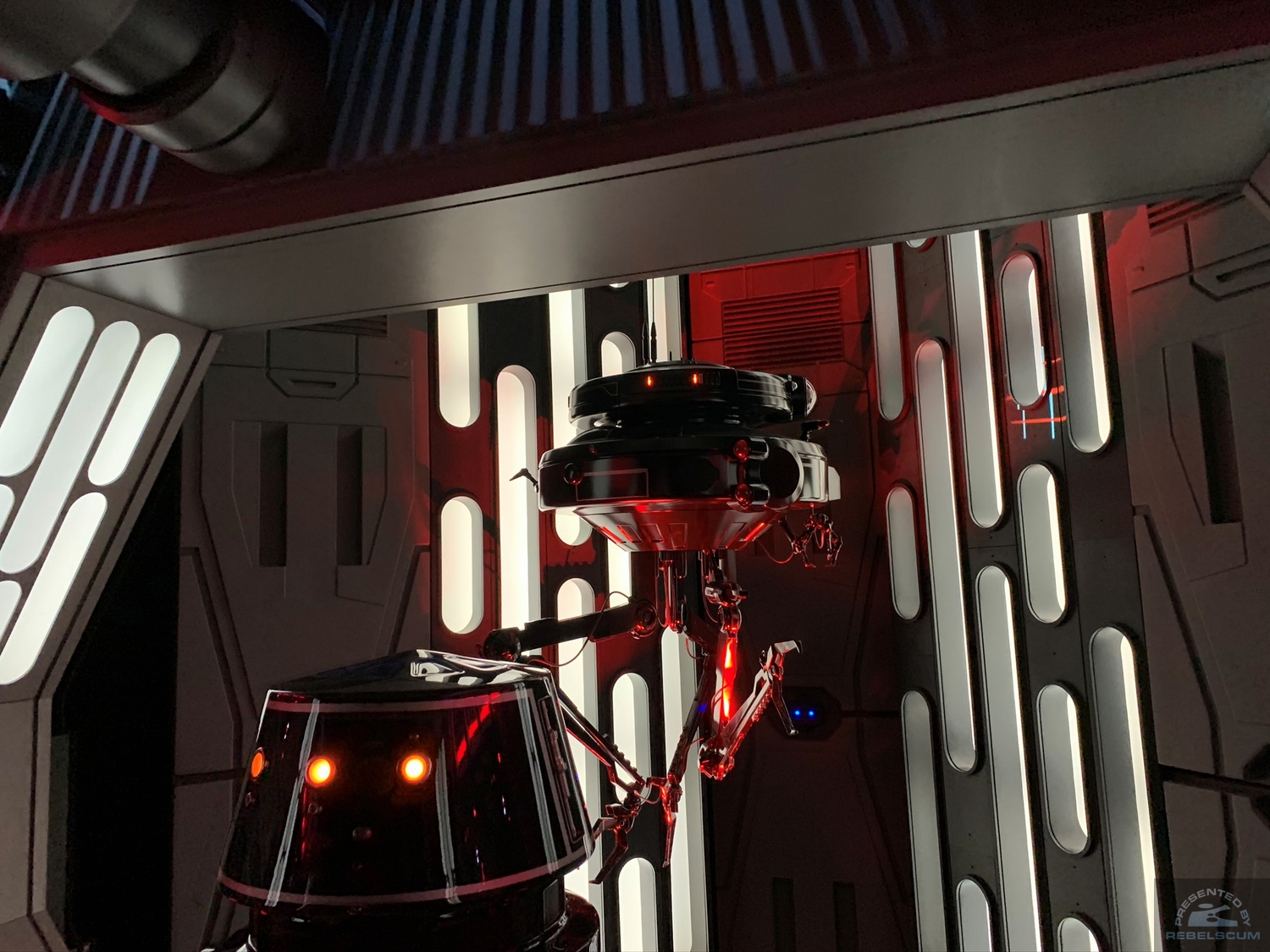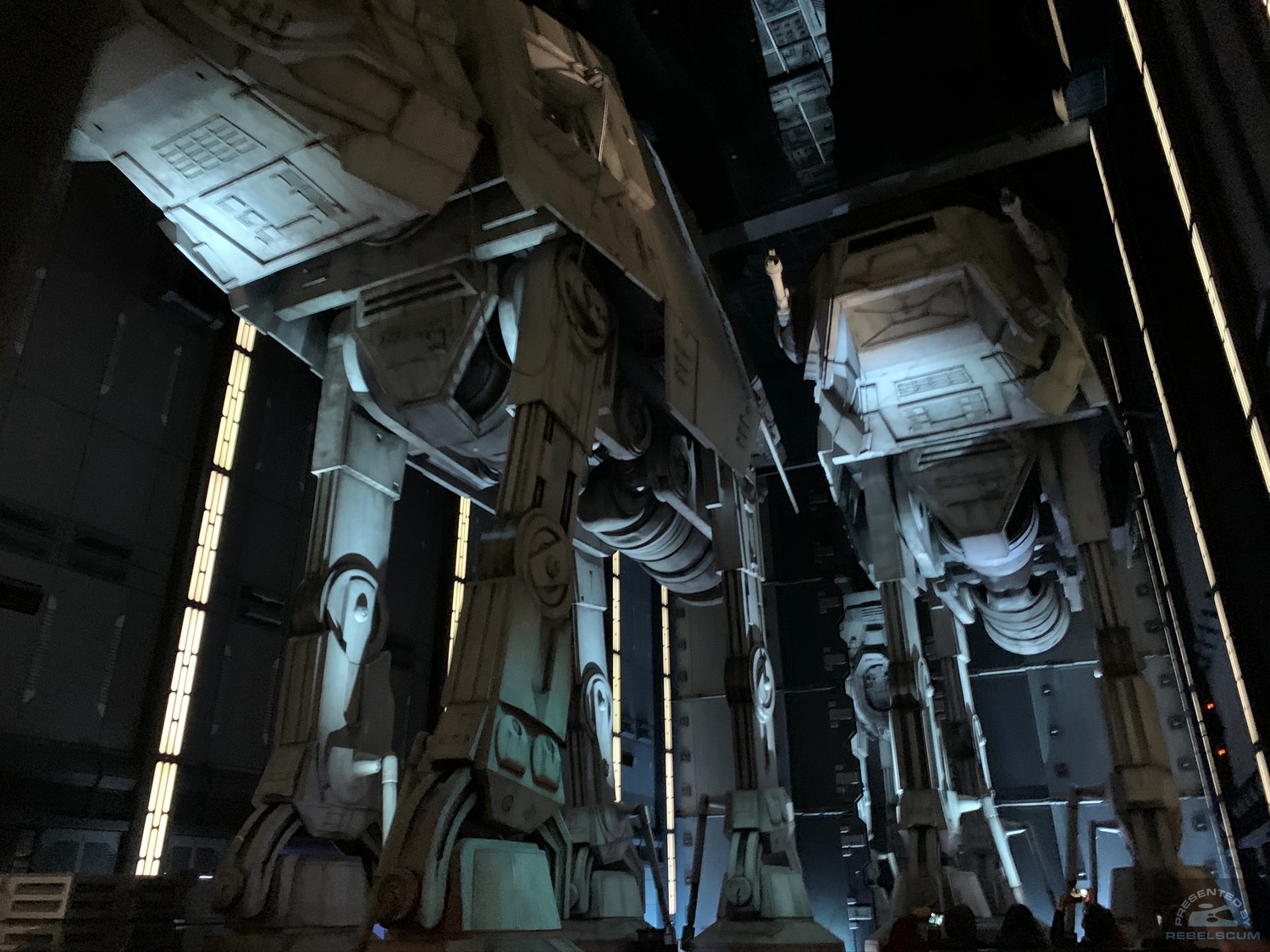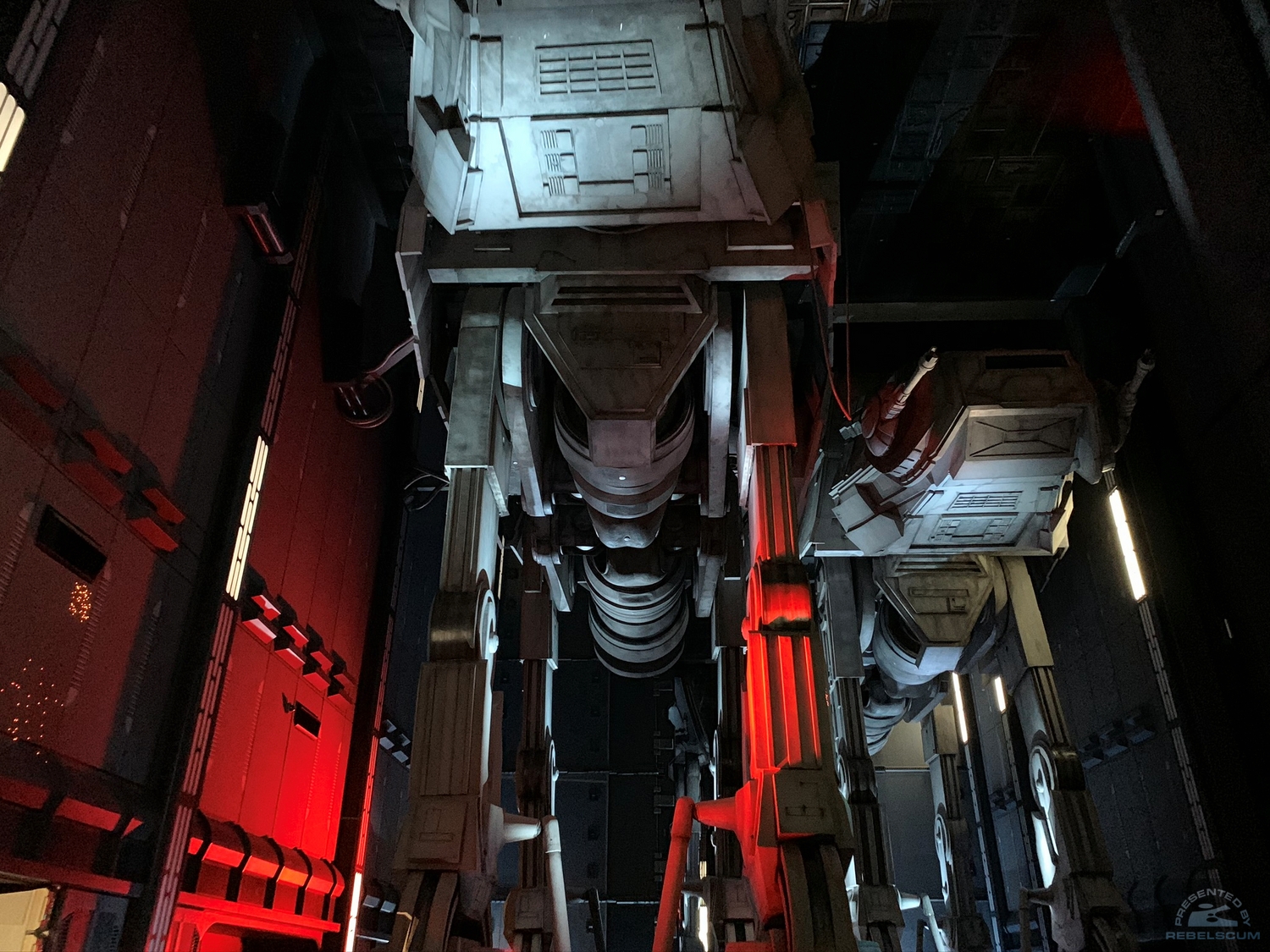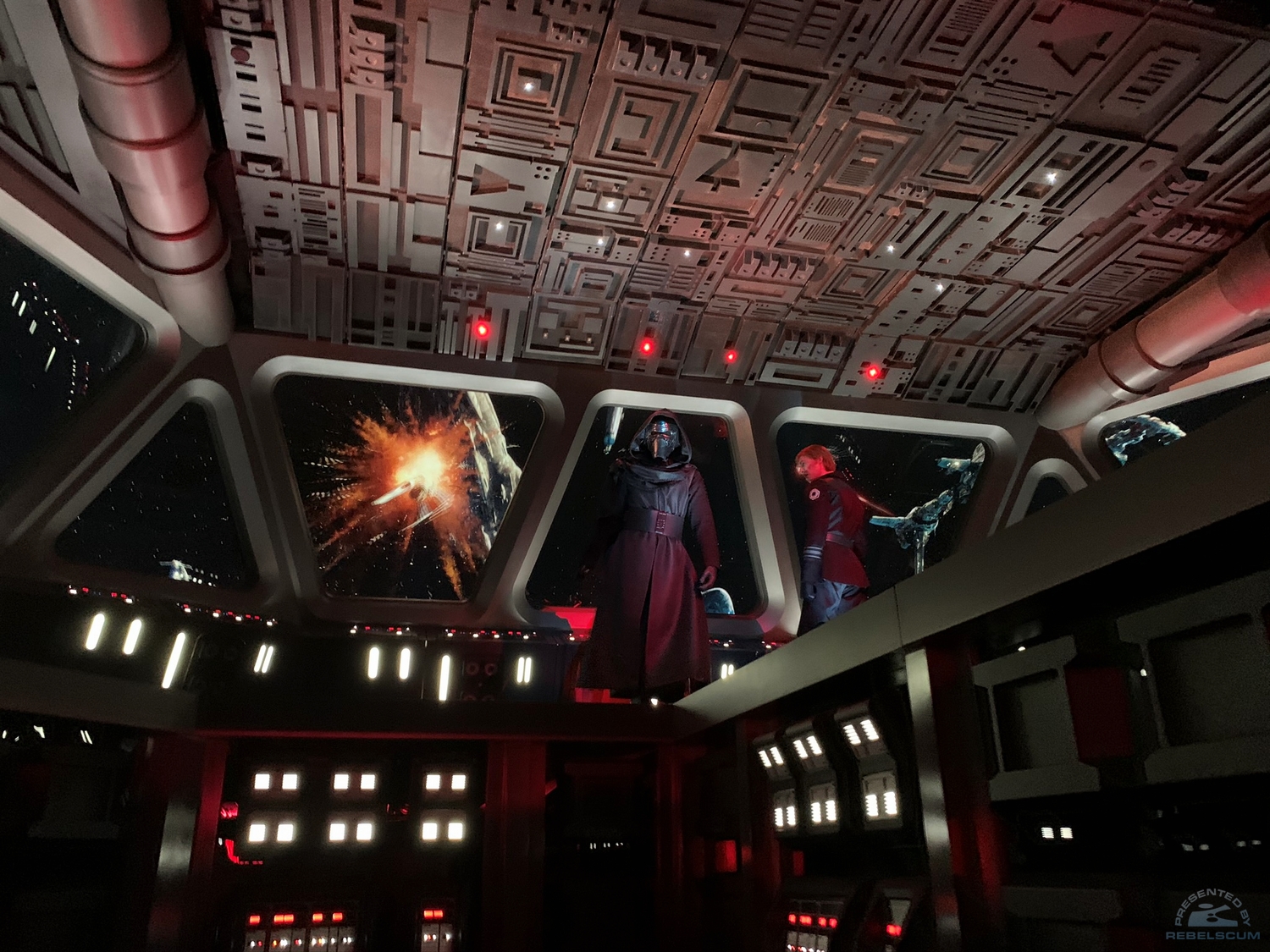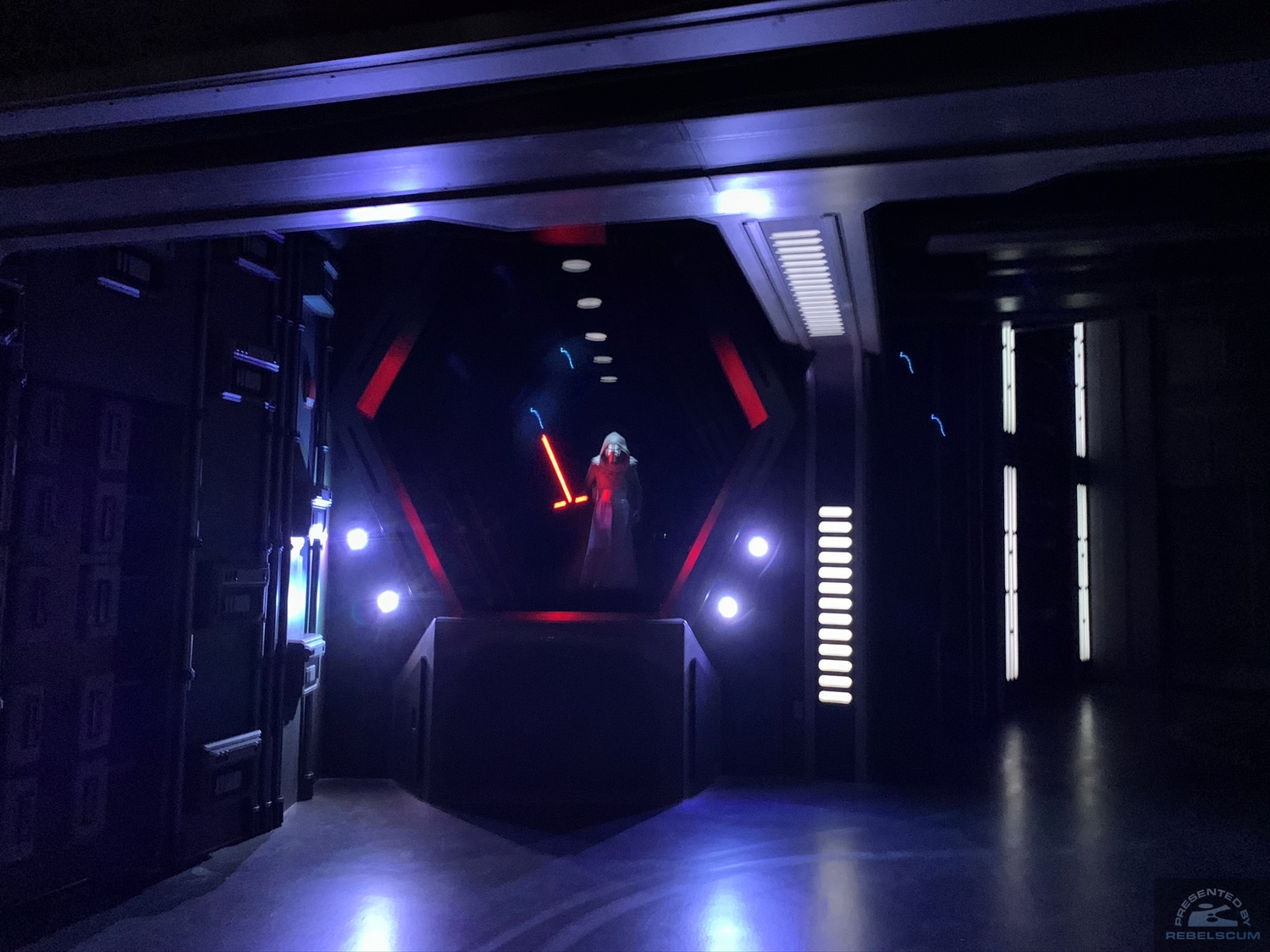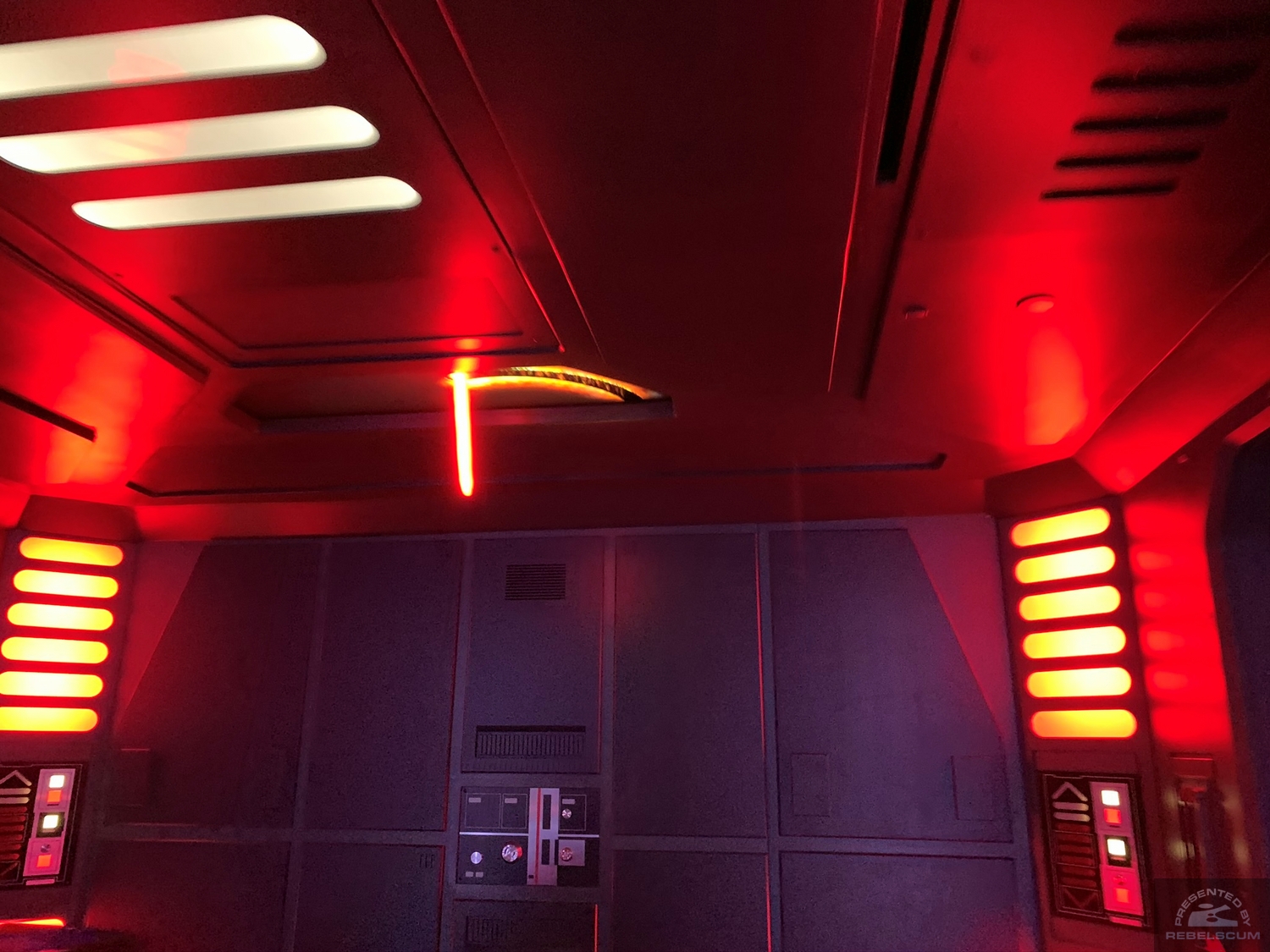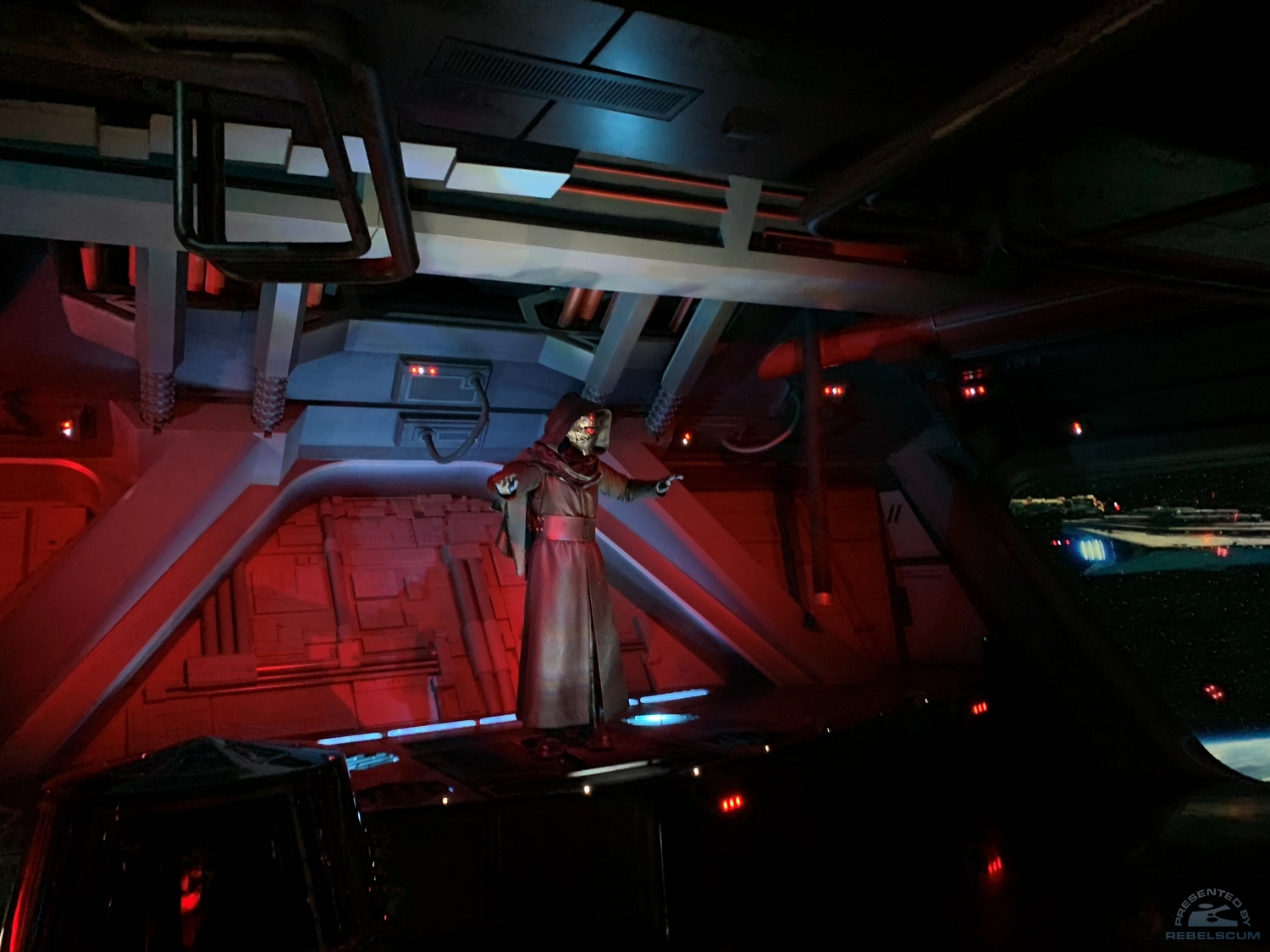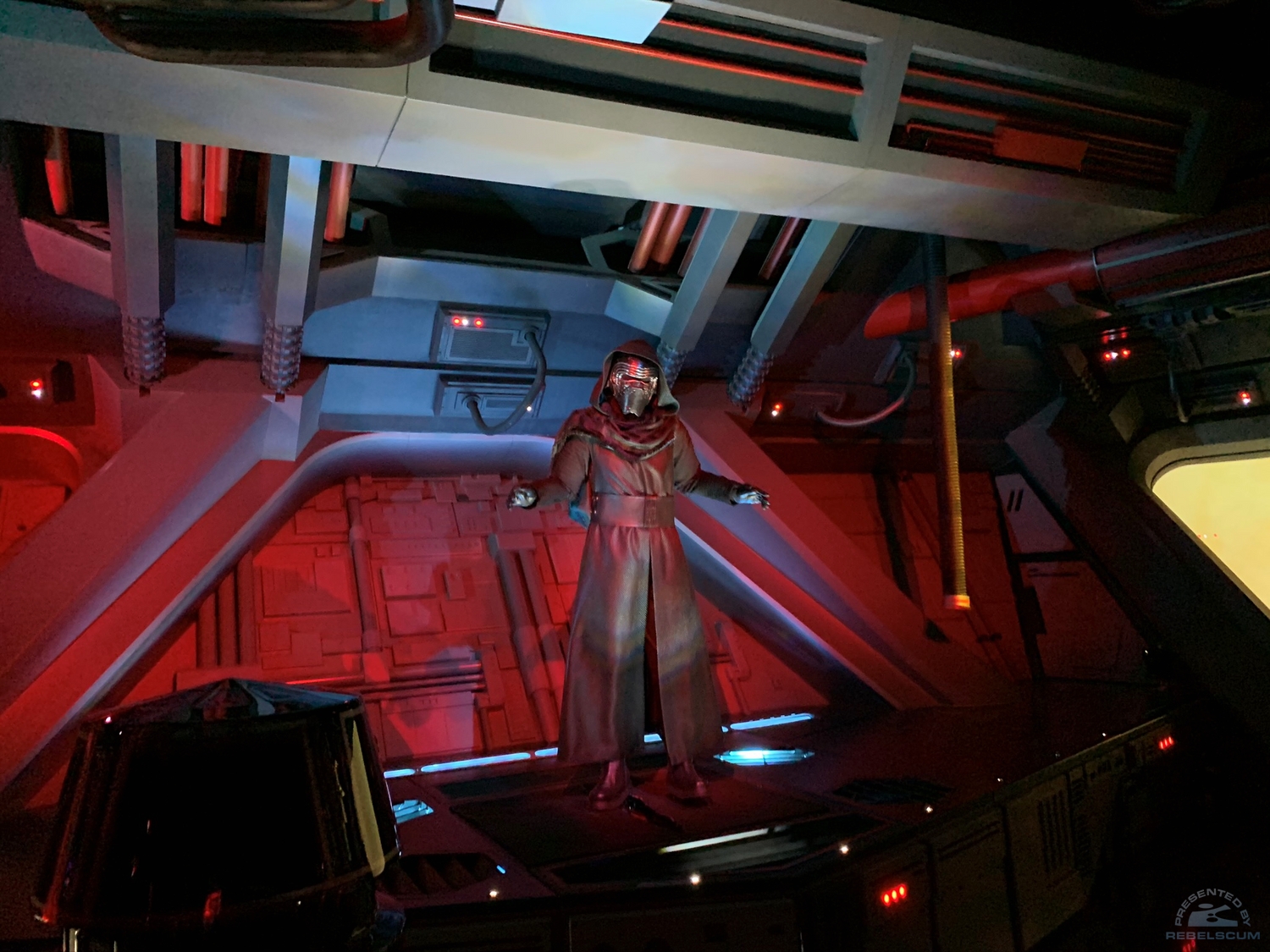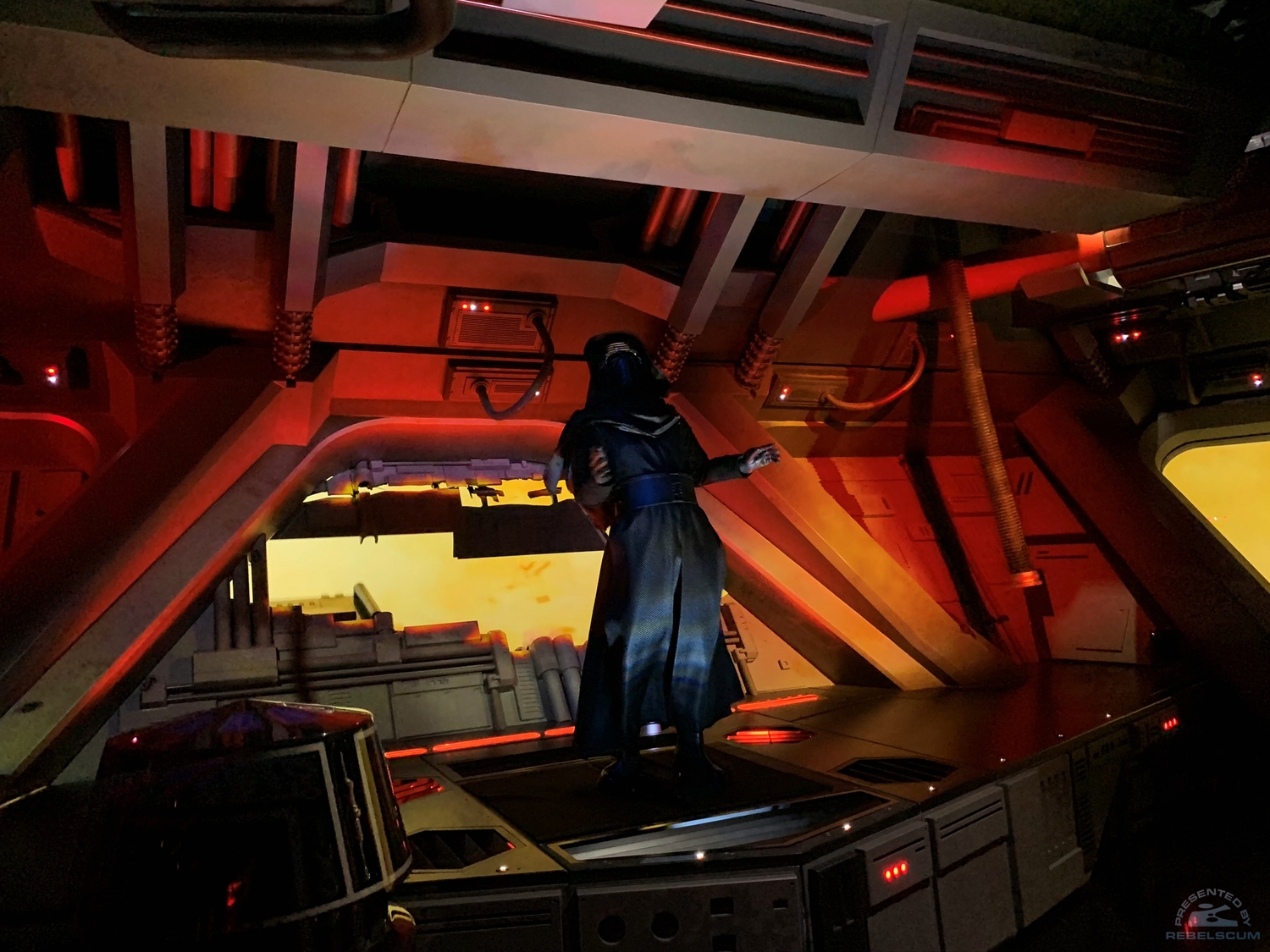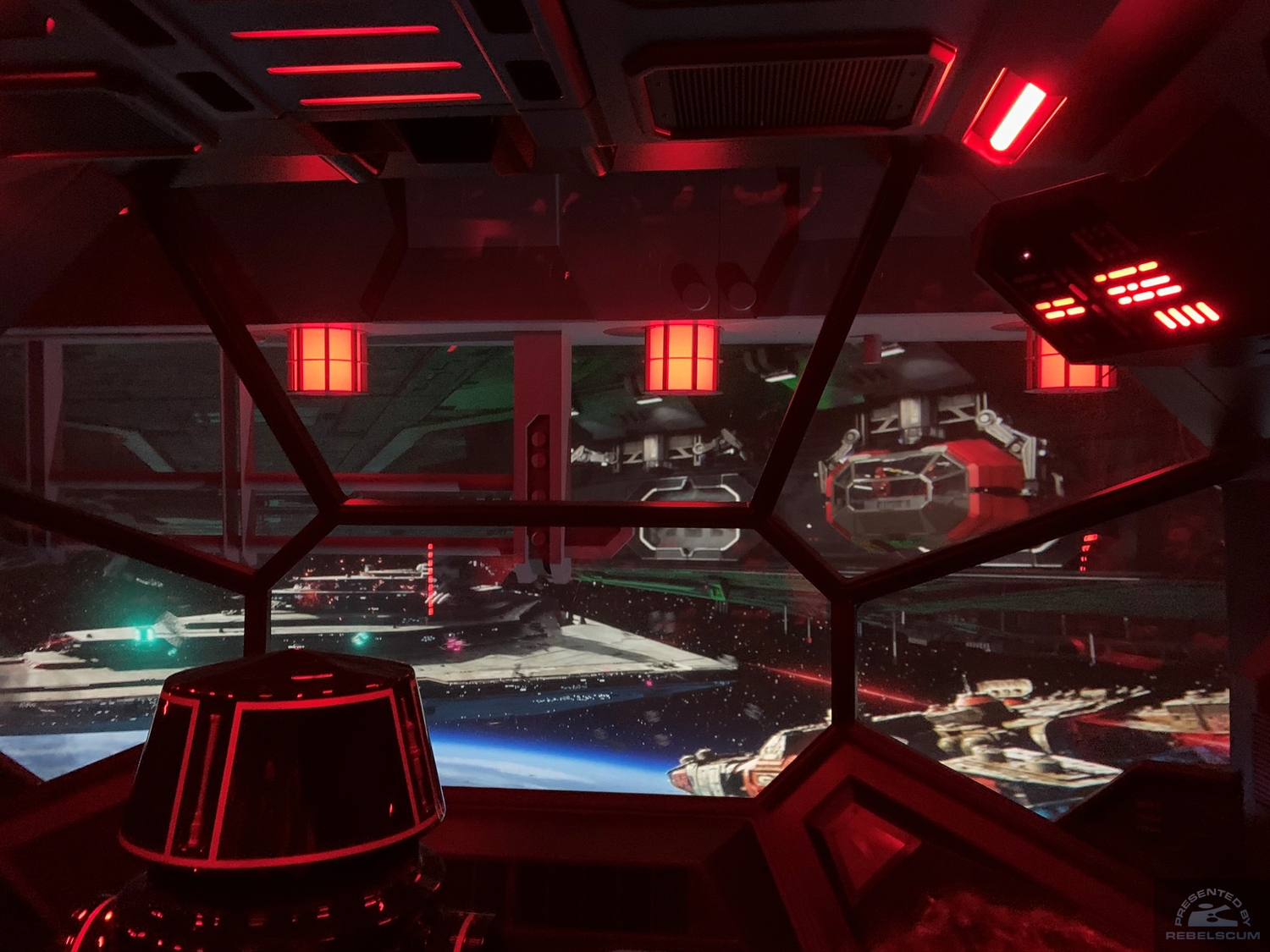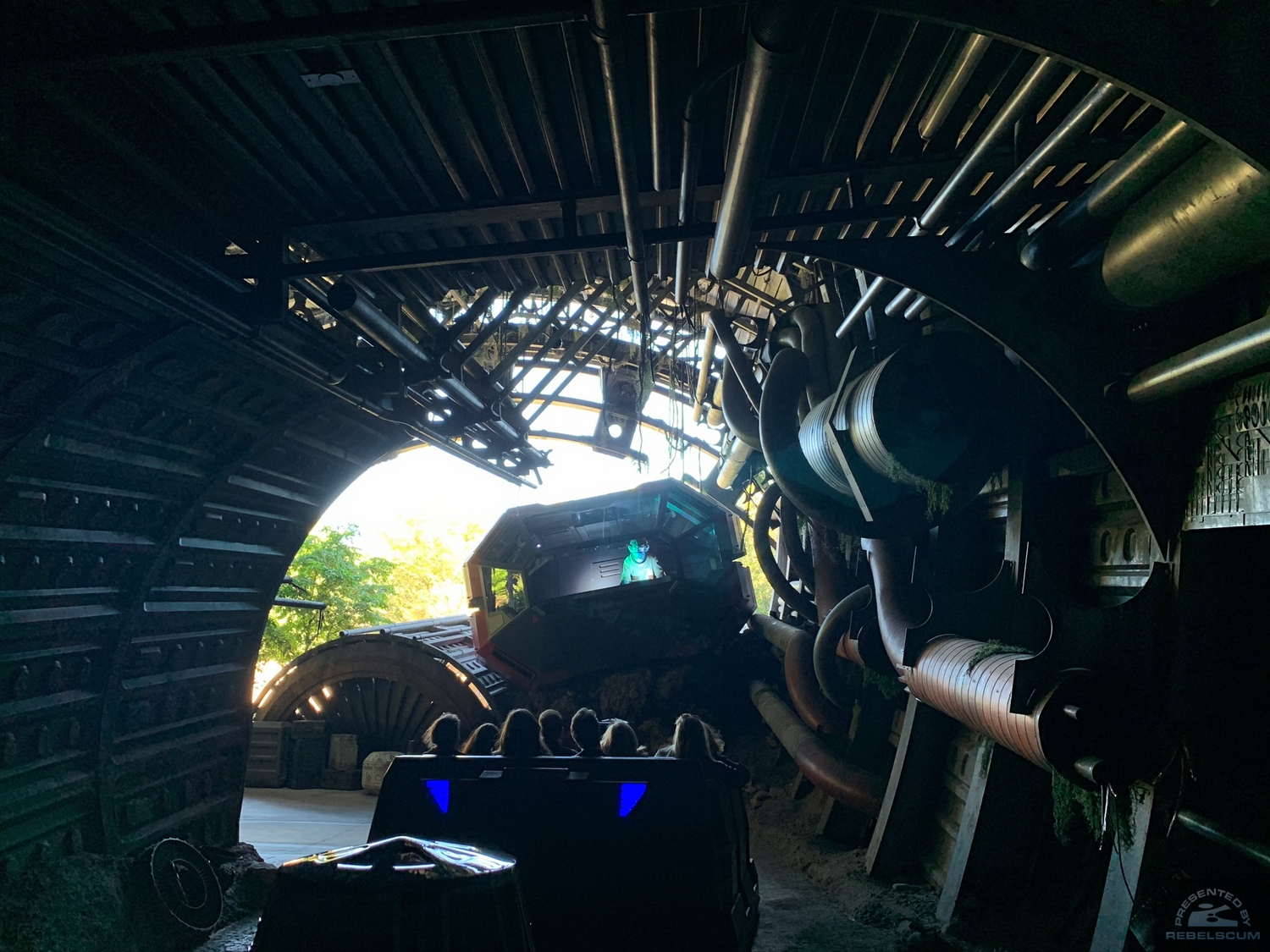 Simply put, the attraction is incredible. As you would expect, it features the main cast from the Sequel Trilogy in some fashion including Rey, Poe, Finn, BB-8, Kylo Ren & General Hux. There's a mixture of walking to destinations and riding. The technology they are using is just astounding. The special effects, the trackless cars, the animatronics, the music, the sounds, the feeling of being completely inside the
Star Wars
universe, all of it. Everything about this attraction is bold, in your face, heart pounding action and I loved every minute of it.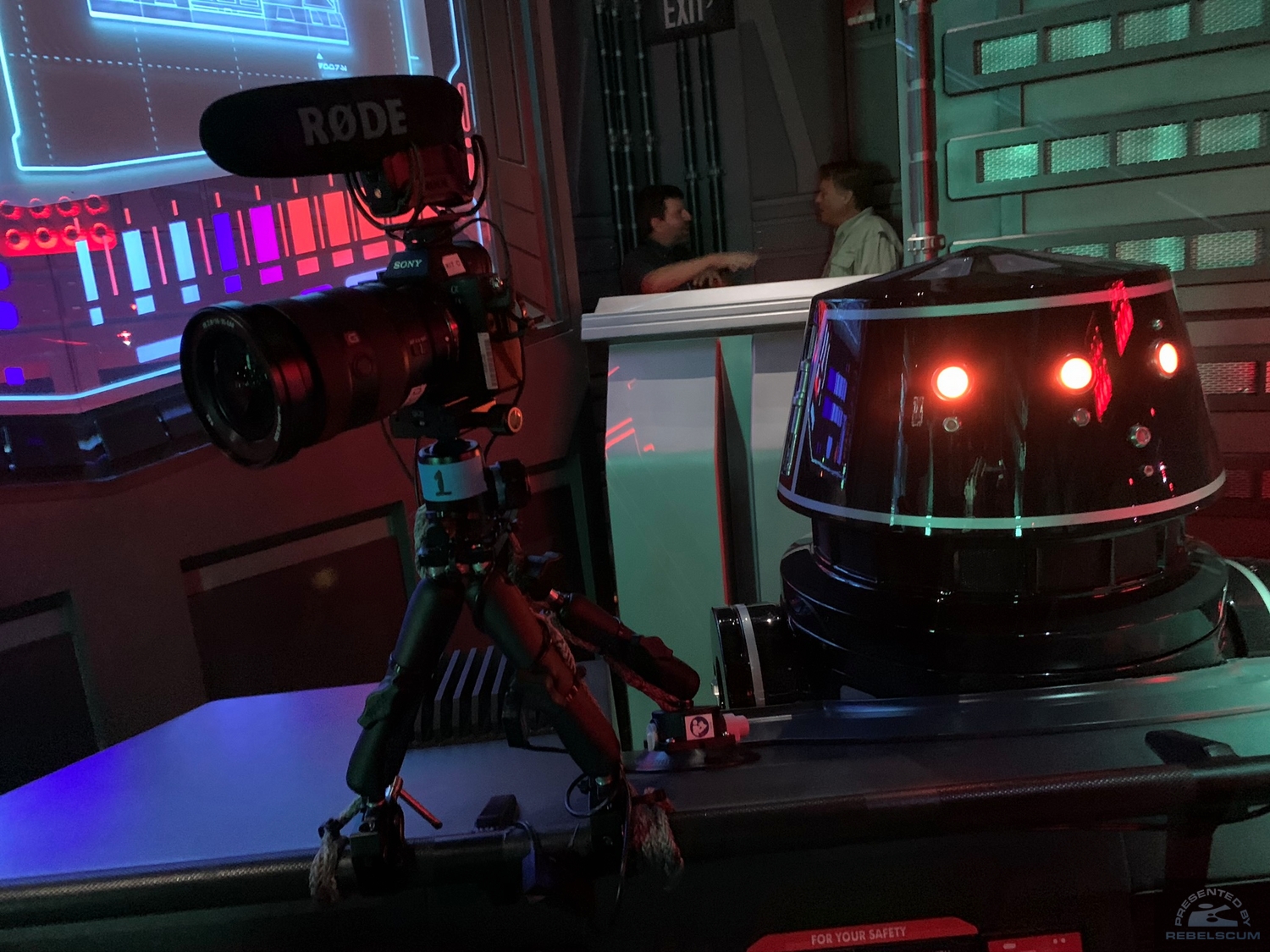 I rode it again just a few hours later, then I had a special Ride Cam appointment that was a completely solo ride filmed to capture the riders reaction. Being the only person on the ride was such a treat and something I realized would never ever happen again. I was able to ride it a fourth and final time that day and enjoyed it just as much or more than the first experience.
My next appointment was a sneak peek at the Mickey & Minnie's Runaway Railway attraction we heard all about the night before. I'm a huge fan of the cartoon series that this is part of, so when I found out this would be what the entire ride revolved around, I was pretty excited. There was a strict no photos or recording policy in place, so everyone had to seal their phones in bags before entering. We were given a brand new pin commemorating the new ride that won't be available to park guests until closer to the opening.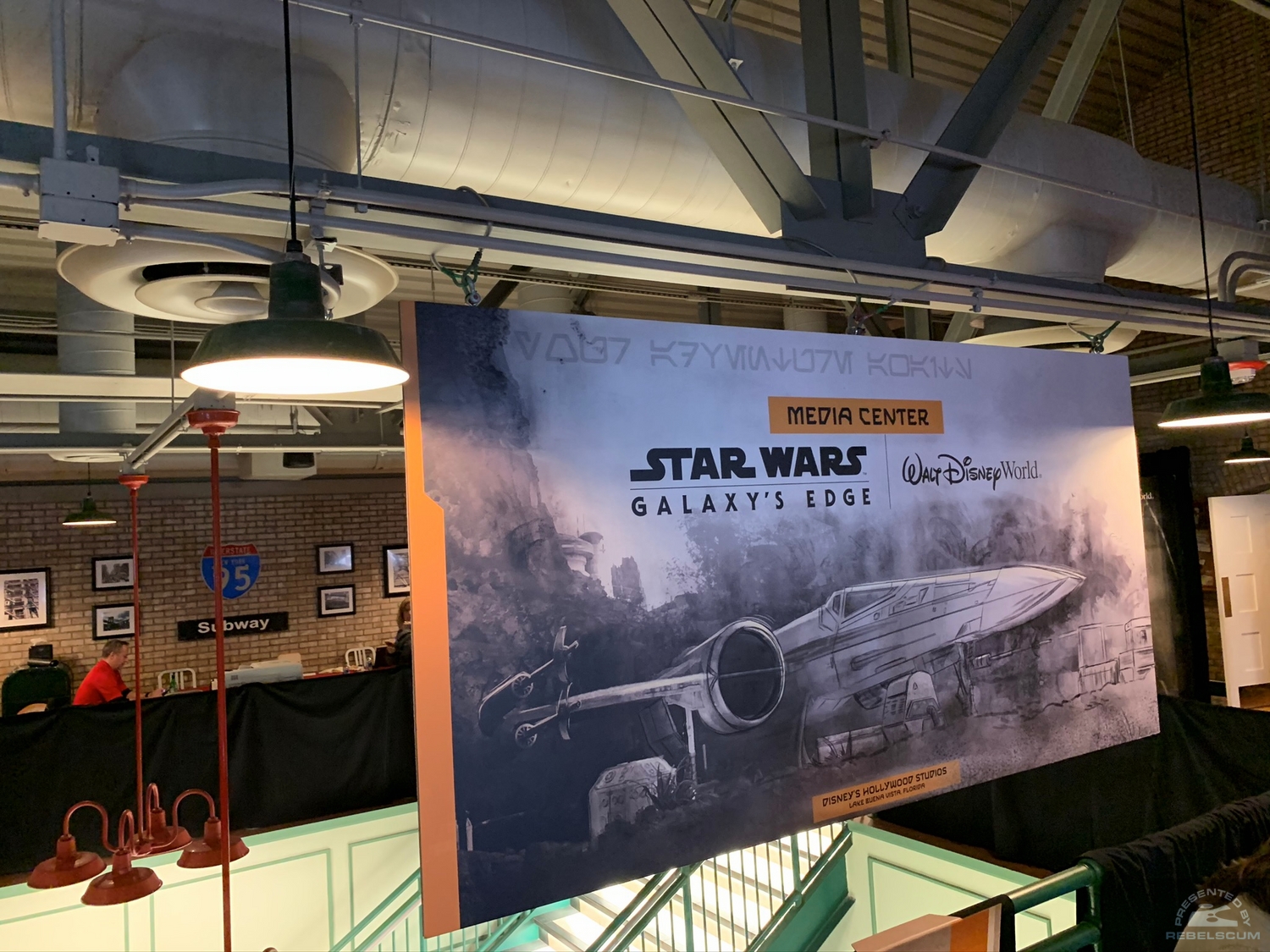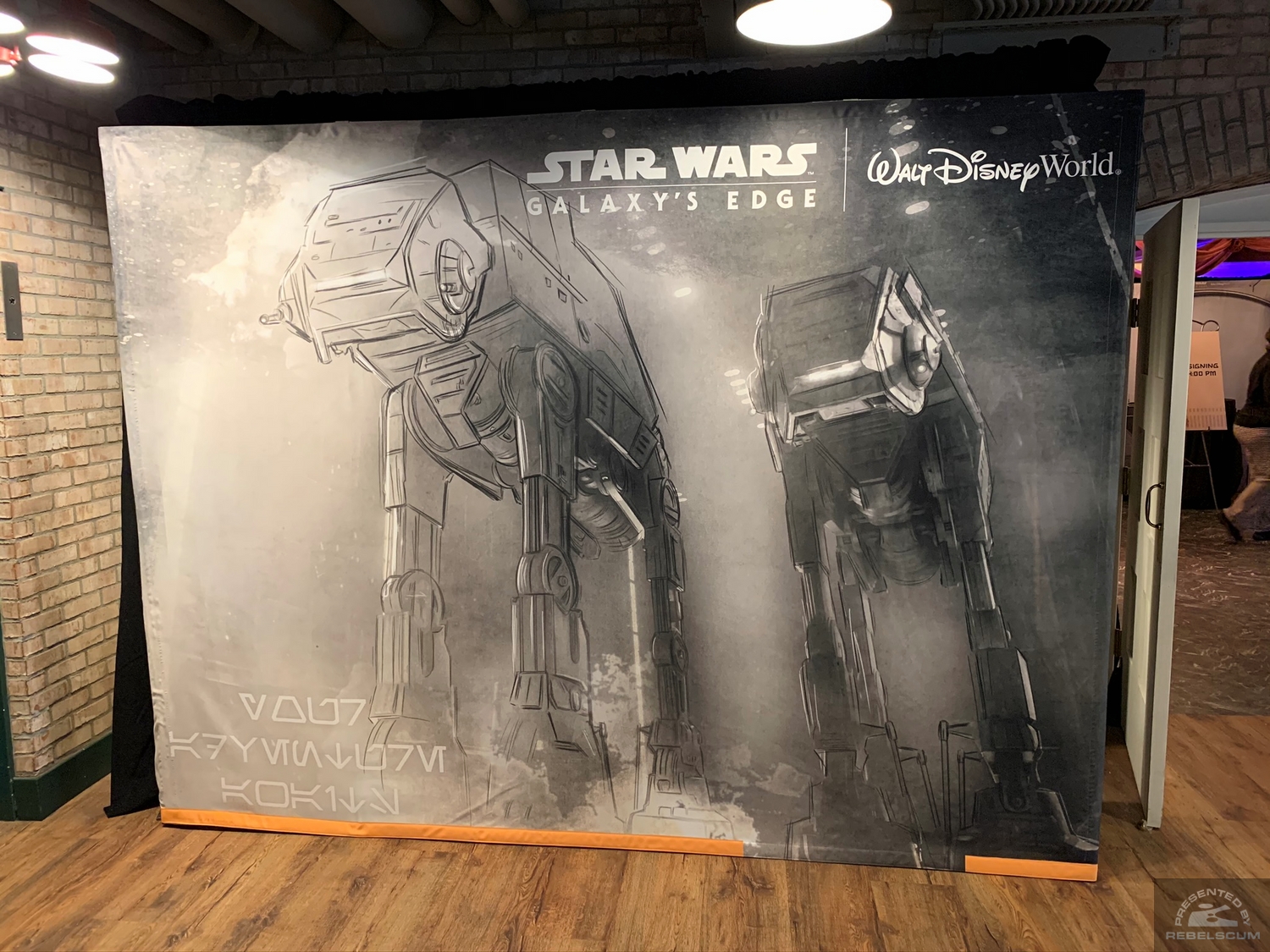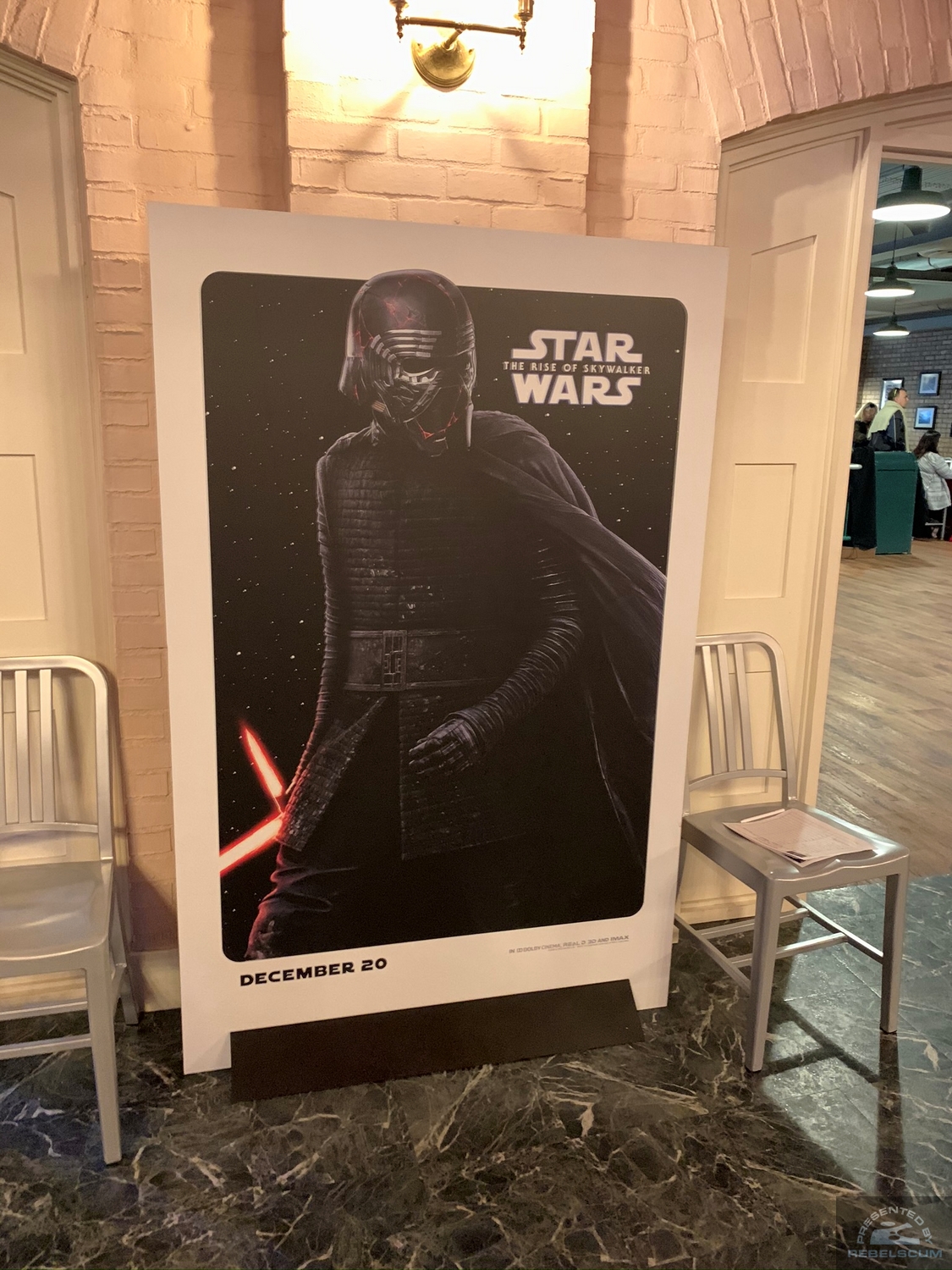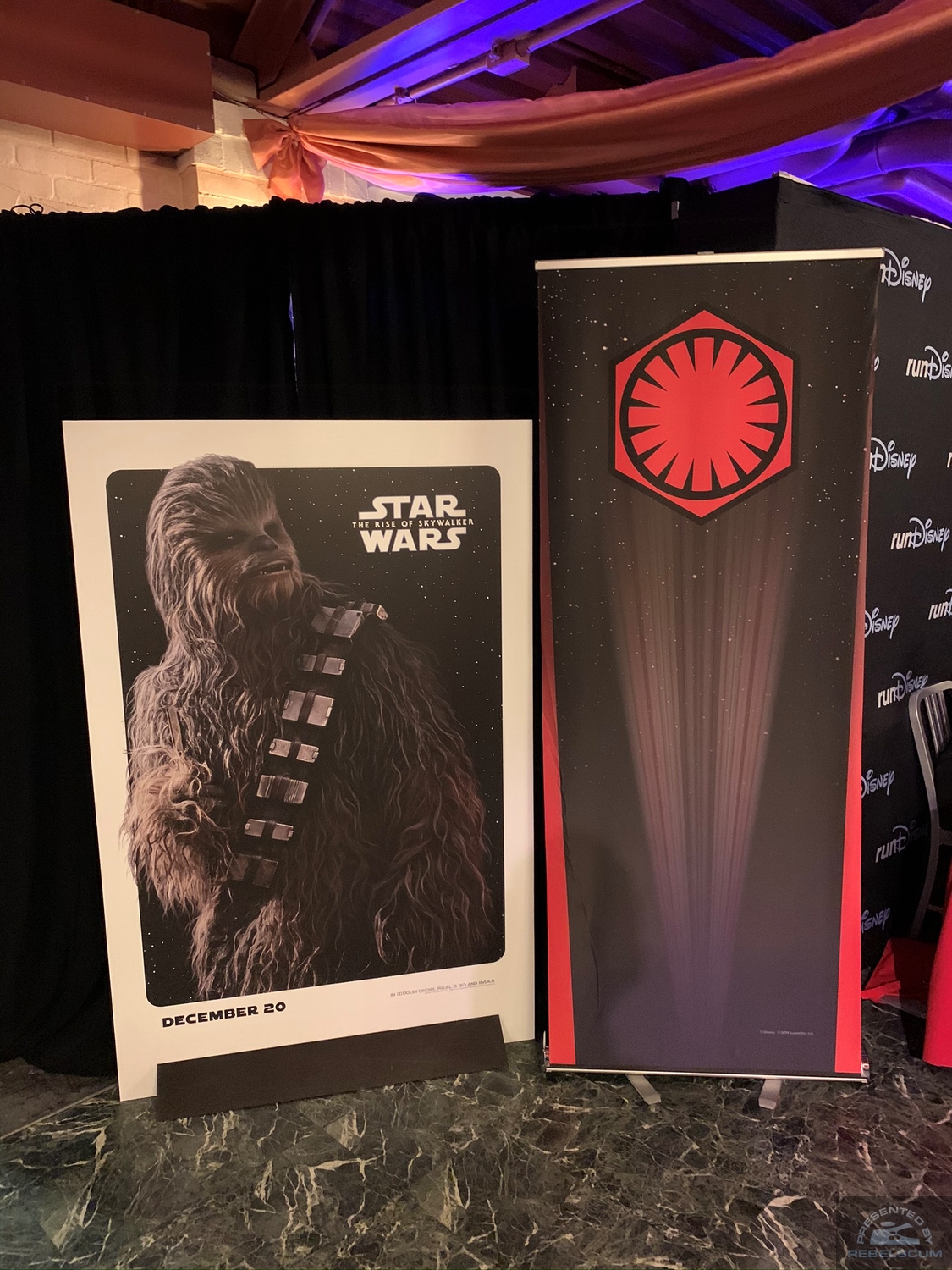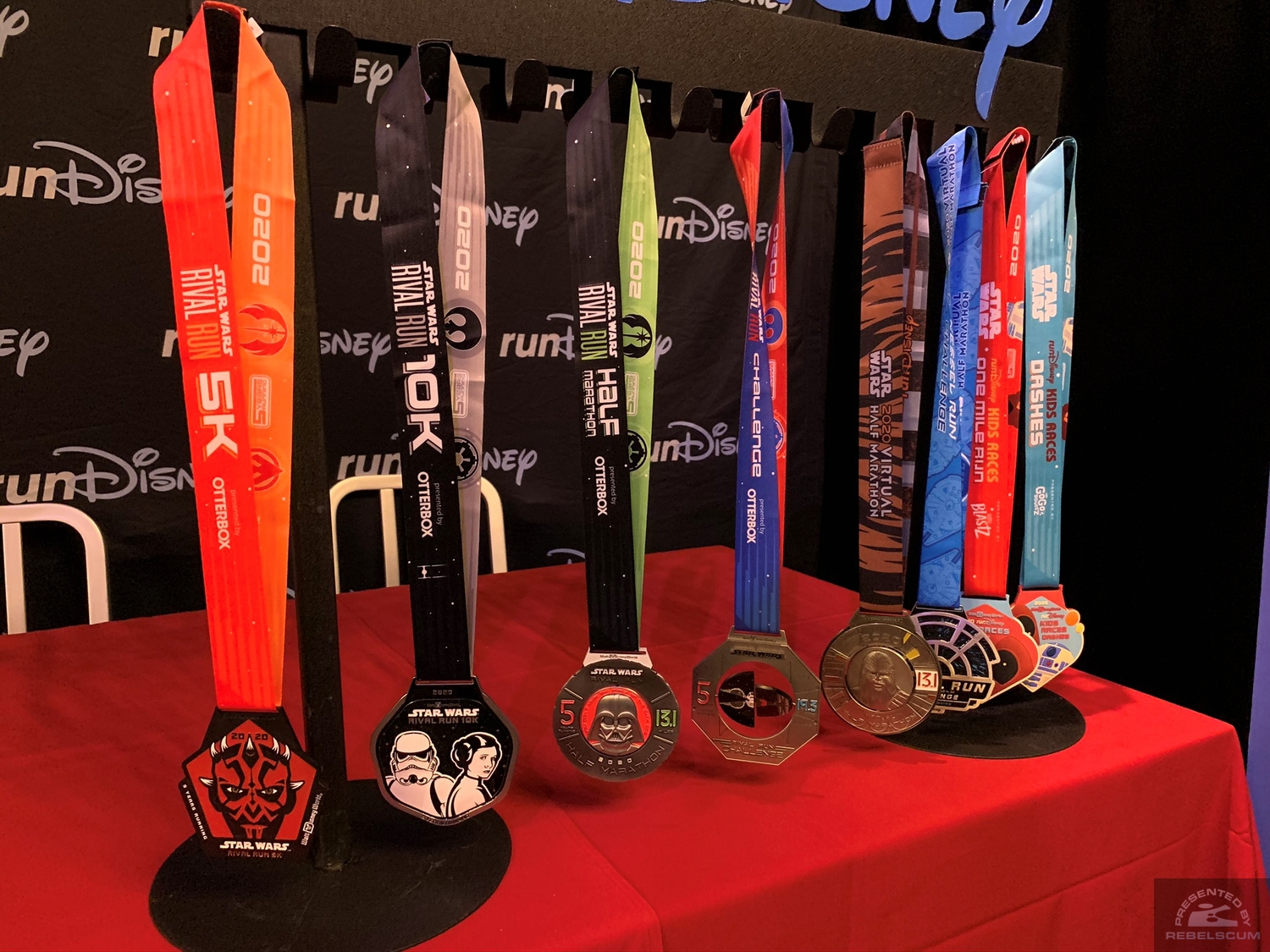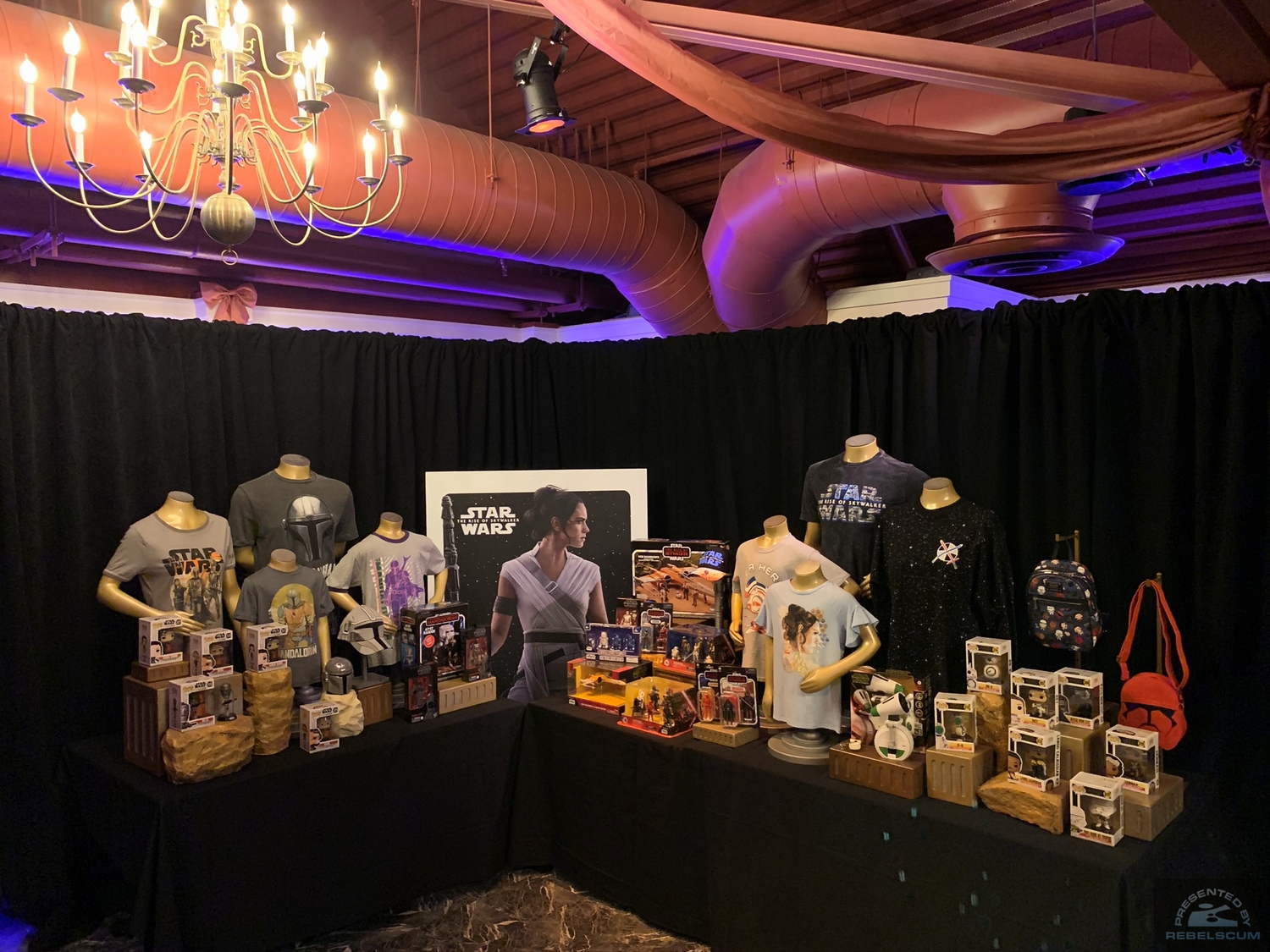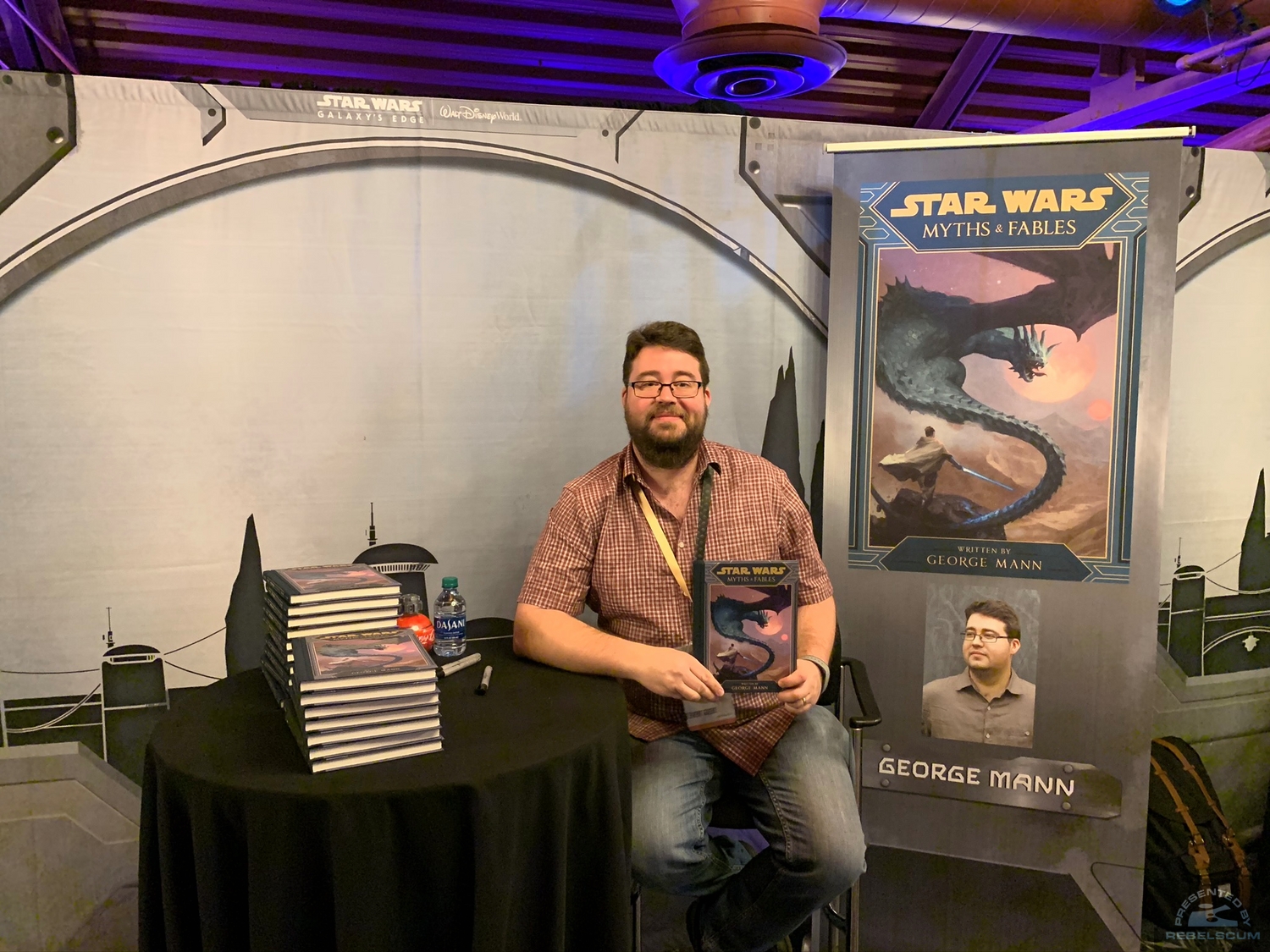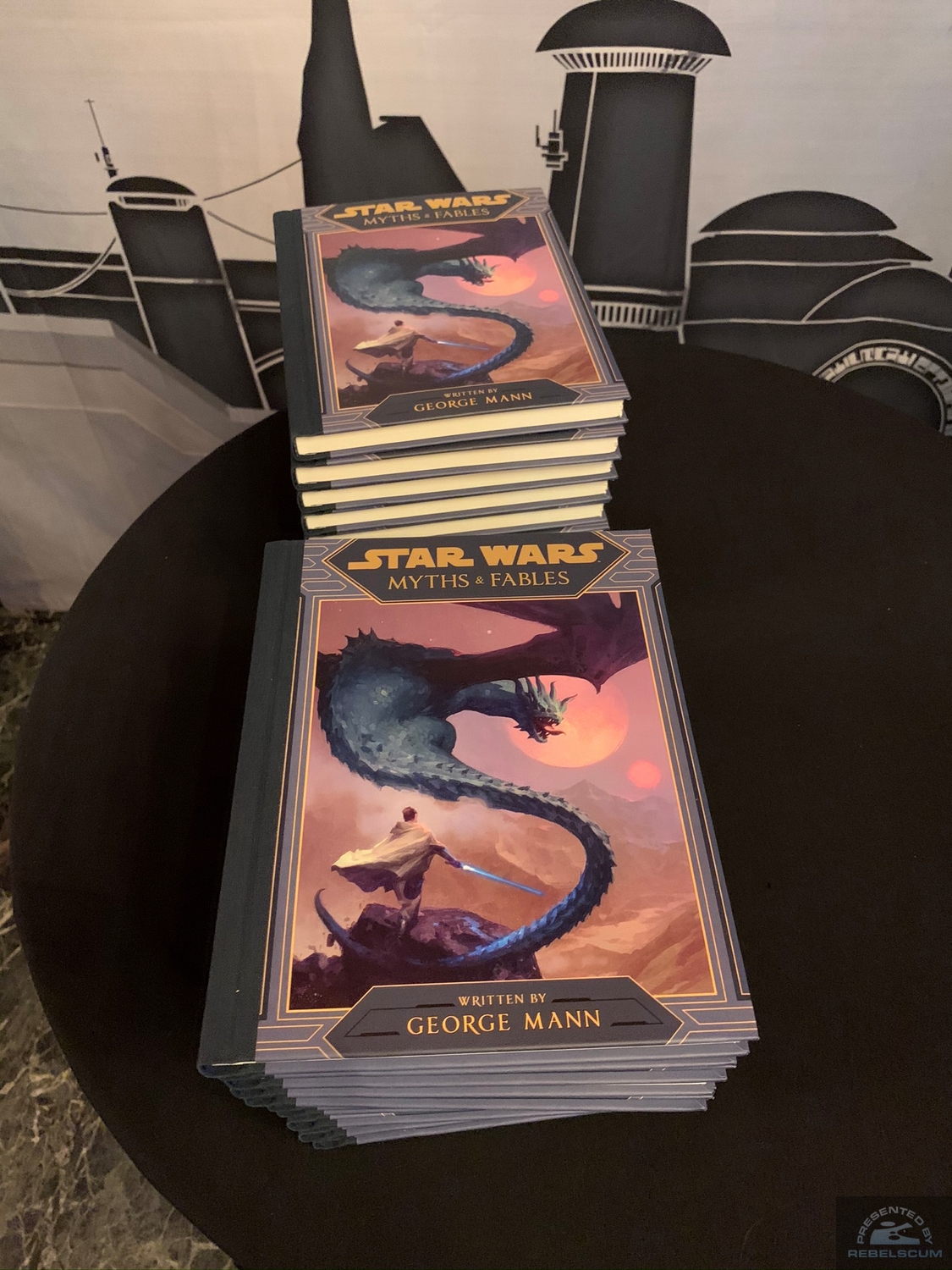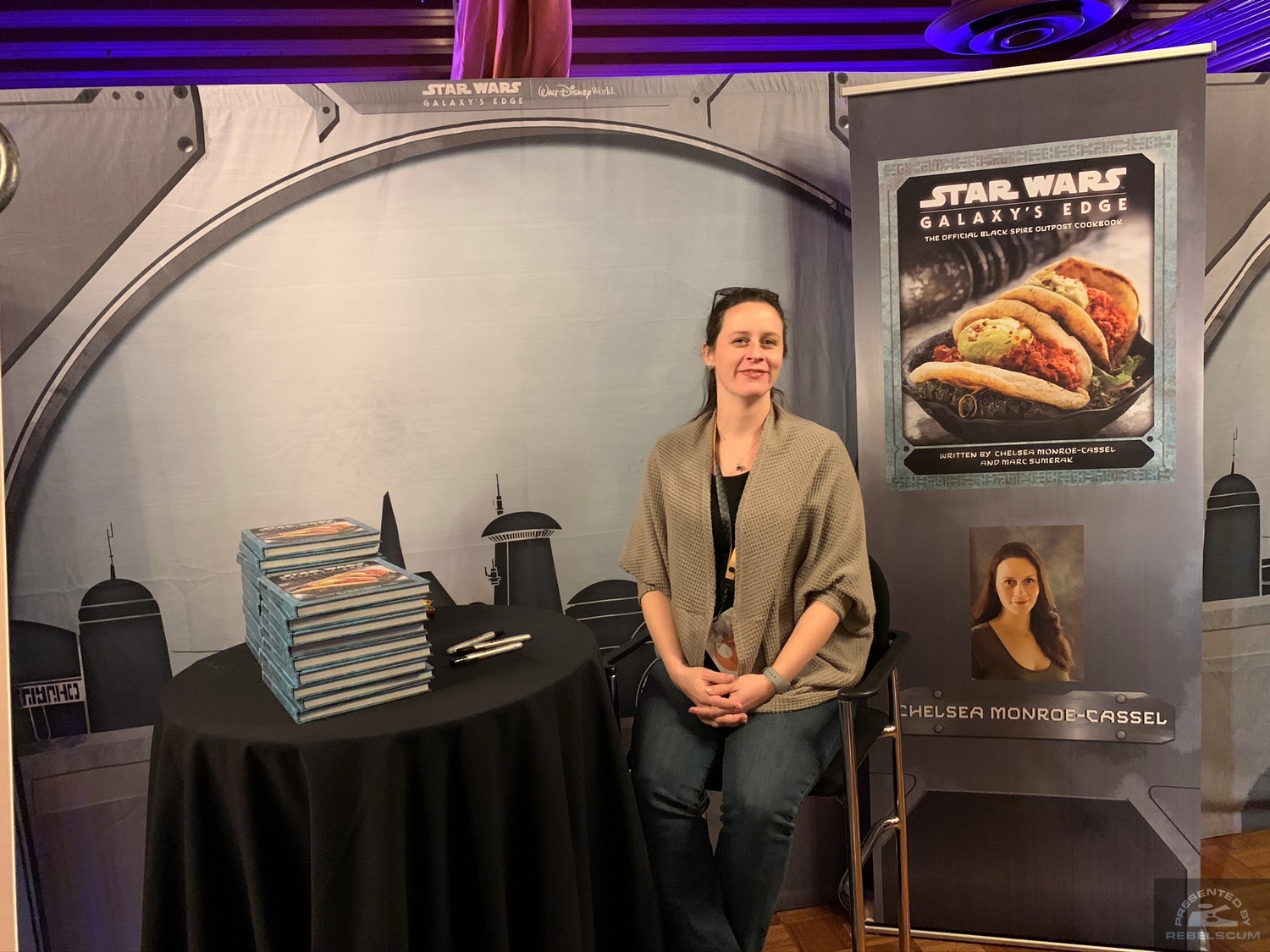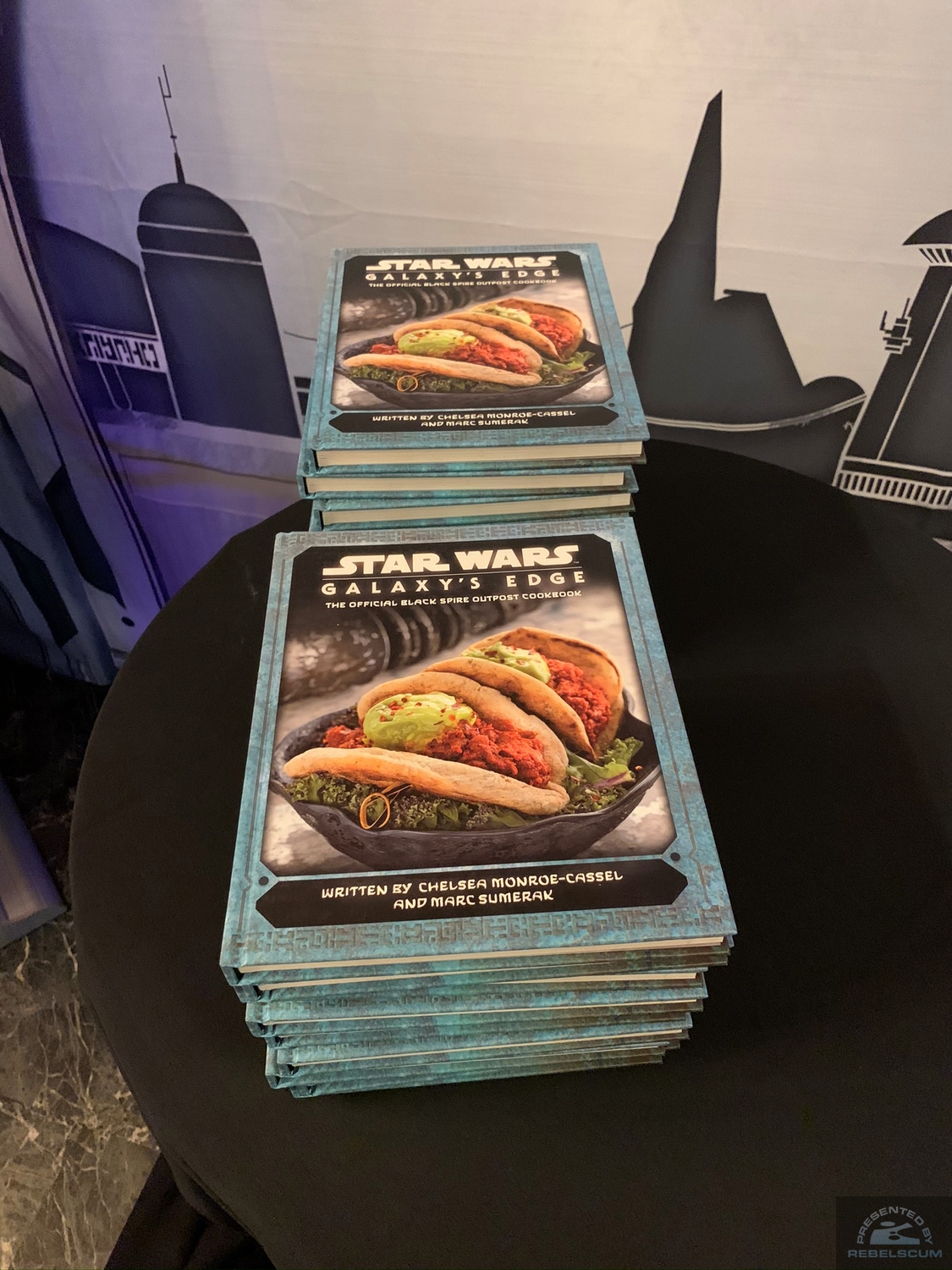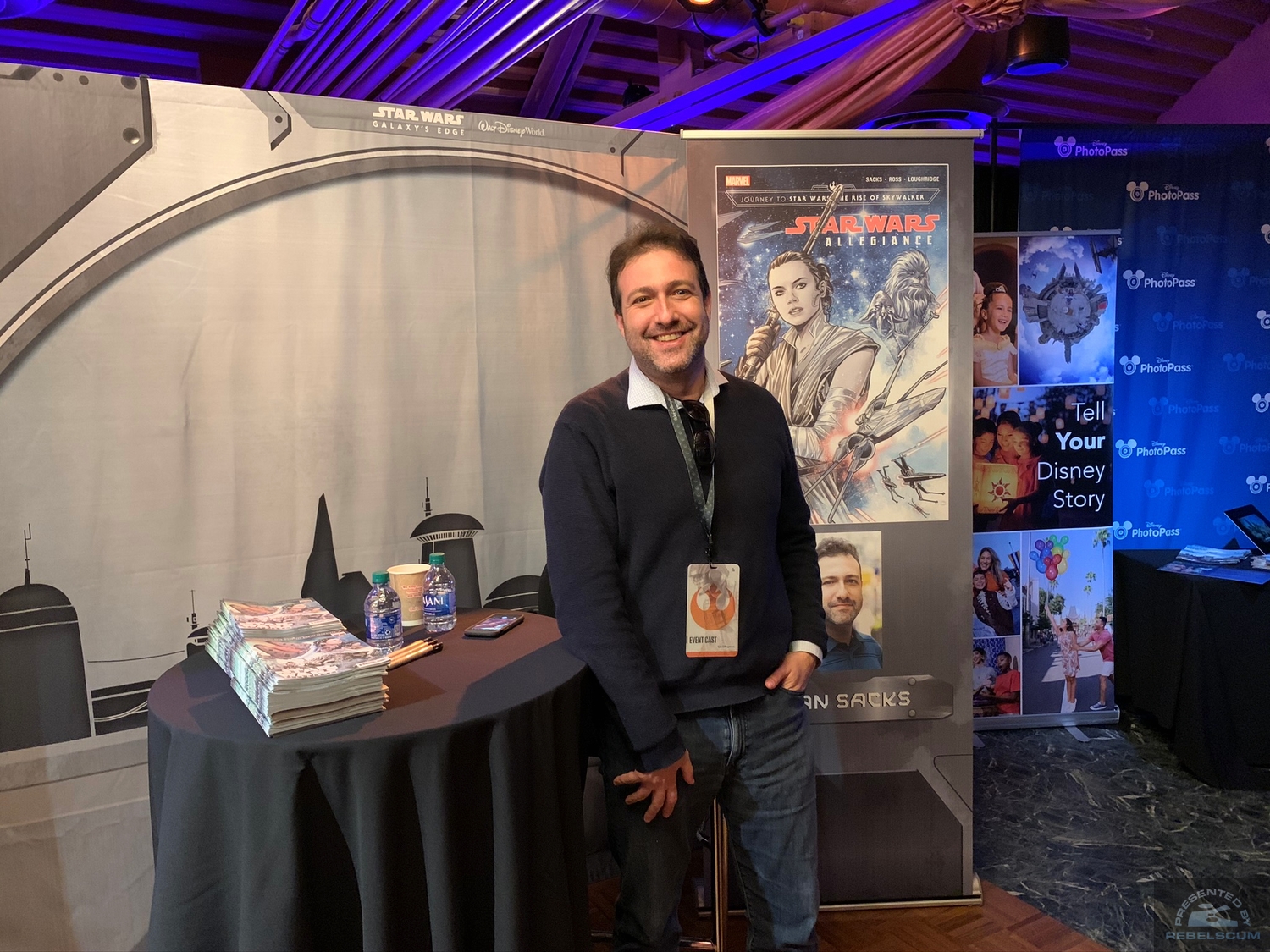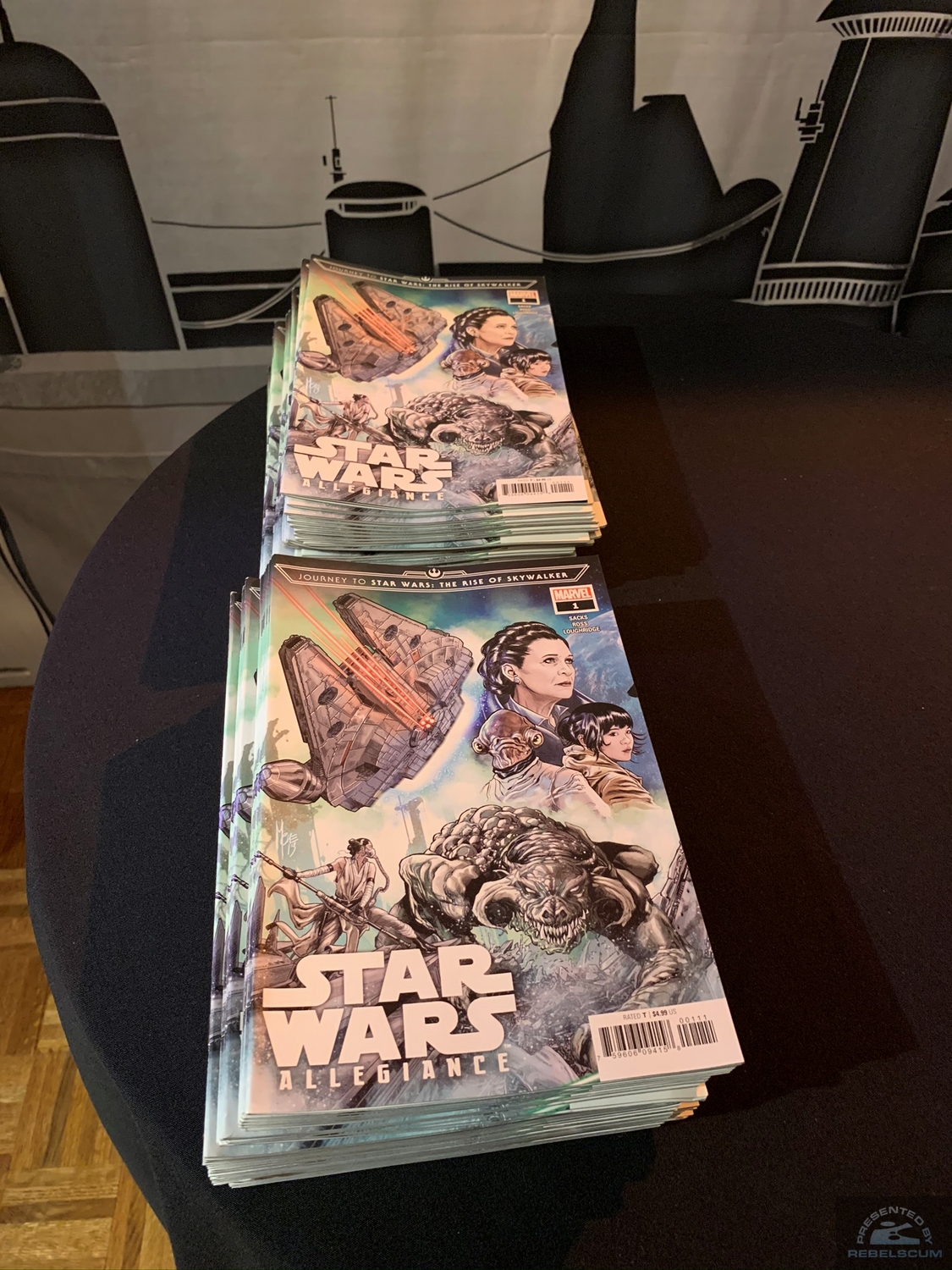 Disney had a Media Center setup on the second floor of PizzeRizzo that offered a nice lunch, some light snacks, a place to recharge batteries, do some writing and just relax. There was a separate room where Disney's PhotoPass Service was setup to demo new Photopass options in celebration of their 15th Anniversary which happened to be that day. There will be new Photopass opportunities all over the place through early January. Also in the room was a runDisney table that displayed all of the medals for the upcoming
2020 Star Wars Rival Run Weekend
and that was the first time they had been seen. There were other tables that had new merchandise on display and a special book signing session with three different authors that included George Mann, author of
Star Wars: Myths & Fables
, Chelsea Monroe-Cassell, author of
Star Wars: Galaxy's Edge - The Official Black Spire Outpost Cookbook
and Ethan Sacks, author of the
Star Wars: Allegiance
comic book mini series which is part of the
Journey to Star Wars: The Rise of Skywalker
publishing program.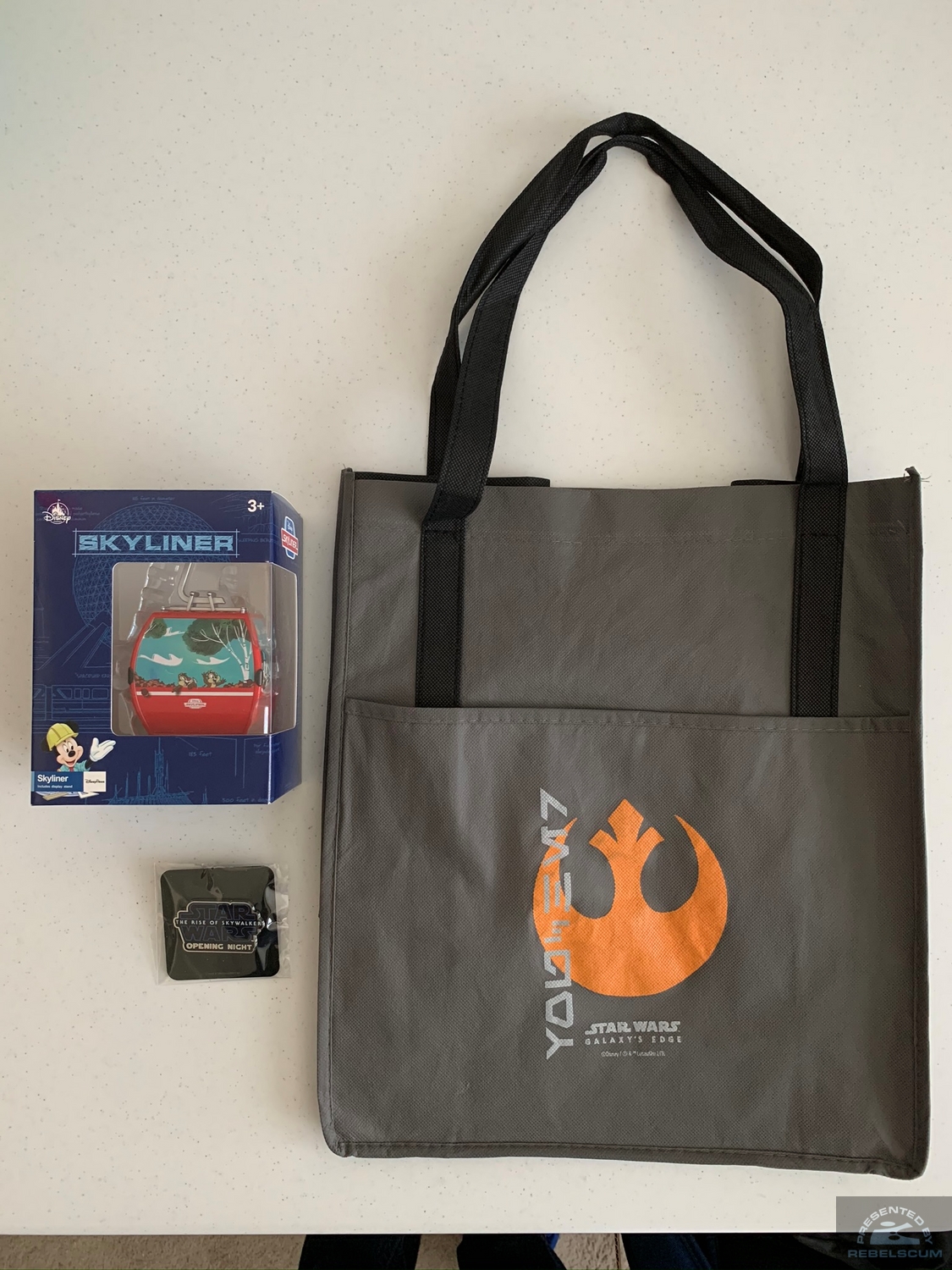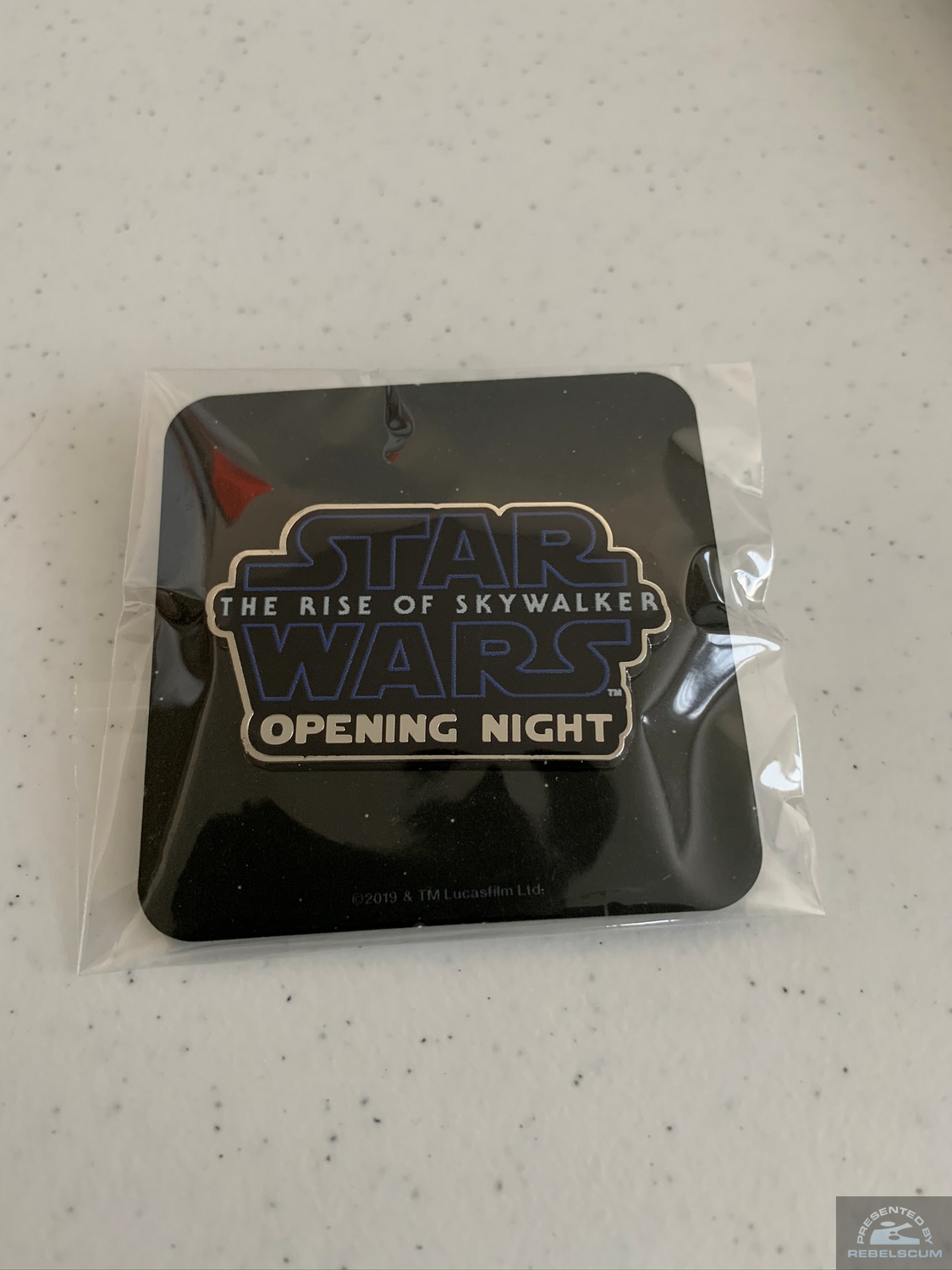 There was a nice little Galaxy's Edge book bag they handed out after you got your books signed that included a Disney Skyliner toy and a special
Star Wars: The Rise of Skywalker
pin that will be given to fans attending the special Fan Event on December 19th during preview night.
One of my interviews included a brief overview of how Disney came up with the look for Galaxy's Edge. I was told that they traveled the world to visit all different kinds of locations before settling on a 19th century middle eastern art look with architecture deriving from places like Istanbul's Grand Bazaar. They also want their guests to be able to create their own new
Star Wars
stories in an all-new location which is why we don't see much from the previous films present. Considering the fact that the entire rest of the park (and property) is decorated for Christmas, I asked if we would ever see Black Spire Outpost decorated for any
Star Wars
themed holidays. I got a laugh and a smile and was told that anything is possible. Surely they could come up with something similar to The Boonta Eve celebration that takes place on Tatooine or The Festival of Light celebrated on Naboo. Maybe even something similar to Empire Day which was celebrated all across the galaxy!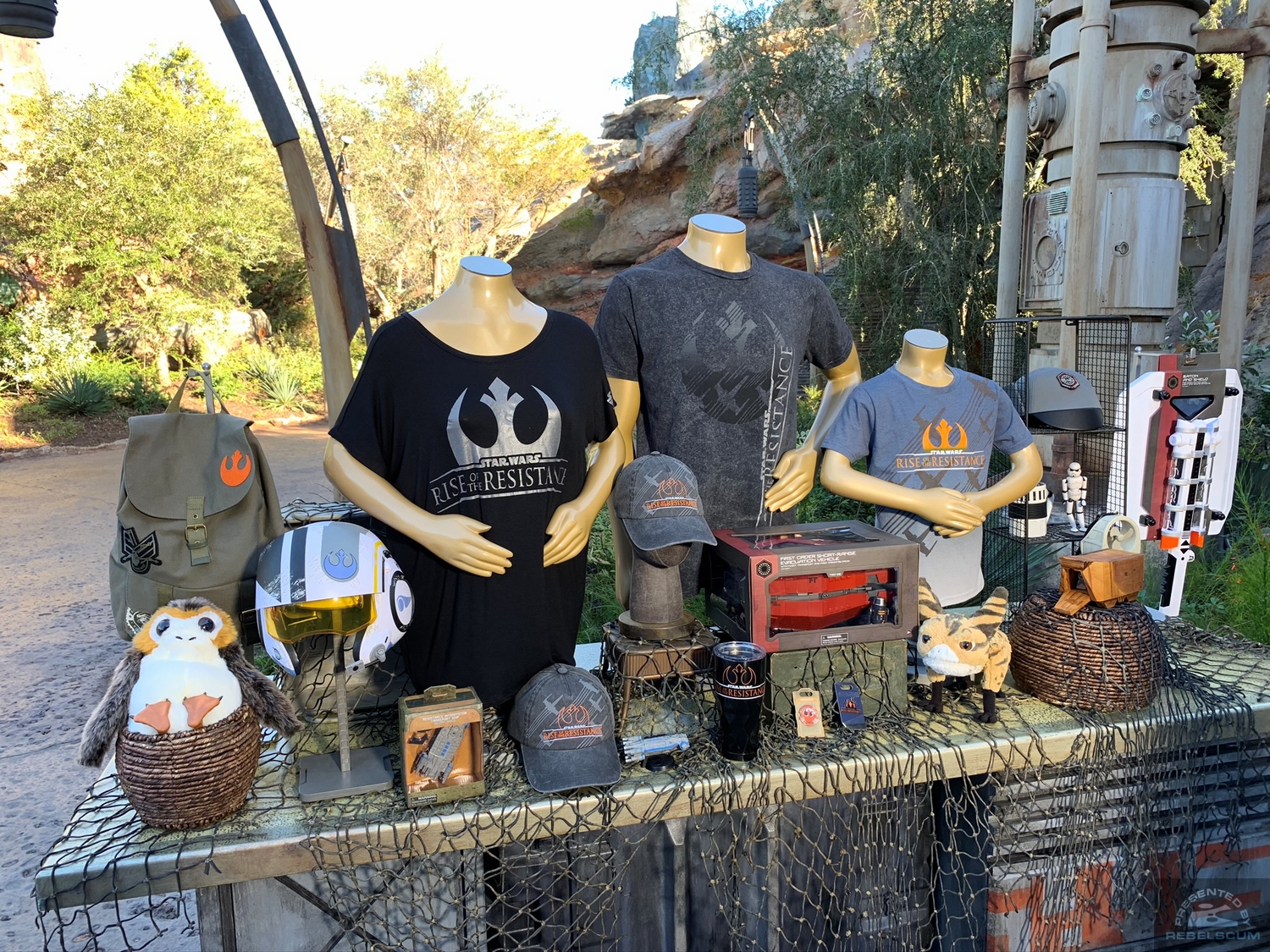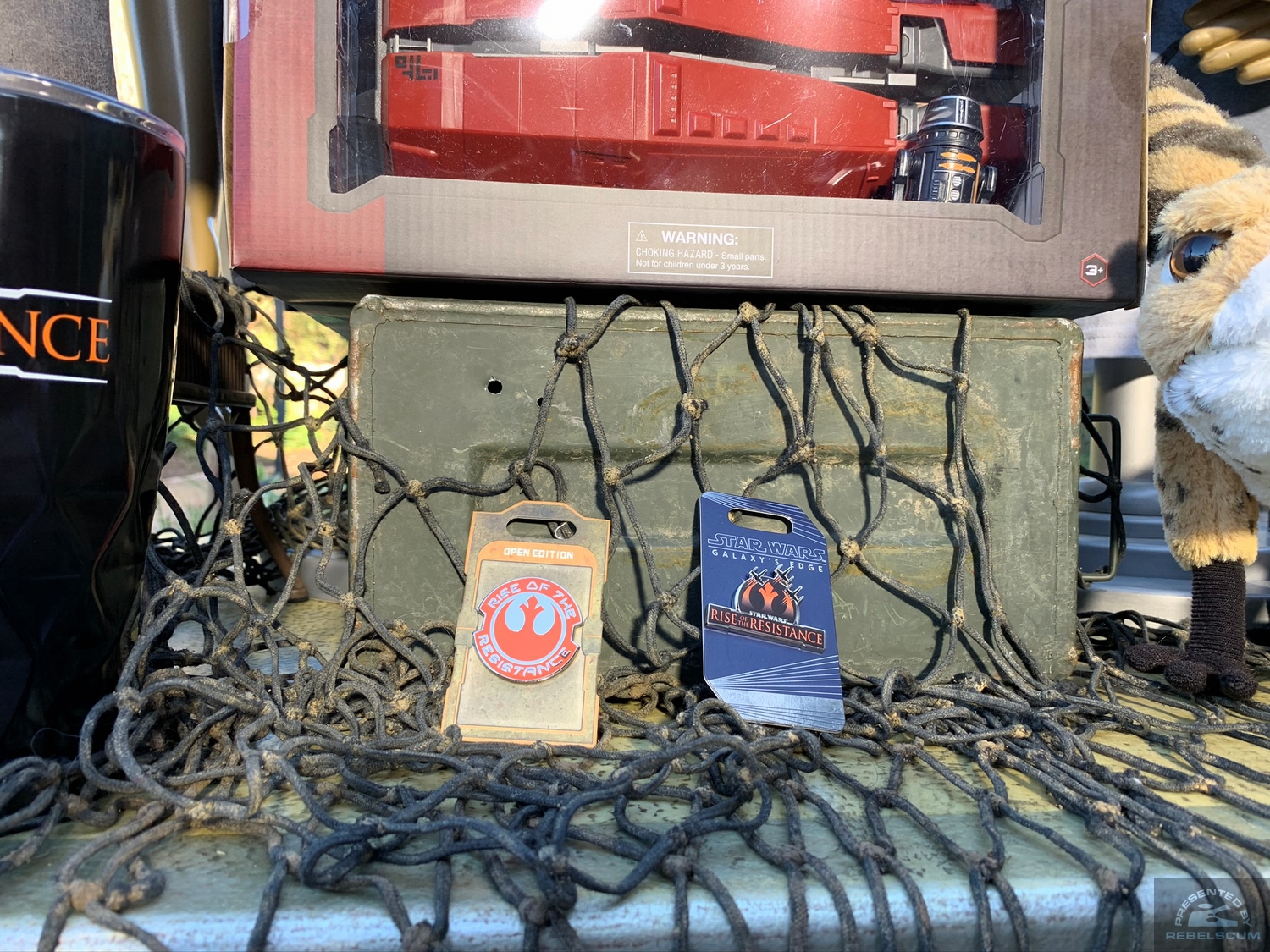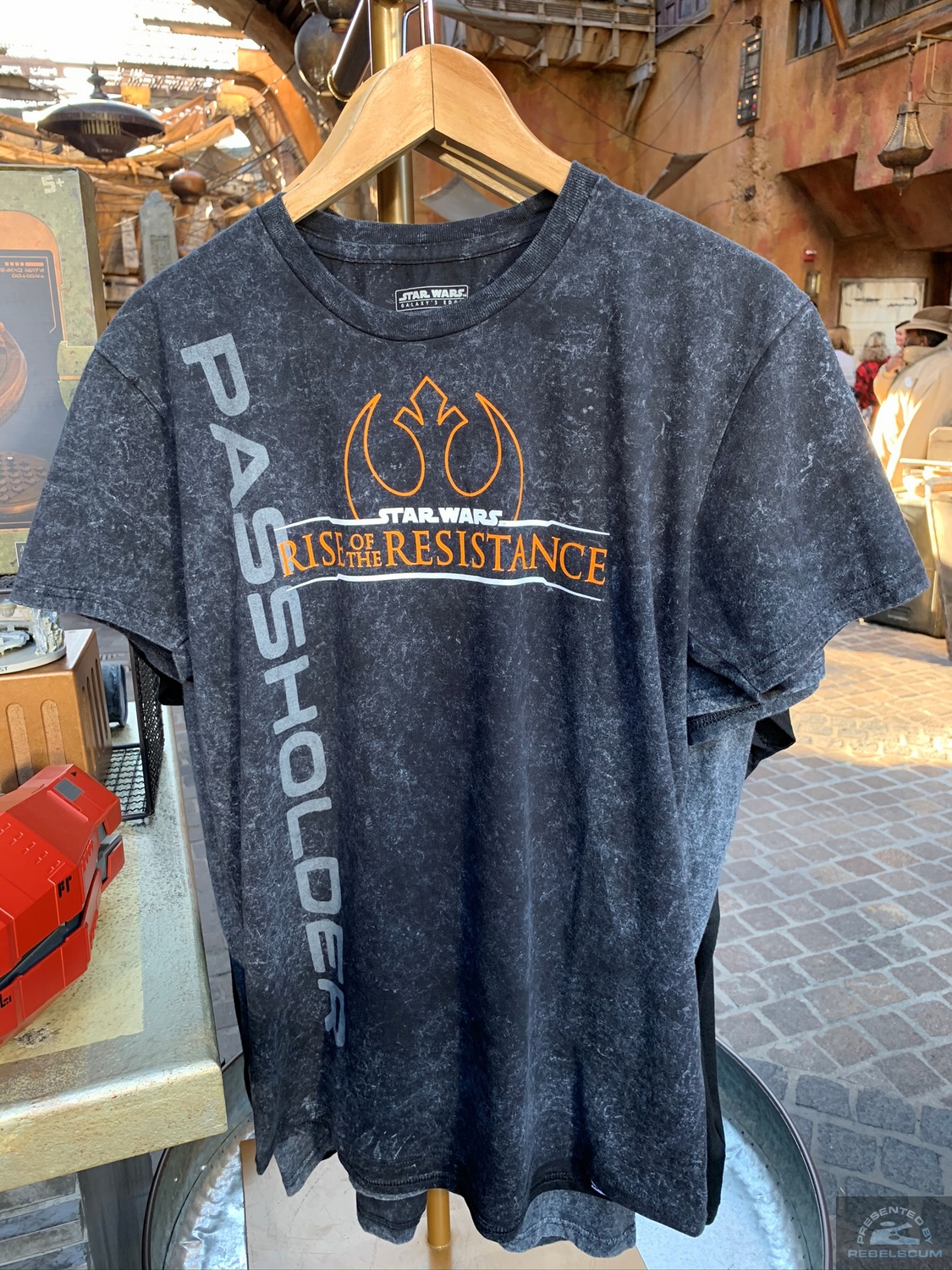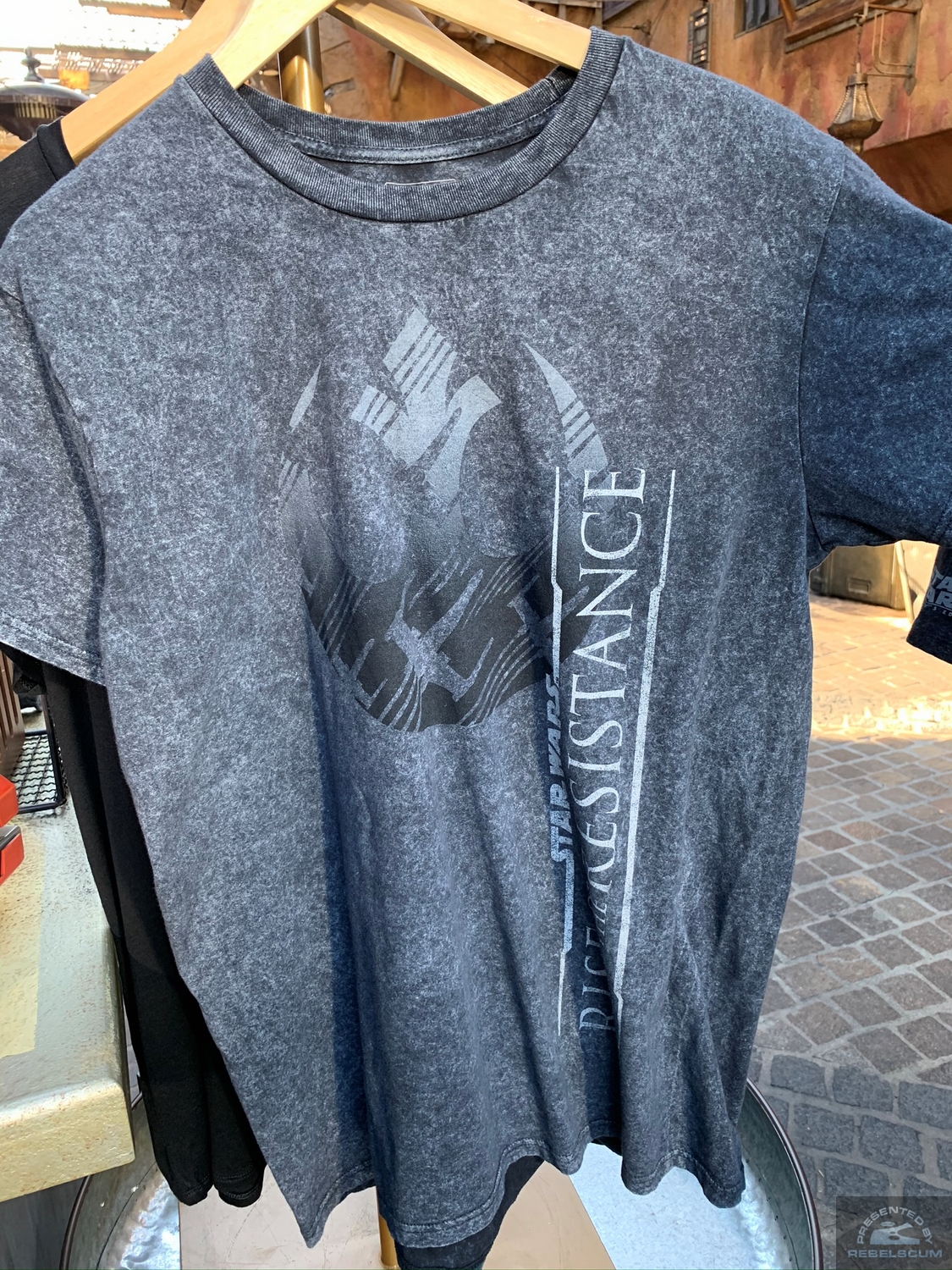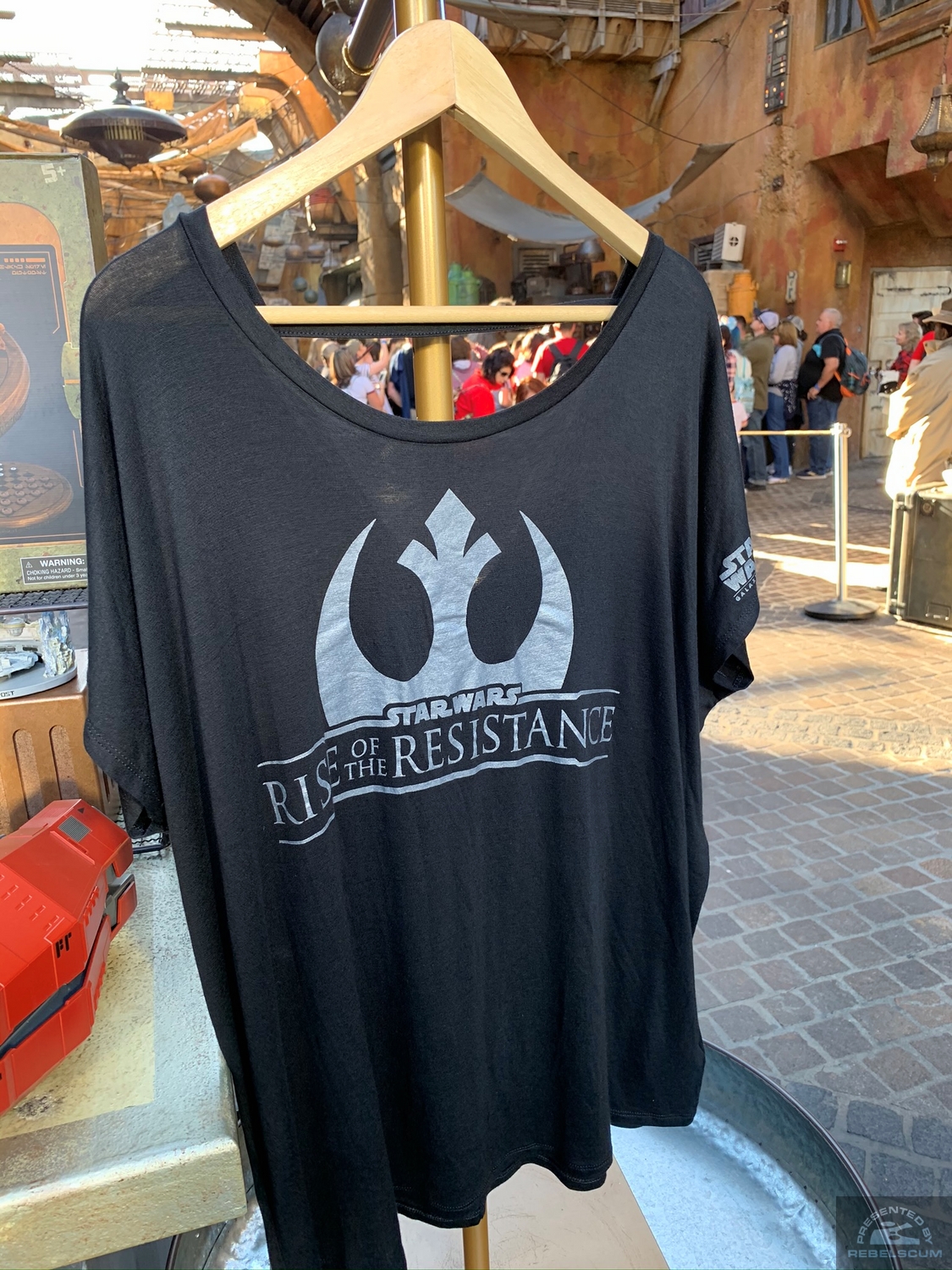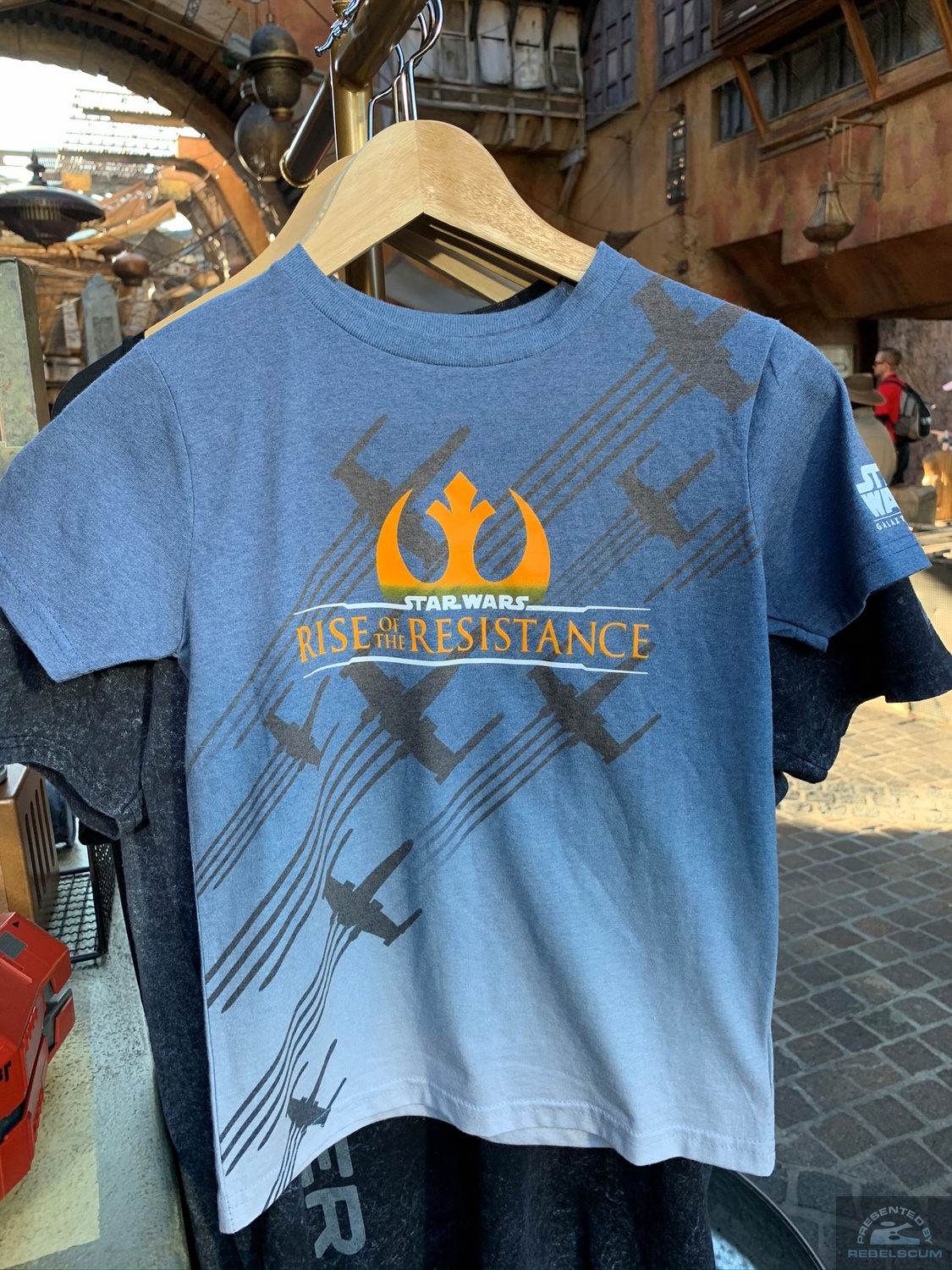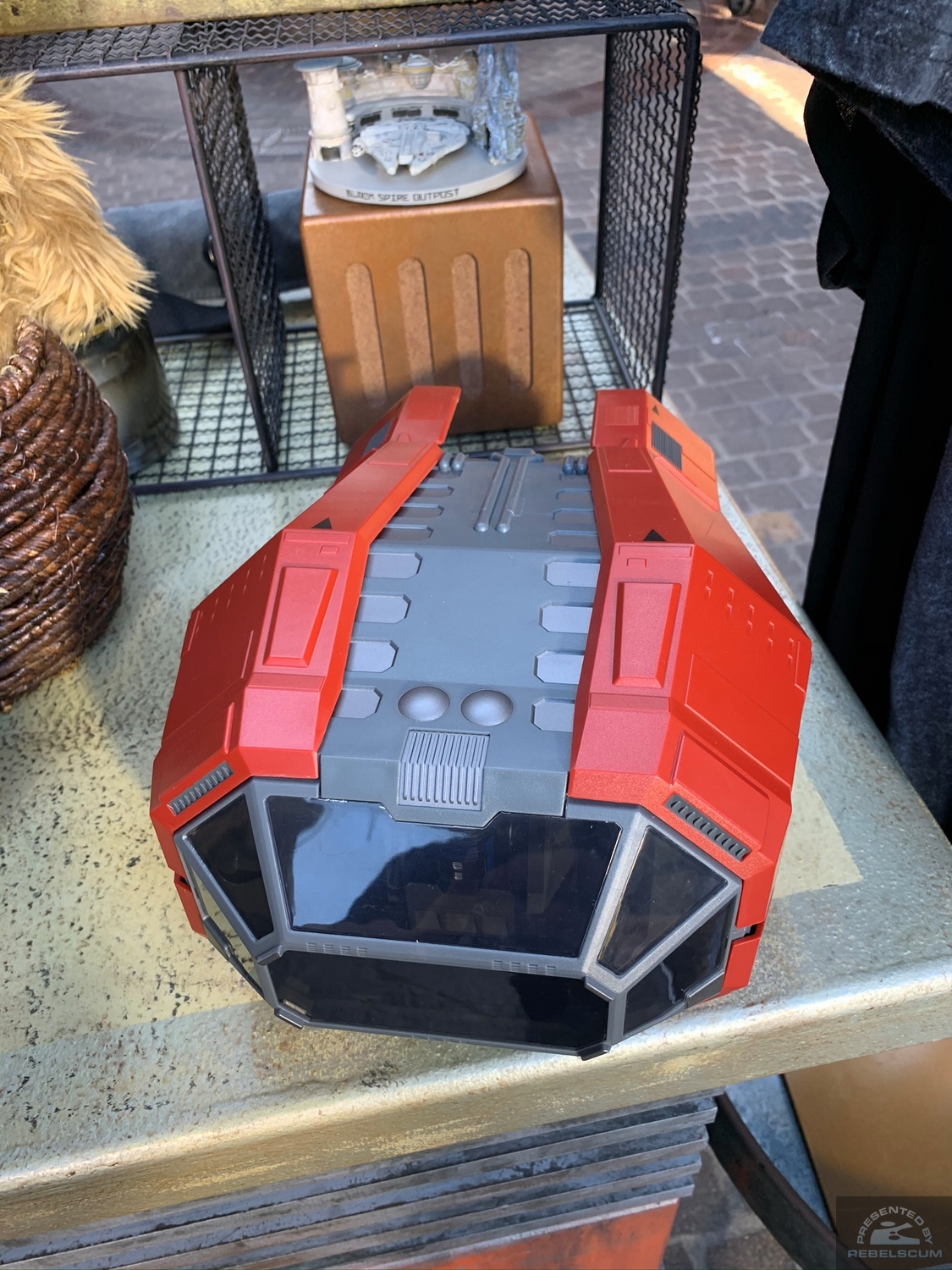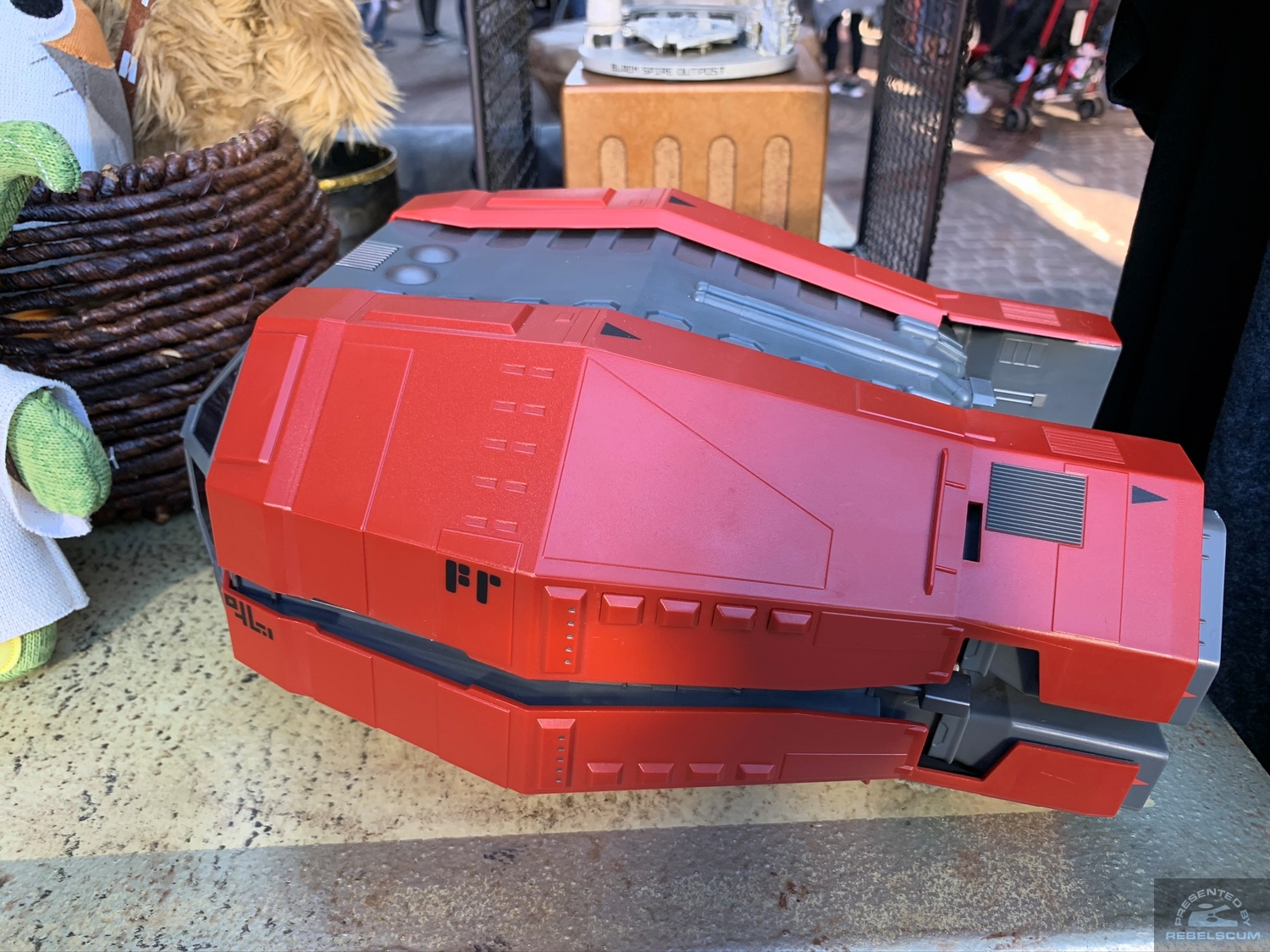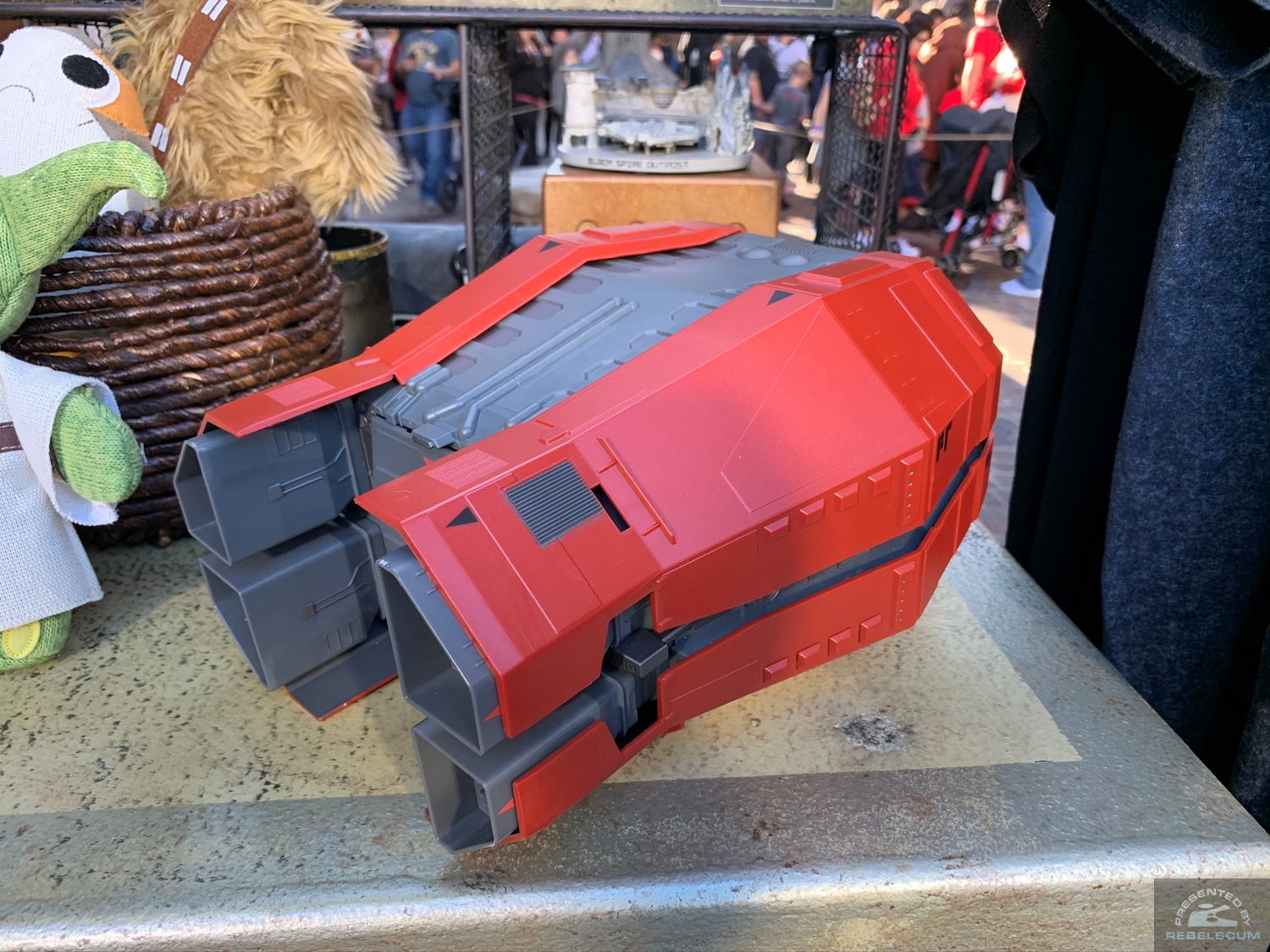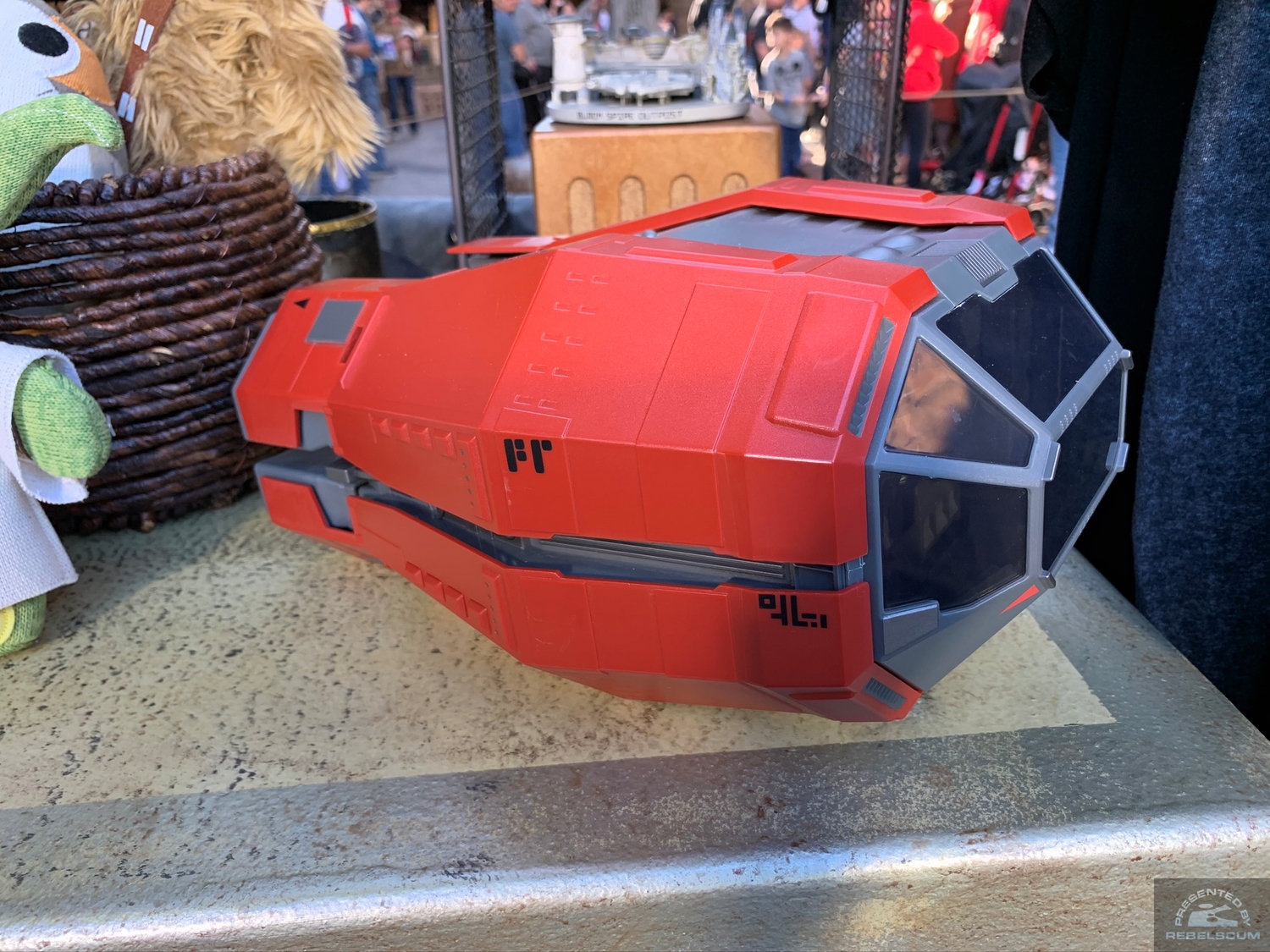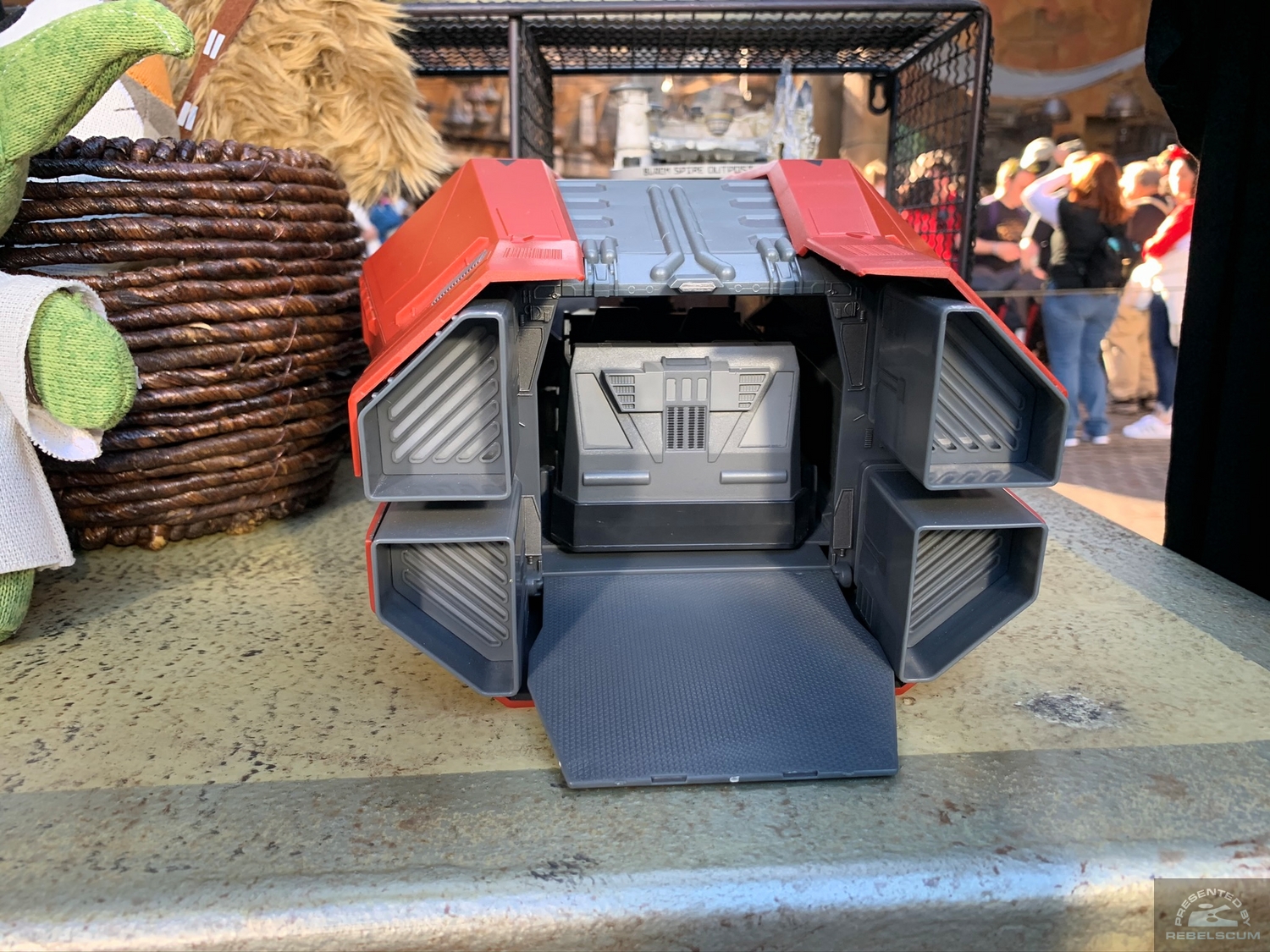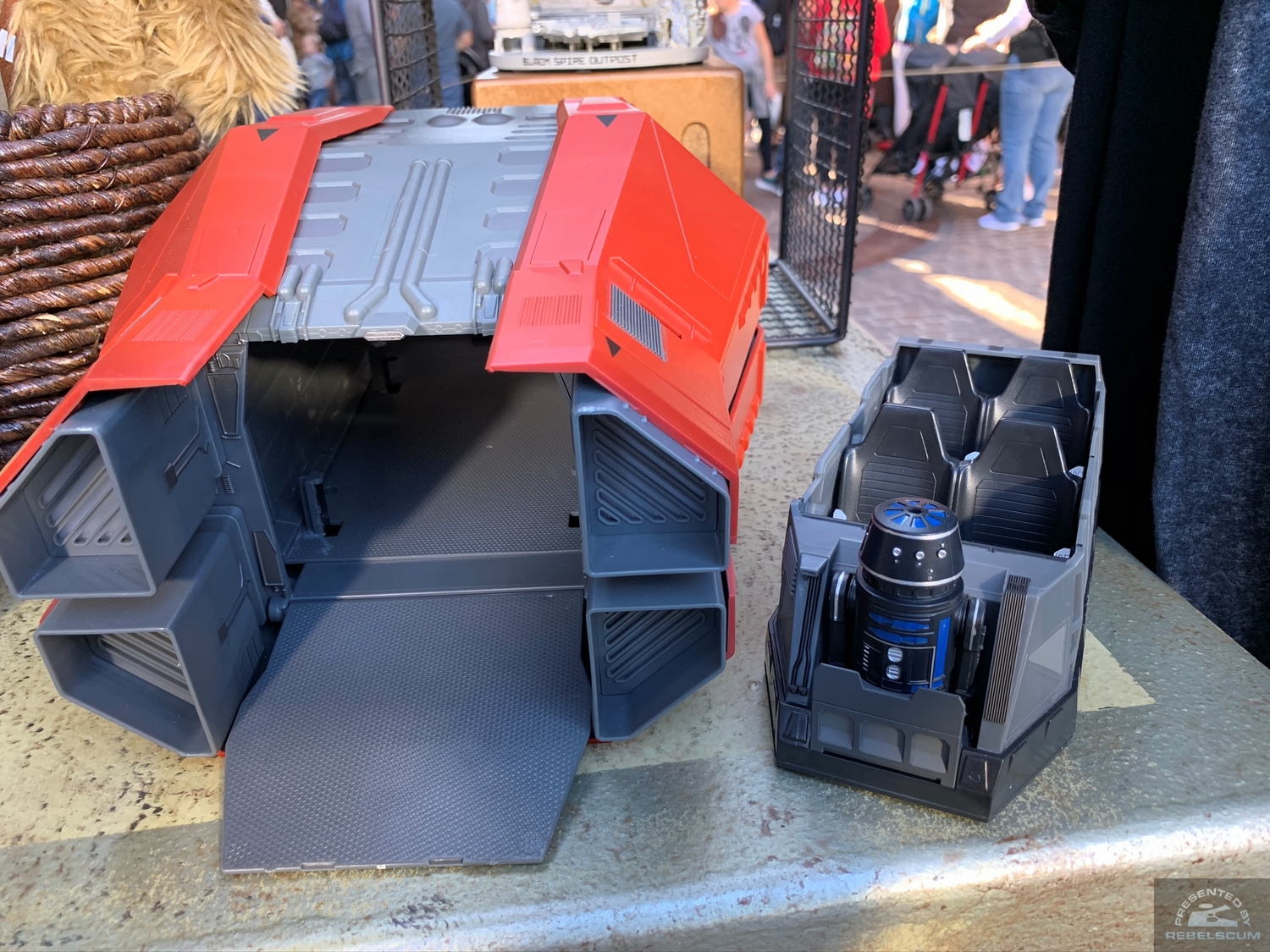 Another one of my interviews was with John Cody Hampton, the Senior Merchandiser for New Park Experience Development. He introduced me to the Rise of the Resistance Collection debuting the following morning for the actual opening day of the
Star Wars: Rise of the Resistance
attraction. This included new t-shirts (both standard & Passholder exclusive), pins, a tumbler, hats, a diecast scaled version of the Resistance Intersystem Transport Ship and a new 3 3/4" scale toy that he developed called a First Order Short-Range Evacuation Vehicle. Inside the vehicle, you'll find the little pod that you sit in during the actual ride which rolls right out of the back section along with a First Order R-5 Droid. Because of the scale, it will hold your other action figures too. It's also electronic with multiple sounds!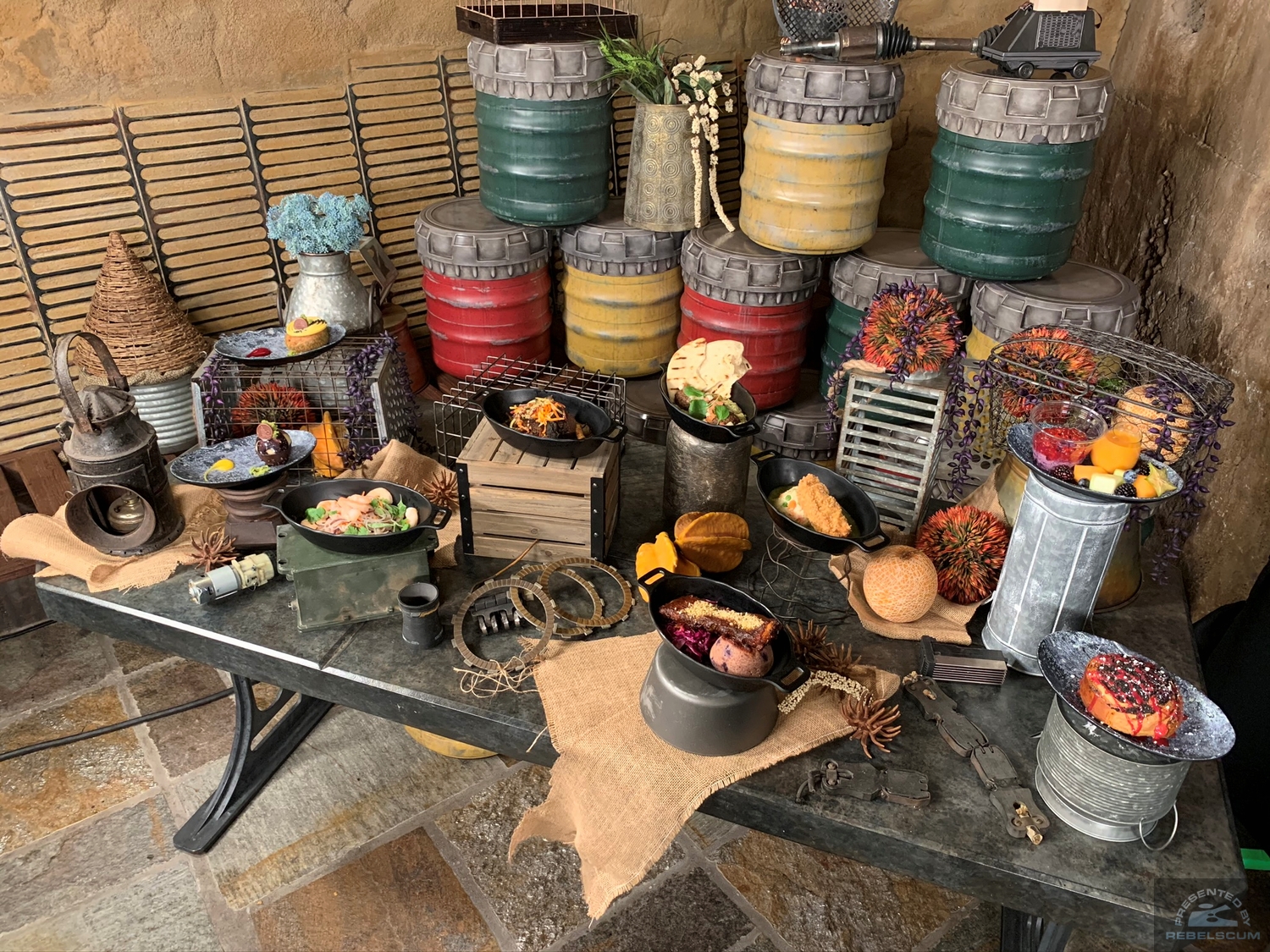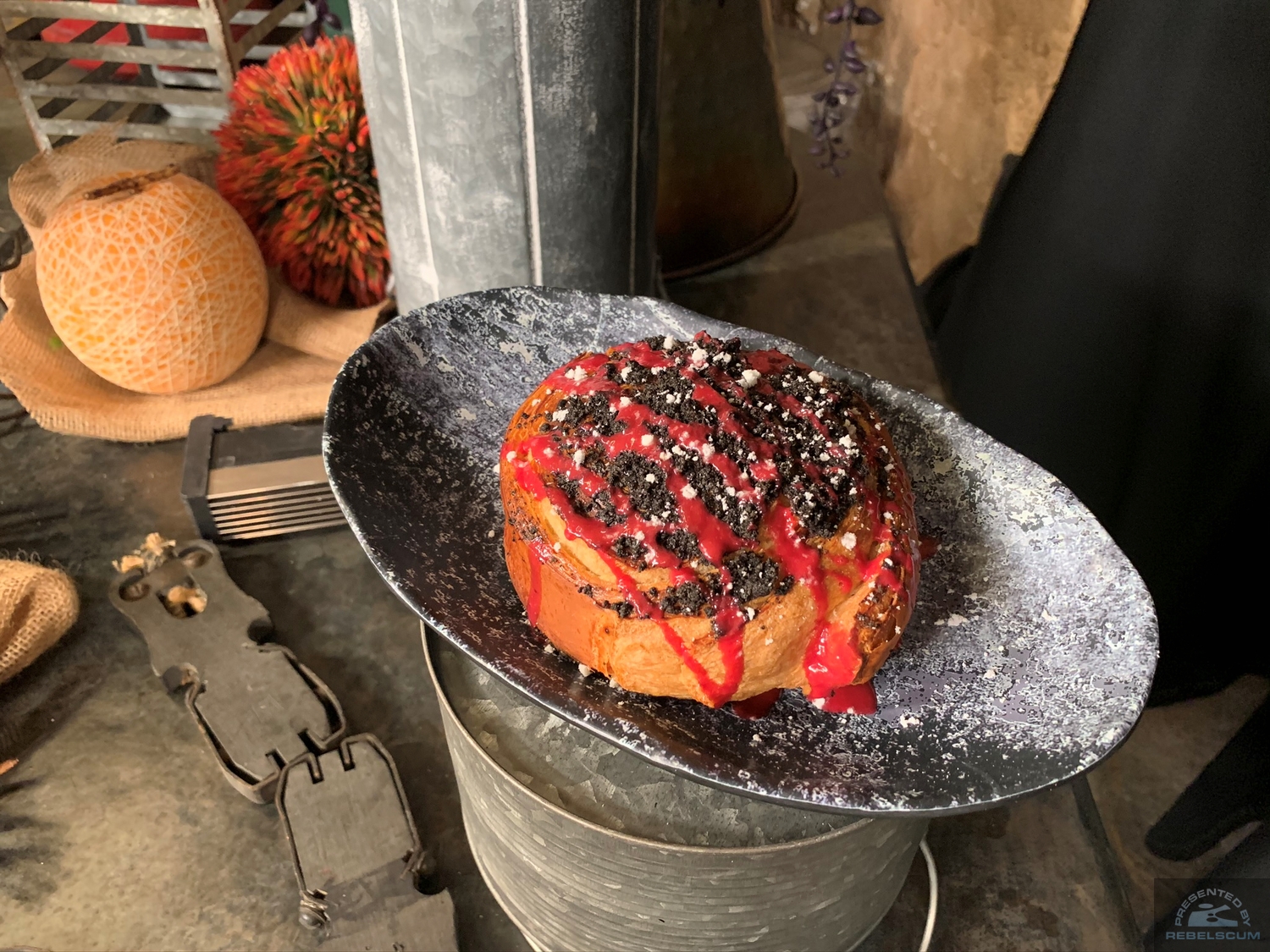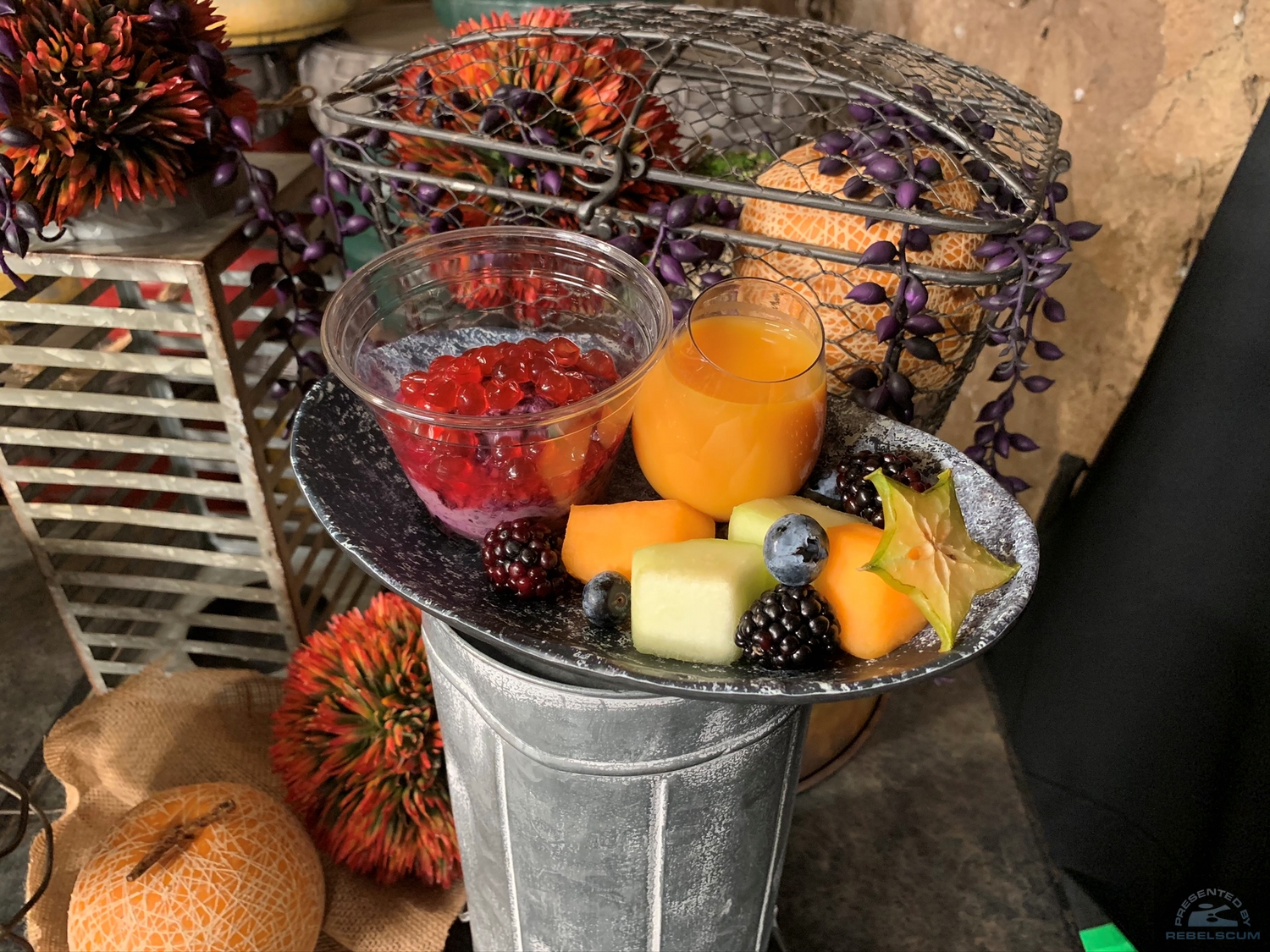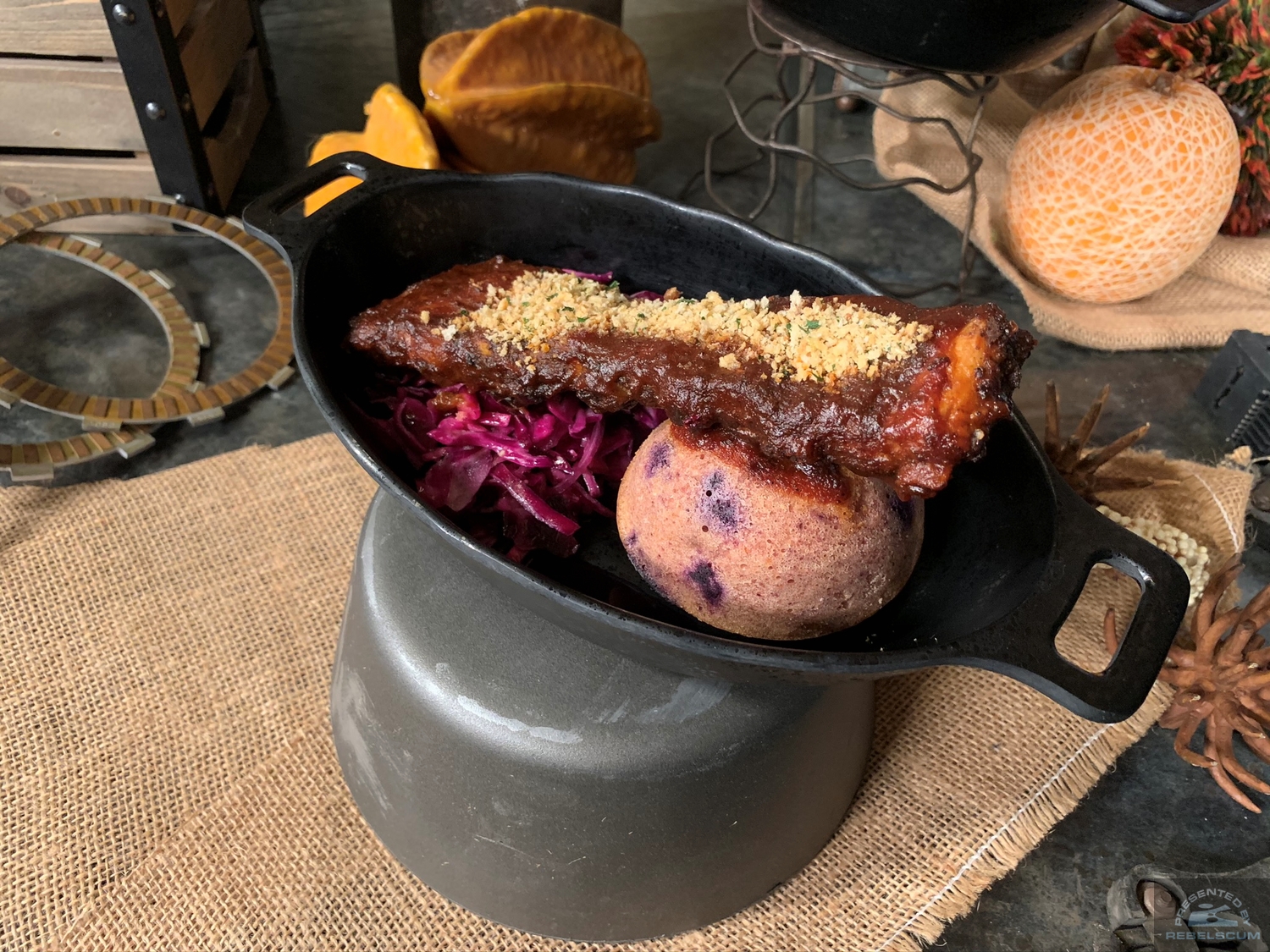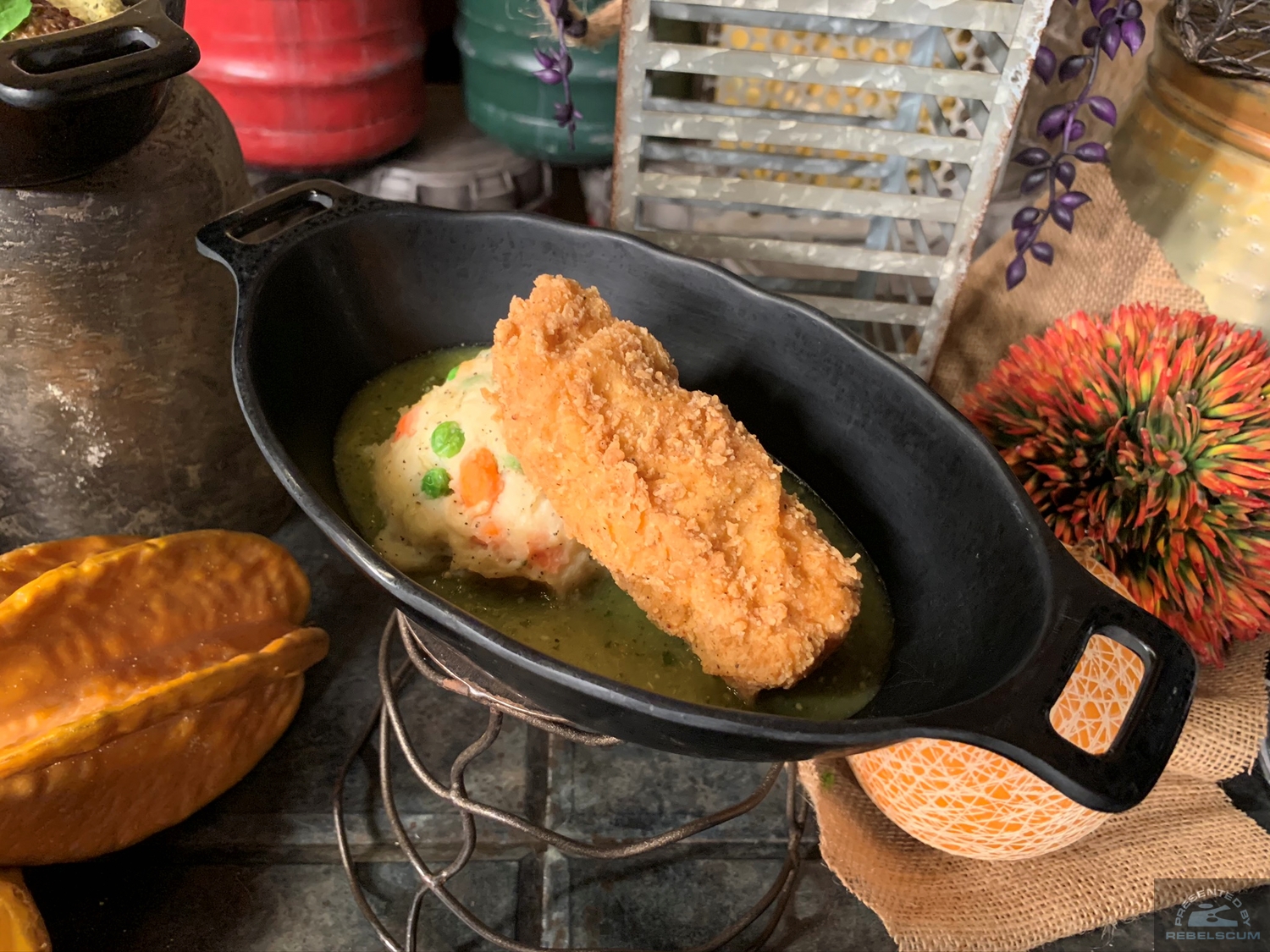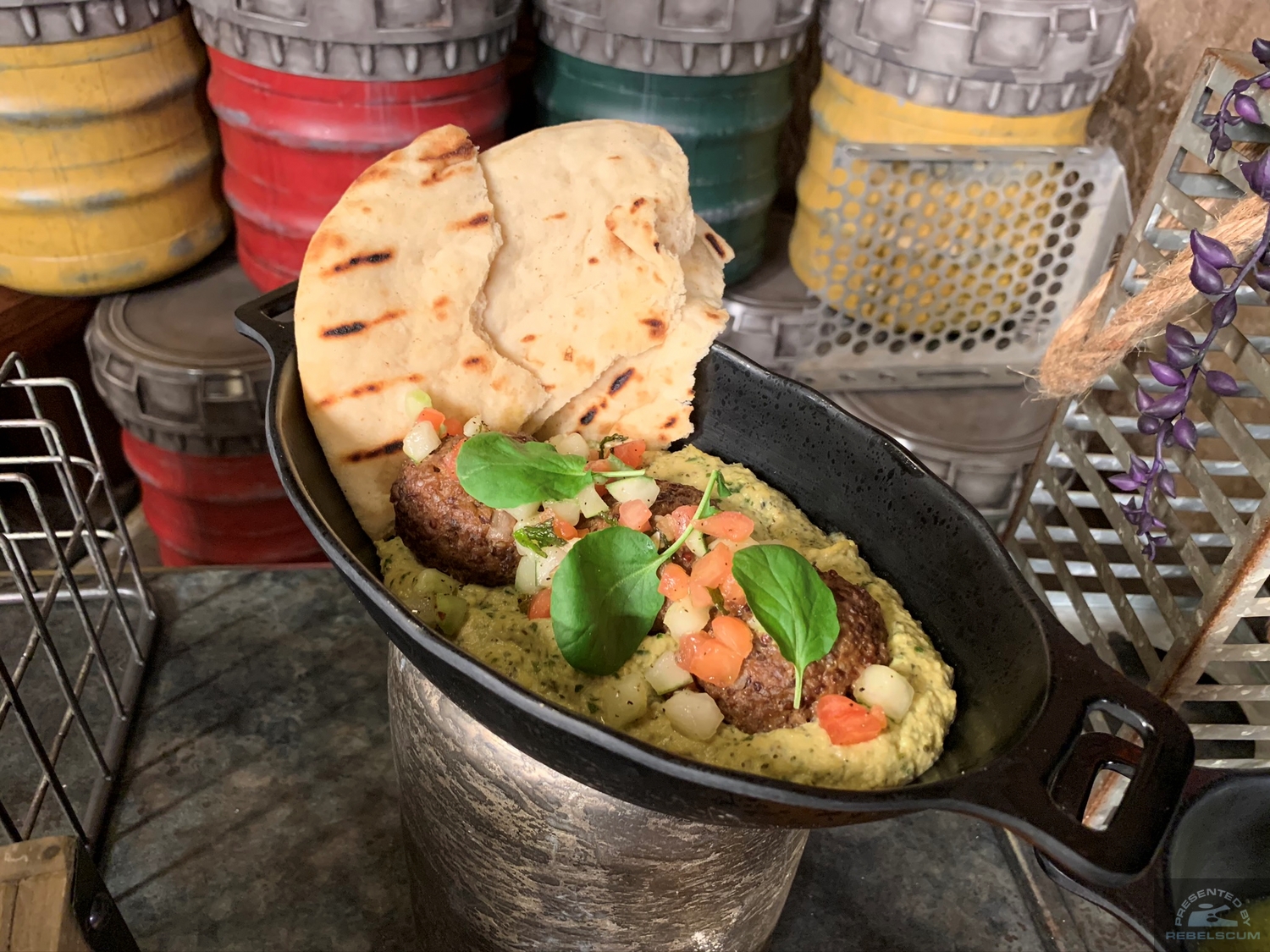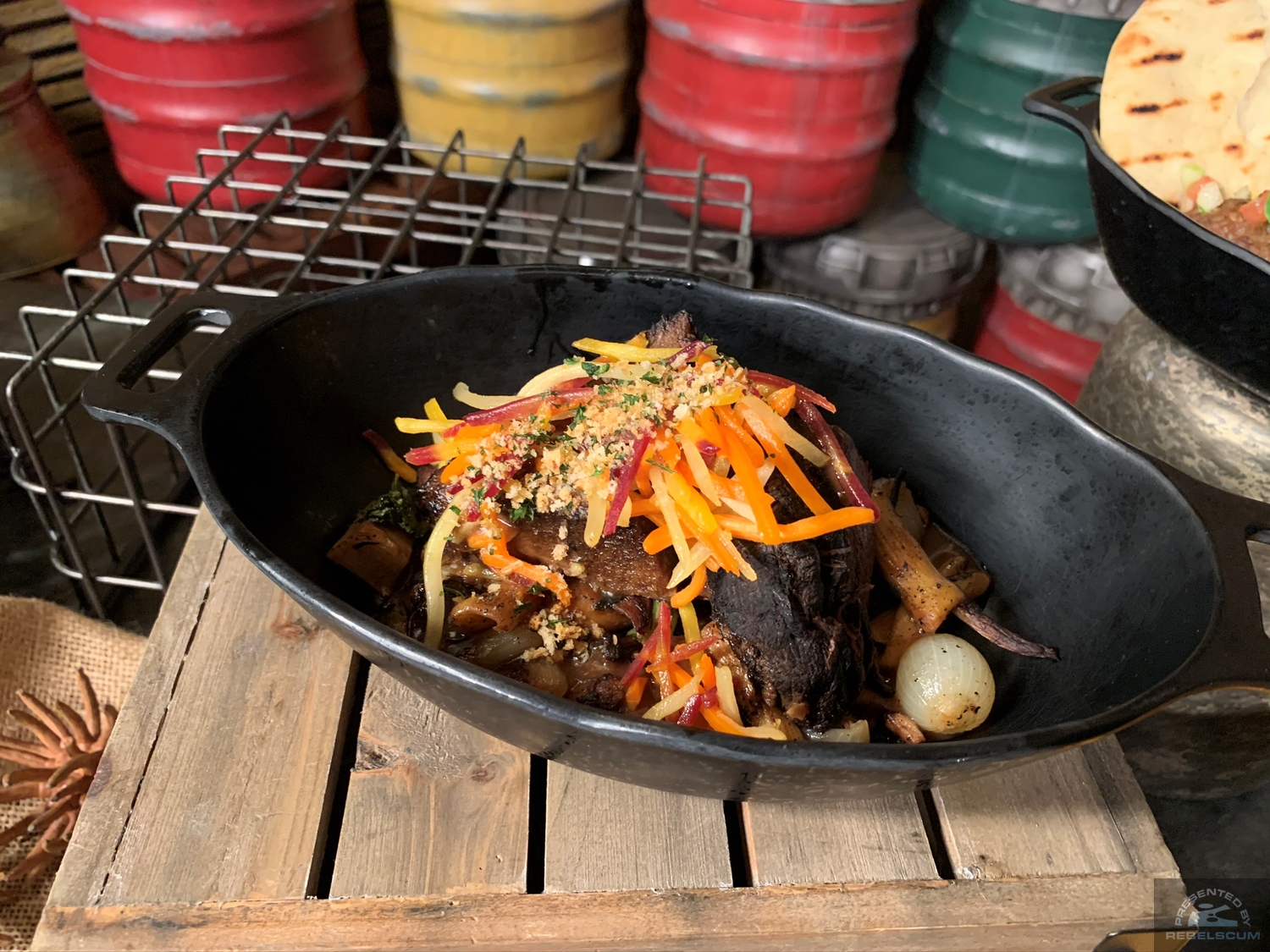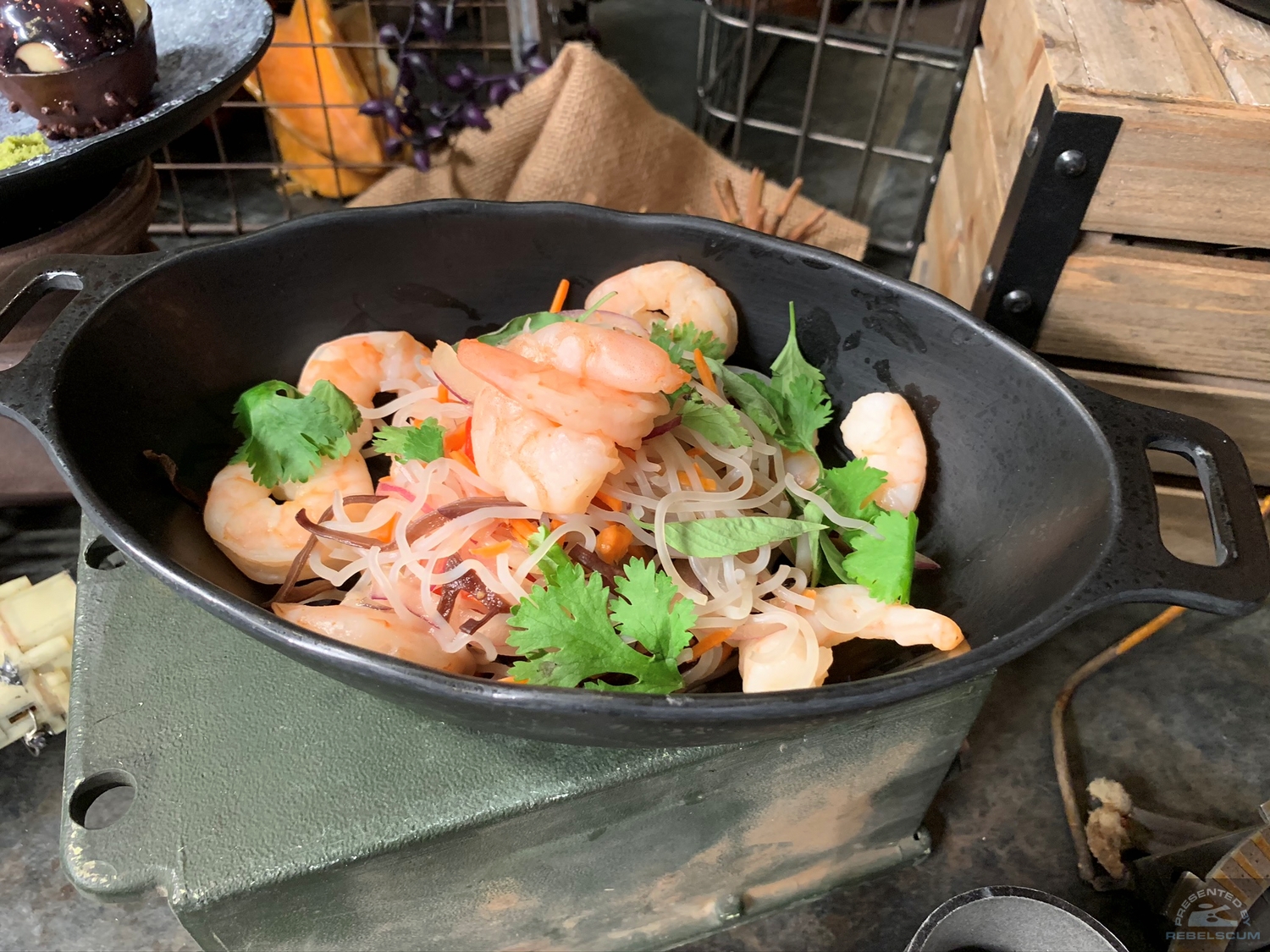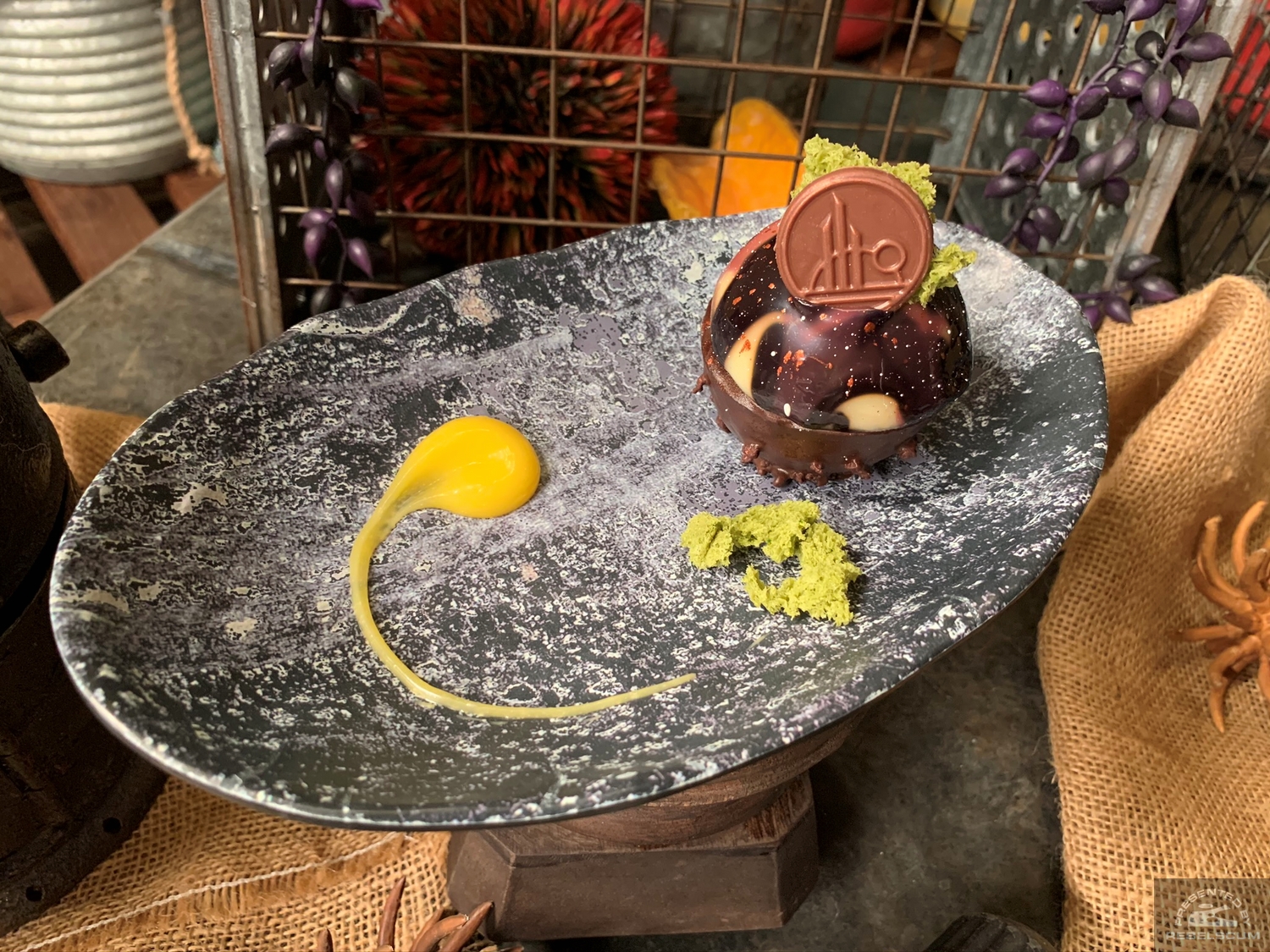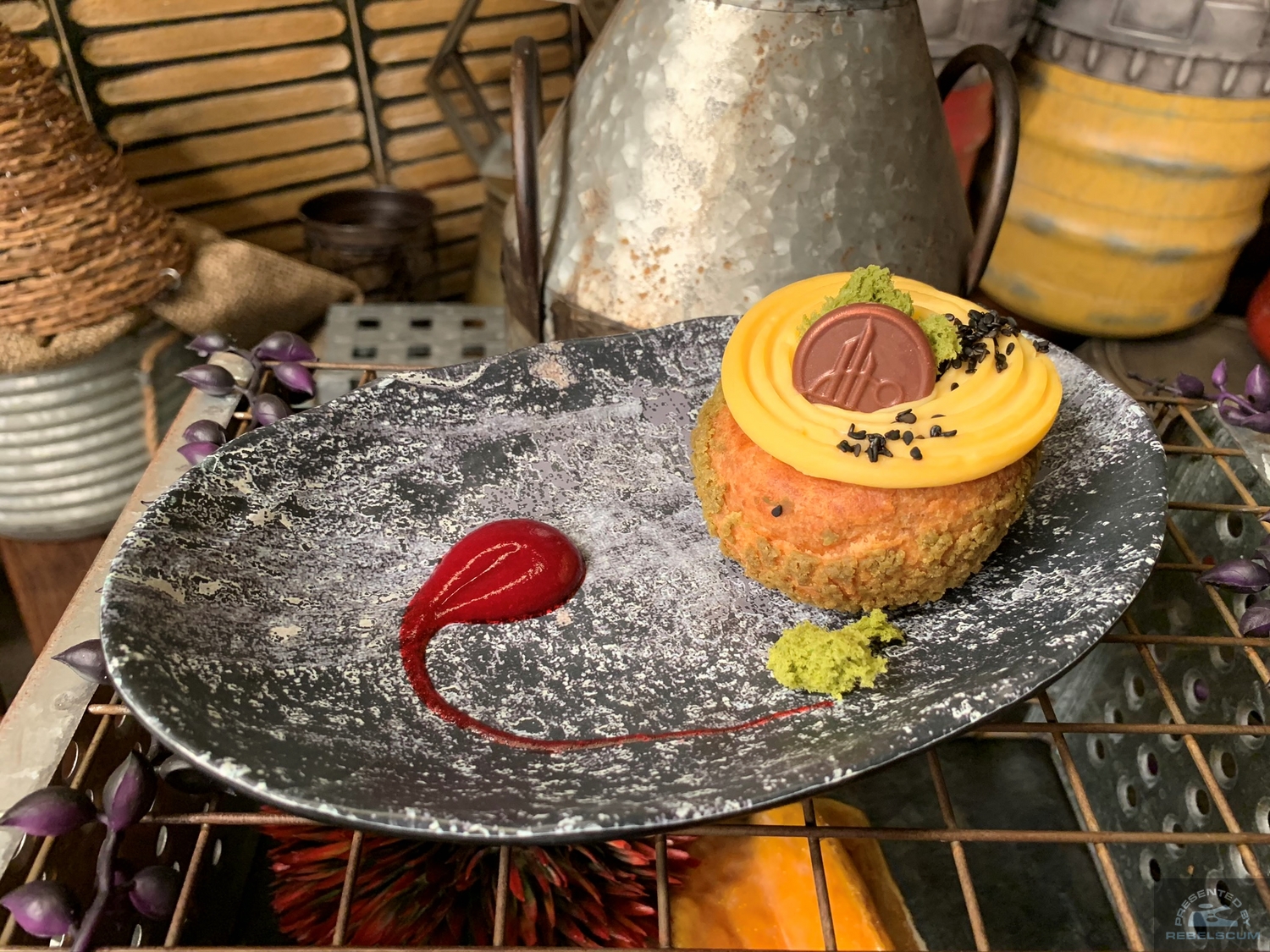 Some of the things not shown during our special media event that would come out the following day were two different MagicBands and additional pins that were not part of the Rise of the Resistance Collection.
My final interview was with Chef Chappy at Docking Bay 7 Food and Cargo. They had a beautiful display setup to show some of the offerings available to guests. He did mention to me that they receive all kinds of different ingredients each week and the menu could change at any time. Before that afternoon, I had not seen the breakfast options in person as I had only ever been to Galaxy's Edge later in the day, so I was glad to get a chance to see the Mustafarian Lava Roll and the Rising Moons Overnight Oats. Many of these offerings can be found in the
Official Black Spire Outpost Cookbook
as well.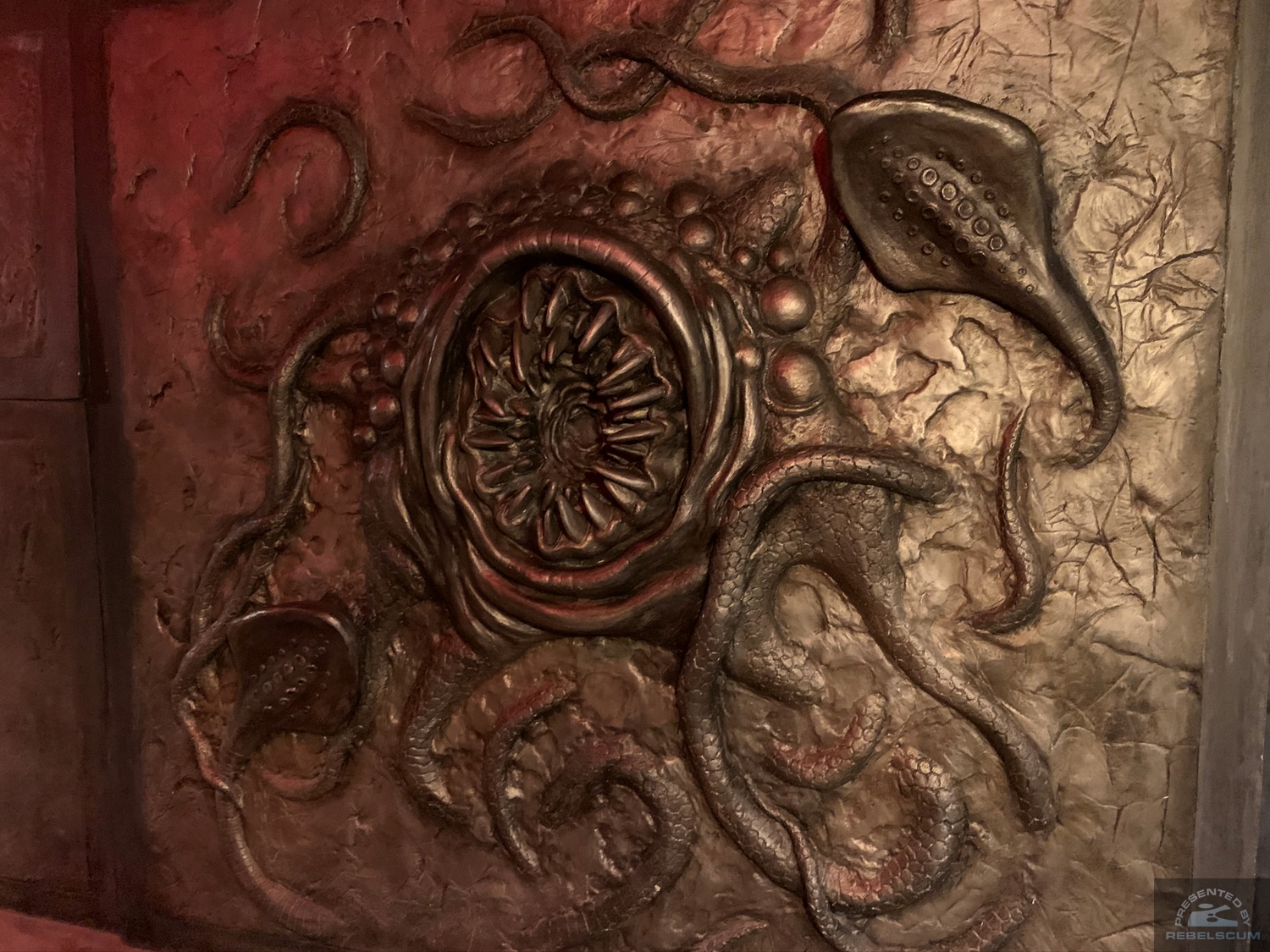 My last appointment for the day was another Ride Cam opportunity. This one was for the Millennium Falcon: Smugglers Run attraction. I'd been on this before several times, but never being recorded, so that was a lot of fun. This is also the first time I've noticed a Rathar coming out of the wall on the ride exit!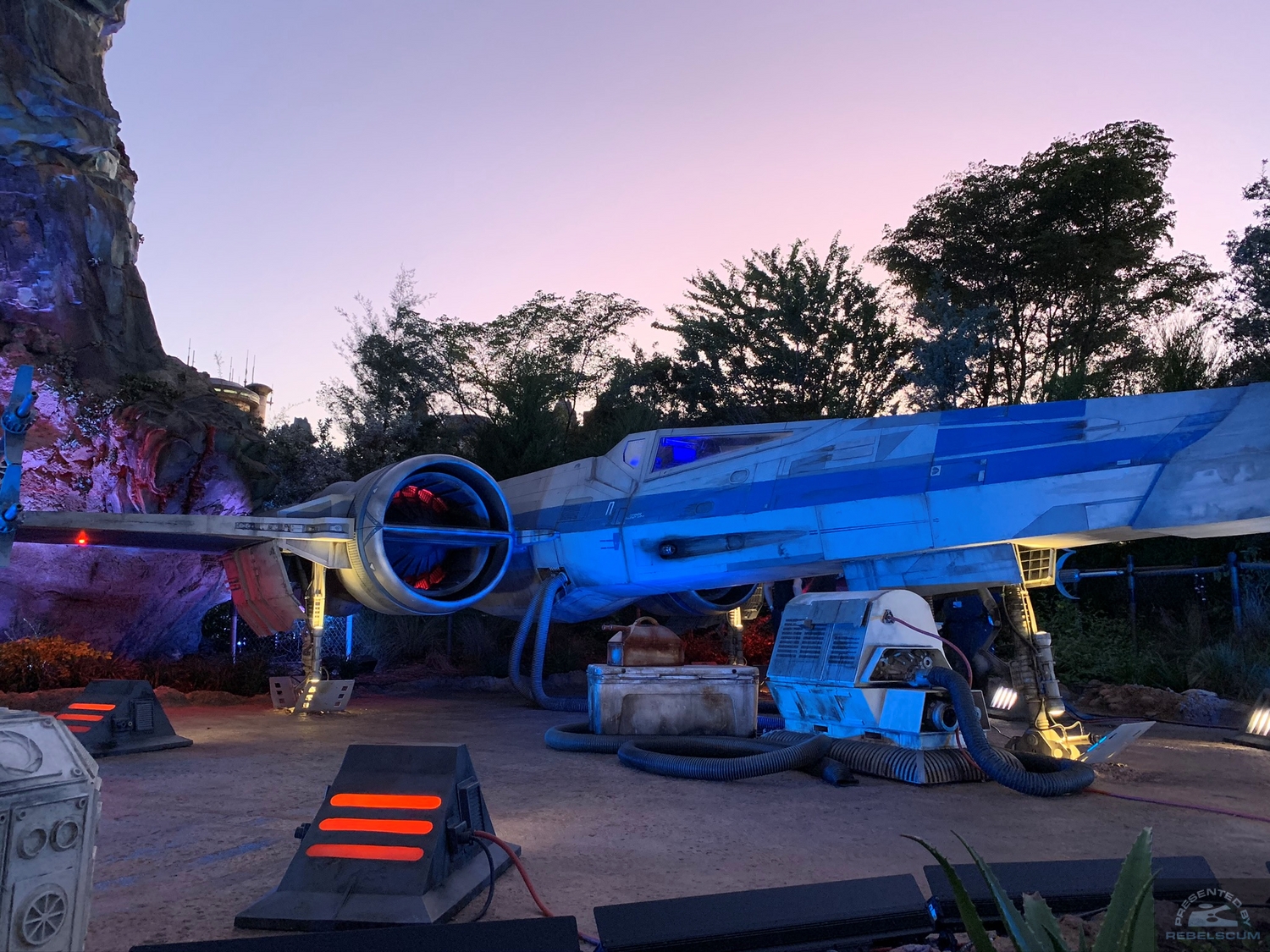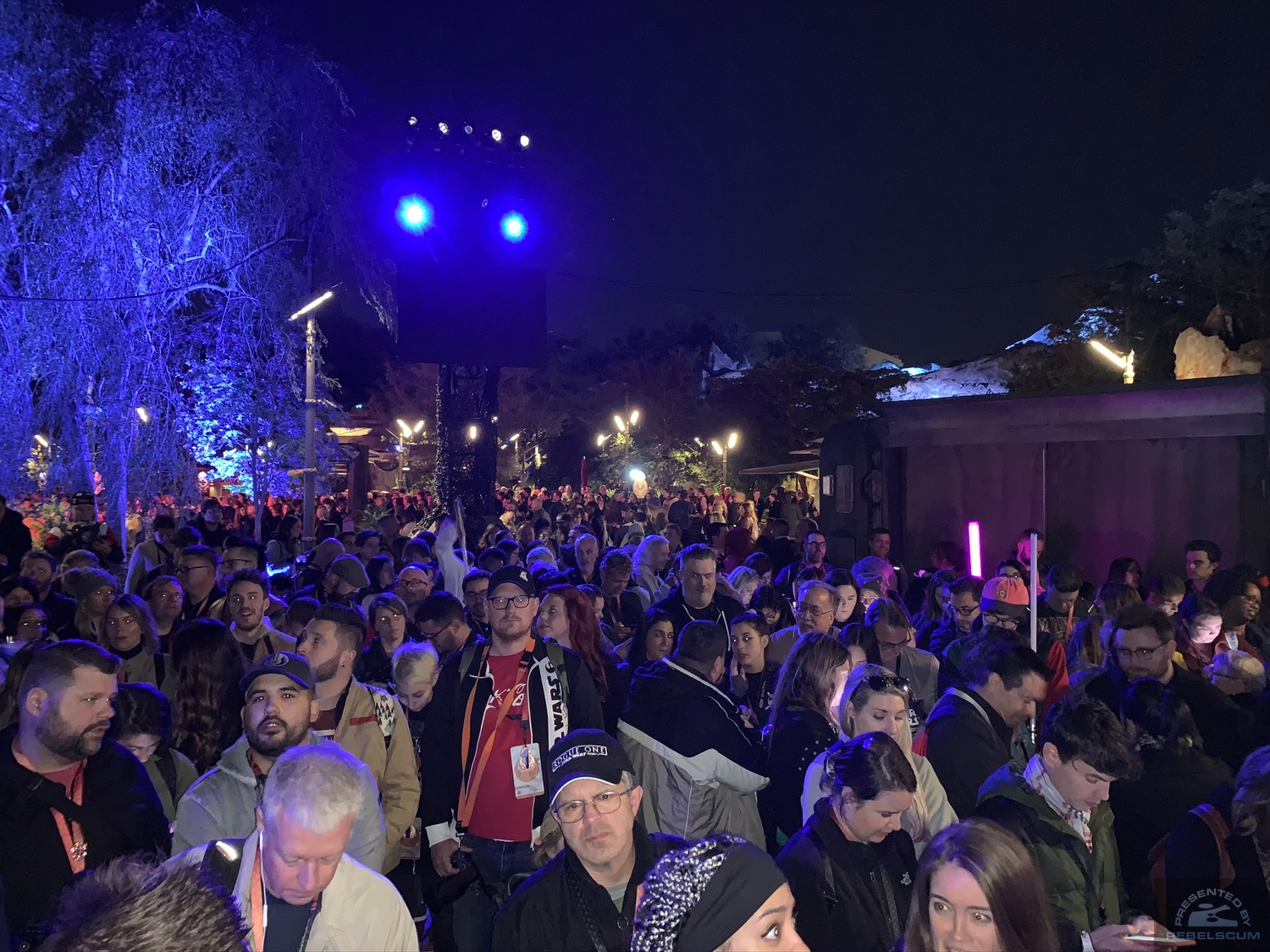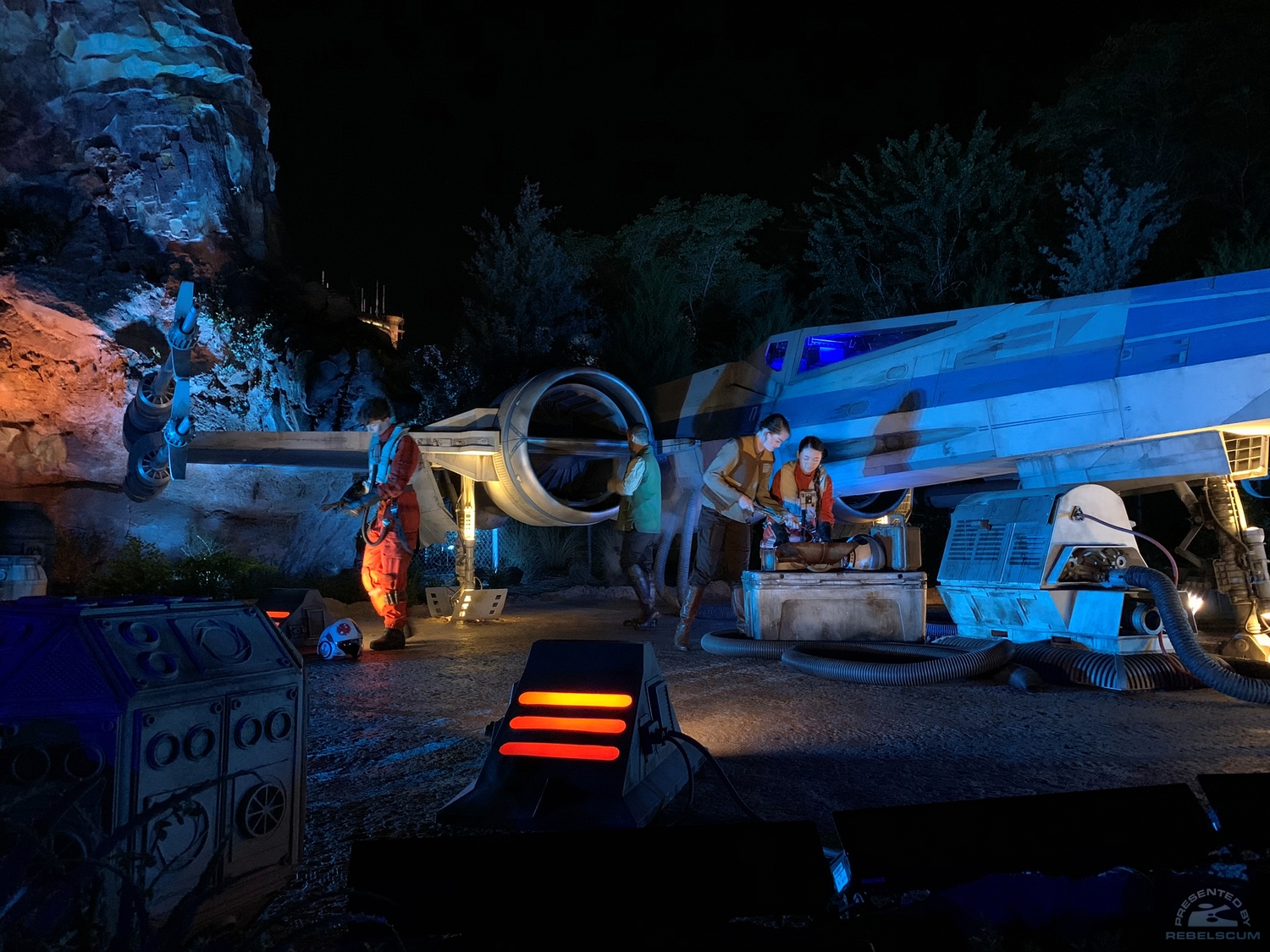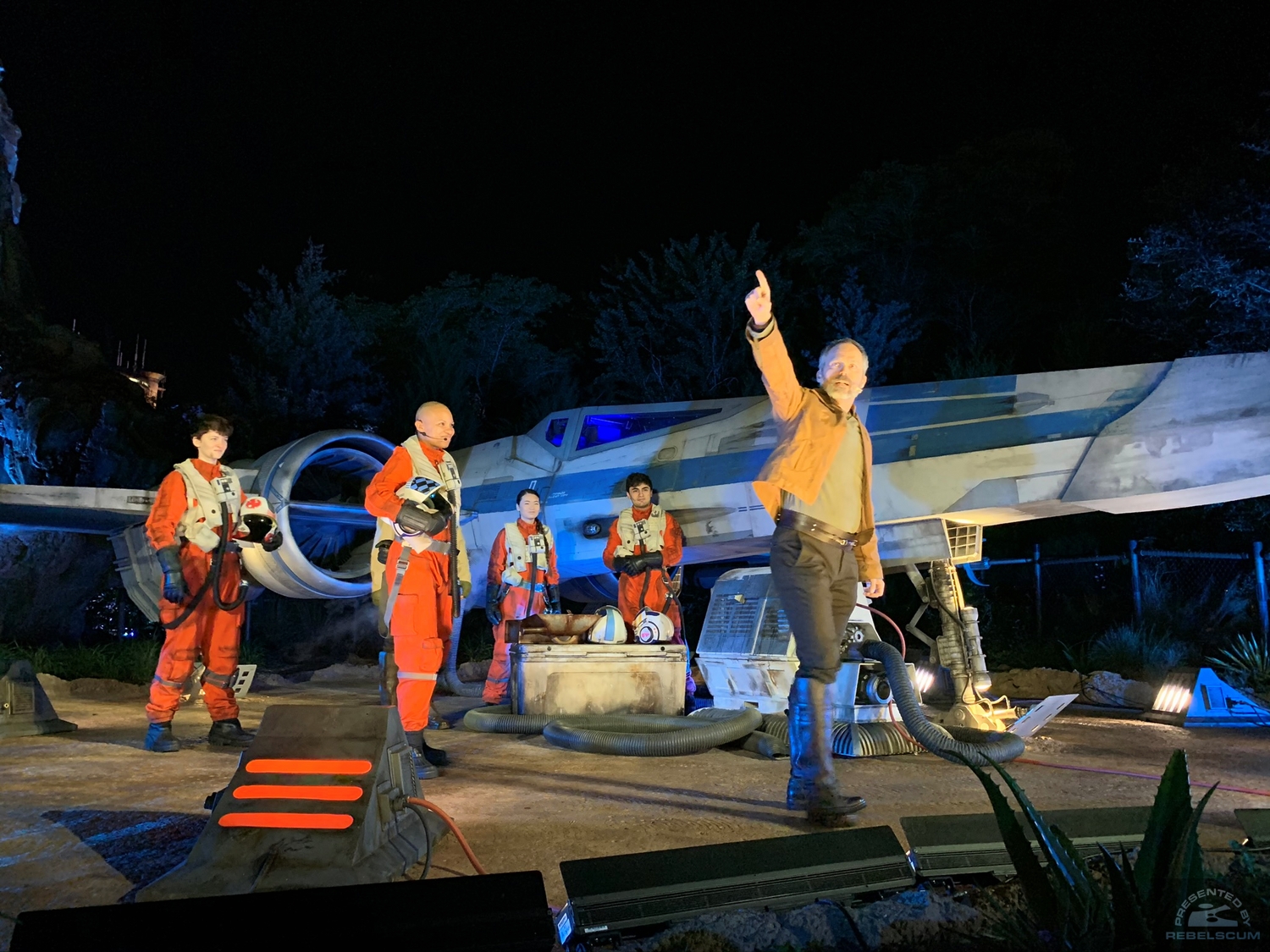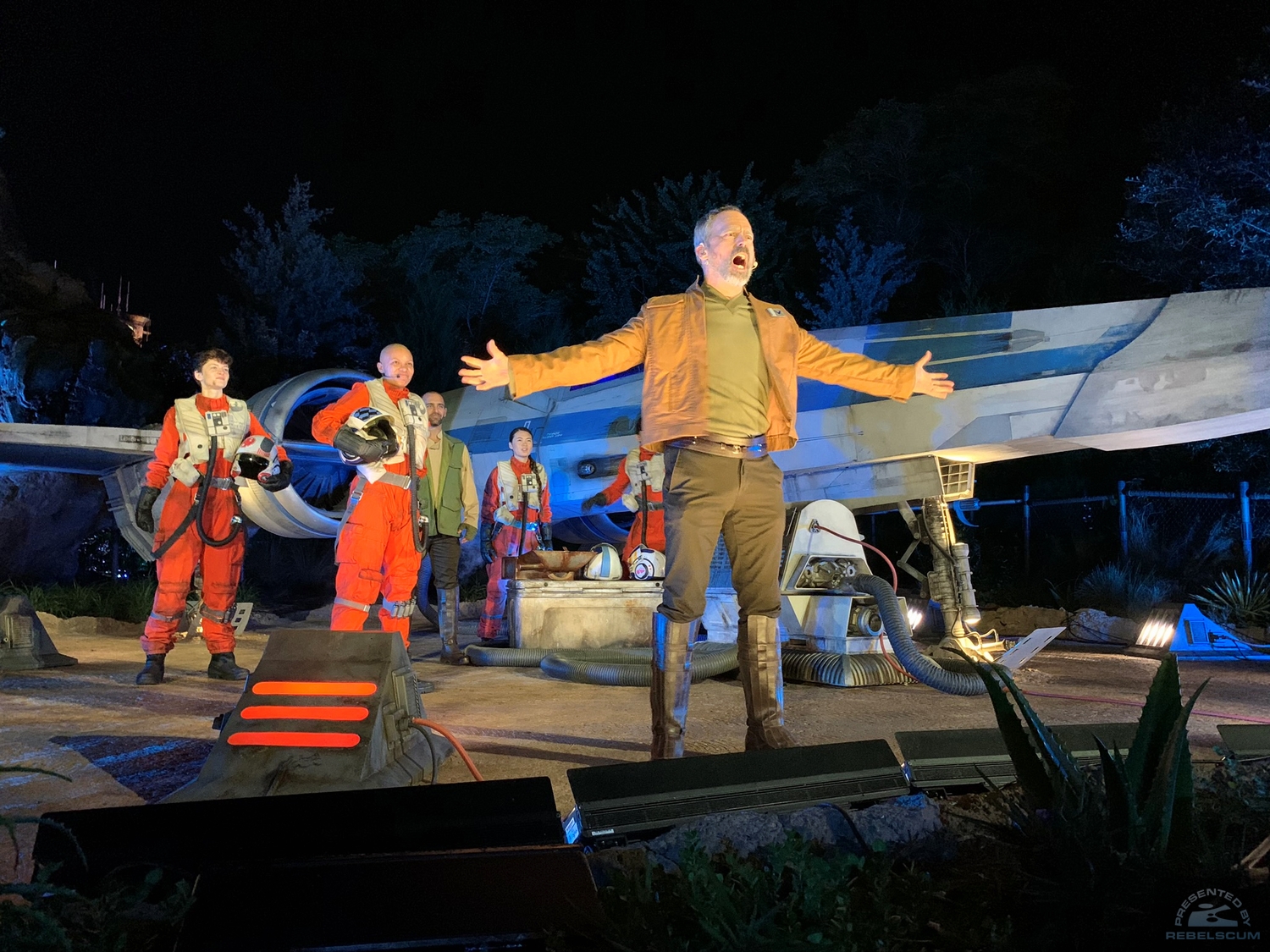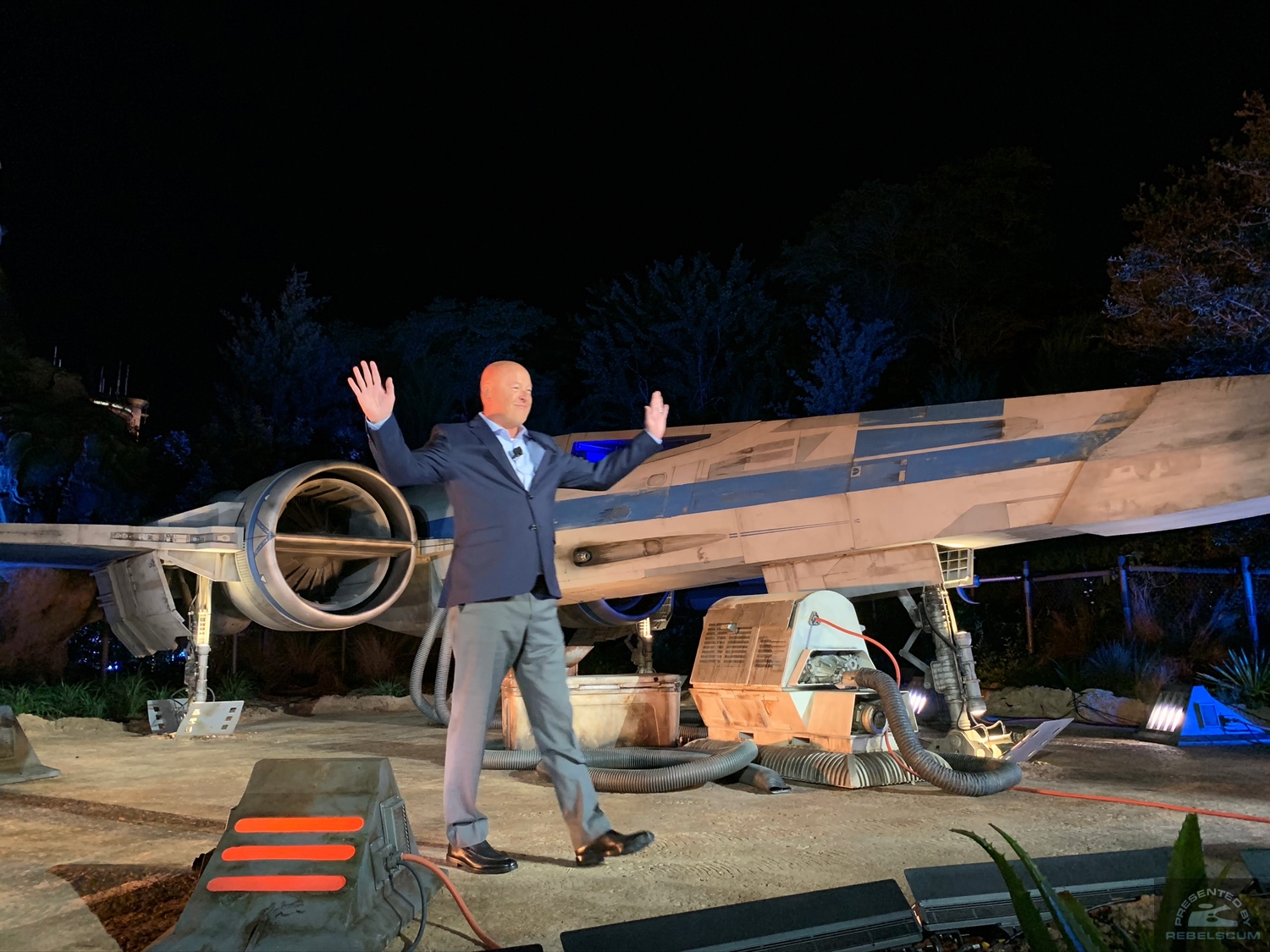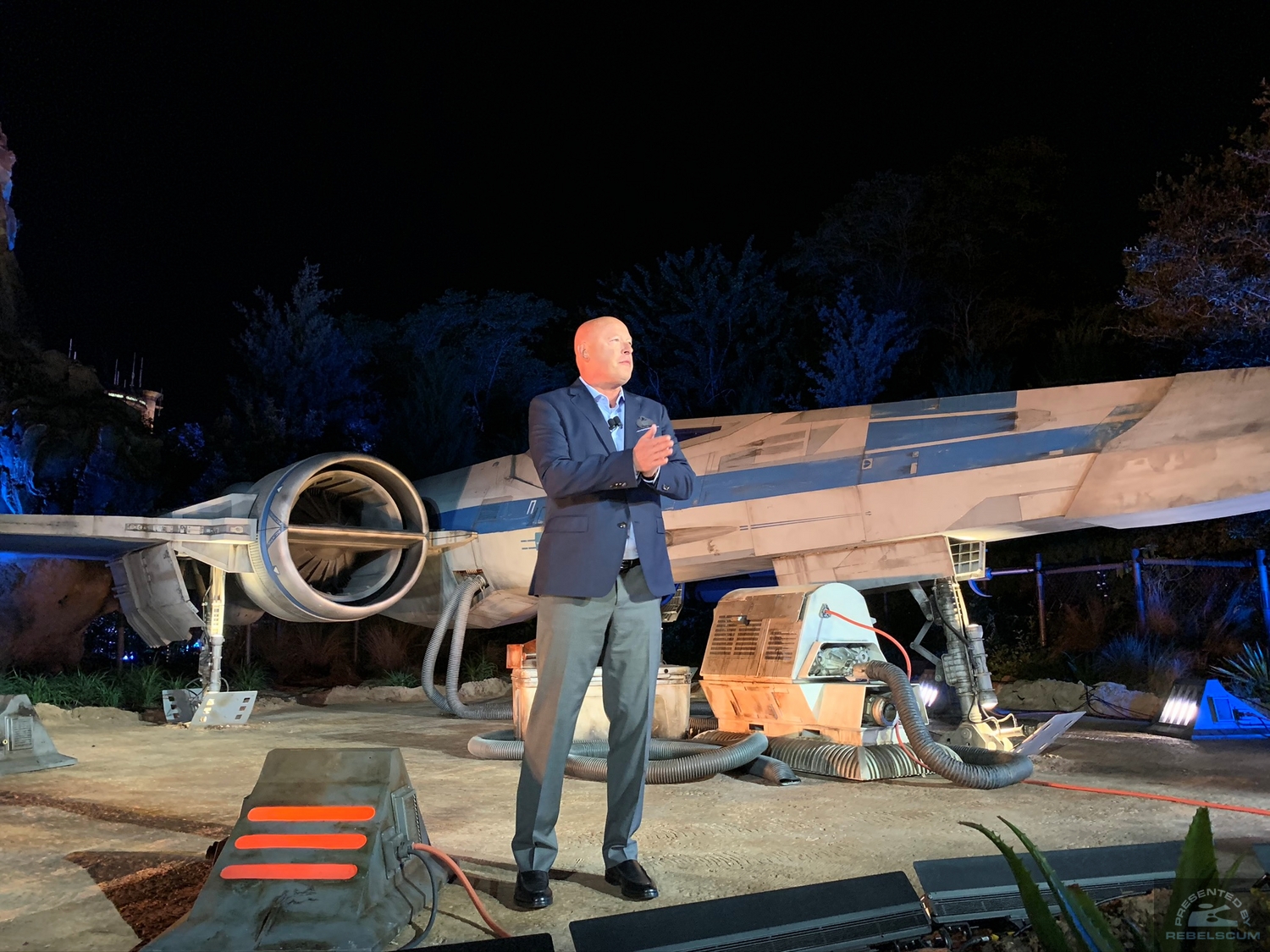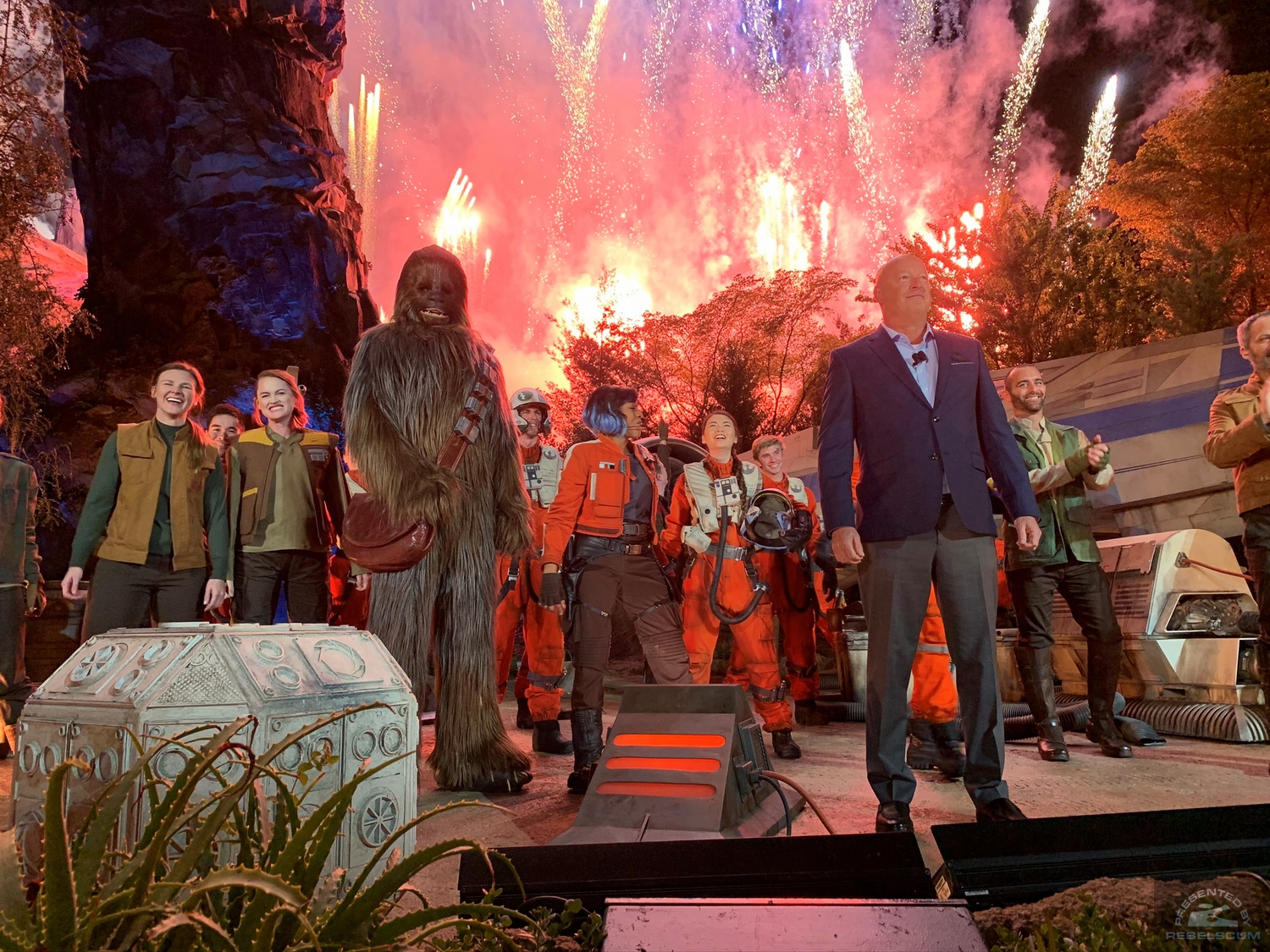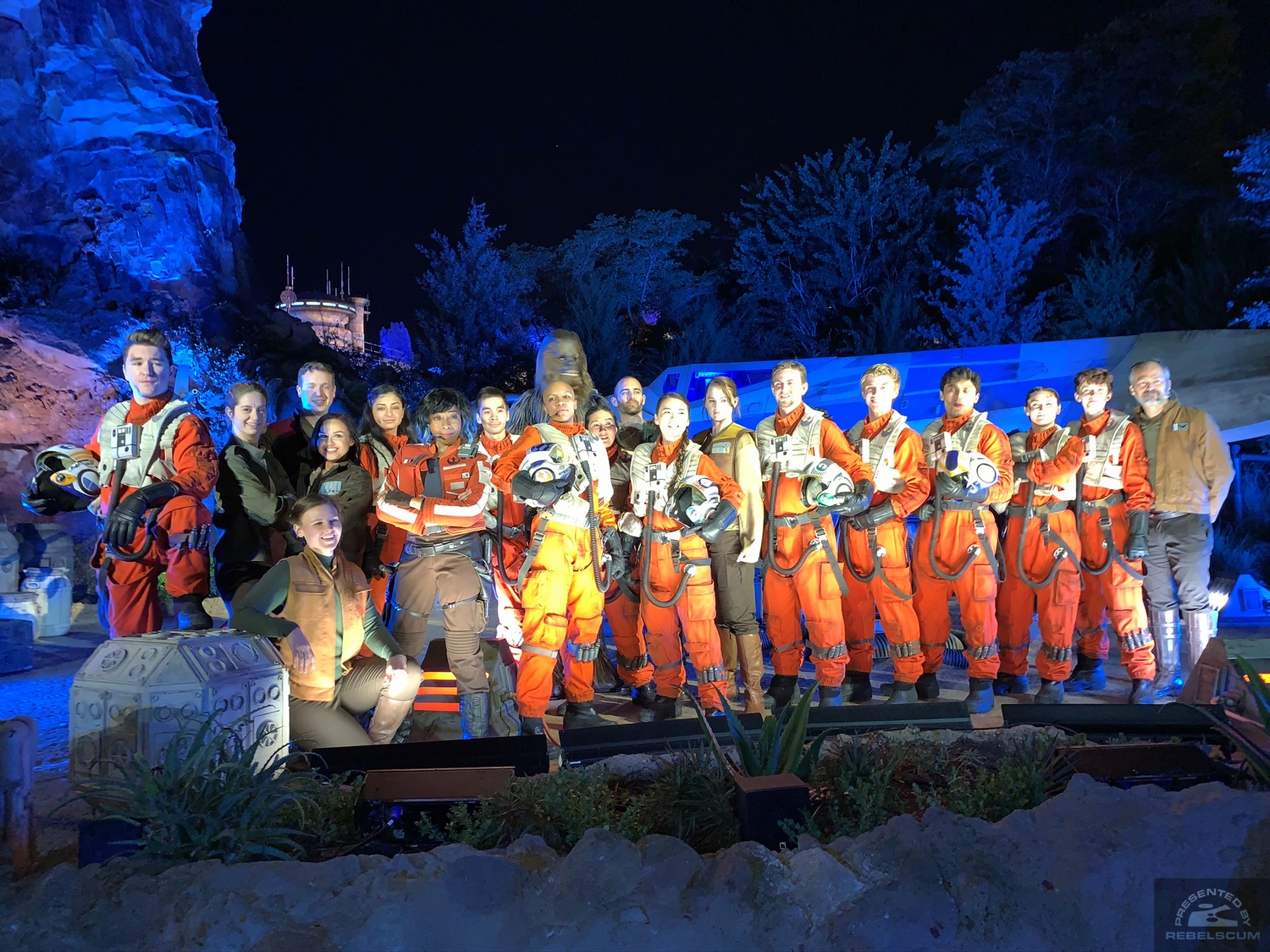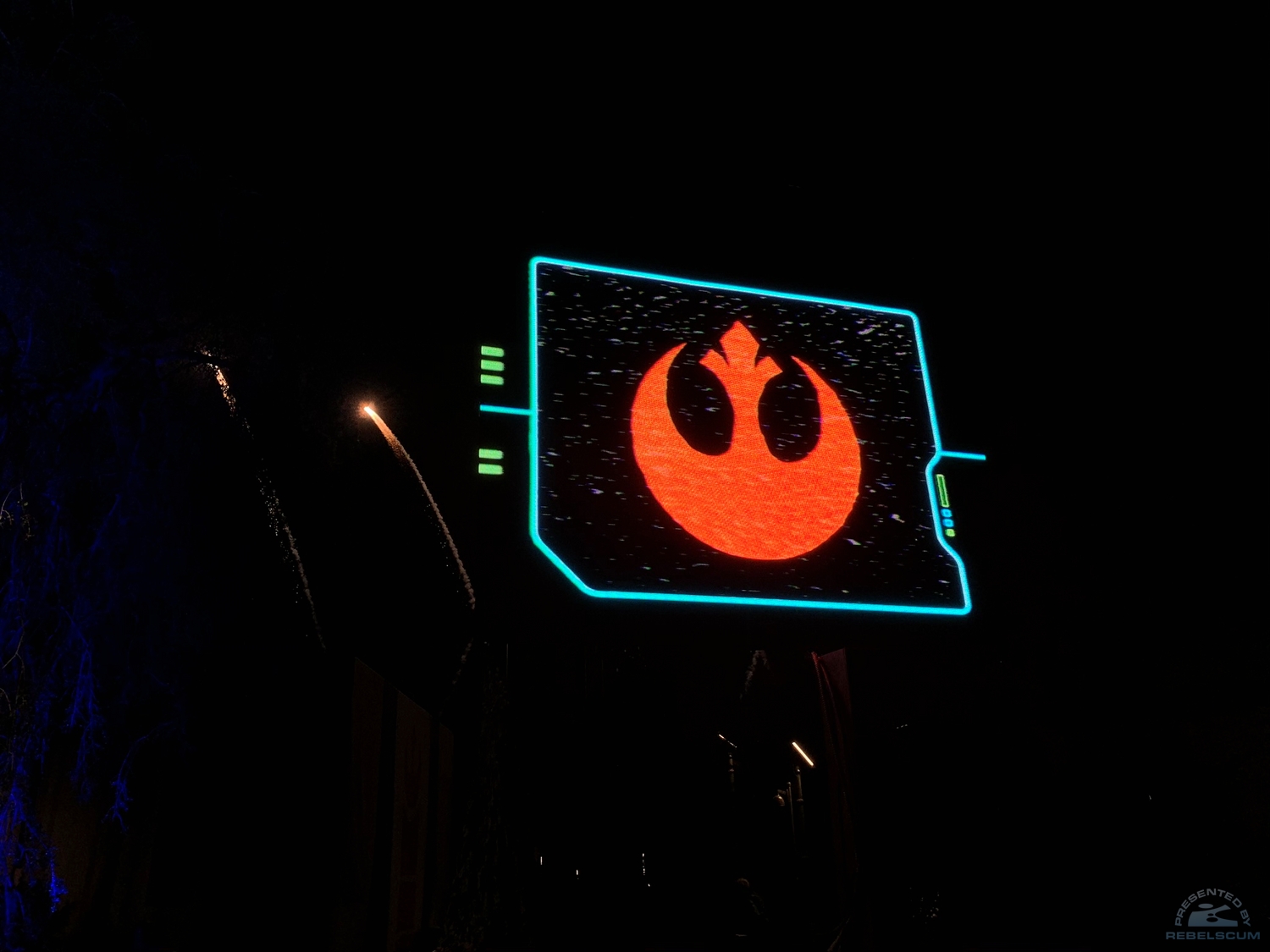 As the sun began to fall, I made my way to the front of the X-Wing stage where the
Star Wars: Rise of the Resistance
Dedication Ceremony would be taking place. Darkness fell across Batuu and Resistance pilots and crew began working on the X-Wing and the surrounding crates & supplies. A short time later, a grand speech was given by one of the Resistance fighters in preparation of a possible battle with the First Order and then, Disney debuted two X-Wing Fighter drones.
They rose above the Black Spire Outpost, dropped out of sight and then blasted off into Hyperspace. It really took the overall experience yet another notch higher. Bob Chapek, Chairman of Disney Parks, Experiences and Products, gave the official dedication speech which was followed by fireworks, cheers and a mighty wookiee roar from Chewbacca.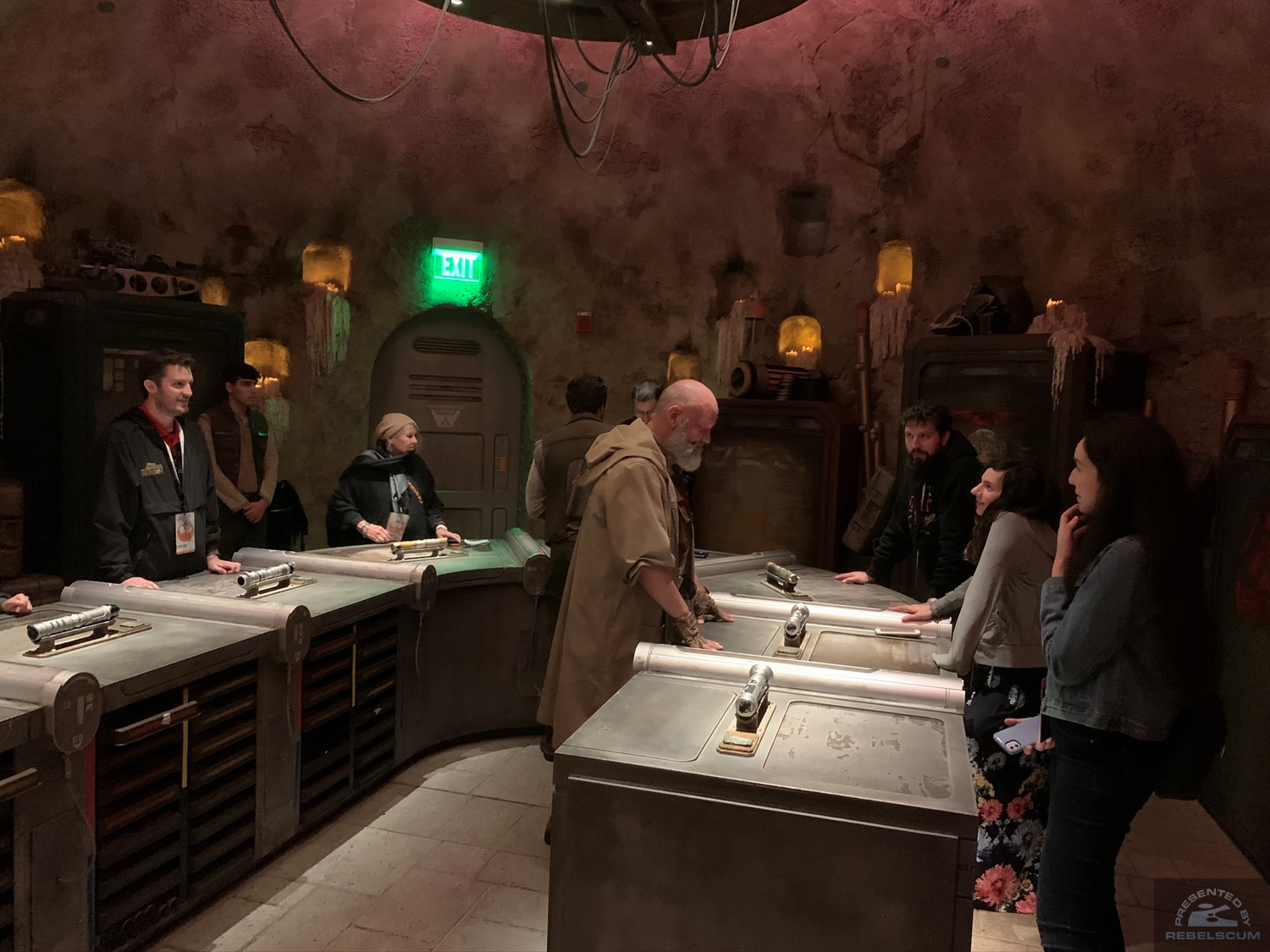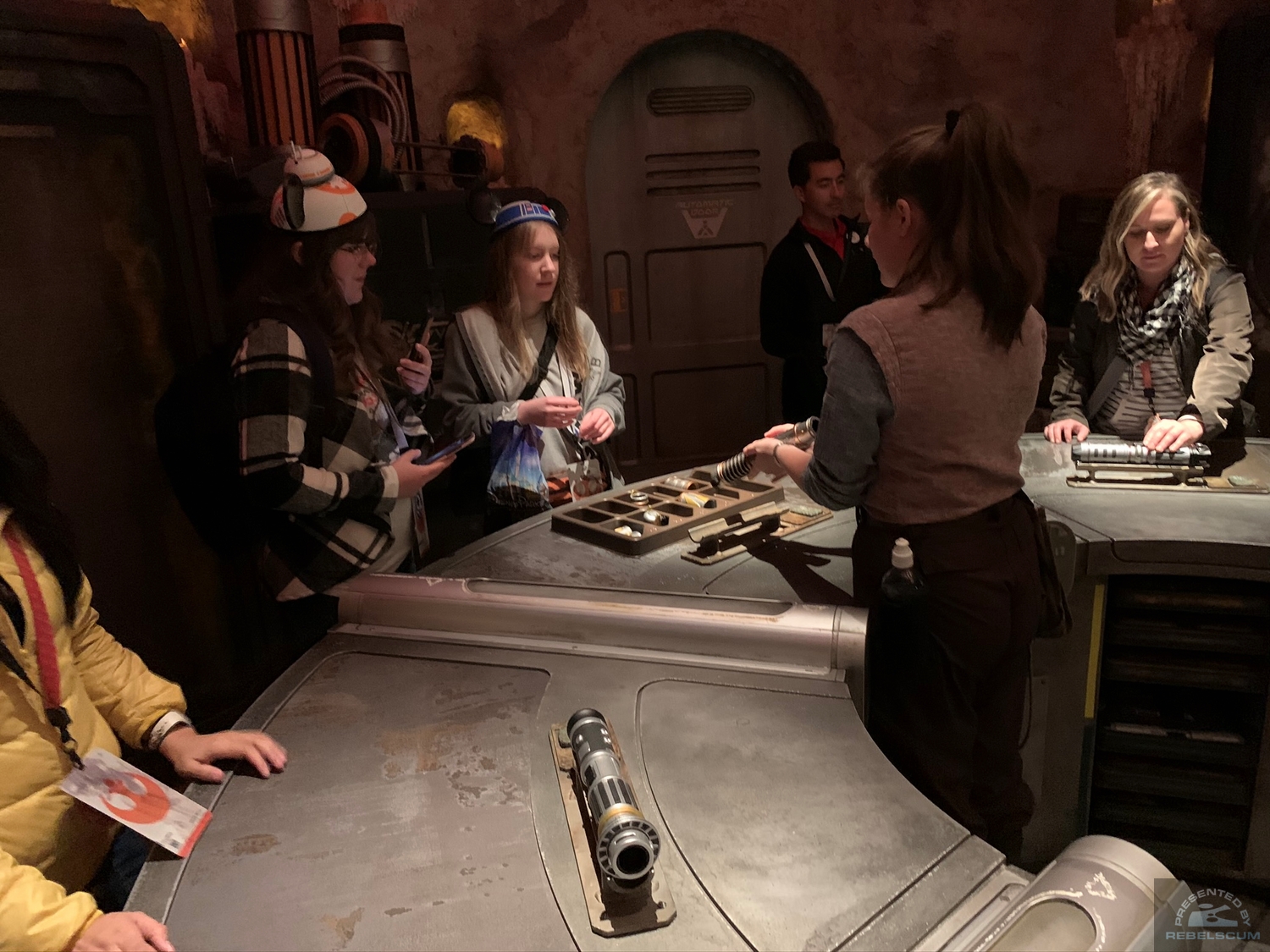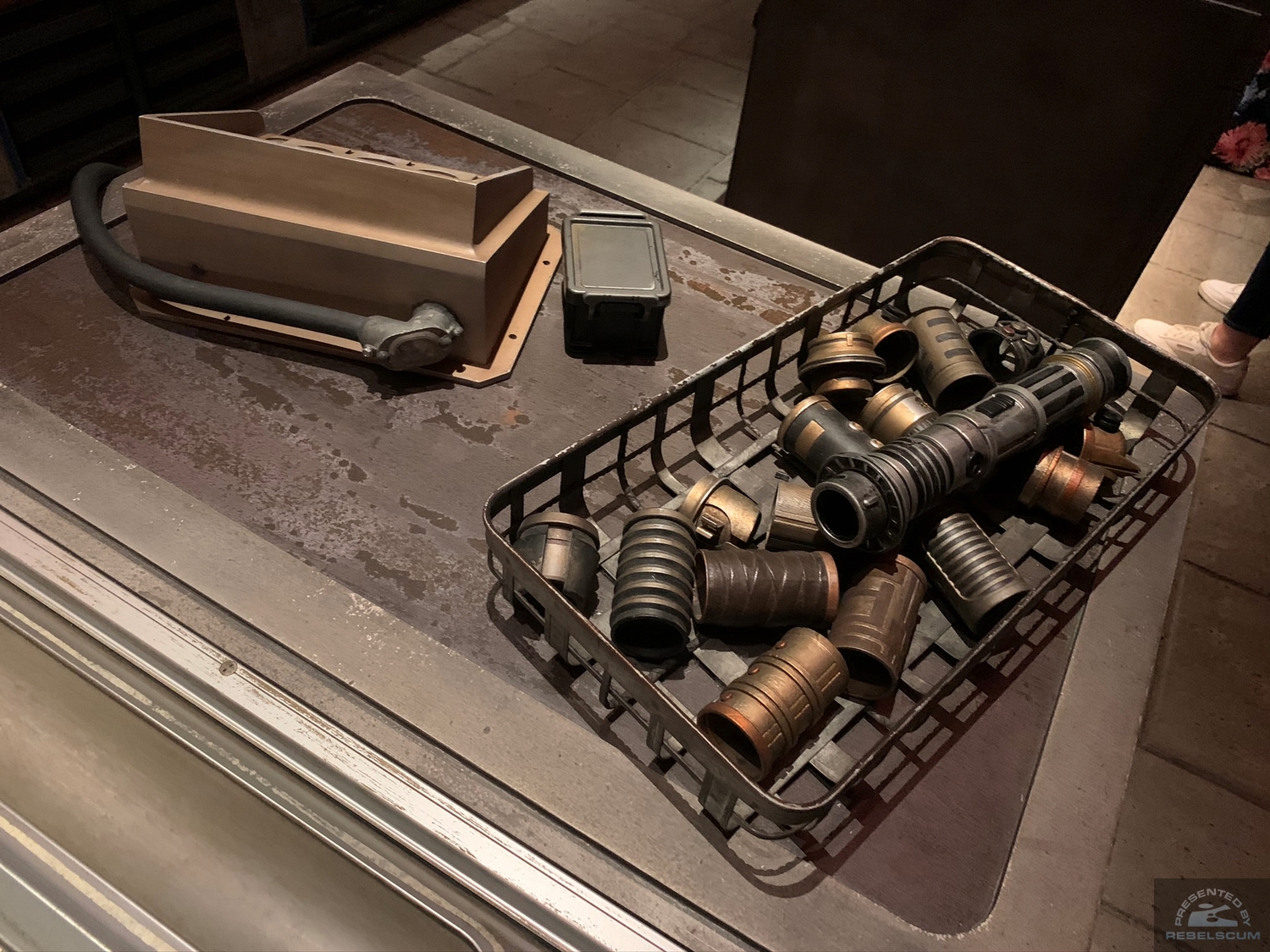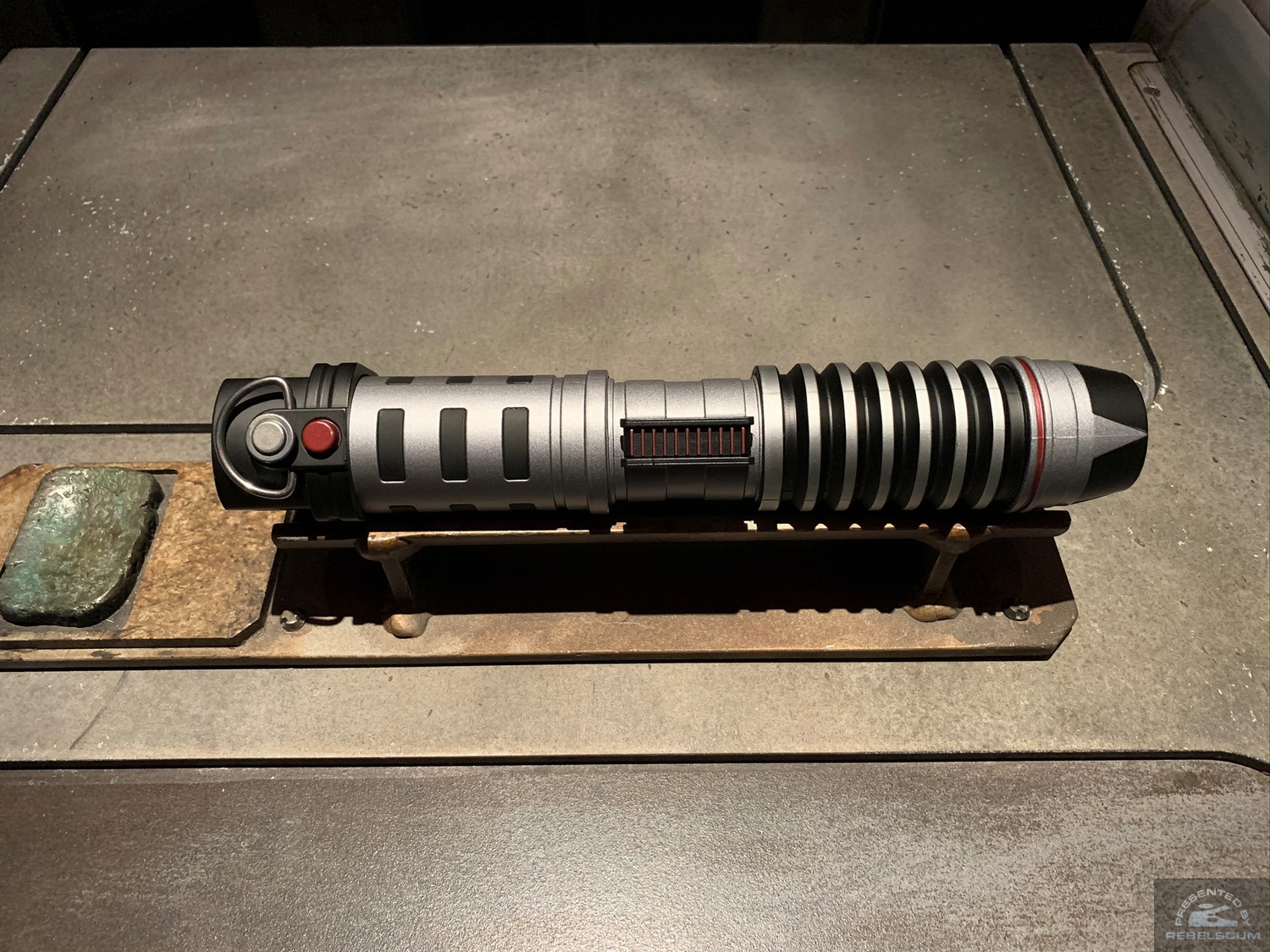 Dinner was served hors d'oeuvre style and consisted of various dishes available throughout the Black Spire Outpost. There were tables and chairs setup all over Galaxy's Edge as attendees mingled. Savi's Workshop was open and I hadn't experienced that particular store yet, so I took advantage of my time there and joined the short queue to build my very own lightsaber. The experience was quite serious and ridiculously fun. The night came to a close and it was back to the hotel for the final night on property.
Day 3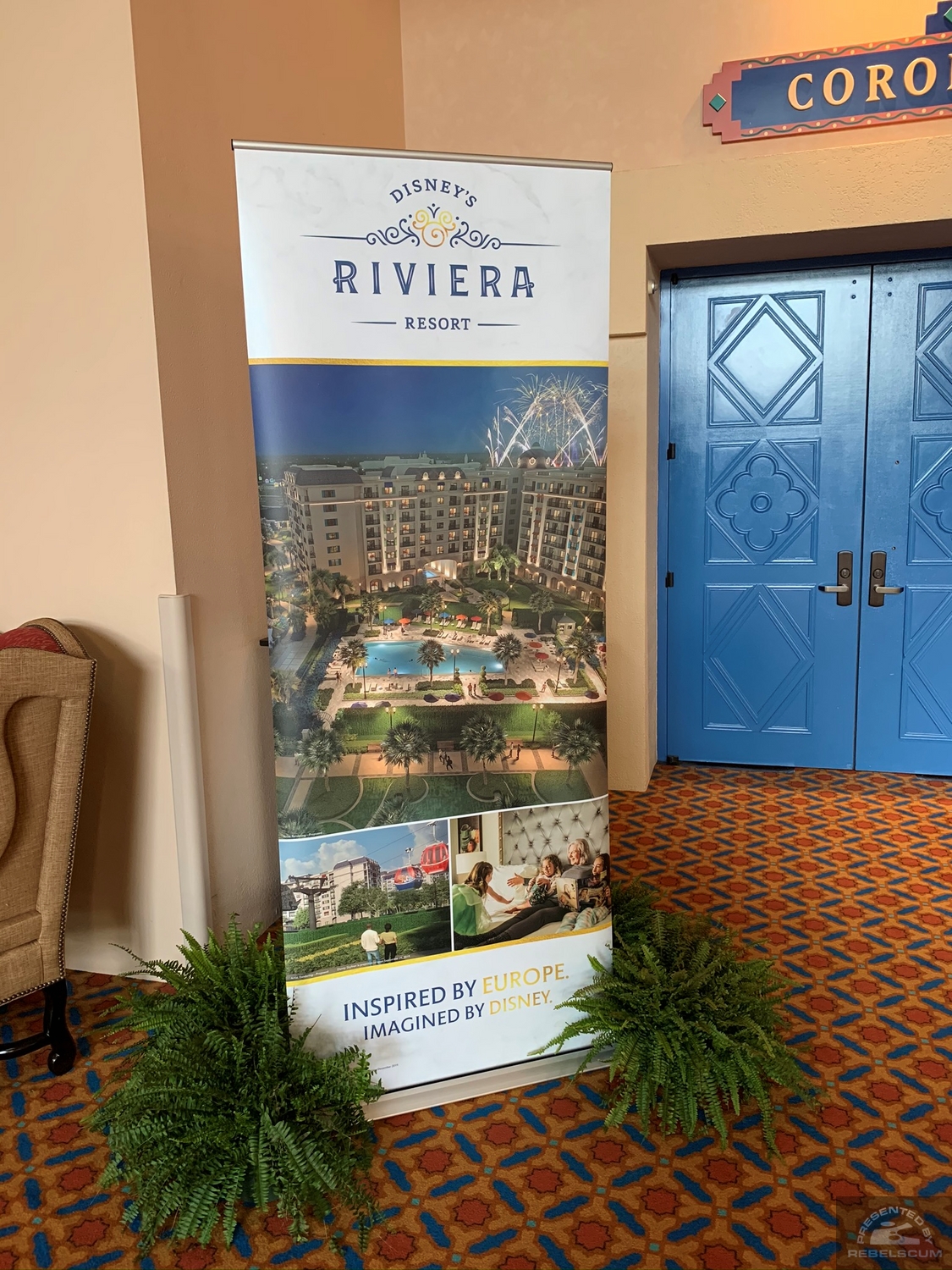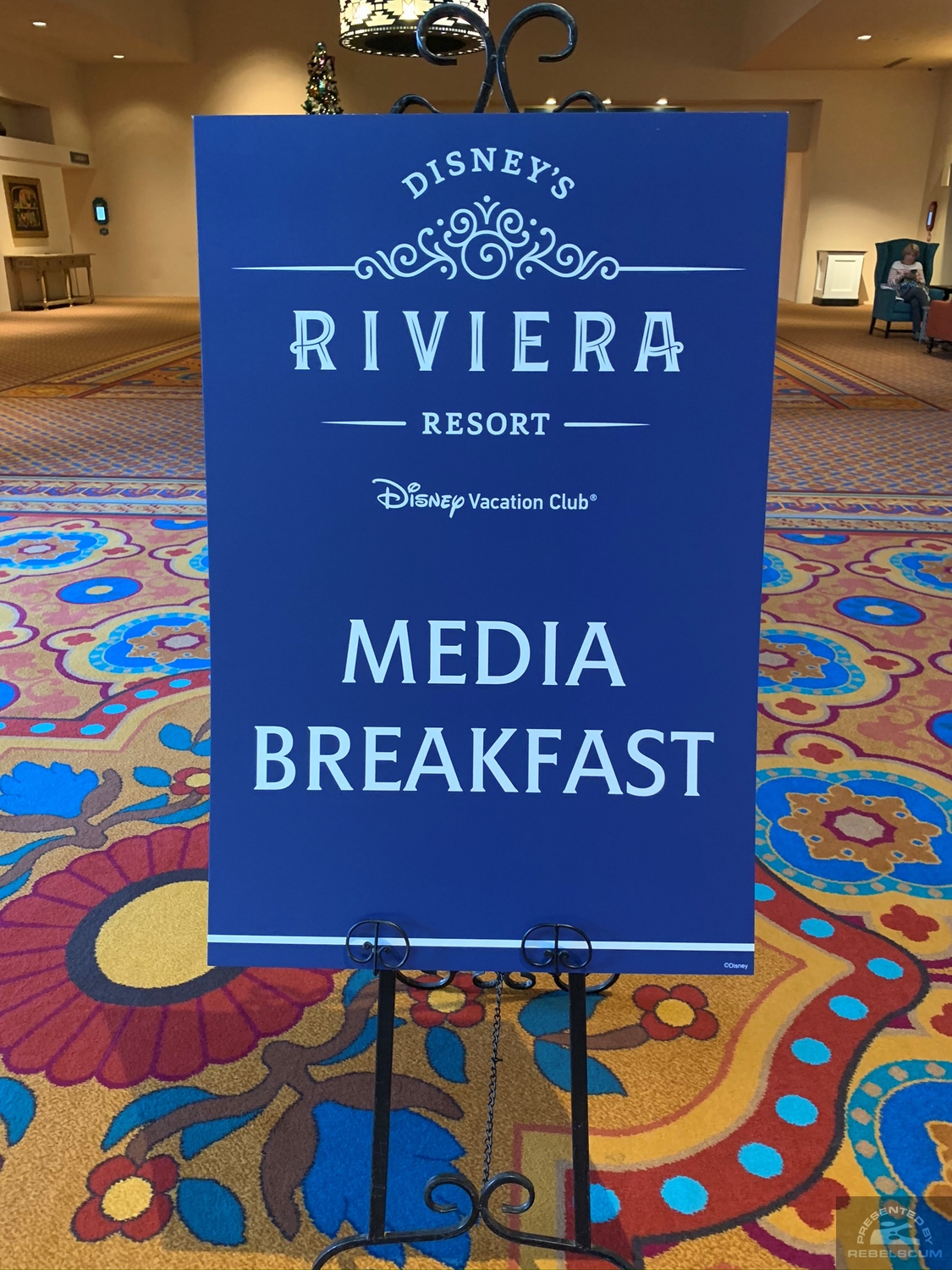 Our final day was a wonderful European style breakfast in one of the ballrooms at Disney's Coronado Springs Resort to share details about the brand new Disney's Riviera Resort exclusively for Disney Vacation Club Members opening on December 16th, 2019. While not
Star Wars
related, it was a nice way to cap off a fantastic couple of days and a treat to get a preview of what this stunning hotel will have to offer. The art alone will be worth visiting to see.
I want to extend a special thanks to my Disney rep, Georgette Varela, for keeping me on schedule, making sure we didn't miss anything and for being a fantastic guide! I also want to thank Disney & Lucasfilm Ltd. for the invite which allowed us the opportunity to bring you all of this amazing news and imagery. Hopefully, everyone will get the chance to make their way to Disney's Hollywood Studios (or Disneyland opening January 17, 2020) to experience
Star Wars: Rise of the Resistance
for themselves very soon.
---
Related Stories:
Star Wars Resistance - The New World/No Safe Place Review
Ashley Eckstein Visits Rise Of The Resistance
The Rise Of Skywalker Cast, Galaxy's Edge, Giant Screen Gaming And Adorable Animals, Oh My!
The Force In All of Us: Star Wars Families Presented By eBay
Star Wars "Ugly Sweaters" From Merchoid
Star Wars: Rise Of The Resistance TV Commercial
Exclusive Look At Poe's X-wing from Star Wars: Rise Of The Resistance
Disney World To Get Star Wars: Rise Of The Resistance Ride Open Before Disneyland

---