Posted by Jay on
May 21, 2020 at 06:47 PM CST
---
Marvel has sent out solicitations for their August 2020 titles, including 4 Star Wars comics and two Trades!

NOTE: Due to the COVID-19 pandemic, these titles have been re-solicited from their early dates.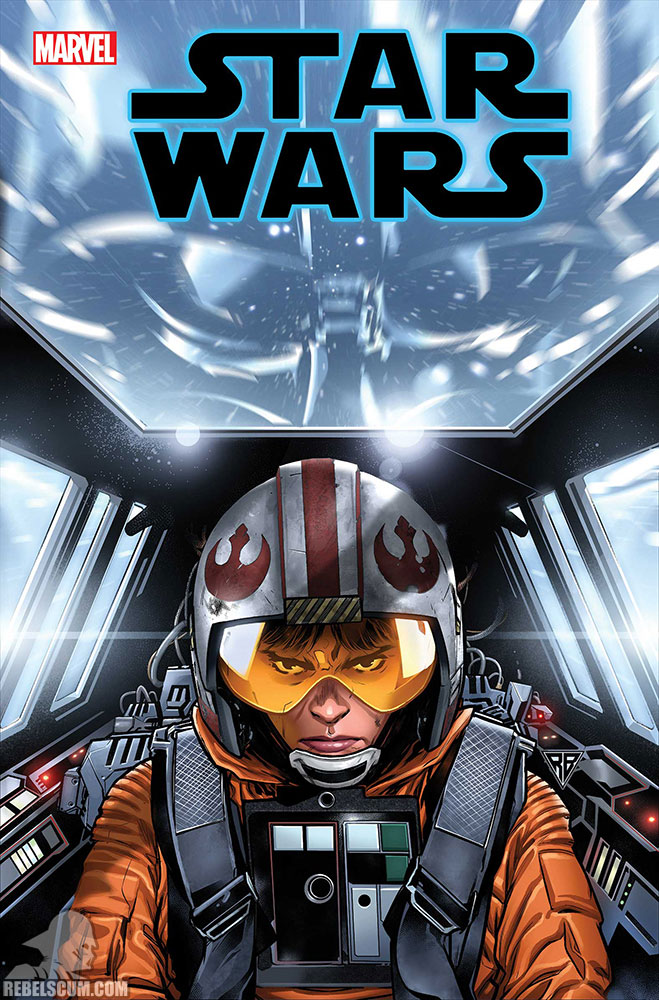 STAR WARS (2020) #5
CHARLES SOULE (W) • JESÚS SAIZ (A) • Cover by R.B. SILVA
EMPIRE STRIKES BACK VARIANT COVER BY CHRIS SPROUSE
VARIANT COVER BY PATRICK ZIRCHER
The next steps on Luke Skywalker's search for Jedi wisdom begin here!
• Following a mysterious vision he received on CLOUD CITY, Luke travels to a lost planet looking for a woman he believes may hold the key to his Jedi future and that of the entire Rebellion.
• But will he arrive at his destination in time to learn what he needs... or will the evil DARTH VADER get there first?
32 PGS./Rated T …$3.99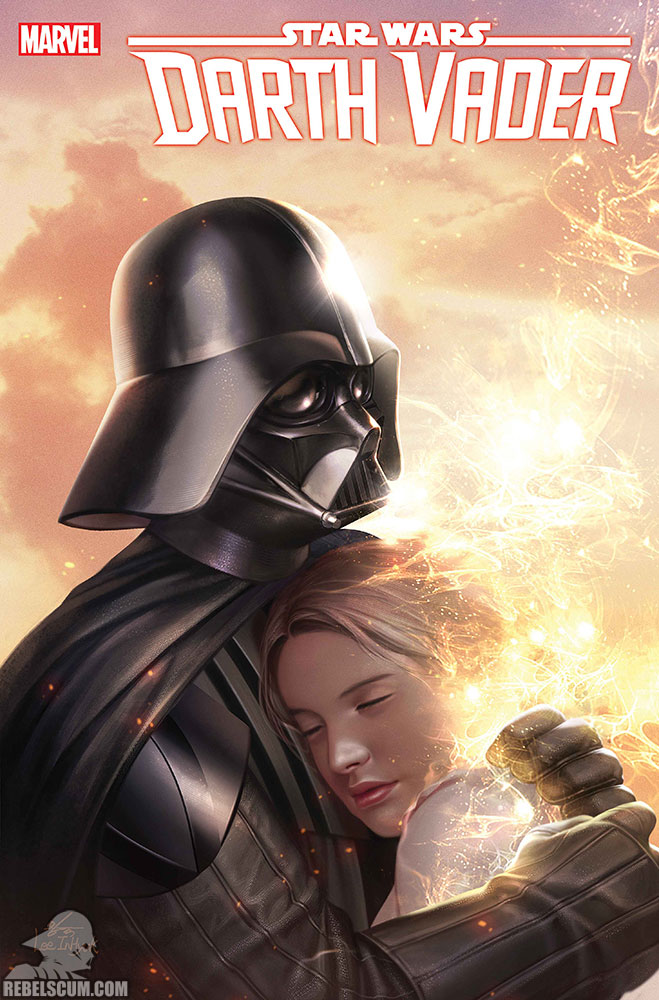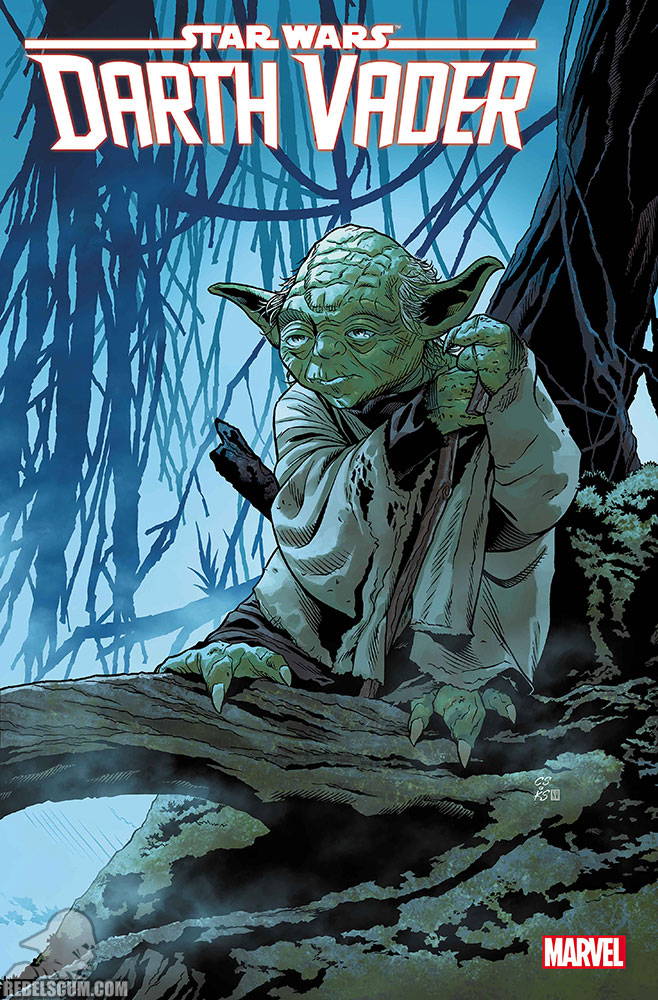 STAR WARS: DARTH VADER (2020) #4
GREG PAK (W) • RAFFAELE IENCO (A) • Cover By Inhyuk Lee
Empire Strikes Back Variant COVER by CHRIS SPROUSE
WHO HUNTS THE HUNTER?
• DARTH VADER continues his terrifying quest for vengeance against everyone who hid the existence of his son from him.
• But on NABOO, the DARK LORD OF THE SITH faces a deadly new challenge as his focus turns from LUKE to PADMÉ, the wife of the man Vader used to be. 
• And what secrets lie in the tomb of PADMÉ AMIDALA?
32 PGS./Rated T …$3.99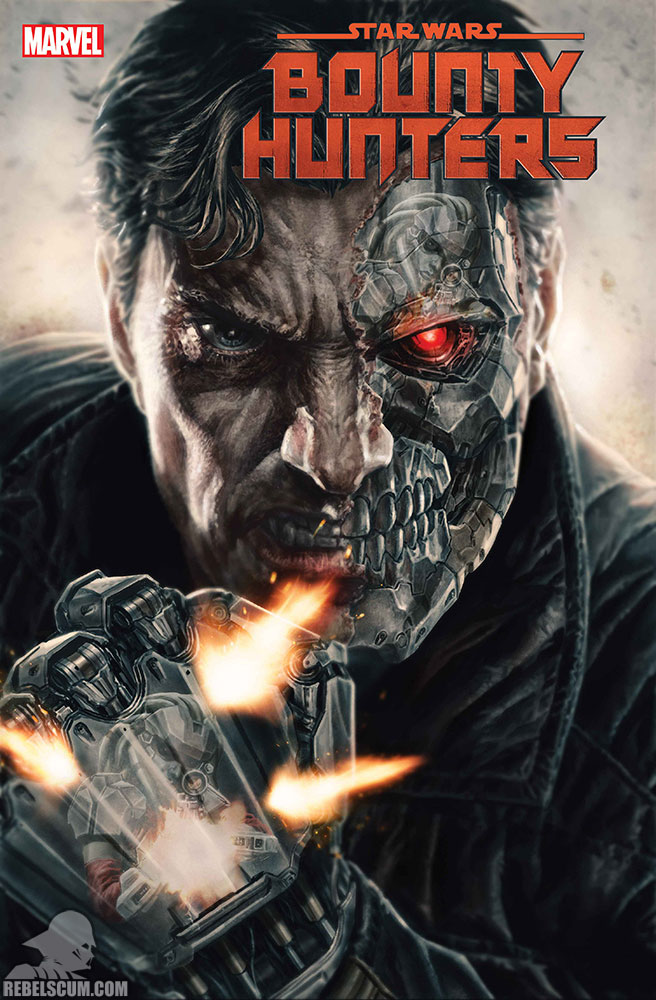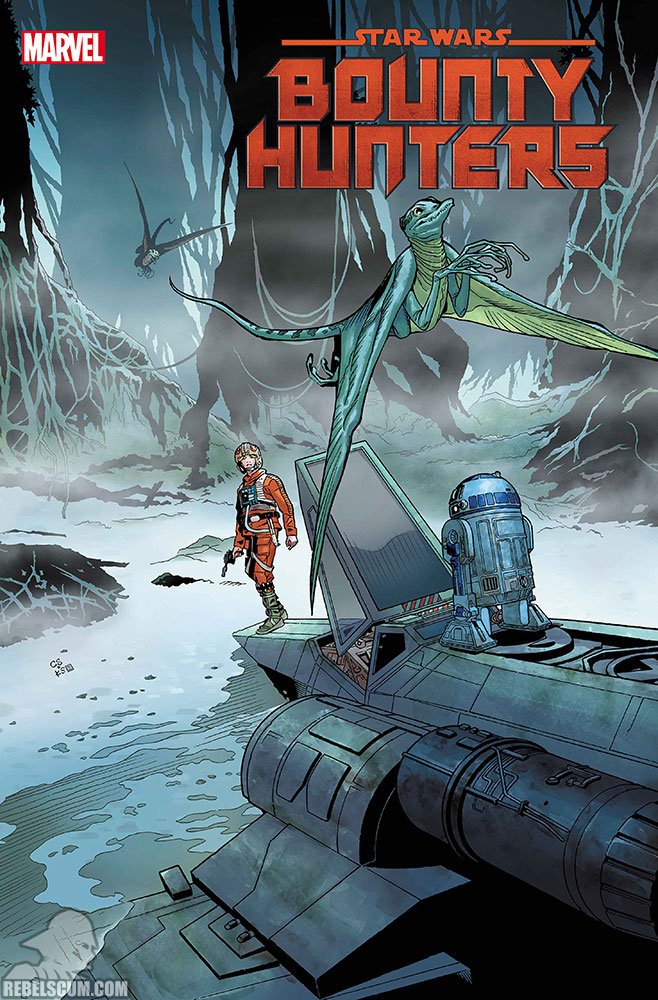 STAR WARS: BOUNTY HUNTERS #4
ETHAN SACKS (W) • PAOLO VILLANELLI (A)
Cover by LEE BERMEJO
Empire Strikes Back Variant COVER by CHRIS SPROUSE
THE SINS THAT CAN'T BE ABSOLVED!
• With a blaster aimed at this back, cyborg bounty hunter VALANCE closes in on NAKANO LASH, the mentor who abandoned him many years ago.
• But what is the secret that Lash has been hiding ever since that fateful, doomed mission — one that led her to betray her entire crew?
• Those answers may die with her if a vengeful BOBA FETT gets to her first.
32 PGS./Rated T …$3.99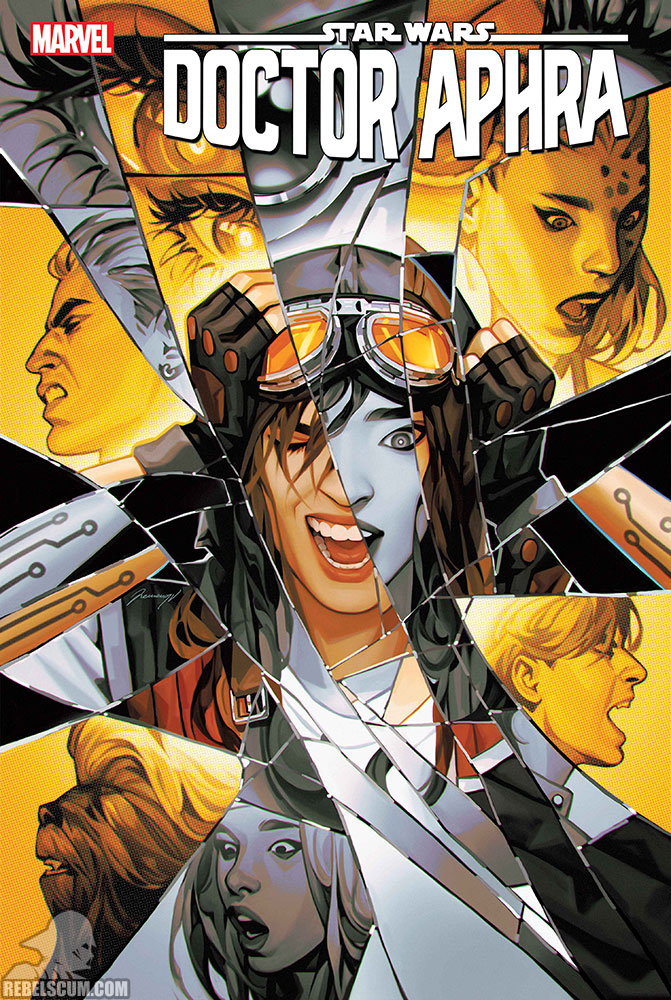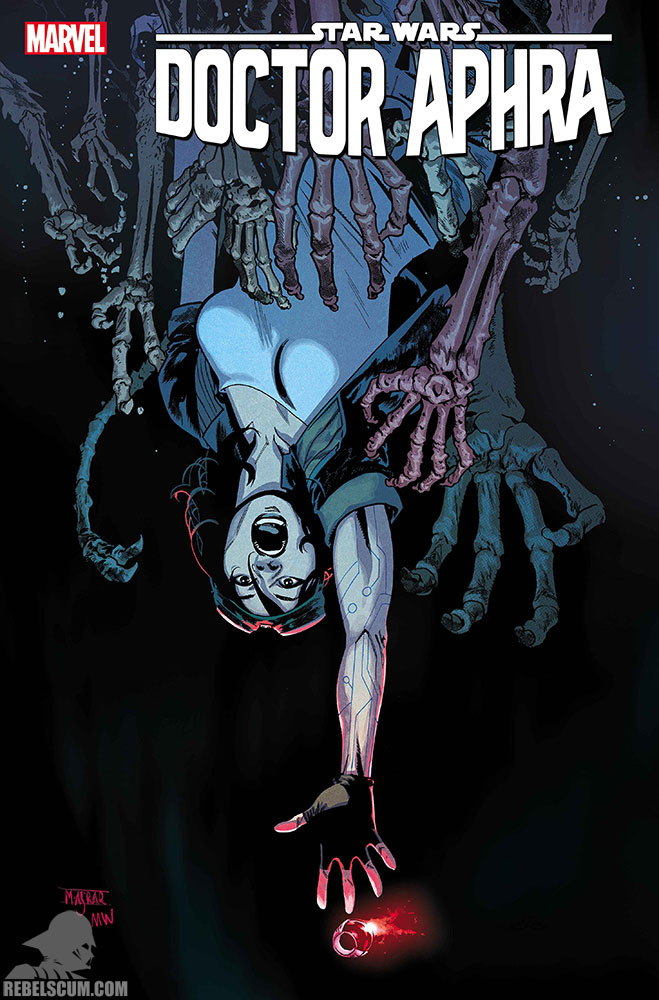 STAR WARS: DOCTOR APHRA (2020) #3
ALYSSA WONG (W) • MARIKA CRESTA (A)
Cover by VALENTINA REMENAR
VARIANT COVER BY MAHMUD ASRAR
THE TRIALS OF VAALE!
• Separated from her crew, DOCTOR APHRA finds herself in peril at the hands of RONEN TAGGE'S mercenaries!
• Could there be a traitor in their midst?
• And can Aphra outwit them before the curse of the city swallows her and her new team whole?
32 PGS./Rated T …$3.99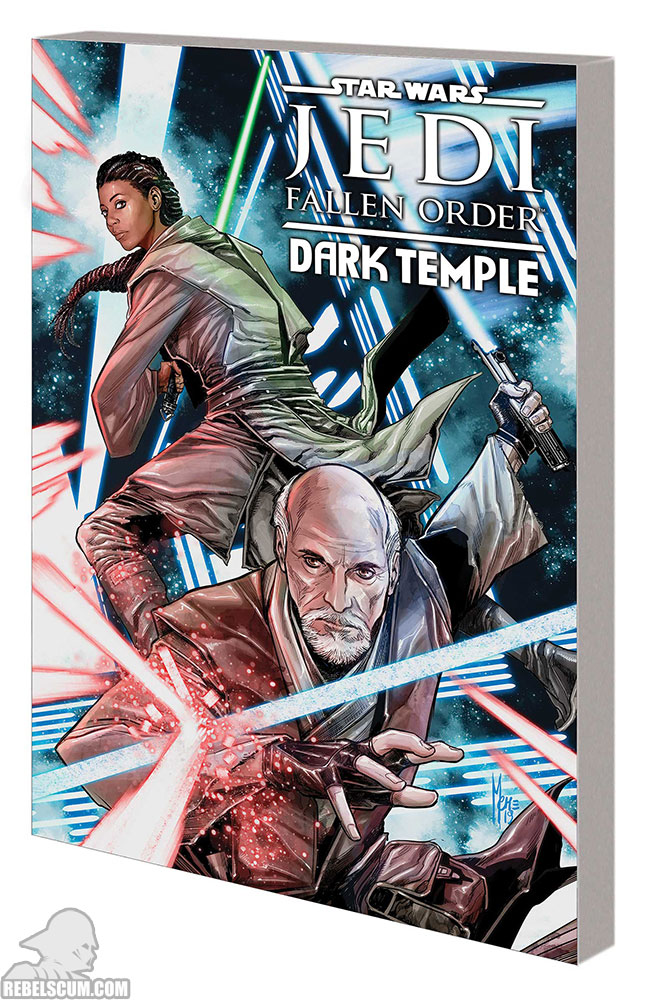 STAR WARS JEDI: FALLEN ORDER – DARK TEMPLE TRADE PAPERBACK
Written by MATTHEW ROSENBERG
Penciled by PAOLO VILLANELLI & RUAIRÍ COLEMAN
Cover by Marco Checchetto
Leading into Star Wars Jedi: Fallen Order, the third-person action-adventure Star Wars title from Lucasfilm and Respawn Entertainment, DARK TEMPLE follows Jedi Master Eno Cordova and his impulsive Padawan, Cere Junda, on their most dangerous mission yet! The Jedi Council has sent them to the remote planet Ontotho to oversee the peaceful excavation of a recently discovered temple. But Cordova and Junda soon learn that what surrounds the temple may be even more dangerous than the mysteries within it! Clandestine local resistance forces and ruthless corporate security troops wage a war for the fate of Ontotho — and the Jedi are caught in the middle! Who are the deadly Tomb Guardians, and what are they protecting? What secrets lie deep within the hidden temple? The race is on to find out! Collecting STAR WARS: JEDI FALLEN ORDER — DARK TEMPLE #1-5.
136 PGS./Parental AdvisorySLC …$17.99
ISBN: 978-1-302-91995-5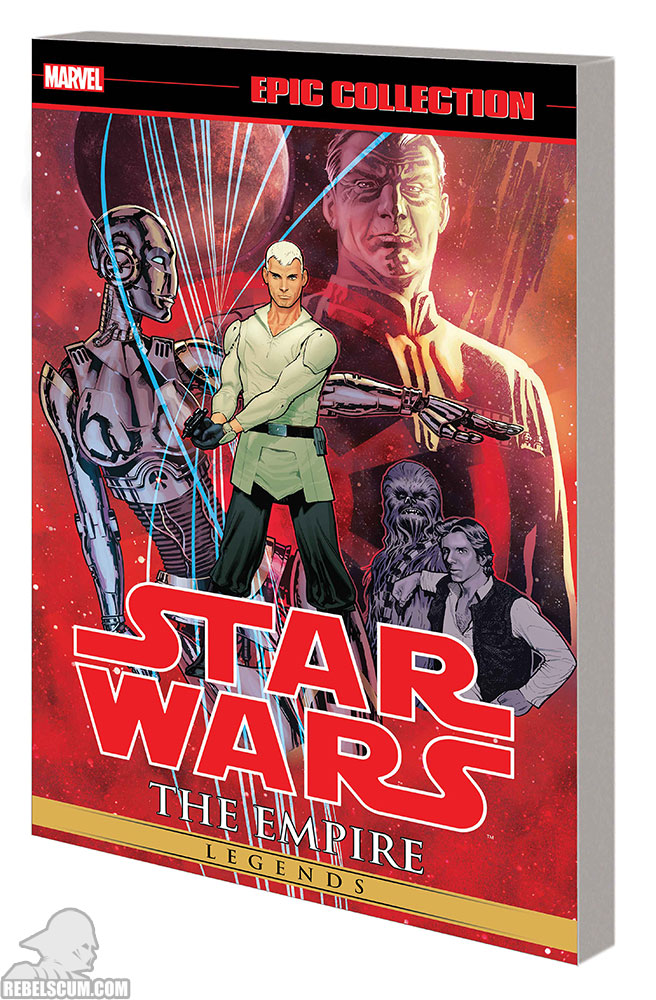 STAR WARS LEGENDS EPIC COLLECTION: EMPIRE TRADE PAPERBACK #6
Written by JOHN OSTRANDER, W. HADEN BLACKMAN & MORE
Penciled by STÉPHANE ROUX, STÉPHANE CRÉTY, DAVIDÉ FABBRI, BRIAN CHING, BONG DAZO,
WAYNE NICHOLS, OMAR FRANCIA, MANUEL SILVA & MORE
Cover by STÉPHANE ROUX
The Force unleashed! The Empire's power is at its peak — but not every problem requires military might. Sometimes all you need is the right agent, in the right place, with the willingness to get the job done. An agent like Jahan Cross! But when Boba Fett is framed for murder, Cross finds himself in a situation that even he can't handle! Plus: Learn the origin of Vader's secret apprentice, the deadly Starkiller — a story of treachery, deception and the overwhelming power of the Force. And witness the early years of Leia Organa! Collecting STAR WARS: AGENT OF THE EMPIRE — IRON ECLIPSE #1-5, STAR WARS: AGENT OF THE EMPIRE — HARD TARGETS #1-5, STAR WARS: THE FORCE UNLEASHED and STAR WARS: THE FORCE UNLEASHED II — and material from A DECADE OF DARK HORSE #2 and STAR WARS TALES #11 and #15.
480 PGS./Rated T …$44.99
ISBN: 978-1-302-92511-6
---
Related Stories:
Future Of Star Wars Comics Revealed In Star Wars: Revelations #1!
Marvel Comics For October 2020
Traveler's Guide To Batuu Coming June 23rd
Star Wars: The Book Of Lists By Cole Horton
Star Wars : Tales From The Galaxy's Edge
Marvel Comics For January 2020
Cover For Final Issue Of Marvel Star Wars Series Revealed
Marvel Comics For November 2019
Marvel Comics For October 2019
Marvel Comics For September 2019
New Marvel Miniseries Will Lead Into Star Wars Jedi: Fallen Order
Marvel Comics For August 2019
Marvel Comics For June 2019
Marvel Comics For May 2019
Marvel Comics For April 2019
Marvel Journeys To Batuu In A New Comic Series About Star Wars: Galaxy's Edge
Marvel Comics For February 2019
Marvel Comics For January 2019
Chuck Wendig Fired From Marvel
Marvel's Poe Dameron Series Comes To An End
Marvel Releases Star Wars Teaser Image Ahead Of NYCC
Marvel Comics For November 2018
Marvel Comics For October 2018
Marvel Comics For September 2018

---