TFN Review: Star Wars Rebels - The Visual Guide From DK
Posted by Adam on
August 12, 2014 at 10:45 PM CST
Despite the show not premiering until October, DK has released Star Wars Rebels: The Visual Guide to give fans a sneak peek at some of the characters, weapons, vehicles and locations.

Opening with a foreward by Executive Producer Dave Filoni, it is followed by an introduction that explains the state of the galaxy during which the events take place. After a brief look at The Empire, the band of Rebels and Lothal, among other things, the book covers all six members of The Ghosts' crew, with a two-page spread that provides background details for each, followed by a second two-page spread showing a picture of the character along with a quote that serves, or so it would appear, to succinctly sum up the character's outlook on life.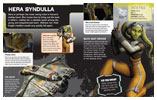 The focus then shifts to the Rebels' vehicles and weapons, before switching to profile various aspects of the Imperial forces, much of which centres on The Empire's formidable array of vehicles. The remainder of the book covers a mixture of sections about The Rebels, The Empire, including a spotlight on The Inquisitor and his Lightsaber, as well as several other independent groups with which the two opposing factions come into contact at various times. The book concludes with a behind-the-scenes look at what inspired Star Wars Rebels, the character design, and also the making of the show.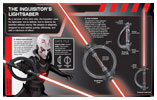 As we've come to expect from DK's Visual Guides, they're jam-packed with lots of great images, pertinent snippets of background information, and data files that provide key details of some of the higher-profile elements.
Star Wars Rebels: The Visual Guide
is no different, and offers just enough info to entice the reader, without giving too much away ahead of the show airing in the next couple of months.
Star Wars Rebels: The Visual Guide
, written by Adam Bray, is out now, priced $17.99 CAD and $16.99 USD.
As always, a big thanks to DK Canada, whose
Star Wars
Boutique you can visit
here
, and don't forget to listen to
Jedi Journals
for your monthly roundup of
Star Wars
publishing news, commentary, and discussion on the latest releases in the realm of novels, comics, and magazines.
And finally, be sure to check out
Eric Geller's interview
with author Adam Bray!
Related Stories:
TFN Review: LEGO Star Wars Small Scenes From a Big Galaxy From DK
DK Book's Star Wars Rebels Epic Battles Visual Guide Cover Reveal
TFN Review: Ultimate Star Wars From DK
DK Canada: Spot The Star Wars Truck!
TFN Review: Star Wars in 100 Scenes From DK
Star Wars Reads Day III: Canadian Events
Interview: Star Wars Rebels: The Visual Guide Author Adam Bray