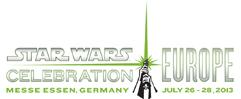 CEII: Mark Hamill Panel Liveblog From The Official SW Blog
Posted by Eric on
July 28, 2013 at 10:50 AM CST
The Official Star Wars Blog put together a liveblog for the "Mark Hamill: The Jedi Returns" panel at Celebration Europe II. Of particular note was this comment from Hamill about some (semi-)recent Star Wars work:


Below are some of the other highlights from the panel.
14:50: On Episode VII. Hamill says he doesn't know much, but that they're making great choices with the creators, and that Disney has done a great job with Marvel and Pixar. But he has his own ideas for the cast. "I have this fantasy that the whole cast will be nothing but people that make me laugh: Brian Regan, Andy Kindler, Sarah Silverman…"

14:54: On what he thought of his role at first: "When I read with Harrison, I thought that he was the main character and I was his sidekick. Because he was a leading man." But Hamill loved it, because he grew up a fan of Ray Harryhausen and Universal monsters.

15:05: "I'm cautiously optimistic about the new trilogy. Disney knows what they're doing. Kathleen Kennedy's resume speaks for themselves…most important to me is Michael Arndt…he's very gifted for writing ensemble pieces. He writes character, and heart, and warmth…I thought if they did VII, VII, and XI, it was not going to be about us. We had a beginning, a middle, and an end…It would about the next generation." Hamill then does an "Old Luke" version of "But I want to go to Tosche Station to pick up some power converters."

15:33: Twitter questions. Would you voice a villain in Rebels? "Of course…I'd love to play a villain." Hamill is currently a voice actor in four animated series.
Click here
to read the full liveblog.
Related Stories:
Mark Hamill & Other Celebs Lend Voices For Autism Speaks