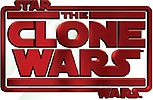 Our good buddy Paul D. writes in with the following update concerning
The Clone Wars
and its availability as an On-Demand viewing candidate:
"I was watching the Saturday morning rerun of last nights TCW episode and I saw a commercial advertising full commercial-free episodes of TCW available the day after they air as part of Cox Cable's On Demand service for free.

They are only available for a short time, but still it's nice to be able to watch them full-screen and whenever I want, especially since I don't have a DVR yet. This might be a deal worked out with other cable companies as well, couldn't hurt to check out the OnDemand section."
Commercial-free episodes of
TCW
available whenever I want it? Sign me up!
Thanks to Paul for the heads-up!
| | |
| --- | --- |
| November 15, 2009 | TCW: Short Interview With Meredith Salenger |
| November 14, 2009 | TCW: "Weapons Factory" Episode Guide |
| November 11, 2009 | TCW Joins The NHL In Raleigh, NC |
| November 11, 2009 | Preview TCW: "Weapons Factory" |
| November 11, 2009 | TCW: "Weapons Factory" Episode Guide |
| November 9, 2009 | TCW: "Landing At Point Rain" Now Online |
| November 7, 2009 | TCW Season 1 Now At PlayStation Store |
| November 7, 2009 | TCW: "Landing At Point Rain" Episode Guide |
| November 4, 2009 | New UK The Clone Wars Comic Announced |
| November 4, 2009 | Preview TCW: "Landing At Point Rain" |
| November 3, 2009 | TCW S1 On DVD & Blu-ray! |
| November 3, 2009 | MSNBC Talks The Clone Wars |
| November 1, 2009 | A Couple Links Covering The Clone Wars |
| November 1, 2009 | TCW: "Landing At Point Rain" Episode Guide |
| November 1, 2009 | More TCW And Filoni From The Today Show |
| October 31, 2009 | Special Broadcast For TCW S2 EP #5 |
| October 24, 2009 | A Look Inside TCW S1 DVD/Blu-Ray |
| October 23, 2009 | TCW Cary Silver Talks With SW.com |
| October 22, 2009 | TCW: "Children Of The Force" Encore Friday |
| October 19, 2009 | TCW: "Senate Spy" Episode Online |
| October 17, 2009 | TCW: "Senate Spy" Episode Guide |
| October 14, 2009 | Preview TCW: "Senate Spy" |
| October 13, 2009 | Cartoon Network TCW Site Redesign |
| October 12, 2009 | TCW: "Children Of The Force" Now Online |
| October 10, 2009 | TCW: Ian Abercrombie Talks Voicing Sidious |
| October 10, 2009 | TCW: "Children Of The Force" Episode Guide |
| October 9, 2009 | Preview TCW: "Children Of The Force" |
| October 8, 2009 | TCW Ratings Soar For The Season 2 Premiere |
| October 5, 2009 | First TCW Season 2 Episodes Online! |
| October 3, 2009 | TCW: "Cargo Of Doom" Episode Guide |
| October 3, 2009 | TCW: "Holocron Heist" Episode Guide |
| October 3, 2009 | Sky Movies To Carry TCW Season 2 |
| September 30, 2009 | Dee Bradley Baker Talks TCW S2 |
| September 29, 2009 | When Will Season 2 Of TCW Come To The UK? |
| September 27, 2009 | Even More TCW S2 Promo Clips Pop Up |
| September 26, 2009 | Seth Green Talks TCW At SW.com |
| September 26, 2009 | Downloadable TCW Goodies! |
| September 24, 2009 | Ashley Eckstein Talks TCW Season 2 |
| September 24, 2009 | TCW S2 Concept Art |
| September 20, 2009 | George Lucas & Dave Filoni Talk TCW S2 |
| September 15, 2009 | Get To Know Cato Parasitti From TCW |
| September 14, 2009 | TCW Season 2 Promo Videos Galore! |
| September 13, 2009 | Yet More TCW Season 2 Pics & Promos |