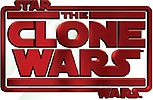 Our own "Guru of the EU" Jay Shepard lets us know that there will be a special broadcast airing of
Star Wars: The Clone Wars
Episode #5 entitled
"Landing on Point Rain"
this week:
"Just saw a commercial on CN, and Landing on Point Rain will have a "Special Presentation" this Wednesday at 8pm!

Remember, knowing is half the battle!"
With the release of the
Complete Season 1 on Blu-ray/DVD
coming on Tuesday, it looks like the action won't be missing a beat with EP #5 coming on the very next night. Check your local TV listings on the
Cartoon Network
website.
After a two week hiatus, everyone's favorite TV show will be returning in full force this week!
Thanks for the heads-up Jay!
| | |
| --- | --- |
| December 2, 2009 | Preview TCW: "Brain Invaders" |
| December 2, 2009 | TCW: "Brain Invaders" Episode Guide |
| November 23, 2009 | TCW: "Legacy Of Terror" Now Online |
| November 21, 2009 | TCW: "Legacy Of Terror" Episode Guide |
| November 21, 2009 | Bonnie Burton Chats With Dee Bradley Baker |
| November 19, 2009 | TCW: "Legacy Of Terror" Episode Guide |
| November 19, 2009 | Preview TCW: ?Legacy Of Terror? |
| November 16, 2009 | TCW: "Weapons Factory" Now Online |
| November 15, 2009 | TCW: Short Interview With Meredith Salenger |
| November 14, 2009 | TCW: "Weapons Factory" Episode Guide |
| November 11, 2009 | TCW Joins The NHL In Raleigh, NC |
| November 11, 2009 | Preview TCW: "Weapons Factory" |
| November 11, 2009 | TCW: "Weapons Factory" Episode Guide |
| November 9, 2009 | TCW: "Landing At Point Rain" Now Online |
| November 7, 2009 | TCW Season 1 Now At PlayStation Store |
| November 7, 2009 | TCW: "Landing At Point Rain" Episode Guide |
| November 4, 2009 | Preview TCW: "Landing At Point Rain" |
| November 3, 2009 | TCW S1 On DVD & Blu-ray! |
| November 3, 2009 | MSNBC Talks The Clone Wars |
| November 1, 2009 | A Couple Links Covering The Clone Wars |
| November 1, 2009 | TCW: "Landing At Point Rain" Episode Guide |
| November 1, 2009 | More TCW And Filoni From The Today Show |
| October 26, 2009 | FD3: Next TCW Episode Named |
| October 24, 2009 | A Look Inside TCW S1 DVD/Blu-Ray |
| October 23, 2009 | TCW Cary Silver Talks With SW.com |
| October 13, 2009 | Cartoon Network TCW Site Redesign |
| October 10, 2009 | Watch TCW Episodes On-Demand? |
| October 10, 2009 | TCW: Ian Abercrombie Talks Voicing Sidious |
| October 8, 2009 | TCW Ratings Soar For The Season 2 Premiere |
| October 3, 2009 | Sky Movies To Carry TCW Season 2 |
| September 30, 2009 | Dee Bradley Baker Talks TCW S2 |