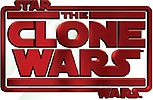 A cursory glance at the main story title of this update may not seem too exciting, as we've reported on numerous articles pertaining to the #1 TV series
The Clone Wars
since its debut last year.
But this one is different.
MSNBC
posted an article last Friday that provides an overview of the new
Star Wars
series that fans have quickly come to love and provides some thoughts from a few people that might know a thing or two about the subject matter...
Our own Chris Wyman and Jason Swank!
Their quotes have been provided below, but be sure to click
HERE
for the full article!
On the subject of Ahsoka Tano:

?She?s a very popular and very positive character and one whose ultimate destiny is on the minds of fans around the world,? said Chris Wyman from the fan site TheForce.Net. ?Everyone wants to know if she survives Order 66 (the order Palpatine gives in ?Revenge of the Sith? which turns the Clones against the Jedi).?

On the subject of Dave Filoni:

?It wasn?t long ago that Dave was lining up at to see ?Episodes I,? ?II? and ?III? at his local megaplex and traveling to conventions simply as a fan,? said TheForceCast co-host Jason Swank. ?So, in essence, you get (for the first time) George Lucas collaborating with a real fan of the property on telling great ?Star Wars? stories.?
Excellent job guys!!
| | |
| --- | --- |
| December 2, 2009 | Preview TCW: "Brain Invaders" |
| December 2, 2009 | TCW: "Brain Invaders" Episode Guide |
| November 23, 2009 | TCW: "Legacy Of Terror" Now Online |
| November 21, 2009 | TCW: "Legacy Of Terror" Episode Guide |
| November 21, 2009 | Bonnie Burton Chats With Dee Bradley Baker |
| November 19, 2009 | TCW: "Legacy Of Terror" Episode Guide |
| November 19, 2009 | Preview TCW: ?Legacy Of Terror? |
| November 16, 2009 | TCW: "Weapons Factory" Now Online |
| November 15, 2009 | TCW: Short Interview With Meredith Salenger |
| November 14, 2009 | TCW: "Weapons Factory" Episode Guide |
| November 11, 2009 | TCW Joins The NHL In Raleigh, NC |
| November 11, 2009 | Preview TCW: "Weapons Factory" |
| November 11, 2009 | TCW: "Weapons Factory" Episode Guide |
| November 10, 2009 | The Clone Wars Survey |
| November 9, 2009 | TCW: "Landing At Point Rain" Now Online |
| November 7, 2009 | TCW Season 1 Now At PlayStation Store |
| November 7, 2009 | TCW: "Landing At Point Rain" Episode Guide |
| November 4, 2009 | Preview TCW: "Landing At Point Rain" |
| November 3, 2009 | TCW S1 On DVD & Blu-ray! |
| November 1, 2009 | A Couple Links Covering The Clone Wars |
| November 1, 2009 | TCW: "Landing At Point Rain" Episode Guide |
| November 1, 2009 | More TCW And Filoni From The Today Show |
| October 31, 2009 | Special Broadcast For TCW S2 EP #5 |
| October 24, 2009 | A Look Inside TCW S1 DVD/Blu-Ray |
| October 13, 2009 | Cartoon Network TCW Site Redesign |
| October 10, 2009 | Watch TCW Episodes On-Demand? |
| October 8, 2009 | TCW Ratings Soar For The Season 2 Premiere |
| September 29, 2009 | The Clone Wars Press Junket Coverage |
| September 29, 2009 | Begin The Clone Wars Season 2 Will! |
| August 13, 2009 | "Join The Clone Wars" On Facebook |