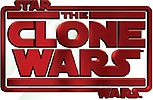 Our friend Paul M. from England writes in to inform us that the second season of
The Clone Wars
will be broadcast by
Sky Movies
starting October 24th on Premiere/HD.
See the intro to the article below and then
click here
for the full read.
"Beginning Saturday October 24th on Premiere/HD, season two continues chronicling the cataclysmic Clone Wars that ravage the Galaxy, as Anakin Skywalker, Obi-Wan Kenobi, Yoda, and Ahsoka Tano battle to stop the evil plans of the Sith Lords and their droid army.

The acclaimed Star Wars: The Clone Wars is legendary filmmaker George Lucas' first ever CG-animated series, and combines the traditional adventure and excitement of the Star Wars movies with cutting-edge animation that now often surpasses visuals in the films themselves!

Ian Lewis, Director of Sky Movies and Sky Box Office said, "We?re delighted to bring the second series of Star Wars: The Clone Wars to fans in the UK. The first series was enjoyed by long-standing Star Wars enthusiasts and a new generation of fans alike, so we are sure the new episodes will continue with great success; and being able to show STAR WARS: THE CLONE WARS in High Definition makes the series look, and sound, even more incredible.?
Also be sure to click thru their
"11 Reasons Why We Love Star Wars: The Clone Wars"
list located towards the end of the article.
Thanks for the news Paul!
| | |
| --- | --- |
| October 9, 2010 | TCW On The Sky Movies Free Weekend |
| November 7, 2009 | TCW Season 1 Now At PlayStation Store |
| November 7, 2009 | TCW: "Landing At Point Rain" Episode Guide |
| November 4, 2009 | New UK The Clone Wars Comic Announced |
| November 4, 2009 | Preview TCW: "Landing At Point Rain" |
| November 3, 2009 | TCW S1 On DVD & Blu-ray! |
| November 1, 2009 | A Couple Links Covering The Clone Wars |
| November 1, 2009 | TCW: "Landing At Point Rain" Episode Guide |
| November 1, 2009 | More TCW And Filoni From The Today Show |
| October 31, 2009 | Special Broadcast For TCW S2 EP #5 |
| October 24, 2009 | A Look Inside TCW S1 DVD/Blu-Ray |
| October 23, 2009 | TCW Cary Silver Talks With SW.com |
| October 19, 2009 | TCW: "Senate Spy" Episode Online |
| October 17, 2009 | TCW: "Senate Spy" Episode Guide |
| October 14, 2009 | Preview TCW: "Senate Spy" |
| October 13, 2009 | Cartoon Network TCW Site Redesign |
| October 12, 2009 | TCW: "Children Of The Force" Now Online |
| October 10, 2009 | Watch TCW Episodes On-Demand? |
| October 10, 2009 | TCW: Ian Abercrombie Talks Voicing Sidious |
| October 10, 2009 | TCW: "Children Of The Force" Episode Guide |
| October 9, 2009 | Preview TCW: "Children Of The Force" |
| October 8, 2009 | TCW Ratings Soar For The Season 2 Premiere |
| October 5, 2009 | First TCW Season 2 Episodes Online! |
| October 3, 2009 | TCW: "Holocron Heist" Episode Guide |
| September 30, 2009 | Dee Bradley Baker Talks TCW S2 |
| September 29, 2009 | The Clone Wars Press Junket Coverage |
| September 29, 2009 | Begin The Clone Wars Season 2 Will! |
| September 29, 2009 | When Will Season 2 Of TCW Come To The UK? |
| September 27, 2009 | Even More TCW S2 Promo Clips Pop Up |
| September 26, 2009 | Kotaku Reviews TCW S2 & Republic Heroes |
| September 26, 2009 | Seth Green Talks TCW At SW.com |
| September 24, 2009 | Ashley Eckstein Talks TCW Season 2 |
| September 24, 2009 | TCW S2 Concept Art |
| September 14, 2009 | TCW Season 2 Promo Videos Galore! |
| September 13, 2009 | Yet More TCW Season 2 Pics & Promos |
| September 9, 2009 | Jocasta Nu In The Clone Wars |
| September 3, 2009 | Another New TCW Season 2 Promo Vid |
| August 24, 2009 | TCW Season 2 Kicks Off October 2nd! |
| March 31, 2009 | The Clone Wars Season 2 Preview |