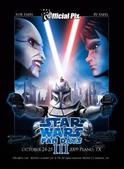 Though we had
previously
mentioned
a variation of this title based off of a note on the
Official Starwars.com Blog
,
Jovial Jay Shepard
gets us the skinny from Fan Days III on the next
TCW
episode. According to his source, the next new episode to air of
The Clone Wars
will be titled,
"Attack on Point Rain"
(S2 Ep. 5). Look for the new episode to air on
Cartoon Network
on November 6th at 8:00pm.
UPDATE:
Ok so it's correction time! Turns out that the name
"Attack on Point Rain"
may be a title for a future episode but the title for the episode airing on November 6th will be
"Landing at Point Rain"
(S2 Ep. 5). Sorry for the confusion. Looks like we originally had the 5th episode title correct per the
Official Starwars.com Blog's "upcoming" section
, but hey, at least we got the name of another future episode. Do we have another duology or trilogy of episodes on the way? As always, we'll keep you posted as we hear more.
Thanks to Jovial Jay for the follow up!
| | |
| --- | --- |
| December 2, 2009 | Preview TCW: "Brain Invaders" |
| December 2, 2009 | TCW: "Brain Invaders" Episode Guide |
| November 23, 2009 | TCW: "Legacy Of Terror" Now Online |
| November 21, 2009 | TCW: "Legacy Of Terror" Episode Guide |
| November 21, 2009 | Bonnie Burton Chats With Dee Bradley Baker |
| November 19, 2009 | TCW: "Legacy Of Terror" Episode Guide |
| November 19, 2009 | Preview TCW: ?Legacy Of Terror? |
| November 16, 2009 | TCW: "Weapons Factory" Now Online |
| November 15, 2009 | TCW: Short Interview With Meredith Salenger |
| November 14, 2009 | TCW: "Weapons Factory" Episode Guide |
| November 11, 2009 | TCW Joins The NHL In Raleigh, NC |
| November 11, 2009 | Preview TCW: "Weapons Factory" |
| November 11, 2009 | TCW: "Weapons Factory" Episode Guide |
| November 9, 2009 | TCW: "Landing At Point Rain" Now Online |
| November 7, 2009 | TCW Season 1 Now At PlayStation Store |
| November 7, 2009 | TCW: "Landing At Point Rain" Episode Guide |
| November 6, 2009 | FD3: MintInBox Gigantic Review |
| November 4, 2009 | New UK The Clone Wars Comic Announced |
| November 4, 2009 | FD3: TCW "Point Rain" Prelude Script |
| November 4, 2009 | Preview TCW: "Landing At Point Rain" |
| November 3, 2009 | TCW S1 On DVD & Blu-ray! |
| November 1, 2009 | A Couple Links Covering The Clone Wars |
| November 1, 2009 | TCW: "Landing At Point Rain" Episode Guide |
| November 1, 2009 | More TCW And Filoni From The Today Show |
| October 31, 2009 | FD3: Star Wars In Concert Invades Dallas |
| October 31, 2009 | Special Broadcast For TCW S2 EP #5 |
| October 28, 2009 | FD3: More Photos |
| October 27, 2009 | FD3: Ralph McQuarrie Original Art Pics |
| October 26, 2009 | FD3: More Pics From The Weekend |
| October 26, 2009 | FD3: News Coverage Of The Event |
| October 25, 2009 | FD3: Assorted Pics From Sunday Day 2 |
| October 25, 2009 | FD3: More Pics From The Event |
| October 25, 2009 | FD3: Assorted Pics From Saturday Day 1 |
| October 24, 2009 | FD3: No Contract Yet For Celebration V |
| October 24, 2009 | FD3: Star Wars Fan Club Breakfast Pics |
| October 24, 2009 | A Look Inside TCW S1 DVD/Blu-Ray |
| October 23, 2009 | FD3: Stay Connected to Fan Days III |
| October 23, 2009 | TCW Cary Silver Talks With SW.com |
| October 22, 2009 | TCW: "Children Of The Force" Encore Friday |
| October 19, 2009 | TCW: "Senate Spy" Episode Online |
| October 17, 2009 | TCW: "Senate Spy" Episode Guide |
| October 13, 2009 | Cartoon Network TCW Site Redesign |
| October 11, 2009 | Tom Hodges At SWFD3 |
| October 10, 2009 | Randy Martinez At SWFD3 |