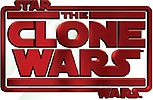 As if
The Clone Wars
series wasn't already as good as it gets,
StarWars.com
has just posted a survey asking fans to answer six questions for feedback on an "upcoming project".
What is this project all about? Nobody knows yet, but we do know it's gonna be just as awesome as the hit TV series. So stop what your doing and
head on over and post your answers now!
| | |
| --- | --- |
| December 2, 2009 | Preview TCW: "Brain Invaders" |
| December 2, 2009 | TCW: "Brain Invaders" Episode Guide |
| November 23, 2009 | TCW: "Legacy Of Terror" Now Online |
| November 21, 2009 | TCW: "Legacy Of Terror" Episode Guide |
| November 21, 2009 | Bonnie Burton Chats With Dee Bradley Baker |
| November 19, 2009 | TCW: "Legacy Of Terror" Episode Guide |
| November 19, 2009 | Preview TCW: ?Legacy Of Terror? |
| November 16, 2009 | TCW: "Weapons Factory" Now Online |
| November 15, 2009 | TCW: Short Interview With Meredith Salenger |
| November 14, 2009 | TCW: "Weapons Factory" Episode Guide |
| November 11, 2009 | TCW Joins The NHL In Raleigh, NC |
| November 11, 2009 | Preview TCW: "Weapons Factory" |
| November 11, 2009 | TCW: "Weapons Factory" Episode Guide |
| November 3, 2009 | MSNBC Talks The Clone Wars |
| November 1, 2009 | A Couple Links Covering The Clone Wars |
| September 29, 2009 | The Clone Wars Press Junket Coverage |
| September 29, 2009 | Begin The Clone Wars Season 2 Will! |
| September 9, 2009 | Jocasta Nu In The Clone Wars |
| September 6, 2009 | Ahmed Best Returns To The Clone Wars |
| August 15, 2009 | Happy Anniversary To The Clone Wars! |
| August 13, 2009 | "Join The Clone Wars" On Facebook |
| August 9, 2009 | The Clone Wars Exhibit In Indy |
| July 30, 2009 | The Clone Wars Previewed In TV Guide |
| June 20, 2009 | The Clone Wars Season Two Footage |
| April 7, 2009 | The Clone Wars DVD Exclusives |
| March 31, 2009 | The Clone Wars Season 2 Preview |
| March 30, 2009 | IGN Reviews Season 1 Of The Clone Wars |
| March 24, 2009 | The Clone Wars Series Links & Reviews |