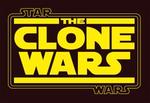 Seems
Lucasfilm
treated a few folks to a sneak peek at season two of
The Clone Wars
this weekend. The video is
up here on Youtube
and embedded below, grab it before LFL figures it out.
Unfortunately there is no sound and the angle is funny, but it gave me goosbumps!
Thanks to Eric for the heads up!
UPDATE:
The video has been removed.
UPDATE #2:
Remember the
TCW
Season 2 video mentioned above? Did you get a chance to view it before the powers-that-be had the video taken down? Are you tired of repeated questions on top of questions? Well then, the good people over at
EUC
have broken down the footage shown at
Star Wars
Weekends with help from their "Bothan Spies."
Click here
for a small breakdown of what can be seen in, or deduced from, the video.
Who knows? We may get to check out this video on the main site in the not-too-distant future, after the conclusion of
Star Wars
Weekends. In the meantime,
speculate
away!
UPDATE #3:
While on the subject, don't forget that you can visit
Starwars.com
to watch and re-watch the HD preview video that aired after the Season One finale. Lower-res version below:
| | |
| --- | --- |
| December 2, 2009 | Preview TCW: "Brain Invaders" |
| December 2, 2009 | TCW: "Brain Invaders" Episode Guide |
| November 23, 2009 | TCW: "Legacy Of Terror" Now Online |
| November 21, 2009 | TCW: "Legacy Of Terror" Episode Guide |
| November 21, 2009 | Bonnie Burton Chats With Dee Bradley Baker |
| November 19, 2009 | TCW: "Legacy Of Terror" Episode Guide |
| November 19, 2009 | Preview TCW: ?Legacy Of Terror? |
| November 16, 2009 | TCW: "Weapons Factory" Now Online |
| November 15, 2009 | TCW: Short Interview With Meredith Salenger |
| November 14, 2009 | TCW: "Weapons Factory" Episode Guide |
| November 11, 2009 | TCW Joins The NHL In Raleigh, NC |
| November 11, 2009 | Preview TCW: "Weapons Factory" |
| November 11, 2009 | TCW: "Weapons Factory" Episode Guide |
| November 10, 2009 | The Clone Wars Survey |
| November 9, 2009 | TCW: "Landing At Point Rain" Now Online |
| November 7, 2009 | TCW Season 1 Now At PlayStation Store |
| November 7, 2009 | TCW: "Landing At Point Rain" Episode Guide |
| November 4, 2009 | New UK The Clone Wars Comic Announced |
| November 4, 2009 | Preview TCW: "Landing At Point Rain" |
| November 3, 2009 | TCW S1 On DVD & Blu-ray! |
| November 1, 2009 | A Couple Links Covering The Clone Wars |
| November 1, 2009 | TCW: "Landing At Point Rain" Episode Guide |
| November 1, 2009 | More TCW And Filoni From The Today Show |
| October 24, 2009 | A Look Inside TCW S1 DVD/Blu-Ray |
| October 19, 2009 | TCW: "Senate Spy" Episode Online |
| October 17, 2009 | TCW: "Senate Spy" Episode Guide |
| October 14, 2009 | Preview TCW: "Senate Spy" |
| October 12, 2009 | TCW: "Children Of The Force" Now Online |
| October 10, 2009 | TCW: Ian Abercrombie Talks Voicing Sidious |
| October 10, 2009 | TCW: "Children Of The Force" Episode Guide |
| October 9, 2009 | Preview TCW: "Children Of The Force" |
| October 8, 2009 | TCW Ratings Soar For The Season 2 Premiere |
| October 3, 2009 | TCW: "Cargo Of Doom" Episode Guide |
| September 26, 2009 | TCW: "Hostage Crisis" Decoded Now Online |
| September 26, 2009 | Downloadable TCW Goodies! |
| September 24, 2009 | Ashley Eckstein Talks TCW Season 2 |
| September 15, 2009 | New Details For The Clone Wars DVD #2 |
| September 10, 2009 | Cad Bane Speaks! |
| September 9, 2009 | Jocasta Nu In The Clone Wars |
| September 5, 2009 | Walmart TCW Season 2 Secrets! |
| September 3, 2009 | Another New TCW Season 2 Promo Vid |
| September 2, 2009 | TCW Labor Day Marathon At SW.com |
| August 29, 2009 | TCW: The Hidden Enemy Decoded Now Online |
| August 24, 2009 | TCW Season 2 Kicks Off October 2nd! |
| August 22, 2009 | TCW: "Defenders Of Peace" Decoded |
| August 17, 2009 | TCW: Rise Of The Bounty Hunters |
| August 15, 2009 | TCW: "Jedi Crash" Decoded Now Online |
| August 11, 2009 | TCW: "The Gungan General" Decoded Online |
| August 1, 2009 | SDCC: TCW Voice Actors |
| July 30, 2009 | The Clone Wars Previewed In TV Guide |
| July 26, 2009 | TCW Season 2 Clothing Inspired By TPM? |
| July 25, 2009 | SDCC: TCW Season 1 Box Set Trailer |
| July 25, 2009 | SDCC: New TCW Season 2 Preview Video |
| July 25, 2009 | TCW Comes To TELETOON In Canada |
| July 21, 2009 | MTV Has Exclusive TCW Season 2 Pics! |
| July 18, 2009 | TCW "Dooku Captured" Decoded Now Online |
| July 6, 2009 | 5 Full Episodes Of The Clone Wars Online |
| July 5, 2009 | TCW: "Lair Of Greivous" Decoded Now Online |
| July 1, 2009 | More Australian TCW DVD Details |
| June 27, 2009 | TCW "Cloak Of Darkness" Decoded Now Online |
| June 25, 2009 | What IGN Wants From TCW Season 2 |
| June 21, 2009 | Matt Lanter Of TCW Talks With IGN |
| June 20, 2009 | TCW "Bombad Jedi" Decoded Now Online |
| June 13, 2009 | TCW "Duel Of The Droids" Decoded |
| June 12, 2009 | Australian TCW DVD #2 |
| June 6, 2009 | Watch TCW "Downfall Of A Droid" Decoded |
| June 4, 2009 | The Clone Wars Official S1 Episode Guide |
| May 11, 2009 | The Clone Wars: Republic Heroes Trailer! |
| April 7, 2009 | The Clone Wars DVD Exclusives |
| April 6, 2009 | The Clone Wars: Decoded |
| March 31, 2009 | The Clone Wars Season 2 Preview |
| March 30, 2009 | IGN Reviews Season 1 Of The Clone Wars |
| March 28, 2009 | Is The Clone Wars Still On TNT? |
| March 24, 2009 | The Clone Wars Series Links & Reviews |