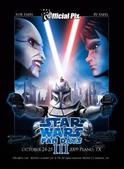 As a special offer to our attendees during Fan Days,
Official Pix
will be offering a ?CLONE WARS? combo autograph ticket that will include one autograph from each of the following CLONE WARS voice actors: Matt Lanter, Ashley Eckstein, James Arnold Taylor, Catherine Taber, Tom Kane, Nika Futterman, and Dee Bradley Baker!
With the purchase of this limited ticket, each actor listed above will sign one of the following:
1)The CLONE WARS Theatrical poster given free to each VIP and SpeedPass customer; or
2)Our event exclusive CLONE WARS character autograph trading card; or
3)A special exclusive CLONE WARS photograph depicting the characters participating. All seven autographs for only
$59.00 when pre-ordered
in advance of the show, and if still available, $69.00 at the show in the OfficialPix booth. Limit three passes per customer per day.
The actors listed above will be signing Saturday and Sunday from opening till 2pm in our special Clone Wars autograph area to accommodate fans who purchase this special discounted autograph pass.
After these signing times, these actors will be available for all customers to sign customers? toys, 8x10s photos, and other licensed items for a special Fan Days rate of $15 per autograph. These special passes are very limited. Please note, this combo ticket pricing will be the same for as few as five actors should we have any last minute cancellations. We have priced it as low as we can to try to make all our attending fans happy.
This is the perfect opportunity to start your Clone Wars autograph collection, start an autograph poster, or to get your event trading cards signed! Get your autograph ticket(s) today before they are all gone!
Click Here To Pre-Order Your Clone Wars Autograph Ticket
Please note, the special Clone Wars combo autograph ticket does not include admission into the event. All other guests will be collecting their own autograph fee at their signing table. Fees of those guests are typically in the $20-$25 range per autograph. Once we have those exact costs, we will post them online closer to the show.
| | |
| --- | --- |
| December 2, 2009 | Preview TCW: "Brain Invaders" |
| December 2, 2009 | TCW: "Brain Invaders" Episode Guide |
| November 23, 2009 | TCW: "Legacy Of Terror" Now Online |
| November 21, 2009 | TCW: "Legacy Of Terror" Episode Guide |
| November 21, 2009 | Bonnie Burton Chats With Dee Bradley Baker |
| November 19, 2009 | TCW: "Legacy Of Terror" Episode Guide |
| November 19, 2009 | Preview TCW: ?Legacy Of Terror? |
| November 16, 2009 | TCW: "Weapons Factory" Now Online |
| November 15, 2009 | TCW: Short Interview With Meredith Salenger |
| November 14, 2009 | TCW: "Weapons Factory" Episode Guide |
| November 11, 2009 | TCW Joins The NHL In Raleigh, NC |
| November 11, 2009 | Preview TCW: "Weapons Factory" |
| November 11, 2009 | TCW: "Weapons Factory" Episode Guide |
| November 9, 2009 | TCW: "Landing At Point Rain" Now Online |
| November 7, 2009 | TCW Season 1 Now At PlayStation Store |
| November 7, 2009 | TCW: "Landing At Point Rain" Episode Guide |
| November 4, 2009 | New UK The Clone Wars Comic Announced |
| November 4, 2009 | Preview TCW: "Landing At Point Rain" |
| November 3, 2009 | TCW S1 On DVD & Blu-ray! |
| November 1, 2009 | A Couple Links Covering The Clone Wars |
| November 1, 2009 | TCW: "Landing At Point Rain" Episode Guide |
| November 1, 2009 | More TCW And Filoni From The Today Show |
| October 24, 2009 | A Look Inside TCW S1 DVD/Blu-Ray |
| October 19, 2009 | TCW: "Senate Spy" Episode Online |
| October 17, 2009 | TCW: "Senate Spy" Episode Guide |
| October 14, 2009 | Preview TCW: "Senate Spy" |
| October 12, 2009 | TCW: "Children Of The Force" Now Online |
| October 10, 2009 | TCW: Ian Abercrombie Talks Voicing Sidious |
| October 10, 2009 | TCW: "Children Of The Force" Episode Guide |
| October 9, 2009 | Preview TCW: "Children Of The Force" |
| October 8, 2009 | TCW Ratings Soar For The Season 2 Premiere |
| October 3, 2009 | TCW: "Cargo Of Doom" Episode Guide |
| September 30, 2009 | Star Wars Fan Days III Countdown #38 |
| September 29, 2009 | The Clone Wars Press Junket Coverage |
| September 27, 2009 | Even More TCW S2 Promo Clips Pop Up |
| September 26, 2009 | TCW: "Hostage Crisis" Decoded Now Online |
| September 26, 2009 | Downloadable TCW Goodies! |
| September 19, 2009 | TCW: "Mystery Of A Thousand Moons" |
| September 15, 2009 | Star Wars Fan Days III Countdown #37 |
| September 14, 2009 | Star Wars Fan Days III Countdown #39 |
| September 12, 2009 | 40 Story Countdown To Fan Days III |
| August 30, 2009 | SW Fan Days III - Tom Hodges Update |
| August 26, 2009 | Star Wars Fan Days III Floorplan |
| August 20, 2009 | Star Wars Fan Days III Update - 8/20 |
| August 4, 2009 | New Star Wars Fan Days III Website Design |
| July 19, 2009 | Star Wars Fan Days III Update - 7/19 |
| July 14, 2009 | Star Wars Fan Days III Update - 7/14 |
| June 14, 2009 | Ralph McQuarrie Art At SW Fan Days III |
| June 1, 2009 | Star Wars Fan Days III Update - 6/1 |
| May 19, 2009 | Star Wars Fan Days III Update |
| May 14, 2009 | Official Star Wars Fan Days III Auction |
| May 13, 2009 | Star Wars Fan Days 3 Update |
| April 7, 2009 | More Star Wars Fan Days III Guests |
| April 3, 2009 | More Star Wars Fan Days III News |
| March 26, 2009 | Two New Guests For Star Wars Fan Days 3 |
| March 20, 2009 | Star Wars Fan Days III Guest List! |
| February 11, 2009 | Star Wars Fan Days 3 Promo Cards |