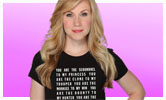 Her Universe: Valentine's Day Shirts
Posted By D. Martin on January 30, 2013
Is She The R2-D2 To Your C-3PO? Then Her Universe Has You Covered With New Valentine's Day Quote Tees Designed By Star Wars Actress Ashley Eckstein

NEW YORK, NY - January 30, 2013 - She's the Princess Leia to your Han Solo, your cosplay confidante, and the best friend you share all-day Doctor Who marathons with - she totally gets your geeky side. So, what do you give the fangirl who's the love of your life or if YOU are a Geek Girl looking for a gift for yourself? Her Universe&trade has the perfect Valentine's Day present for the fangirl who is both nerdy and stylish. Ashley Eckstein, the voice of Ahsoka Tano on Star Wars: The Clone Wars and founder of the sci-fi apparel line, Her Universe, revealed today three new quote tees featuring insider sayings from Star Wars, Doctor Who and Star Trek such as:

Star Wars - You Are The Scoundrel To My Princess / You Are The Clone To My Trooper / You Are The Wookiee To My Win

Doctor Who - You Are The Bow Tie To My Suspenders / You Are The Key To My TARDIS / You Are The Doctor To My Companion

Star Trek - You Are The Logic To My Vulcan / You Are The Purrr To My Tribble / You Are The Captain To My Starship


"I've been seeing these types of posters everywhere! 'You Are The Macaroni To My Cheese,' 'You Are The Peanut Butter To My Jelly,'" said Eckstein. "I love them and I wanted to make sci-fi versions in time for Valentine's Day! It's never been so sweet to give the gift of nerd!"

For the quote Tees Eckstein has worked with fellow fangirl, Anne Convery, as a guest designer. Convery is a self described "suburban nerd," graduate student and wife of Star Wars: The Clone Wars Supervising Director Dave Filoni. "I had a blast playing with the iconography," said Convery. "For example, Doctor Who has such a rich universe for us all to play in. When Ashley and I brainstormed the 'You are the __ to My __' shirt, it really brought home to me just how key the relationships are in Doctor Who."

"When I think of the iconic Geek Girl, I think of Anne," said Eckstein. "She is such an inspiration to me. I have been picking Anne's brain on designs for a few years now and it's about time that we collaborated on something for Her Universe!"


The Star Wars, Doctor Who and Star Trek Quote Tees are available to order now at www.heruniverse.com. Make sure to order no later than February 6th to guarantee delivery by February 14th, Valentine's Day.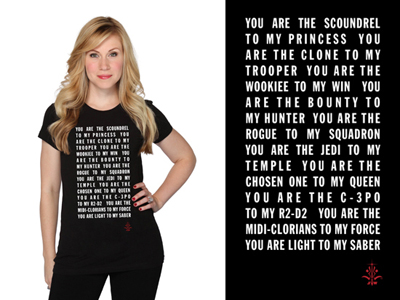 Related Stories
| | |
| --- | --- |
| June 10, 2013 | Her Universe Announce New Star Wars Items |
| May 29, 2013 | Her Universe: Summer Exclusives Revealed |
| May 1, 2013 | Hot Topic & Her Universe Join Forces For Star Wars Day |
| March 22, 2013 | Her Universe Reveals New Padme Amidala Shirt |
| March 8, 2013 | Fettator Tee Shirt Available This Monday |
| March 8, 2013 | Three New Cool T-shirts On Redbubble |
| February 18, 2013 | Woot! Celebrates The Rebellion With New T Shirt |
| November 20, 2012 | Her Universe Cyber Monday Deals |
| August 23, 2012 | Celebration VI: Her Universe Booth |
| August 14, 2012 | Her Universe at Celebration VI |
| July 18, 2012 | 2012 San Diego Comic-Con: Her Universe Booth |
| July 11, 2012 | Her Universe R2-D2 Charm Exclusive |