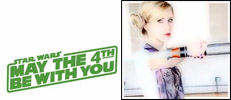 Hot Topic & Her Universe Join Forces For Star Wars Day
Posted By D. Martin on May 1, 2013
Hot Topic and Her Universe Join Forces for
Star Wars Day 2013



NEW YORK, NY - May 1st, 2013 - Star Wars fans already know that the Force is everywhere but on May 4th the stars align for those who live and breathe every moment of the Star Wars saga. This day is a special opportunity to celebrate all things in that "galaxy far, far away" and, of course, to say, "May the 4th Be With You!" For the second year in a row, Her Universe™, the leading sci-fi merchandise line for fangirls, is teaming up with Hot Topic to offer new exclusive Star Wars dresses and fashion tops created by actress and entrepreneur Ashley Eckstein, voice of Ahsoka Tano from Star Wars: The Clone Wars.

On May 4th, the popular Star Wars By Her Universe line will debut six new fashion pieces exclusively on Hottopic.com. The first 500 customers who purchase a Star Wars by Her Universe item online at Hottopic.com beginning at 1am PST on May 4th will receive a FREE Star Wars by Her Universe cinch sack. In addition, all day on May 4th Hottopic.com and Starwars.com (the official Star Wars website), and their social media sites, will celebrate this special fan holiday with fan-themed content and giveaways.

"I am thrilled to be working with Hot Topic again to celebrate May the 4th Be With You," said Ashley Eckstein. "I am also excited to debut a new design with one of our favorite guest designers, Denise Vasquez. Denise brought her unique 'Day of the Dead' inspired style to a new design featuring Boba Fett."

With the growing audience of female Star Wars fans, Hot Topic and Her Universe have a number of new tops and, for the first time, Star Wars by Her Universe dresses to offer them. The new Hot Topic apparel line features popular villains Boba Fett and Darth Vader as well as fan favorite Rebels Han Solo, Luke Skywalker and Princess Leia.

In celebration of "May the 4th Be with You," Her Universe will also be offering 20% off of all current Star Wars apparel on www.HerUniverse.com on May 4th (Hot Topic product only available on Hottopic.com). In addition, while visiting the Her Universe website, fans can also view the past and present honoree's for "fangirl of the day" - part of a very special year-long campaign, the "Year of the Fangirl," which spotlights and recognizes fangirls of all ages showing their diversity, dreams and interests. Anyone can nominate a fangirl to be highlighted on the site. Go to www.HerUniverse.com for more information.
Related Stories
| | |
| --- | --- |
| May 17, 2014 | Her Universe: R2-D2 "My Hero Jewelry Collection" Giveaway |
| June 10, 2013 | Her Universe Announce New Star Wars Items |
| May 29, 2013 | Her Universe: Summer Exclusives Revealed |
| May 1, 2013 | Today On ShirtPunch: Walking Droids |
| March 22, 2013 | Her Universe Reveals New Padme Amidala Shirt |
| January 30, 2013 | Her Universe: Valentine's Day Shirts |
| November 20, 2012 | Her Universe Cyber Monday Deals |
| August 23, 2012 | Celebration VI: Her Universe Booth |
| August 14, 2012 | Her Universe at Celebration VI |
| July 18, 2012 | 2012 San Diego Comic-Con: Her Universe Booth |