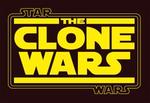 A number of people have written in to tell us that
ezdvd.com
has listed September 23rd as the Australian release date for both volumes
#3
and
#4
of season 1 of
The Clone Wars
. No other information is given but we'll be sure to keep you posted. The
previous two DVD's
continained 5 episodes each in chronological order. Maybe these will contain 6 each (since there are 22 total), or possibly the season could be stretched out into 5 DVD's with the last containing extras. Just some random speculation.
Thanks to everyone who e-mailed in with the news!
UPDATE:
Regular book news contributor Eddie of
Starwarstimeline.com
provides the following update:
"Just a little reminder that the Australian Clone Wars DVD's Volumes 3 and 4 are out today (I already received conformation that mine shipped out 2 days ago). And with these two volumes, the Australians are the first to have all Season 1 episodes on DVD, as Volume 3 contains 6 episodes (11 - 16), and Volume 4 the remaining 6 (episodes 17 - 22)."
See the episodes contained on each newly release
TCW
DVD volume below and click on the links for more details and cover art.
Volume #3
Episodes:
Dooku Captured
The Gungan General
Jedi Crash
Defenders of Peace
Trespass
The Hidden Enemy
Volume #4
Episodes:
Blue Shadow Virus
Mystery of a Thousand Moons
Storm Over Ryloth
Innocents of Ryloth
Liberty on Ryloth
Hostage Crisis
Thanks Eddie!
| | |
| --- | --- |
| October 19, 2009 | TCW: "Senate Spy" Episode Online |
| October 17, 2009 | TCW: "Senate Spy" Episode Guide |
| October 14, 2009 | Preview TCW: "Senate Spy" |
| October 12, 2009 | TCW: "Children Of The Force" Now Online |
| October 10, 2009 | TCW: Ian Abercrombie Talks Voicing Sidious |
| October 10, 2009 | TCW: "Children Of The Force" Episode Guide |
| October 9, 2009 | Preview TCW: "Children Of The Force" |
| October 8, 2009 | TCW Ratings Soar For The Season 2 Premiere |
| October 5, 2009 | First TCW Season 2 Episodes Online! |
| October 3, 2009 | TCW: "Holocron Heist" Episode Guide |
| September 27, 2009 | Even More TCW S2 Promo Clips Pop Up |
| September 26, 2009 | TCW: "Hostage Crisis" Decoded Now Online |
| September 26, 2009 | Downloadable TCW Goodies! |
| September 3, 2009 | Another New TCW Season 2 Promo Vid |
| September 2, 2009 | TCW Labor Day Marathon At SW.com |
| August 29, 2009 | TCW: The Hidden Enemy Decoded Now Online |
| August 24, 2009 | TCW Season 2 Kicks Off October 2nd! |
| August 22, 2009 | TCW: "Defenders Of Peace" Decoded |
| August 17, 2009 | TCW: Rise Of The Bounty Hunters |
| August 15, 2009 | TCW: "Jedi Crash" Decoded Now Online |
| August 11, 2009 | TCW: "The Gungan General" Decoded Online |
| August 1, 2009 | SDCC: TCW Voice Actors |
| July 26, 2009 | TCW Season 2 Clothing Inspired By TPM? |
| July 25, 2009 | SDCC: TCW Season 1 Box Set Trailer |
| July 25, 2009 | SDCC: New TCW Season 2 Preview Video |
| July 25, 2009 | TCW Comes To TELETOON In Canada |
| July 21, 2009 | MTV Has Exclusive TCW Season 2 Pics! |
| July 1, 2009 | More Australian TCW DVD Details |
| June 12, 2009 | Australian TCW DVD #2 |
| August 31, 2008 | TCW Gets A Home On Australian TV |