What's Next For Star Wars Miniatures?
Posted By Dustin on September 27, 2005




With over 200 figures in the line thus far, the Star Wars Miniatures line is growing not only in size, but also in popularity. So, what's next for this game?

So far, we've seen four different expansion sets in the Star Wars Miniatures line.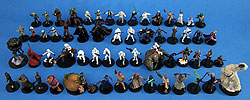 Rebel Storm
The introductory 60-figure set available in a Starter Set and Booster Packs, this series covered characters from the A New Hope, The Empire Strikes Back, and Return of the Jedi.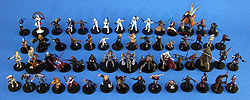 Clone Strike
This 60-figure set was also available in a Starter Set and Booster Packs, this series covered characters from The Phantom Menace, Attack of the Clones, and The Clone Wars.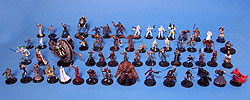 Revenge of the Sith
This 60-figure set was also available in a Starter Set and Booster Packs, and included characters from, you guessed it, Revenge of the Sith.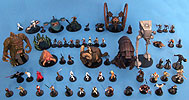 Universe
The latest 60-figure set does not have a Starter Set, but is available in Booster Packs only. Characters included in this set come from the entire Star Wars timeline. (See ad above.)

Upcoming releases:

AT-AT Imperial Walker Colossal Pack
Measuring 18" wide x 14" high x 7" deep, the AT-AT is hardly a miniature! Get ready to welcome this big boy on November 12, 2005 at the AT-AT Release event. Check your local retailer for details. (See ad above.)

Attack on Endor Scenario Pack
This set will include an AT-ST, 3 Stormtroopers (2 from Rebel Storm, 1 from Universe), 4 maps (2 double-sided), and an abbreviated scenario book. Look for this in February 2006.

Champions of the Force
This 60-figure expansion set will focus on Force users from throughout the saga. From Tales of the Jedi to Knights of the Old Republic to New Jedi Order.
A few characters recently revealed are Queen Amidala, Exar Kun, Darth Bane, and possibly HK-47. These will be shipped in booster packs. There will not be a starter set. Look for this in April 2006.

Bounty Hunters
Another 60-figure set, this series will see the return of some Huge figures, and the name is not yet approved. Another name in consideration is "Scum and Villany." This will feature mostly Fringe characters, focusing on the background characters lurking in the shadows and the hunters who stalk them. No release date yet.

Star Wars Starships
A new game that will focus on the ships in the Star Wars saga, this will be a separate game from the minifigures. The ships will be smaller and in scale to each other, but not to scale with the figures that have been released so far. No release date yet.

Ultimate Missions
These will undergo a change in the future, as the books will now have minis packed with them, and they will be released as Scenario Packs, and not so many Missions.

As far as which characters we can expect to see in each set, most are under wraps. However, Lucasfilm has rejected some characters such as Mouse Droid, Nomi Sunrider, and Cay Qel Droma. One character that Lucasfilm wants to see included at some point is Jar Jar Binks, and many fans have requested more Ewoks. With plans for more expansion sets over the next few years, there will be many more figures to come.

Special thanks to John Ling for details and for making me stop by last week's chat session.