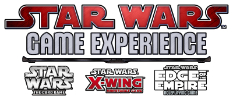 The Star Wars Game Experience
Posted By Chris on April 19, 2013
From the Fantasy Flight Games website:

May the fourth be with you! The Star Wars? Game Experience, May 3rd?5th at the Fantasy Flight Game Event Center in Roseville, Minnesota, is an unforgettable weekend of gaming in a galaxy far, far away. With competitions, RPG events, developer presentations, special guests, and much more, the Star Wars Game Experience is a must for fans of great Star Wars gaming.

The first 150 early registrants will receive exclusive gifts: A souvenir T-shirt, a commemorative draw-string dice bag, and a custom name badge!

In addition to the 2013 Star Wars: The Card Game and X-Wing Regional Championship kits, other prizes include Kotobukiya fine art statues!



Fantasy Flight Games Event Center
1975 Oakcrest Avenue, Suite 10
Roseville, MN 55113
United States of America

Phone: 651-379-3801
Fax: 651-639-1764



For information on the Fantasy Flight Games Event Center (including directions and contact information), visit the Event Center information page.