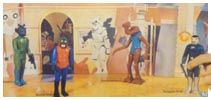 eBay Today: Are You Sure Your Snaggletooth Is Blue?
Posted By D. Martin on May 8, 2012
Most long-time Star Wars collectors can tell you that the original Kenner collection's infamous Blue Snaggletooth figure was most commonly available in the Cantina Adventure Set, but not as well known is the fact that later releases of this set came with the standard Red Snaggletooth. Trouble is, you have to open the box to find out for sure. So the question is, if you had the AFA sealed set linked above would you be able to keep it sealed or would curiosity eventually get the best of you?
Related Stories
| | |
| --- | --- |
| August 6, 2012 | eBay Today: You Sure Your Snaggletooth Is Blue? Part II |
| July 7, 2012 | eBay Today: Caution While Admiring Drool-Worthy Auction |
| June 30, 2012 | eBay Today: Custom Kenner Style Boba Bling |
| June 28, 2012 | eBay Today: Kenner Rocket Firing L-Slot Boba Fett? |
| June 27, 2012 | eBay Today: A Really Shilly Auction |
| June 22, 2012 | eBay Today: More Affordable Master Orgus Lightsaber |
| June 21, 2012 | eBay Today: 2012 Promotional Material |
| June 18, 2012 | eBay Today: 35th Anniversary Commemorative Watch |
| June 14, 2012 | eBay Today: The Really Rare Small Headed Han |
| June 11, 2012 | eBay Today: Real Screen-Used Qui-Gon Lightsaber? |
| June 8, 2012 | eBay Today: The Original Art Of Charles Urbach |
| June 6, 2012 | eBay Today: Trick Your Ride With Sith Style |
| June 4, 2012 | eBay Today: The Power Of The Force Cromalin |
| June 1, 2012 | eBay Today: How Much For A Funny Book You Can't Read? |
| May 28, 2012 | eBay Today: Original Kenner Sandcrawler Prototype |
| May 25, 2012 | eBay Today: Totally Ridiculous Auction #1235 |
| May 22, 2012 | eBay Today: Cool, Yet Totally Creepy, Yoda |
| May 16, 2012 | eBay Today: Drool Worthy Vintage Collection |
| May 15, 2012 | eBay Today: eFX's Master Orgus Lightsaber |
| May 7, 2012 | eBay Today: Screen Used Prop Or Overpriced Replica? |
| May 1, 2012 | eBay Today: How Not To Do It |
| April 29, 2012 | eBay Today: Almost Instant Collection |
| April 23, 2012 | eBay Today: Drool Worthy Saga Collection |
| April 20, 2012 | eBay Today: Totally Ridiculous Auction #1221 |
| April 18, 2012 | eBay Today: Star Wars, Disco, & What Might Have Been |
| April 14, 2012 | eBay Today: So Good Until You See The Feedback |
| April 9, 2012 | eBay Today: The Best Galaxy 7 Sketch Cards |
| April 6, 2012 | eBay Today: Cool New Tommervik Painting |
| April 4, 2012 | eBay Today: Vintage Making Vintage Harder To Find |
| April 1, 2012 | eBay Today: Totally Ridiculous Auction #1214 |
| March 27, 2012 | eBay Today: Limited Edition Art of Ralph McQuarrie Book |
| March 24, 2012 | eBay Today: Big Vintage Kenner Lot |
| March 22, 2012 | eBay Today: Sweat Equity & The Value Of Your Time |
| March 21, 2012 | eBay Today: Totally Ridiculous Auction #1210 |
| March 19, 2012 | eBay Today: Reliving The Hype Before January 31st, 1997 |
| March 17, 2012 | eBay Today: Reliving The Hype Before May 25th, 1983 |
| March 16, 2012 | eBay Today: Reliving The Hype Before May 21st, 1980 |
| March 15, 2012 | eBay Today: Reliving The Hype After May 25th, 1977 |
| March 14, 2012 | eBay Today: Reliving The Hype Before May 19, 2005 |
| March 13, 2012 | eBay Today: Reliving The Hype Before May 16th, 2002 |
| March 12, 2012 | eBay Today: Reliving The Hype Before May 19th, 1999 |
| March 8, 2012 | eBay Today: AFA Ain't All That Bad |
| March 5, 2012 | eBay Today: Finding Ralph McQuarrie Related Collectibles |
| March 3, 2012 | eBay Today: 1983 Speederbike Attachment Set |
| March 2, 2012 | eBay Today: Totally Ridiculous Auction #1199? |
| February 27, 2012 | eBay Today: Put That In Your Pipe And Smoke It |