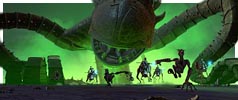 Probe Droid: Who Wants A Giant Zillo Beast?
Posted By D. Martin on June 25, 2011
Our Probe Droid Poll asking you whether you'd want a large-scaled Zillo Beast figure to go along with The Clone Wars action figure collection expires very soon. If you haven't voted yet, follow this link to let your voice be heard!
Related Stories