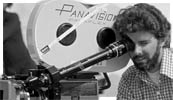 Probe Droid: Should Lucas Continue To Make Blockbusters?
Posted By D. Martin on January 17, 2012
George Lucas has announced he's done making blockbuster feature films after Indiana Jones 5. He states that one of the factors that weighted heavy on the decision was the negative comments made by many Star Wars fans.the Probe Droid is curious what you think about that. Follow this link to let your voice be heard!
Related Stories