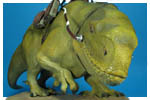 Probe Droid: Do You Want More 1/6 Scale Creatures?
Posted By D. Martin on December 14, 2011
Having checked out Sideshow Collectibles' 1/6 scale Dewback creature in our Photo Archive, the Probe Droid is curious whether you'd like to see more creatures offered in their 1/6 scale collection. Follow this link to let your voice be heard!
Related Stories