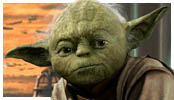 Probe Droid: Did You Like Star Wars In 3D?
Posted By D. Martin on February 25, 2012
Now that you've had time to see Star Wars Episode I: The Phantom Menace 3D the Probe Droid is curious whether you enjoyed it or not. Follow this link to let your voice be heard!
Related Stories