Star Wars LEGO II Now Available For Your Mobile
Posted By Dustin on January 8, 2007
Star Wars LEGO II is finally now available via THQ Wireless in the UK!

Use the force to find and rescue Princess Leia from the Death Star. The battle against the dark side returns to mobile!

With a comical take on the Star Wars Trilogy that revolutionized pop culture forever, LEGO Star Wars II includes even more of the family-friendly LEGO action, puzzles and humour that earned the original LEGO Star Wars such popularity and acclaim.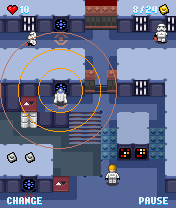 Take on the role of your favourite Star Wars character including Luke Skywalker and R2-D2 and battle to find Princess Leia.

Wield your Lightsaber against battle droids, droid commanders and droidekas.

Use your mastery of the Force to move LEGO objects and build new pathways as you explore the ship.

Use the force to move Lego blocks to be used as weapons.

18 levels over 4 separate missions.

Automatically adjusting difficulty levels.

Featuring classic music from the original films.

To buy LEGO Star Wars II for your mobile phone, simply text "LSW 2" to 88188 (standard text rates apply - UK only!).

To preview the game go to: http://wap.thqwireless.com/web/LegoStarWarsIIMicroSite/index.html